This small and narrow building has been bought by Luc Sergerie ten years ago. Since then, he transforms the place step by step into a romantic eclectic paradise with beautiful wood furniture and details that attract attention. The apartment is located in Montreal, Canada, at one of the most intense areas, Boulevard Saint-Laurent. The total size of the living are is 2 000 square feet and it consists of 4 bedrooms, two bathrooms, living and dining areas and an amazing 500 square feet terrace. Additional workshop at the size of 2 000 square feet is an outstanding feature in the place.
A lot of the interior furniture has been made by hand by Sergerie. For example, the table and the benches are self-creations. Above the dining table, you can see an industrial item represented by the hanging red pendants. The rest pieces of furniture in the room are mostly antiques, collected in several crawls around the shops in Montreal.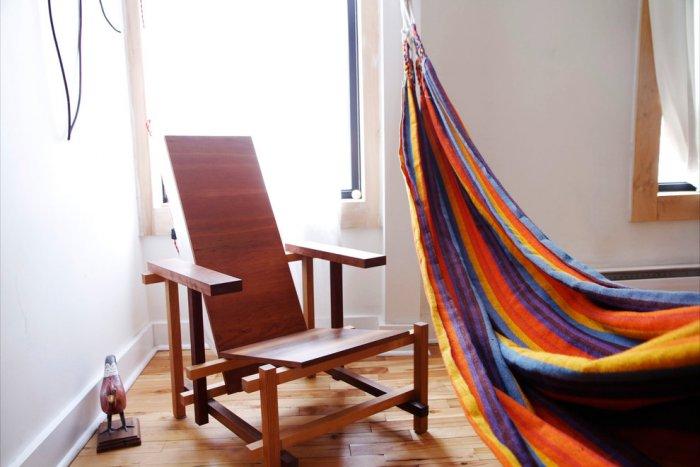 Now, you can see an amazing recreation of the famous Red and Blue Chair created by Gerrit Rietveld. In this version, the colors used for the chair are mainly cherry, oak and walnut. The relaxing atmosphere is strengthen by the use of hammock that virtually separates this part of the house as a lounge area.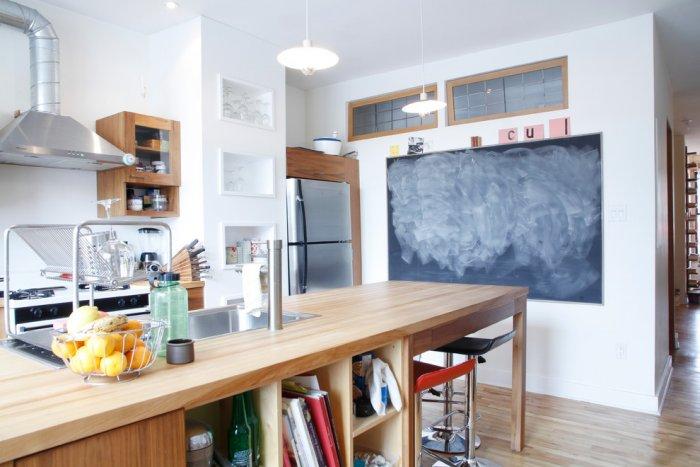 How can one get an eclectic feel in his apartment? Of course, with the use of proper materials. For example, in this image, you can see that the kitchen is designed with wood and stainless still. This is a fine mixture of natural touch and contemporary interior. As you can see, it is not only beautiful but also very functional. Pay attention to the open shelves and drawers, where you can store enormous amounts of kitchen supplies. A very good decision was to place shelving in the chimney in order to add a stylish touch. And the lovely blackboard can be used for writing receipts, memos and other messages.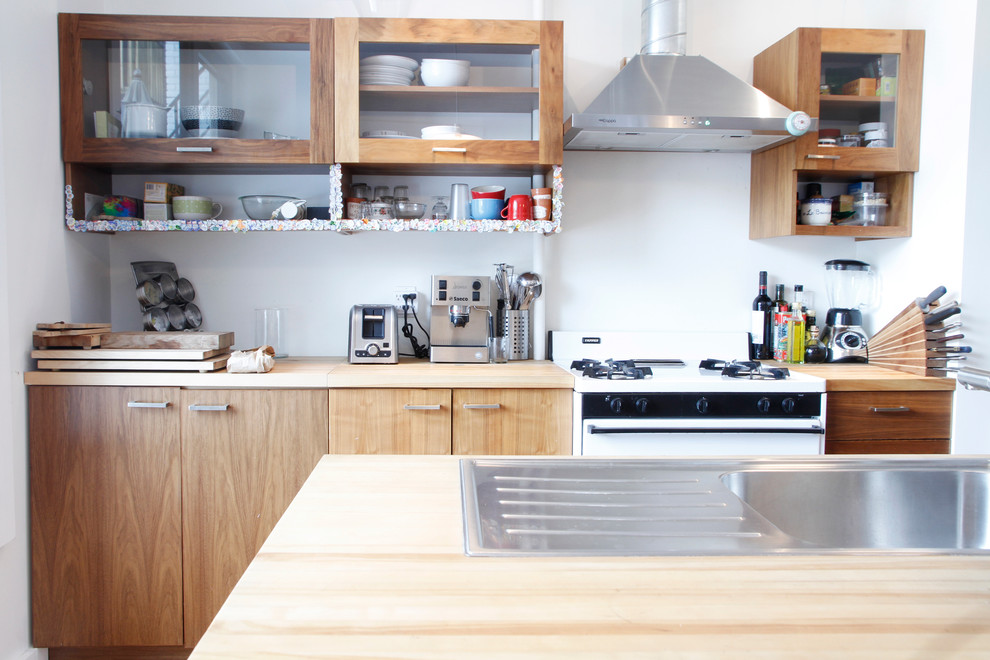 Here are little details, that we would like to pay a special attention to. See the little fruit stickers that line the bottom part of the kitchen cabinet shelf. Aren't they lovely?
When you want to have your interior full of light, you use giant glass sliding doors. This is a well-known method by many interior designers and in case the project needs a lot of light, this is the solution. Besides, you can see antique theater seats that create an interesting atmosphere here. A wooden vertical home library completes the eclectic touch of the cozy corner.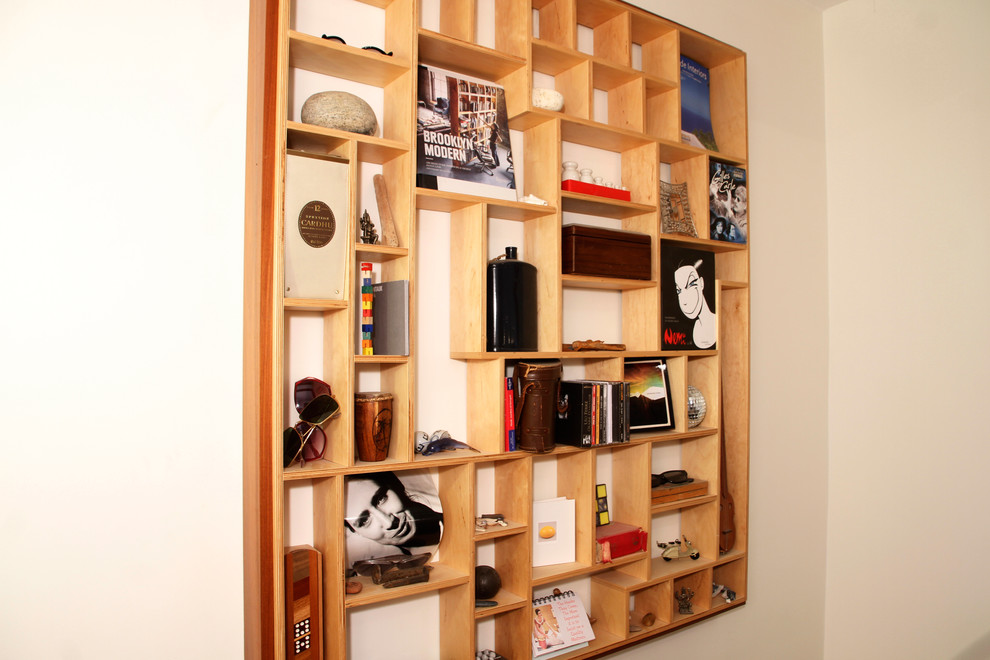 Eclectic is not only about mixing furniture. It is about having a typical style in everything, which also includes having the proper decoration and placing it at the right place. Look at this gorgeous wooden storage unit. It has a perfect appearance that corresponds only one message – eclectic!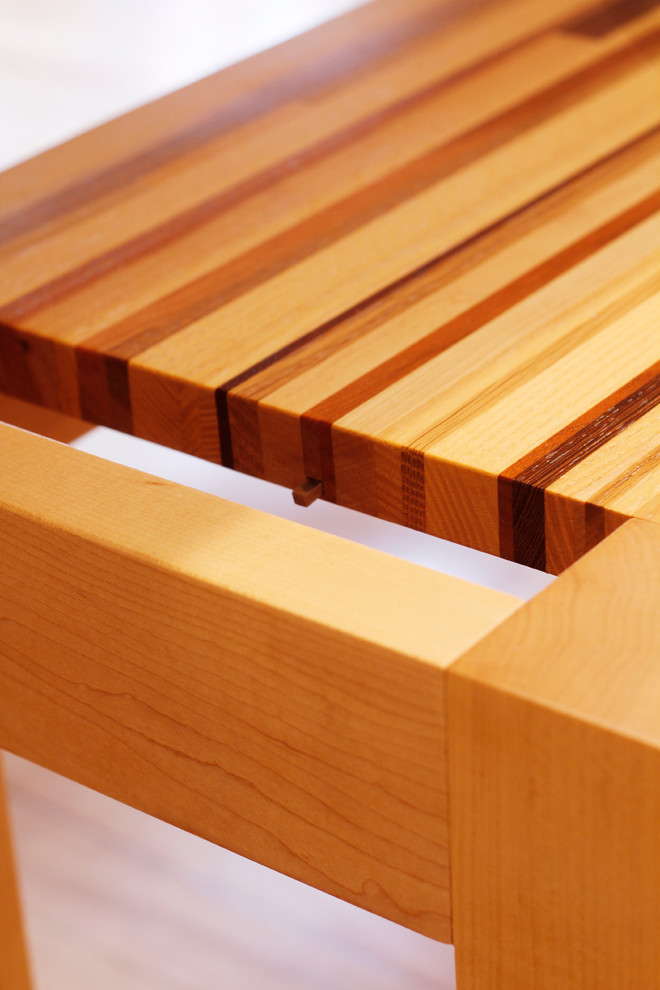 An interesting approach was to add an invisible drawer to the bench. It opens with a gentle knock at the wooden surface and can store a little poem written on a piece of paper. This was Sergerie's main idea.
Another attractive item in the interior of the apartment is the metal spiral staircase made by a local artist. Sergerie only added the wooden steps once the construction has been finished. The writing "CIEL" means "sky" in French.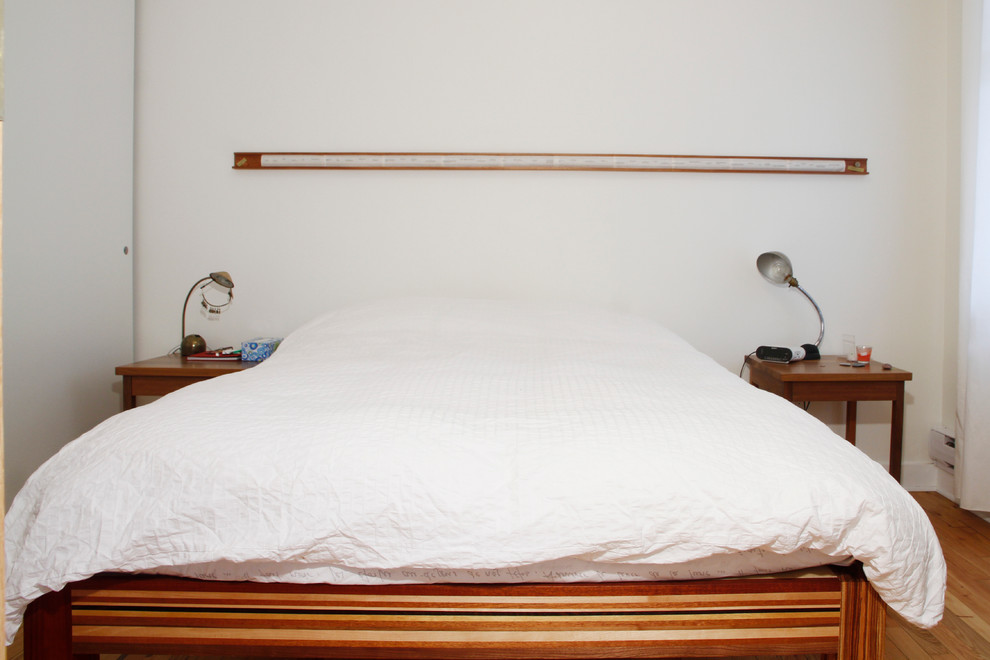 The master bedroom is the place where Sergerie's girlfriend let her imagination create. The result is a cozy eclectic bedroom with stylish interior and welcoming atmosphere.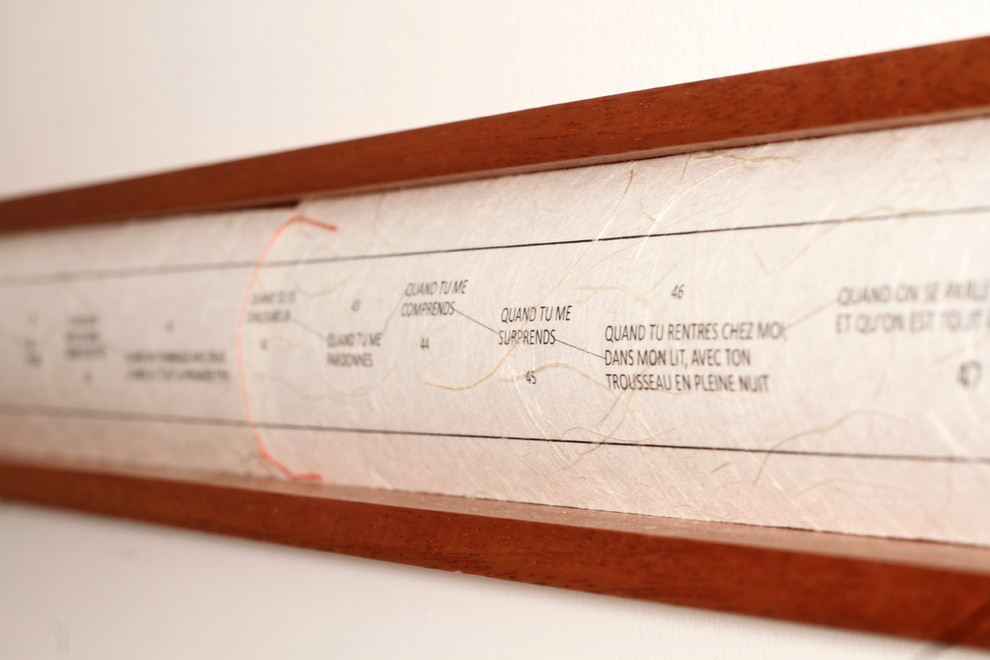 Just above the bed there is one fantastic piece of hand made art. This are 50 romantic messages written in French. These true notes definitely create a place where one can live forever in his most sincere dreams.
Sergerie installed a smart solution in the bathroom in order to provide some extra light from the inner spaces of the apartment. He placed an antique window shelter that functions as a natural lighting provider.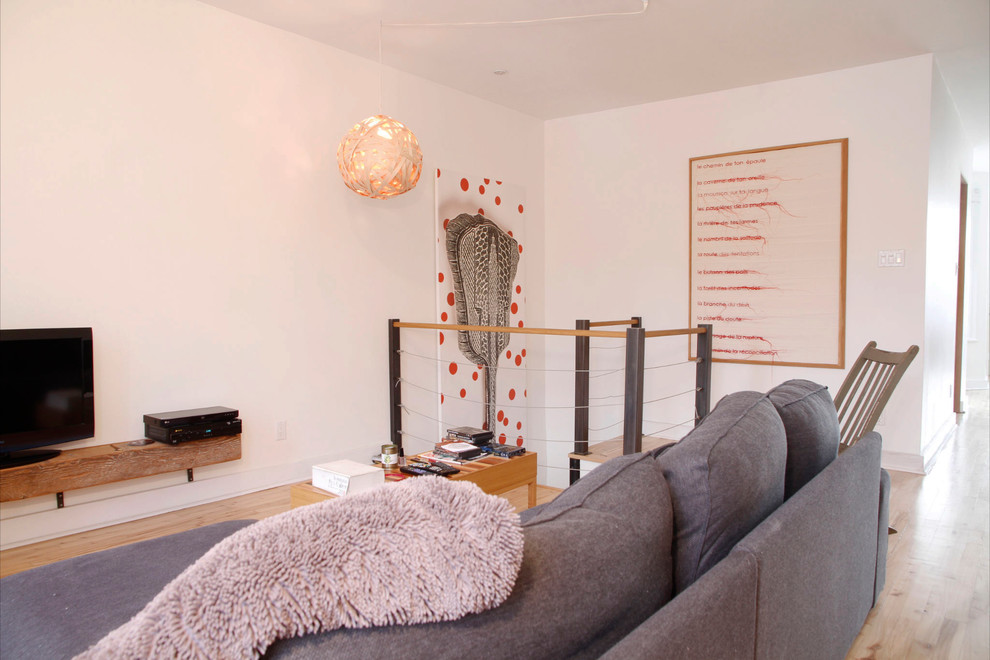 One really impressive piece of wall decoration takes place in the family living room. It consists of various French poems that are collected in one single framed illustration. The poster in combination with the rustic shelf where the TV is placed contribute to the lovely romantic eclectic experience in the beautiful apartment.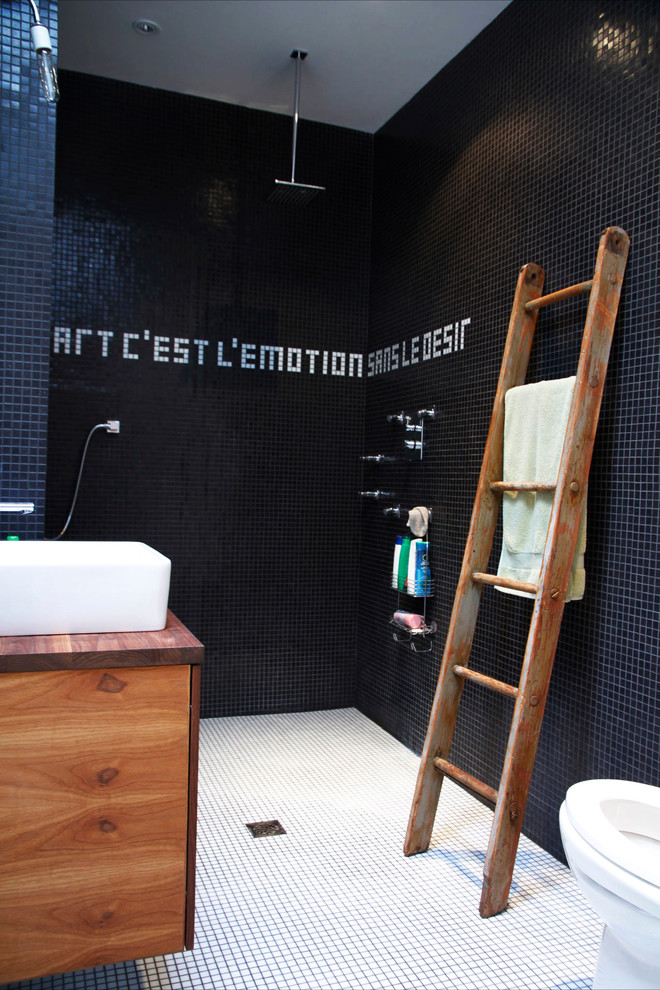 Another French motif lives in the role of a focal point in the bathroom. "Art is emotion without desire" is the translation of this gorgeous wall writing. Contemporary black tiles and ultra modern stainless steel shower widgets matched in one fantastic mixture together with an old and rustic ladder that functions as a towel holder complete the eclectic touch in the place. Eclectic in its purest form.
What is an inspirational home without a relax room? This part of the apartment holds some various entertainment features like the Ping Pong table. Instead of small windows, Sergerie placed a huge patio door that allows a lot of sunshine into the room.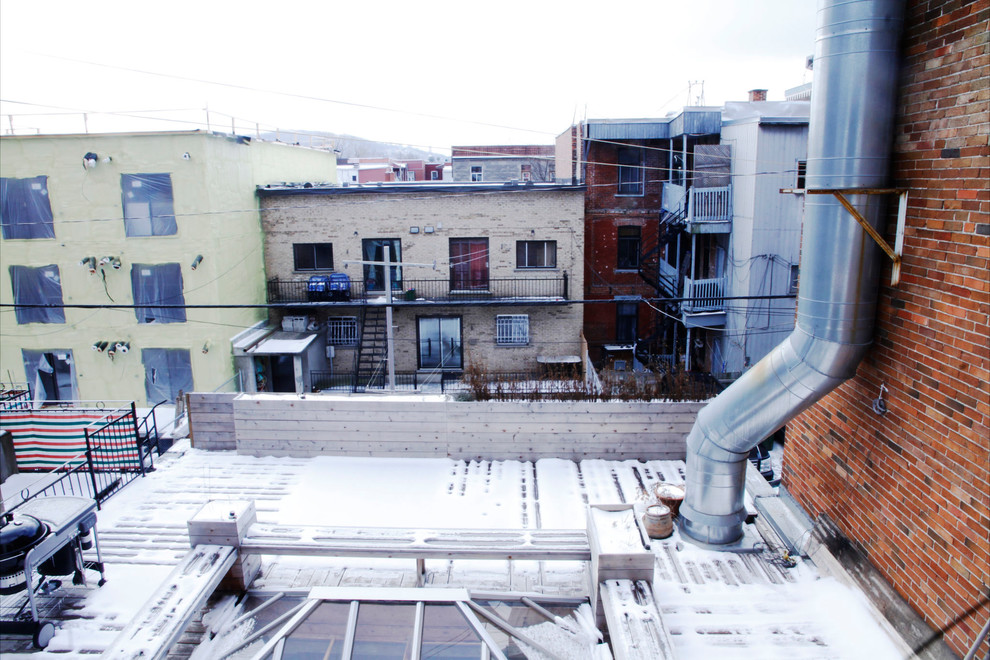 Going outside the gaming room you come upon a deck with an overview to Montreal. The homeowner told us that this place is very beautiful during summer. Going outside at the terrace is the perfect place to enjoy an evening barbecue or a nice glass of cocktail. Terraces in general have one main advantage. You can easily expand your living space by placing proper furniture there, of course having in mind the local weather special features.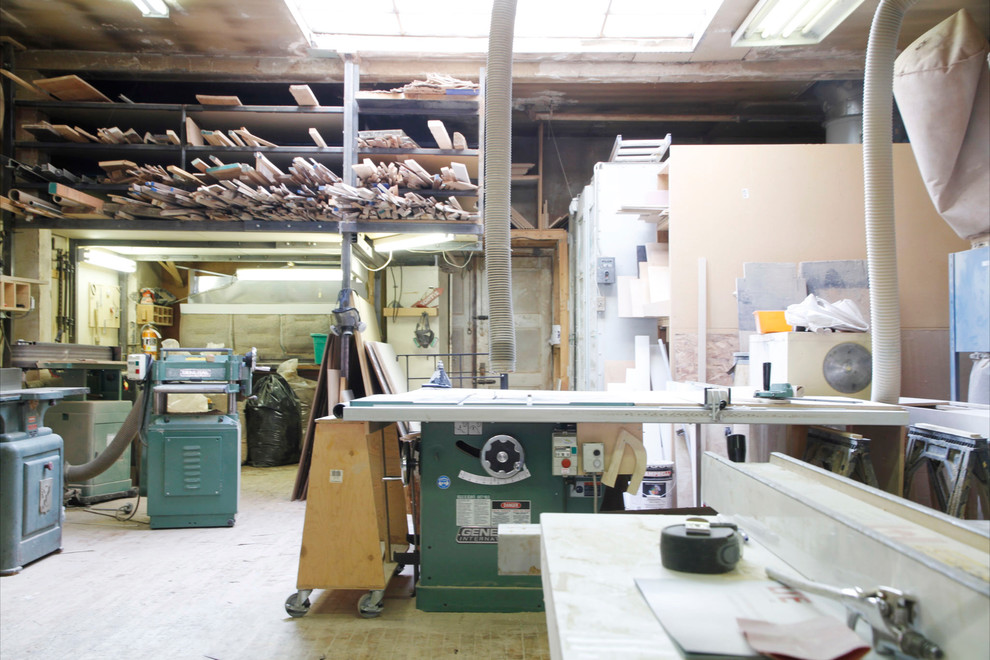 Now, heading down to the basement where a workshop takes its place. It has a classic appearance and provides everything needed for an architect.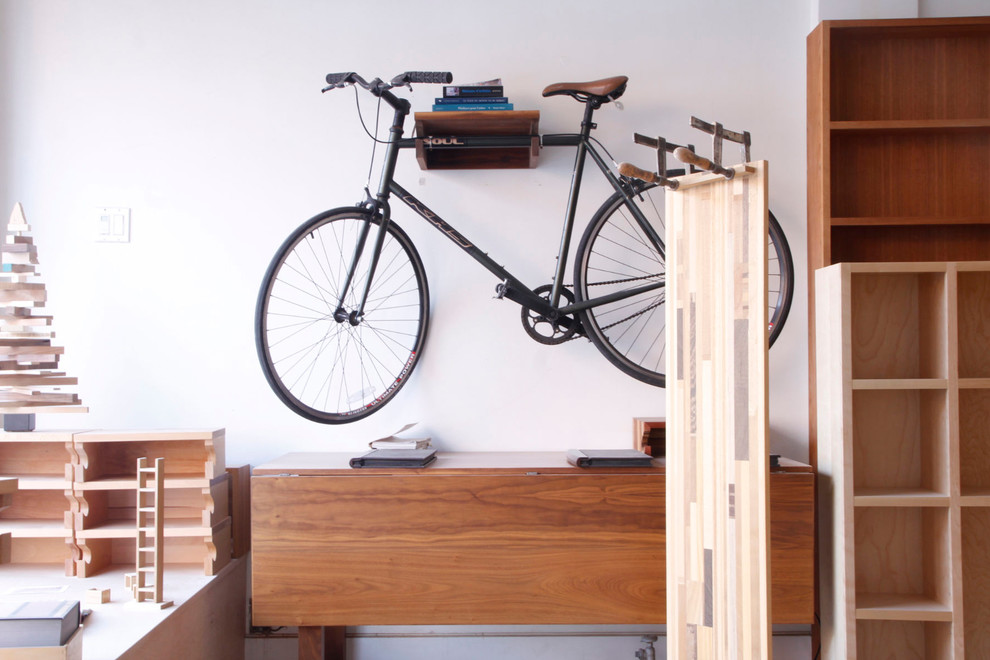 In his sanctuary, Sergerie has placed some of his latest own works. For example, the bicycle storage is one very good solution for small spaces. Even though that this apartment is not so narrow, Sergerie felt that clever ideas should be applied where available.