The bedroom is one of the most important rooms in the home. Rustic details can make it cozier and this is due to the textures and colors. Mixing of patterns, textures, colors, light, materials, can achieve both the desired and searched by you result. For you today we picked an interesting collection of 21 bedrooms with rustic decor.
Wooden-inspired home with a lot of sunlight
US cottage interior design style
Bedroom with a lot of wooden accents in the interior
Contemporary elements in the interior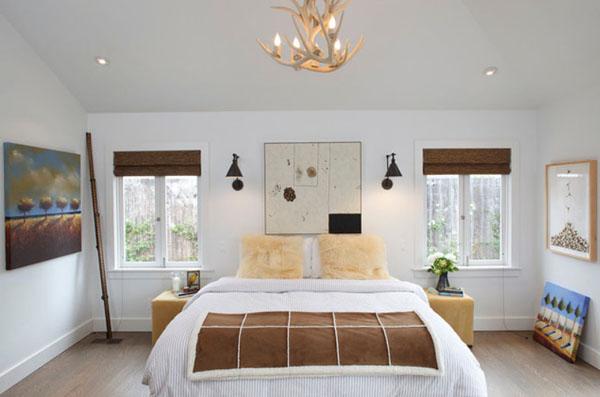 Bedroom with moderate bed and two windows
The spring is at our door and we can see it all around us. But if you really want to feel the spirit of this charming season, we can decorate our home appropriately. And what will be a better place for interior inspired by spring, from the bedroom. This way yet in the morning you will be enjoying the good weather. The easiest and very original way to decorate the bedroom is using floral motifs. Pick blankets, bedspreads, curtains, and rugs with patterns of flowers. Use bright fabric to cover the headboard. Decorate the lamps and chandeliers with paper or other artificial flowers. However, fresh flowers or potted plants remain the best choice to remind us that spring has come and to add a fresh touch to the interior of the bedroom.
Bedroom with floral accents
Bedroom with green accents on the pillows and the bed sheets
Bedroom interior with nature-inspired decorations
Small bed and white and green sheets
Traditional bedroom with gorgeous giant bed
Many of us live in a small house, so we need a good plan to optimize every inch. Today we bring you some great ideas for a small bedroom. The most important part of the interior of the bedroom with small sizes are the furniture. Make sure you are furnished with comfortable and functional furniture. For example, you can pick up a bed with space for storage. There are options for beds with storage space in the headboard or cabinet in the foot zone. Use the space under the bed and put some boxes with your belongings underneath. Cabinets on the walls are also a great idea. Rather than put reading lamps on tables where they will take place, hang them on the wall. Look at the photos below and get inspired on how to organize your small bedroom.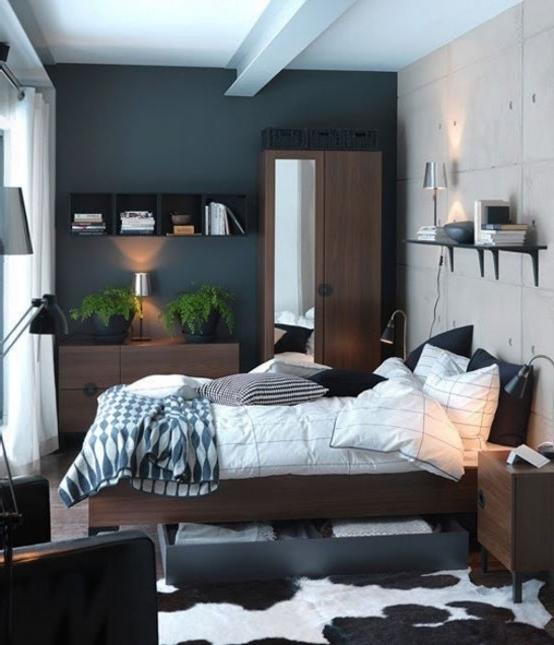 Bedroom in a modern flat with urban interior style
Bedroom in white with elegant minimalist interio
Bedroom with vintage accents
Bedroom with purple accents
Interior design for small apartments
There are two main advantages of neutral colors. The first is that this is a very practical choice for home decor. Neutral colors make any place look bigger and spacious. Another advantage is that this color theme is very relaxing. Therefore, neutral color theme is a great idea for decorating the bedroom. Neutral interior of the bedroom will help you relax after a long day. Moreover, it gives you a wide choice of options – white, gray, beige fit in any interior style minimalist, classical, industrial, romantic … So check out the gallery below and get inspired on how to arrange bedroom in neutral colors!
Bedroom interior in white and grey colors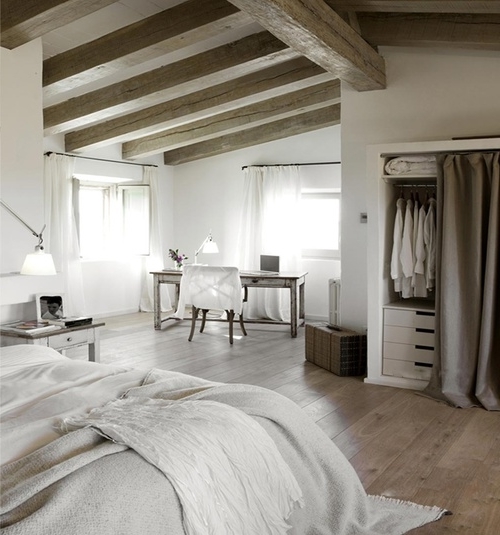 Rustic interior design style with barn beams
Bedroom interior design in white
Creme colored walls and bed cover
Bedroom with decoration and walls