One of the first things a homeowner and contractors look into is the quality of fence material. There is a lot of vinyl fence or any other fence material in the market. But which one has the best fence material?
Another common question Fence Companies get from their clients about their fence products is whether vinyl and PVC fence material is the same.

Don't be confused:
This article will show you and help you understand the fence materials and introduce you to a company that sells fencing products better than what you can from other big-box companies like Home Depot and Lowes.
What Is Vinyl?
Vinyl refers to synthetic human-made plastic materials made from ethylene (found in crude oil) and chloride (found in salt). There are a few different vinyl types, including polyvinylidene chloride, polyvinyl acetate, and polyvinyl alcohol. 
Another popular type of Vinyl is Polyvinyl Chloride or PVC!
What Is PVC?
PVC stands for polyvinyl chloride. It is a tough, chemically resistant synthetic resin made by polymerizing vinyl chloride. PVC is a material you would come across when doing home improvement projects like piping, flooring, or sheeting, you've probably used PVC. 
PVC is a standard formulation of vinyl that you could find when doing plumbing, construction, electrical insulation, and more. Homeowners and business owners opt for PVC over other construction materials because of low production costs, high strength-to-weight ratio, and long lifespan.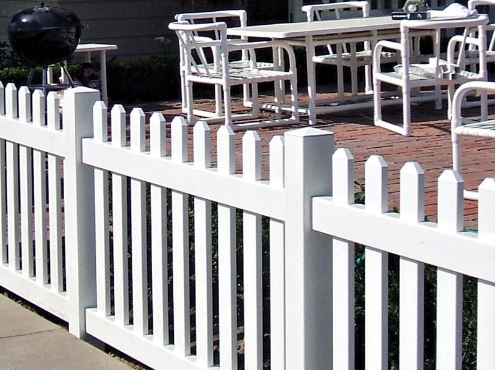 Vinyl fences use PVC as the main ingredient. However, some also combine it with other vinyl formulations, including polyvinyl acetate (the main component of wood glue) and polyacrylonitrile (a standard acrylic fiber). That is why many in the fencing industry use the terms "vinyl" and "PVC" synonymously.
PVC Fence vs. Vinyl Fence:
The fence industry does not distinguish a PVC fence from a vinyl fence for an important reason. A vinyl fence starts with polyvinyl chloride (PVC) resin, so the two kinds of fences are interchangeable in terms of the material used. 
To differentiate the two better, let us say a PVC fence is a fence you could make yourself using PVC pipes cut into uniform lengths and attached by T pipe and elbow connectors. 
On the other hand, vinyl fences have PVC material that is molded or made by manufacturers as an alternative to wood fences.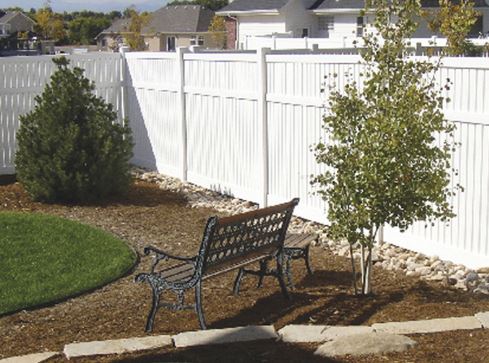 You might think that PVC Fences and Vinyl Fences are the same because they have the same primary chemicals. But this is far from the truth. 
The reality is vinyl fences vary widely in terms of quality.
When buying a fence, you need to make sure you are buying from a company you can trust that sells quality fences.
Unfortunately, many big-box manufacturers and retailers like fences from Home Depot and Lowes and any other home improvement stores gave vinyl fences a bad name in terms of quality.
Big-box stores often sell cheap, DIY vinyl fence posts and panels that don't stand the test of time. Usually, their products are made of low-cost or straightforward vinyl formulations and tend to be very brittle and easy to damage.
In contrast, we want to introduce you to Duramax Fences:
Duramax Fences formulated their very own specialty vinyl to offer maximum durability and the best cost. Duramax Fences have a combination of vinyl and raw PVC resin with several special additives, including:
The proprietary DuraResin™ vinyl formulation

to aid the strength of fences to withstand extreme weather conditions 

Twelve parts of Titanium Dioxide

to make the fences susceptible to discoloration.

Highly-perfected UV inhibitors

to prevent fading, chalking, and other damage from solar radiation.

Impact modifiers

to make the vinyl more durable and resistant to damage.

Stabilizers

to keep the vinyl's composition even and help it resist temperature changes.
At Duramax Fences, they fabricate their very own PVC AND Vinyl formula with a combination of their special materials that all work together to create a durable, long-lasting fence. They only offer the best quality materials at a very reasonable price competitive in the market. 
Some other vinyl fence manufacturers use different combinations of ingredients. Some don't use them at all, resulting in a lower-quality product that doesn't last as long or performs as well.
Why Choose Duramax PVC Vinyl Fences?
PVC is the main ingredient you can find in vinyl fencing. That's why a lot of people in the industry use the terms interchangeably. It helps to think of vinyl as a general term and PVC as just one product. 
It may not be easy to understand initially, but Duramax PVC vinyl fences are among the most popular types of fences for a good reason. 
Here are the three main benefits of Duramax PVC vinyl fence and why this is the best choice for your fence needs:
Durability:
Most people opt for PVC Vinyl Fences because it is durable. PVC Vinyl fences are resistant to both chemical and biological disintegrations. You don't need a lot of maintenance with Duramax PVC Vinyl fences, and it can last for 30 years, even a lifetime with the best proper care.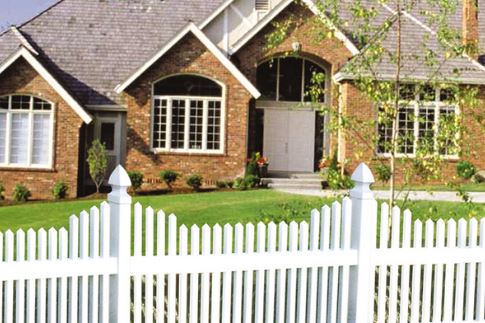 Low Maintenance:
Duramax PVC Vinyl Fencing is the alternative to wood fences. If you have wooden fences right now, you probably know already that wood fences can split, splinter, and warp through the years, but Duramax PVC Vinyl Fences don't! 
Duramax PVC Vinyl Fences does not need cleaning, and cleaning your fences is as easy as using products easily found in your home.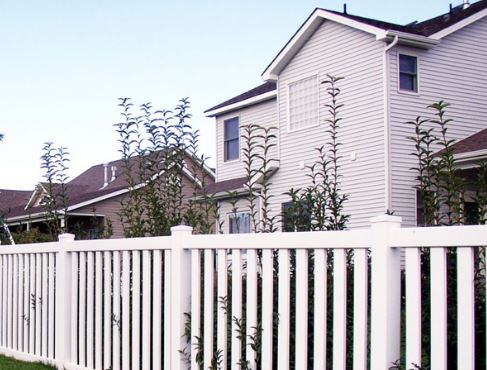 It is to clean your vinyl fencing from Duramax, here's how: 
Design:
Duramax PVC Vinyl fences come in different styles. You can pick the right design and customize your fence that would cater to your needs. Duramax PVC Vinyl fences also look more like wood without the headache of maintenance
You can browse through different Duramax PVC Vinyl Fence Styles here.
Get Quality Vinyl Fence for Your Property and Home:
Do you want to learn more about Duramax vinyl fencing products and how they can improve your home? Talk to a Fence Experts today at 844-636-8675 to get the best deals and the most experience for your Duramax PVC Vinyl fence installation.