Roof on the Hill is a project of the Alphaville Architects. To create this residence, they had used grid steel frame (3m. by 3m.) that supports the roof. The whole space is consisted of several boxes that form the different living rooms: bedroom, children's room, and wet area. The rest space that is left out of boxes is the living room and kitchen. The light that penetrate from the roof, perfectly light up in 45-degree angle the whole space.
Minimalist house and its dining room in white color
For this project we were acting very untraditionally, because we didn't put up any ceilings. The reason for that is that we wanted to introduce line expression of unveiled steel beam to highlight the floating saw-tooth roof on natural contour.
House and its kitchen with elegant and stylish design
The beam and the roof's braces that supports high side light, are kept small (100mm. to 148mm.). Why that you will say? Because the designers want to achieve the multiplier effect of the 45-degree and the thinness, that give the feeling of calmness similar to the one that you are under trees. The box spaces have also thin thick walls (100mm.) with painted off 100mm. columns with square form. The roof deck ceiling is painted in matt white, thanks to that the light is softly reflected by the surfaces.
Minimalist house and its living room in white color
For a conclusion we can say that all three basic participants of this interior project: the grid structure, natural topography and 45 degree tilted high side light, are suitably independent, but are overlapping each other. Thus, the secure functionality extends the architecture. The result is a various landscapes that exist only at this location.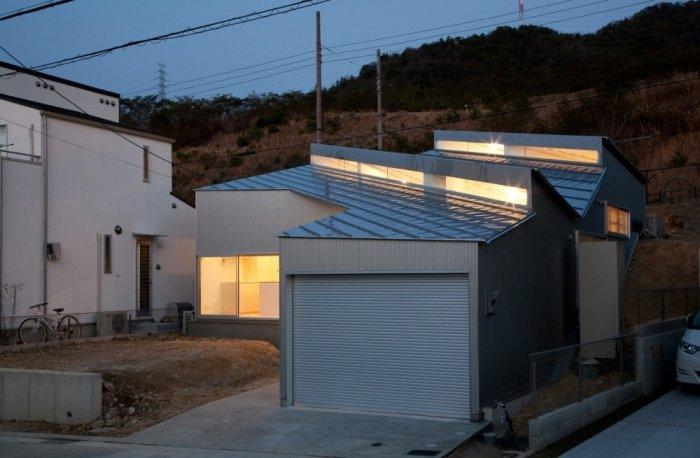 House at night located on a hill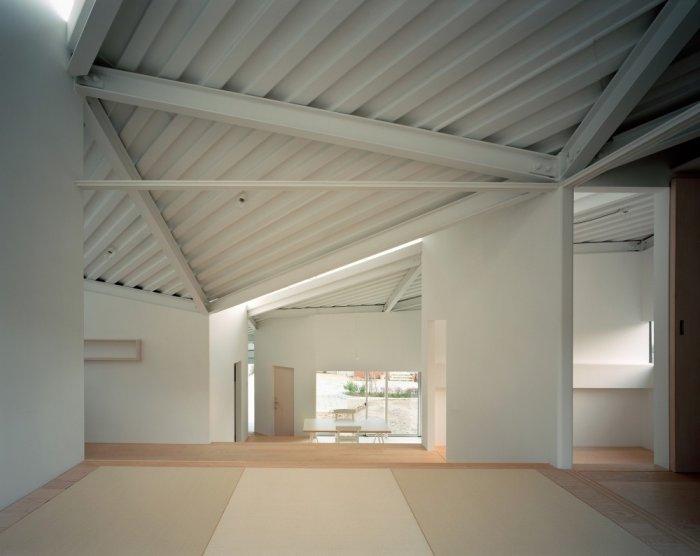 Minimalist house and its curves inside the functional areas
House with wooden flooring and white walls
House with two levels of functional areas
Dining area consisting of small table and chairs
House in white with wooden flooring
House in white and its three levels of functional areas