It is not typical today that the first words to come in mind when thinking about kitchens are "worn" and "rough". This is because today's style is mostly focused on shiny surfaces, marble toppings, beautiful white cabinets and polished nickel finishings. On the other hand, rustic kitchens tend to be an alternative that is more suitable for open-minded people that love interesting "well-worn" look that impresses with its natural elegance and coziness.
Light a fire
There is no other item that can provide as much warmth and coziness in a place like a toasty heart. Well, it is very difficult to install an entire fireplace in a kitchen but why don't you think of alternatives like woodstoves or fireboxes.
Shop beyond the typical appliance options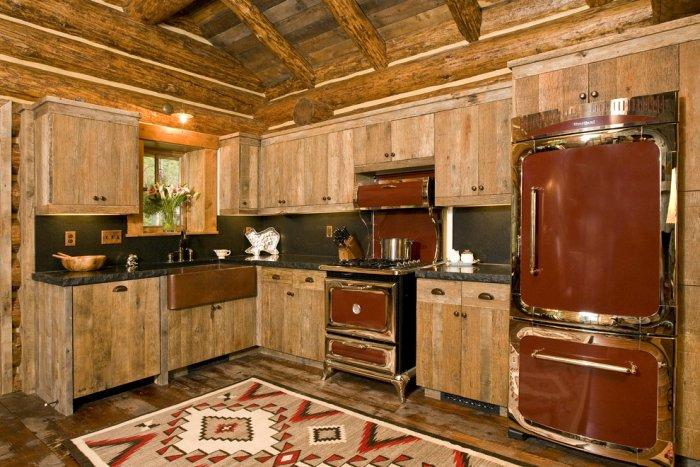 You should know that most of today's contemporary appliances that are produced by the major brands will take you far away from the desired rustic touch. For example, a better option is to search on the internet for such kind of manufacturers that produce exactly the worn look that will fit into your cozy kitchen.
Look to antique precedents for inspiration
Living in such kind of atmosphere makes oneself to dream. The unique and matured look of the rustic style doesn't obscure your mind with an artificial fancy vanity fair like most of the contemporary styles does. Have a look at the image above and pay attention to the distressed cabinets, curly maple counters, the amazing worn table and beautiful chandelier. Can this interior be corrupting?
Choose elements that show their age
Timber beams are one of those little essential elements that are the foundation of the rustic style. In combination with a slate floor the interior becomes authentic and original. And the green cabinets beneath the sink complete the rustic kitchen. By the way, what do you think of having such kind of window just in front of the sink, so that you could enjoy the endless green meadows?
Pay attention to architecture
You can always achieve a European style kitchen interior design by using brick arch and stone wall. Furthermore, you will also need to think of a wood ceiling and exposed rafters. In this particular visual example you will find a head sculpture that have been taken from an old French butcher's shop.
Pair wood finishes with warm hues
The red island in warm nuances with pale intense in the middle of the kitchen puts an accents and grabs the attention when looking at the interior. It also functions as a gathering point for all the other elements in the rustic kitchen – oriental runners, wood countertops and cabinets.
You (almost) cannot have too much wood
There is always an option to install wood elements all along the kitchen interior – from floor to ceiling. Well, in this case you deprive the interior from visual contrast, since the space between cabinets and ceiling usually function as a contrast and definition point.
Add vintage-style touches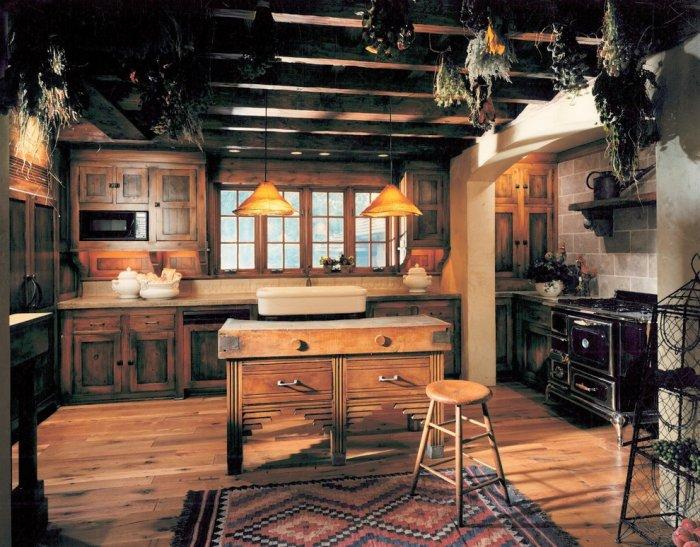 In this impressive and cozy rustic interior you will find splendid old-fashioned cabinet latches living together with a reclaimed sink in a perfect harmony. Additionally, an enamel stove completes the vintage look of this authentic kitchen.
Consider a rustic wall treatment.
A beautiful trick has been used here, in the image above. The walls have been painted in order to give the illusion of texture and age.
Consider reclaimed wood for your countertops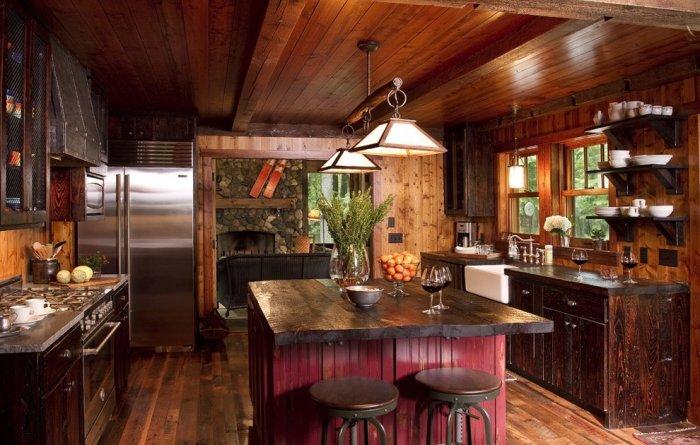 Great way to preserve the countertops from spills and rotting is to use polyurethane.
Use barn lighting
Do you really want to achieve a cozy rustic kitchen interior with rural feel? Then you should definitely think of placing barn lighting.
In case there is a chance that you kitchen remains dark, you should think of installing forgo upper cabinets for windows that will let some natural light inside the place.
Add a cozy spot for gathering and eating meals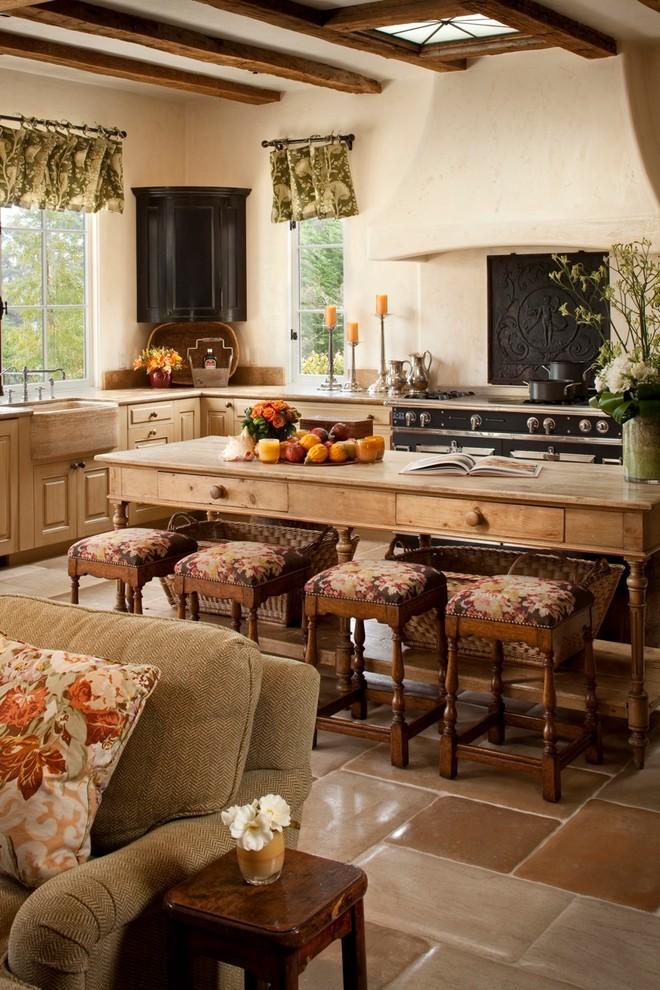 One of those things that bring warmth in the interior and makes it cozy is having your dinner in the kitchen. It is up to you and the area that you own what size of table will you choose. Just have in mind that there should be enough place for a comfortable seating and walking around the table.
Explore different finishes
There are several different materials that can easily fir into the rustic look. For example, a mahogany bronze finish, like in the faucet above, is just the perfect finish for a rustic kitchen.
Bring in textiles
Textiles are surely a way to get the cozy atmosphere right into your kitchen. You can place upholstered chairs, for example. Little decorative cushions and tablecloths are also welcomed in a cozy rustic kitchen.
A rustic kitchen does not have to be dark
Think about making a well illuminated kitchen. You can do it either by placing huge windows on as many sides as you can, or by installing the right lighting.