4th of July is coming this year again and it is time to prepare our backyards as well as houses to celebrate the holiday. That means a great day with friends in a nice atmosphere with some specific decoration that will remind us of the Independence day of our great country! Of course, little preparation at early stage are essential and that's why we are here to give you some fantastic inspirations!
But now, let's have a look at the history and find out what and when really happened in America. It was the Second Continental Congress that organized something that we know today as elections and they cast their votes on July 2nd. This is when the "Resolution of independence" has been approved. After that the congress begin busy debating about all the formalities that come out from such an agreement and finally on July 4th they came out with the "Declaration of Independence" that has been written by a "Committee of Five". As you know, the main author of the declaration is Thomas Jefferson.
After this date all knew that 4th of July is going to be a date that would be celebrated for the years to come over and over again. It is probably a historical moment, one of the most important in American history that give the opportunity for every human being in this great country to feel free and have its own right and security.
And today, all Americans not only in US but in all countries in the world celebrate this glorious day with their friends and families and enjoy the the advantages of the most economically stable country in the world. And we, the Founterior team, are proud to announce the following great ideas for 4th July decoration because we want to help you make this holiday day a memorable one.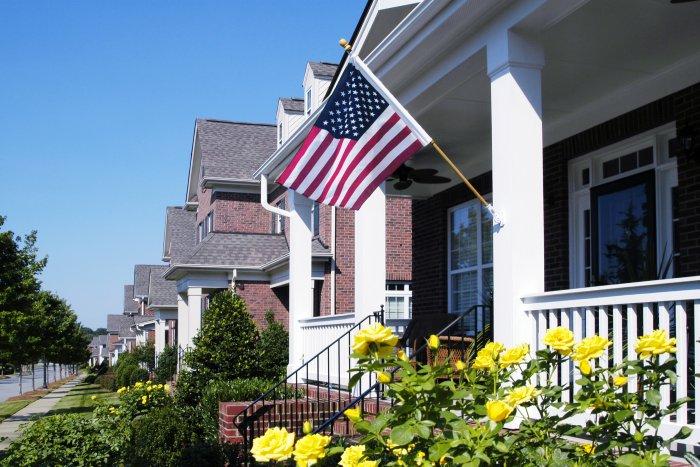 American flag on a house in white
To begin with, we would like to say that the American Flag is a must! What a better way to decorate your front veranda than the "Old Glory" flag?
Usa flag on the porch
Flying flags that can be seen on the front porch have something special in them. This is a great way to show that the entire family living in the place celebrate the glorious date and this is how your neighbors or strangers passing by will feel the spirit of togetherness in American society.
American house facade for 4th of July
However, some of our homes are not able to provide a suitable place to mount the flag so if this is your case you should think of hanging a bunting in the shape of a fan. This is another gorgeous way to make a firm statement of celebration of 4th of July.
Front door in white
What you can do next? Welcome your guest with a greatly decorated front door in red, white and blue! The example from the image above is a fantastic sample of what an eye-catching front door should be. Take your notes, please 🙂
Kitchenware and flatware
Some families prefer having a picnic rather than preparing an entire lunch table in the garden. For those who love picnics, the image above shows that right kitchenware and flatware that you need.
Festive table for 4th of July in white, red and blue colors
Some of us would like to miss the outdoor activities and have a comfortable lunch in hearted atmosphere. Well done! We have something for you, then! What about these red, white and blue polka dots that will transform your tablescape for 4th of July into a festive looking table?
4th of July table with American flags and sunflowers
Another great way to decorate your holiday table is to fill a watering can with different plants, like sunflowers, for example, and add some small flags. This way the decorative vessel with become a great festive centerpiece for your table.
American kid's room white, red and blue
Remember that the best colors for 4th of July are red, white and blue. Your house's interior design can also be transformed in order to reflect the holiday atmosphere. Take a look at these bed covers – they make a firm and fun statement inside the house.
Decorative pillows with various fabircs
Different kind of combinations between fabric and patterns is also a preferred decoration for the Independence day. There is a really attractive way to grab your guest's attention – to use ticking fabric in combination with others, like in the image above. You can think about arranging slipcovering cushions for your chairs placed on the front porch, for example. If you have a swing, use the cushion there.
Decorative star the Independence day
Of the most universal items for home decorations are stars. And since they have been a lot of people recently that have used stars in their houses for different occasions we believe that on 4th of July stars can also make a really inspiring festive atmosphere. Hang one up for the Independence day and you will probably leave it long after the holiday have finished.
Red chairs form a lounge zone for 4th of July
Now, forget about all the tension and stress that we obtain in urban areas and chill out for a moment. Our last but not least idea is about having an outdoor lounge corner on the porch where variously decorated chairs will bring back the memories for the glorious day. Of course, you will be able to have a nice talk with your friends and family and enjoy the day off.