Red, White and Blue Refreshments
Red, White and Blue Refreshments at 4th of July
Every American should celebrate the great history of this country! And for the 4th of July all of us can do some creative work and decorate the backyard or the front lawn in order to create a festive look. We will show you today how to prepare for the holiday using interesting idea for your party.
To begin with, let's take a look at some really creative and interesting opportunity – to use cold beverages as decoration. You will need a bucket full of ice where you should store the berry-flavored juices or sodas. Needless to say, the colors you choose for the bottles should be red, white and blue. This way you will show to your guests your patriotic values.
Sun Supplies Station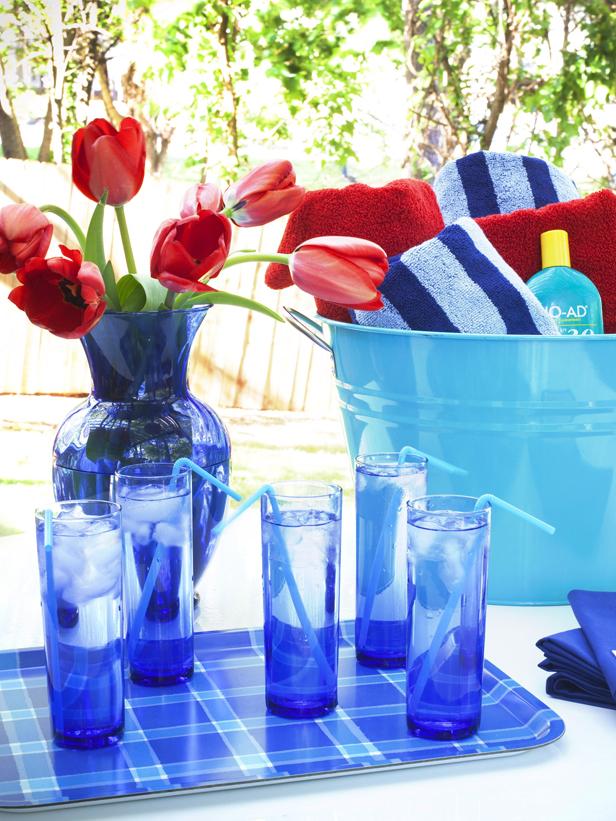 Sun Supplies Station and some beautiful red flowers
If you are planning to stay outside in the sun, you should take care not only for yourself but also for your guests. Think about protecting them form the UV rays from the hot summer sun. Also you should provide enough cool drinks so everybody will stay hydrated. A supply station will do the job, just keep it near the place where you are going to spend the day. Prepare some rolled towels, cold water and sunblock.
Patriotic Picnic
Patriotic Picnic, red rugs and blue pillows
If you want to stay romantic and patriotic at the same time, why don't your think of an outdoor picnic in red, white and blue theme? In case you want to impress with professional taste, think about mixing patterns and textures using pillows and blankets.
Hint: In order to separate the serving space from the rest of the relaxing zone, place a contrasting bath mat. Of course, any kind of small rug will also do the trick.
Sparkling Favors
Sparkling Favors and exciting moments at the 4th of July
Sparklers turned into placeholders? Why not! Give your patriotic party an interesting splash of traditional colors in red, white and blue. Bunch the sparklers once you get them out from the package. Tie them together using your favorite nuances of red, white or blue. Mixing colors is a great idea in order to provide some variety of hues.
Hint: Personalize the sparklers with your guests' names! They will love it! In order to do so, slide a hole-punched paper tag through one of the strands. Then, you should think about tying and curling the ribbon ends that you have already made – it will make your handmade decorative items look so interesting and charming.
Tasty Popsicles
Tasty Popsicles of the Independce day
Is there anything better than some popsicles in a hot summer day? For the 4th of July party you will surprise your guest if you choose and add some popsicles to your party inventory. The essential colors for your juice to freeze should be red, white and blue – the traditional American colors!
Hint: The sticks should be created the night before the event.
Flameless Party Crackers
Flameless Party Crackers at every event for the holiday
Kids are crazy about all kind of party stuff! They love party crackers and in case you do have some children and will take them celebrate with your the glorious 4th of July, you should definitely prepare some of these decorations.
Hint: Make them using toilet paper tubes, crepe paper and, of course, glue.
Modern Patriotism
Modern Patriotism and fanrics for outdoor use
To add a modern splash in the Independence day decoration, forget about all types of traditional stars and stripes. Instead you should think of finding some modern graphic patterns having in mind the must-to-have festive colors – red, white and blue.
Mixing Patterns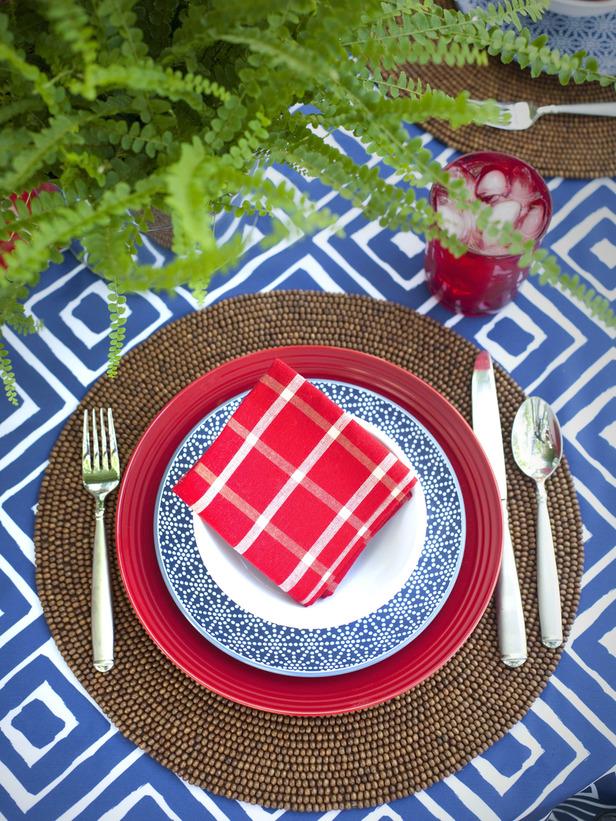 Mixing Patterns for 4th of July
As we have already written above, mixing patters and colors give the visual composition a professional touch.
An advice from professional: Don't make your setting look very busy. Try to mix a large scale print with smaller in size ones. Medium variations are also welcomed to balance the visual perception of the festive zone. Linens and serve ware are perfect for applying these ideas on.
Outdoor Ring Toss Game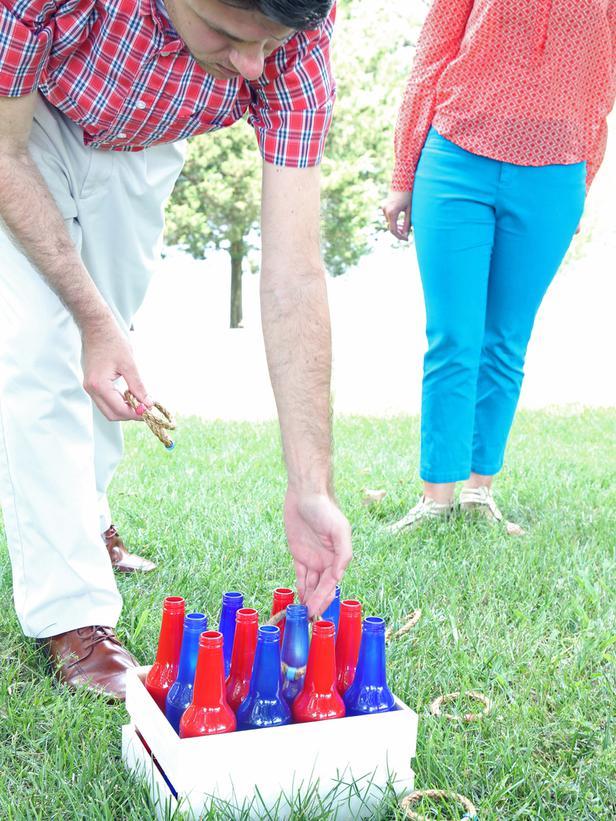 Outdoor Ring Toss Game for the holiday
While being in the outside and celebrating the national history, why don't you also include the opportunity for playing some kind of games? For example, this gorgeous DIY ring toss game will entertain your family and friends.
Hint: A prize should be prepared for the winner.
Fireworks for Guests
Fireworks for Guests the Independence
Do you know how are able to make your placeholders useful? Give them a funny and interactive character by wrapping the packaging with natural twine. In order to personalize them you can use a paper tag. This is a great idea to point your guests to their seats and the other advantage is that they will have their own supplies to enjoy the firework time.
Festive Cake Sparklers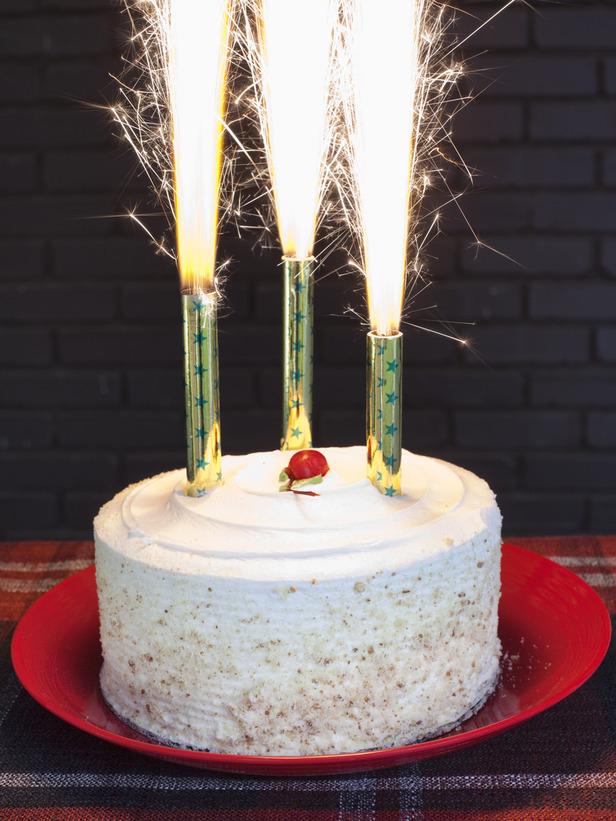 Festive Cake Sparklers of July will make the holiday memorable
Sparklers are so lovely! They remind us of memorable birthday parties! If you are planning to use such in your 4th of July party decoration have in mind that safety is first!
Advice: Use this idea only outdoors!
Ombre Party Linens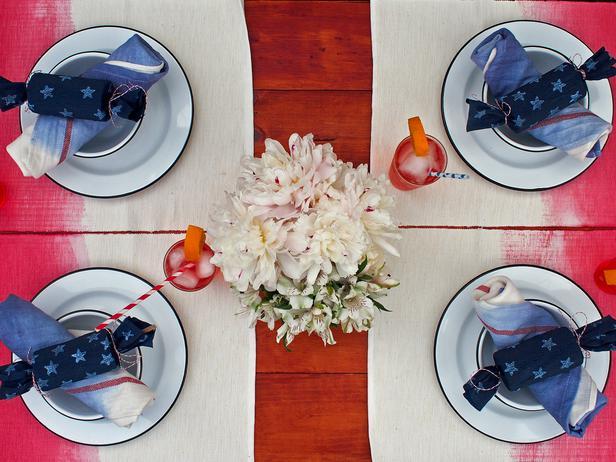 Ombre Party Linens of July outdoor table setting
Do you want to give your table a patriotic update? If you are using white placemats and napkins your will easily apply our next idea. Dip-dye using reds and blues – this way you will achieve a great American vision that can be used not only for the certain celebration day but all the year around.
Festive Dessert Basket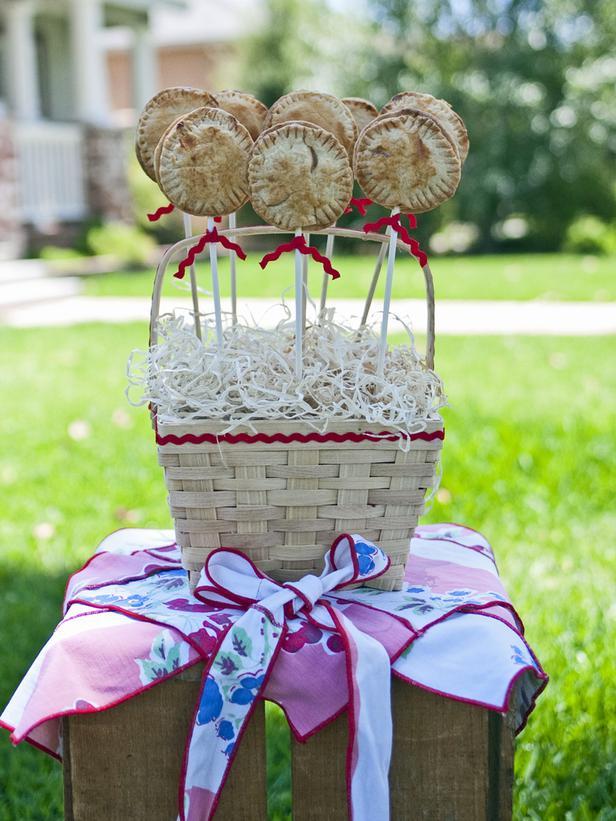 Festive Dessert Basket in the outdoor event
Is there anybody in the world who doesn't love desserts? We bet, there aren't many! A great idea is to take a basket for desserts and decorate it for 4th of July. Floral foam can help you do that and should place it in the basket.
Hint: The festive basket can be used as a table centerpiece.
Floral Design
Floral Design on 4th of July
Being outside in your own garden has two main advantages – you can either set a picnic themed party of your can simply take your dinner table outside. In case your prefer the second option, you can use oversized floral patters with contemporary reds, whites and blues.