There are different types of people when we are talking about patriotism in US. Some people love to decorate their front porches in red, white and blue for the days before 4th of July and there are others, that simply adore Americana style all the year around. The second type are mainly patriots that love our great country and like American flags, quilts and everything in the famous colors – red, white and blue combined with natural tones. You can find in these people's homes classic furniture of traditional styles, like the colonial or farmhouse. Folk art and other typical items are also essential. Believe it or not, in a patriot's home you can even find a Coca-Cola iconic logos.
Now let's have a look about some great ideas for 4th of July decoration that has been carefully selected from the homes of true American patriots.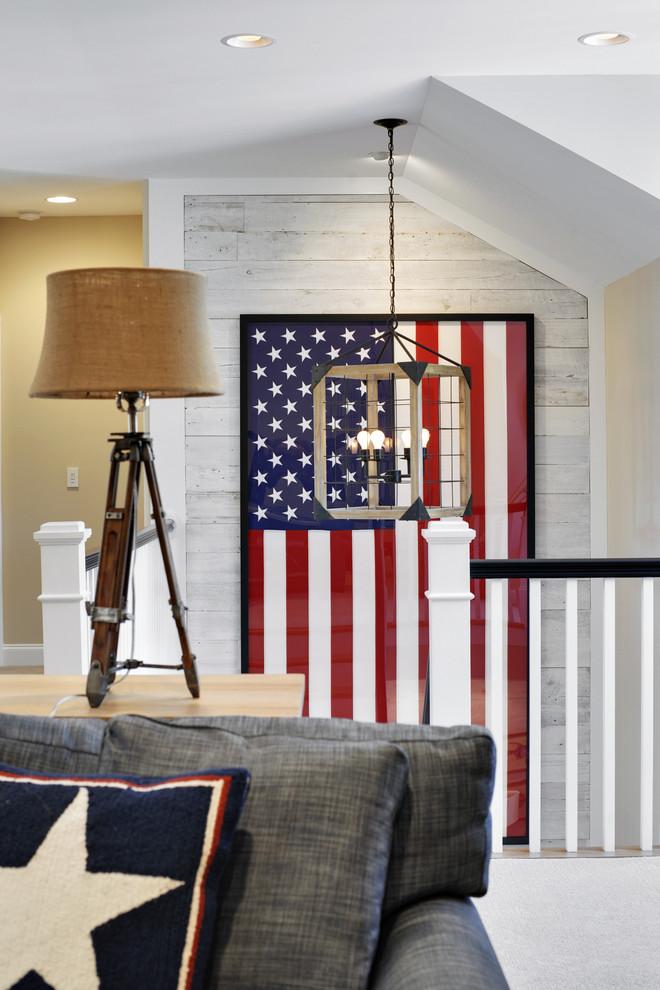 American flag a decorative element
One of the greatest and most suitable decorations for the holiday is the American flag. If you are planning to have one, you can place it on the facade of your house.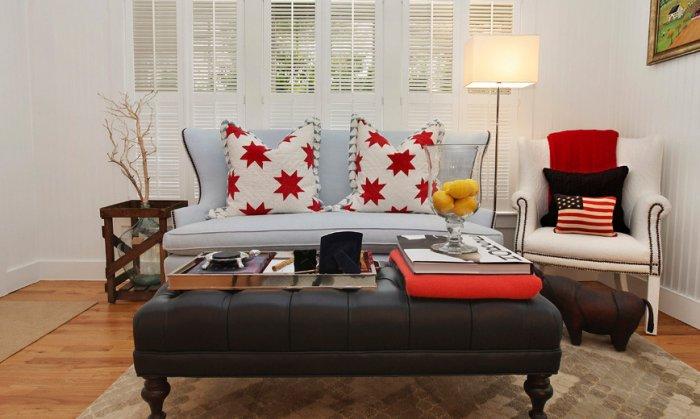 American flag a small decorative pillow
Americana style is not all about showing off the most vivid nuances of reds and navy blue. Of course, such kind of exaggerated atmosphere can also be welcoming but it has to be very carefully and professionally soften up by surrounding elements in the interior. Have a look at the image above and notice the settee vignette and you will see a proper usage and application of the style. The blue used in the visual composition is really light. Additionally, the stars of the American flag are not in the typical shape of five-point star but they have rather been created in a folk-art shape.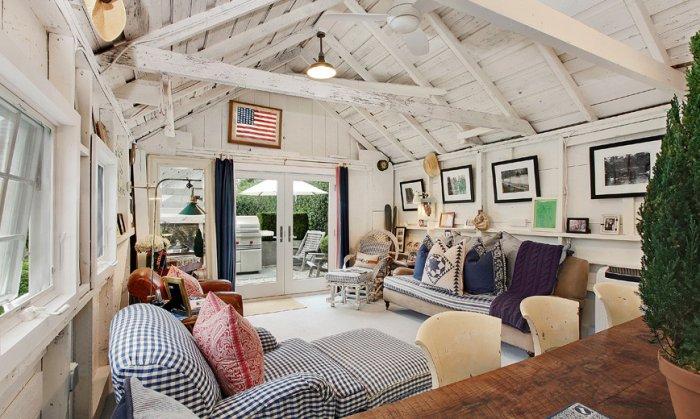 US flag of a traditional American home
Note from the editor: This barn is fascinating!
Its stylish Americana style includes gingham as well as quilted pillows in mild tones of various contrasts. The theme is, of course, composed of emblematic red, white and blue hues.
A hint for success: Use white paint in combination with neutral shades and this way you will be able to prevent Americana overload in the interior.
Decorated for 4th of July in red, white and blue
The image above is an interior that has been designed by designer Barclay Butera. This is gorgeous composition of original Americana style that is particularly used for seaside cottages and the decorations inside them.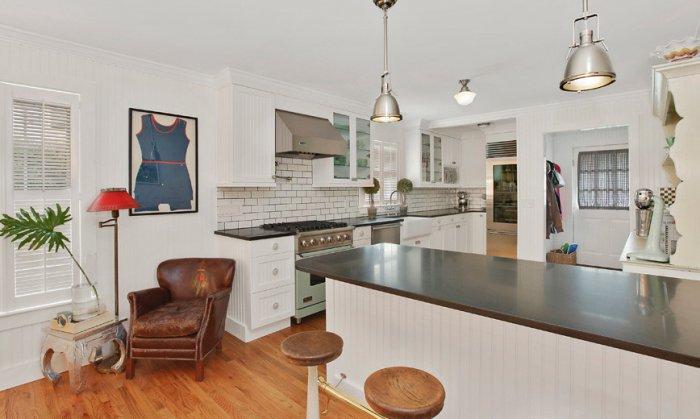 American home with red in the interior
In this beautiful and cozy cottage kitchen interior we can find an item that adds just the perfect dose of Americana. This is the framed vintage bathing suit and its ability to function as a stable balancer of the composition.
4th of July American flag of a country home
A front porch in white with American flag on it – a real classic! When looking at the image you can almost experience the farmhouse feel and breathe in the country air.
Аmerican flag, placed in the front veranda
Porches are great because they function as a junction point where you can enjoy a nice talk with your family or friends while being outside in the open at the same time. That's why porches are a must place for decorations since they are hot points. Think about some stars and bars that can be added to your existing furniture. For example, a large pillow in a Betsy Ross-inspired design can cheer up the atmosphere.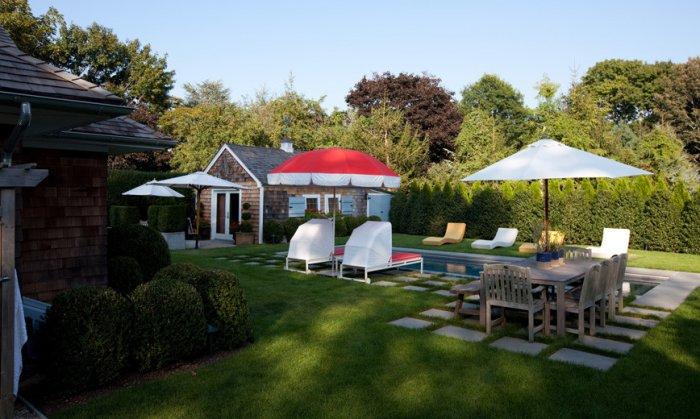 Backyard prepared for 4th of July
A definite modern landscape here. It is an elegant blend of Americana style and modern elegance. Shingles and blue shutters live together with gridded pavers and modern lounge chairs. What a great place to be on 4th of July!
How can you decorate a traditional interior for the Independence day? Well, one of the most simple ways is to add some gingham fabrics and cushions in solid blue color. White stripes are always welcomed in such kind of patriot interiors.
Patriotic American interior the fireplace
Americana style can also live together with various palettes. Take a look at the iconic photography of Ansel Adams and the great addition of a quilt in star patterns and a mild brown leather sofa that complete the visual composition and exhibit a cultivated taste of stylish perfectionism and patriotism that results in a brilliant coherent environment.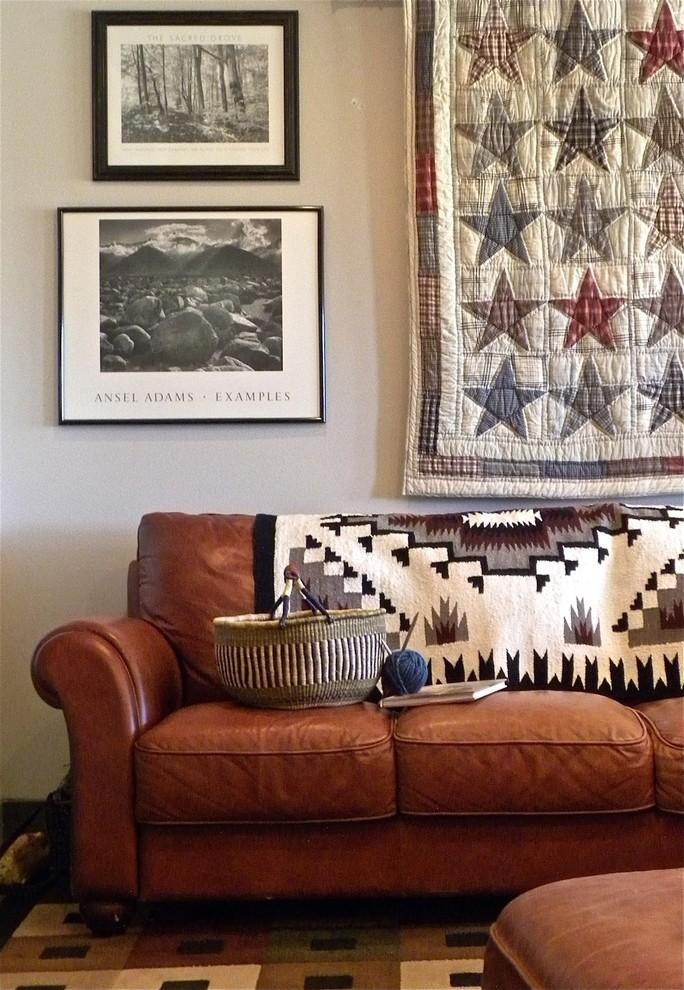 Creative design flag hanged on the wall
Have you ever wondered what a chic coastal style looks like? Now you have a great example that can be used for 4th of July.
Traditional American home and red decorative accents
The patriot style can also be achieved by simply adding various pieces of furniture that are typical for the flow, like nightstands of four-poster beds, for example. Striped rugs are also a fantastic way to show your love to our great country!
American bedroom decorated and bed sheets
Do you know a better way to show the original American style than adding authentic vintage objects in the interior, like old antique furniture with farmhouse touches? Have a look at the image below and explore the cozy New England feel.
American country home
And moving towards the Western parts of the States, we simply can't miss the original Western style in interior that originates at times when the first settlers occupied this territories.
Patriot American home Wild West interior style
What is 4th of July without the typical American items and decorations in the interior? If you want to get an authentic look, think about finding such kind of folk art elements, like from the image below.
4th of July decorations home interior
Living in eclectic homes has an outstanding charm! Beautiful combinations of contemporary and rustic elements result in a comfortable interior where one can enjoy splendid his time. In order to decorate such kind of homes for the celebration of Independence day, think about adding some very simple and stylish decorative items in red, white and blue. In the image above you will notice and old vintage coke machine, which is a great way to add some typical American accents in the room.
Simple and elegant American homе
Different types of artistic versions of the American flag are great for modern interiors. Not everyone can afford an original Jasper Johns but in case you are willing to thrust deep into your pockets, go ahead – the painting will do a great patriot decoration in your home.
Abstract painting of the US flag
And in the last image we prove that Americana style can also be combined with ultra contemporary luxurious styles. Of course, everything is designed with refined perfectionism.
Contemporary American home for 4th of July