This stylish Tribeca Penthouse is a creation of the famous Turett Collaborative Architecture Company. We easily can distinguish this dashing style that is beloved from the SoHo style fans. When we first saw this project we were very surprised by its exceptional designed living space. You see how smoothly is combined one classic design with a sophisticated décor and lifestyle choices. The final result is an enhanced breezy makeover from one 1870s-era structure. We truly can say that the penthouse offers special luxury that is lost in the timeless appeal and legacy.
Contemporary living room a New York penthouse
The team leader is the architect Wayne Turett and thank to his professionalism and experience the whole team manage to epitomized the cheerful ambiance and the typical aura of NY apartments. The dominating color is the white which is used almost on every level of the penthouse. The owners adore the outdoors but not the noise of the NY traffic so it was used oversized windows, immense glass doors, three spacious terraces and smartly placed lanterns differentiate the line between the indoors and outdoors. The designers intentionally focus on the creation of one vibrant home that allows you to enjoy the great beautiful sights and the sounds of this lovely city.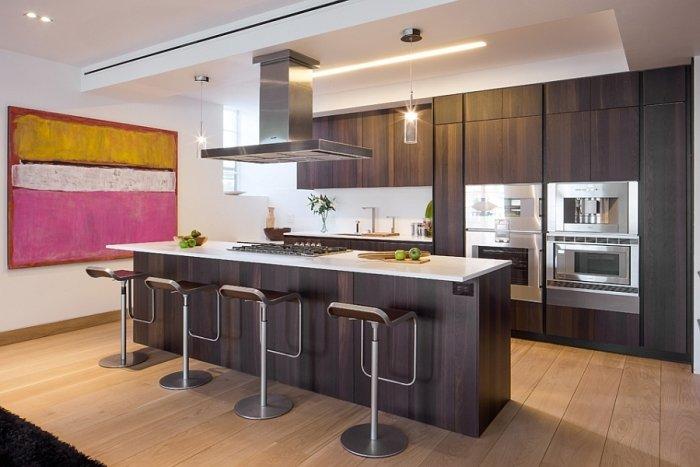 Contemporary penthouse kitchen and long island
Let's go to the second floor and see what we will find there: an open living area that includes living and dining room, kitchen and also you can find a media room and open-air courtyard, which can be called the heart of the house. We cannot stay uninvolved to the stylish closet which has a lot of space where every woman can stay forever to try different outfits. The bedrooms are very tranquil and cozy, the bathroom is designed as a small spa place, where you can find a steam room and relaxing sauna which completes the look of this marvelous Tribeca penthouse.  
Contemporary stulish bathroom with shower
Contemporary living room in white
Sunny penthouse bedroom with white walls
Stylish prelude to the huge balcony
Stylish penthouse bedroom and wooden floor
Stylish kids room with modern chair
Stylish dining room with modern pendants
Stylish dining room located
Private penthouse sauna
Penthouse's guest bedroom
Penthouse bathroom with modern design
Penthouse bathroom with direct access
Outside the bathroom
Now, have a look at another amazing New York penthouse: