Kindergarten Sustainable Architecture
The natural appearance is definitely noticeable in this structure called "Peanuts". There is a huge space where you can sit comfortably and take a rest while your child is playing. The name "Peanut" is coming from the shape which is forming a complete circle.
Projected in such a way, the sustainable kindergarten architecture (as defined by Founterior) matches completely with the natural appearance inside.The synchronization of nature and this building leads to a feeling of natural phenomena like the rain and the forest sounds. We can only imagine the cozy look from inside when the scenery moves trough the different seasons. Huge windows give a felling for relaxation which every mother needs. The children will feel great playing close to the nature. This specific mood and atmosphere that is created in the kindergarten is really important for the early years of the children, when they are forming their attitude to life and when their brains start to capture and distinguish objects and shapes. Do you think that there can be more suitable environment for them than this creative sustainable architecture. Once you enter it you will definitely feel that the inspiration is in the air.
The sustainable architecture project for every room in the kindergarten is made for great comfort for you and your kids.The desk height in the administration is the same as the height of the babies floor. The project also includes babies room and gallery. The administrative parts consist of formula room, balneum bathroom and office room.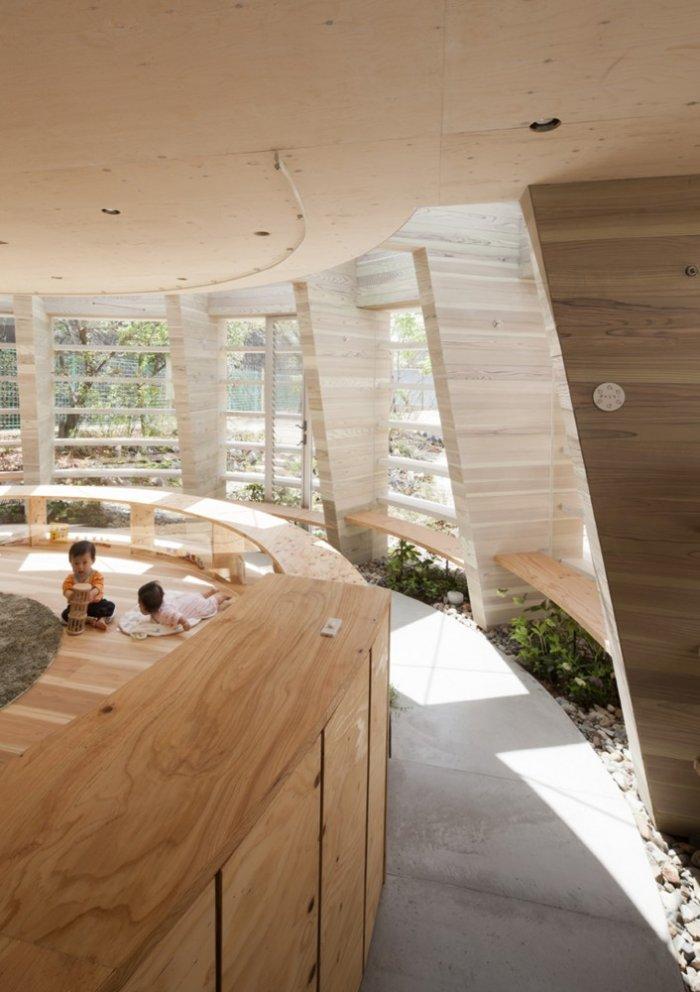 See the other images of the project by clicking them below:
[lg_folder folder="Modern Kindergarten Sustainable Architecture Design-Gallery/"]