As the name suggests, main street painting companies provide painting services. These include a wide range of offers, including important paint jobs such as those for street art and even road signs, and painting the interiors of residential homes or commercial complexes.
Because of its significance, it's essential to get this job right. If you're thinking of hiring a main street painting company, it's therefore imperative to get an assurance that you're hiring from no less than the best.
Before hiring a painting company, make it a point to ask the following questions: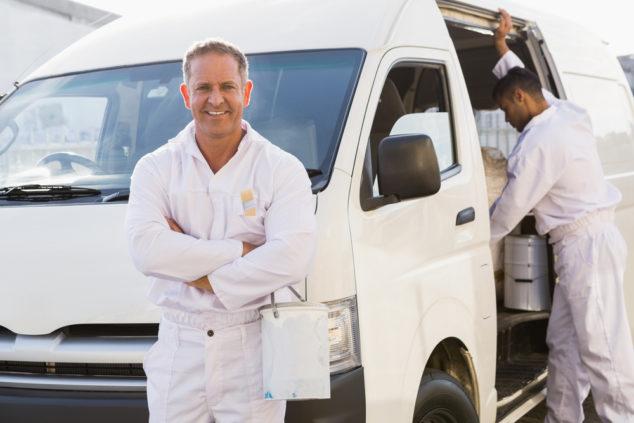 1. What Kind Of Painting Jobs Do You Have Experience With?
Many street painting companies start in the business because painting, and even art, has inherently been a passion for them. Rather than just keeping it that way, they'd rather that their hobby turns into an income-earning opportunity. When you first meet with a main street painting company, ask them as well what kind of painting jobs they have experience with. That way, you have an overall idea regarding the quality of work that they do, along with the passion that they have for painting.
On average, main street painting contractors can earn around 34,000 to 37,000 US dollars annually. As their skills progress, and as they're able to have more experience with different painting jobs, this rate increases. A good main street painting company should, therefore, have experience with the following kinds of painting jobs for both residential and commercial clients:
Interior painting
Exterior painting
Art, graphics and mural painting
Be sure to ask about their experience to see if this can fit the project you want them to work on.
2. Do You Have Insurance?
Does any form of insurance protect you should anything happen while the employees of the main street painting company are working? In general, an excellent main street painting company should have the following types of insurance:
Workmen's Compensation: Workmen's compensation protects the workers and yourself from any liability while they're working for you on your premises.
Comprehensive Business Liability: This protects the property from any damage done by the contractor.
As much as possible, do away with contractors that don't come with any form of insurance, as you won't have an umbrella of protection in case an accident happens.
3. What's Your Plan For This Paint Job?
Once you've explained the specific job to be done to the painting company that you're looking to hire, it also helps to ask what their particular plan is for this job. That way, you have an overall idea as to how the painting contractor intends to complete the task. From their explanation, you can even get a glimpse as to their quality of work. For instance, are they systematic enough to carry out the painting job as smoothly as possible? Whether for interior or exterior painting, asking this question helps give you an assurance that you're working with a well-qualified paint contractor.
Before an estimate is even given, a clear and well-defined step-by-step plan is necessary.
4. May I See Your Portfolio?
When talking to a main street painting company, ask to see their portfolio as well. This is very important to look at before you embark on any form of contract or project with the painting company. In doing so, you get an overall idea regarding the results of the previous works that they've done. More so, you've got concrete information to back up anything they've said in terms of their quality of work.
For instance, the painting company has told you that they've always given excellent services. However, in the portfolio, you might come across some feedback from customers that mention repetitive complaints. This should be a red flag for you. Moreover, if there's anything from the previous works done that you aren't pleased with, consider that it might be better for you to look for another painting company instead.
5. Can You Provide Me With An Estimate?
Now, the costs: Depending on the size of your main street project, this can be expensive, especially because of its location, where so many people can see the work being done. After explaining the project, also ask for an estimate. That way, you already have an idea of where you're headed from the get-go. Is this something that you can afford right now? Or would you rather look for another contractor that might be cheaper?
Ask the main street painting company to include the following information in their estimate:
Any additional supplies that may need to be bought and shouldered by you, the client
Cost of the prep work that needs to be done
The anticipated cost of the primer and the paint to be used
6. Are You Going To Work On My Project Yourself? Or Are You Going To Give It Out To A Subcontractor?
There are many painting contractors today that forward certain projects to subcontractors. This is usually the case, especially when the contractor already has their hands full or if they're trying to save on costs. For the paint company, hiring a subcontractor will lower the cost of the project because they'll no longer have to be concerned about social security and employee benefits. The subcontractor takes care of this problem.
However, for the client, this may be problematic for you in the following ways:
The contractor may be dealing with a very cheap subcontractor so that the painting company itself can earn more. In this case, you have very little protection and assurance when it comes to the quality of the work to be accomplished.
There's also very little certainty that insurance, such as the Workmen's Compensation, is present. This can be problematic for you should an accident happen.
Also, the main street painting company might not know each member of the subcontractor's team. This means that the contractor may not have conducted background checks. This can also be a red flag for you.
Most subcontractors are paid a fixed fee by the main street company, despite the amount that the company itself is charging you. If the fixed price is so low, this can lead to the subcontractors cutting corners to get the job done fast. Again, you're at a disadvantage since quality is now compromised.
Conclusion
By asking the paint contractor a few important questions, you're giving yourself the chance to protect your project, as well as avoid wasting your hard-earned money. Through these questions, you can lower the chances of you becoming frustrated at the quality of service that your main street painting company provides. With many main street painting companies present today, you have to take the time to make the right choice.