Hello friends and welcome back to Founterior. Today we have collected an inspiring selection of naughty ideas that will warm your Saint Valentine's night. These little tricks are essential if you are expecting an intimate company which you plan to spend the night with.
First of all, we recommend that you take the next day off! It is inevitable that the passion will raise to highest levels and the night wont be enough for the love between two people.
So, to begin with, let us pay a special attention to the bathroom. Actually, our article is about the Valentine's bathroom. We would like to advice you how to achieve a sexy look that will make the night more pleasant.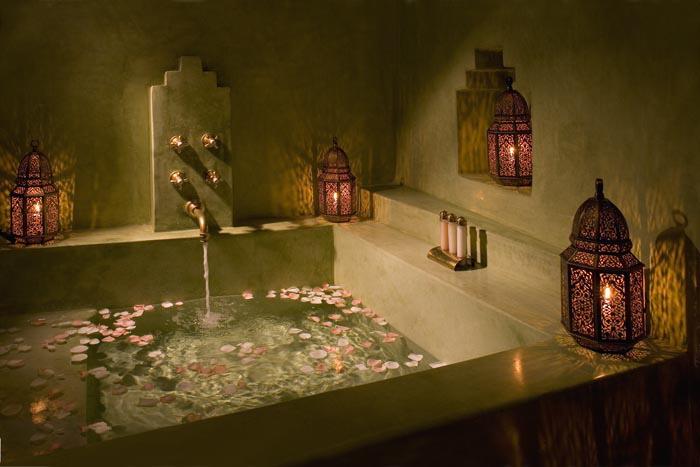 An appropriate romantic atmosphere is essential for the big night. Pay a special attention to the light at the bathroom. It should be very mild and comfortable, just enough to reveal the beautiful nature of human bodies.
Going further in art of light decoration we should outline that placing small led lights are good enough to highlight certain parts of the bathroom without disturbing the lovers. In case you have a bathroom that has interesting designer features or wall curves you can underline them with appropriate light. Just have in mind to stay focused on the bathtub – this should be focal point at the romantic place.
Having a fireplace is thought to be luxurious privilege that only rich people can posses. Yes, a real fireplace in the bathroom may be expensive but there is always a possibility for you to buy a bio fuel fireplace which is a fantastic substitute to the real one. Needless to say, the fire calms the atmosphere with its gentle flames and provokes human nature to explode in its real desires.
Can you imagine a romantic evening without candles? Of course not! It will be a shame if you not include the symbol of romantic relationships. Let the beauty of burning candles fill the atmosphere with desire.It really depends on you what colors, sizes and shapes you are going to choose. Our advice is to find long red candles that will add a stylish touch in the bathroom.
Another great way to create a scene like in a romantic movie for couples is to find some fresh flowers and arrange them in appropriate way. Our hint is to go and buy some aroma bath salts that will complete the tempting and seductive bathtub. No any man or woman would resist such an intimate invitation.

What do you think of going further in the romantic saga and add some rose petals to the bathroom? If you adore classic interiors and you have a traditional home the lovely petals will fit perfectly in the atmosphere. And think about you making love and feeling the soft blossoms gently touching your sensible skin.
Now, lets reveal the cherry on the cake. The champagne! We wont hide that the more expensive, the better. Buy a fine bottle of Moët & Chandon or Dom Pérignon and you wont be disappointed. And don't forget the stylish glasses! It will be ridiculous to waste the opportunity to enjoy one of the most refined wines in the world in a classic stylish crystal glass. Your partner will also appreciate this fine gesture.
Open plan bathrooms have always been impressing people around the globe with their fascinating views towards exotic landscapes. If you are a lucky person who can afford such a paradise moment, don't waste your time. Make it special for you and your beloved one. You will both connect in a state of being in a different realm that is definitely one of the most promising circumstances for a beautiful night.
Our final advice for a sexy Valentine's decoration is for our most advanced in love readers. Place a mirror in front of the bathtub and enjoy your act of love with your eyes and soul open. Enjoy every single movement and beautiful curve of the beautiful body in love. Look at reflection that will show the tiny little drops of water that flow down the bodies and form rivers of passionate juice.
Of course, mirrors have one more positive feature that most interior designers and architects know and use where needed – the ability of mirrors to create a visual illusion of a larger in volume space.