What is the first thing that comes in mind when you hear Victorian Gothic? I believe that this is an old and dark mansion, something like from the Adams Family, with plenty of ghostly shadows and spider nets all around the place. Well, this is a common belief but now I would like to present to how charming this 1740s architectural movement is (More detailed information on the Victorian architecture can be found here: https://founterior.com/6-styles-of-victorian-house-architecture-with-examples/). Some of the essential things in a Victorian Gothic interior are rich ornate details and well-decorated patterned elements. Now, let's have a closer look at them.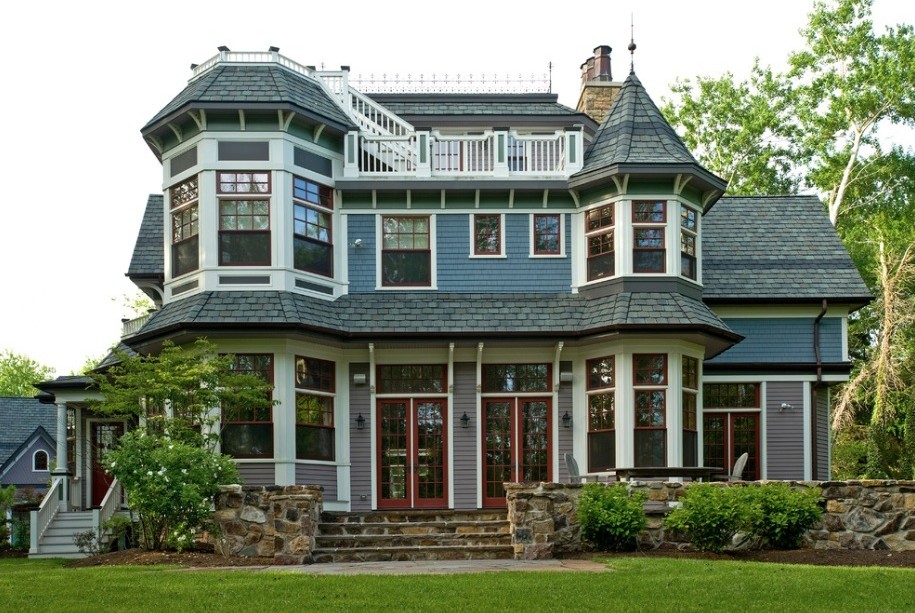 Victorian house classic architecture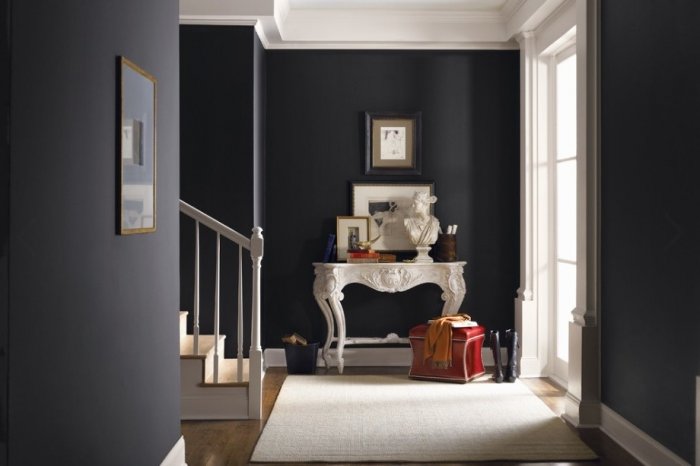 Victorian gothic white drawer
Drama and Elegance
This may sound contradictory but in fact its in the core of a Victorian interior by that time. One of the most important things is to make a firm statement. You can achieve such kind of touch in your home if you place curved ornate furniture and think about including high-end fabrics. Another great way to transform your house into a Gothic beauty is to place a large crystal chandelier.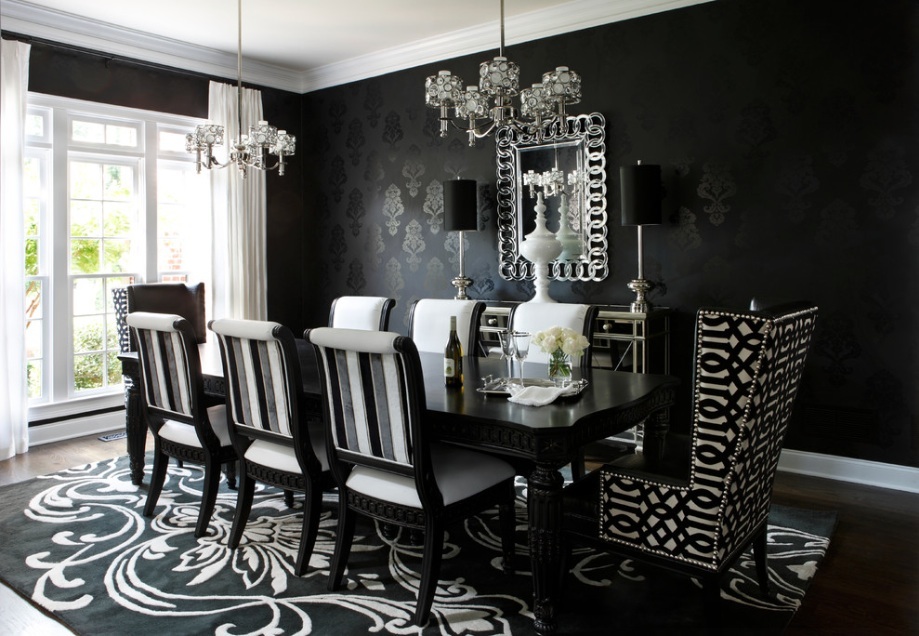 Victorian gothic in black color
Wallpapers
Another very commonly used thing are the wallpapers. They should be chosen according to a suitable pattern that is able to add some stylish drama in the interior. Actually, it is up to you and the style you want to achieve. For example, if you are after a more traditional Victorian interior then you should consider elegant wallpapers with patterns of damask. Velvet texture, on the other hand, is more suitable for creating Gothic experience.
Well, because not all people like wallpapers there is also an option to substitute them with paint. Here are some fine examples: http://www.spoonflower.com/tags/gothic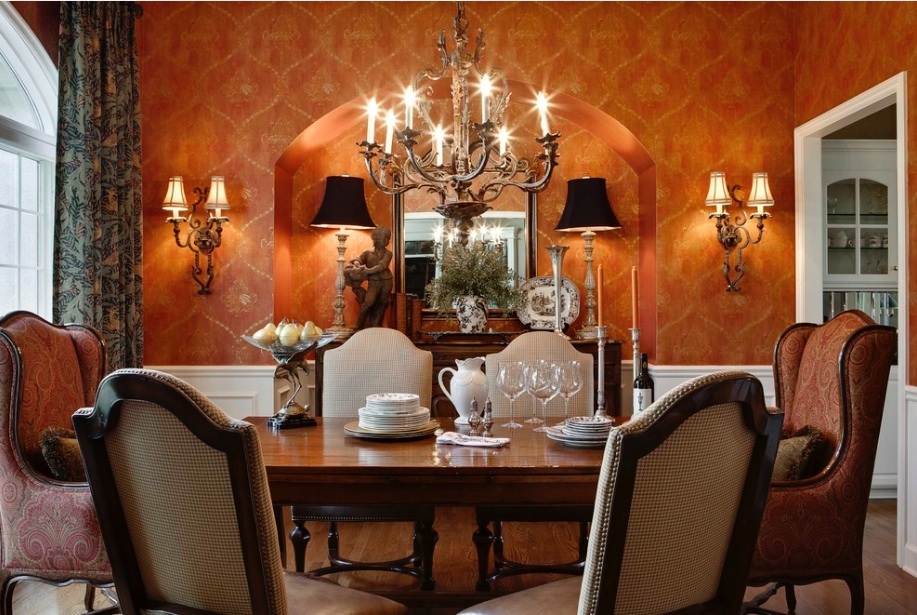 Victorian dining room
Colors
Needless to say the black is the ruler of the interior in a Gothic home. And in combination with white you can easily achieve a visual contrast, a firm statement of the elegance of the place. It's not advisable to stick only to black because you can create a depressing haunted-looking atmosphere. The most used palettes for the stylish Victorian interior are deep burgundy, ruby red, emerald green, dark ocean blue, etc. Additionally, wooden accents and sometimes bricks can also survive in this ancient style interior.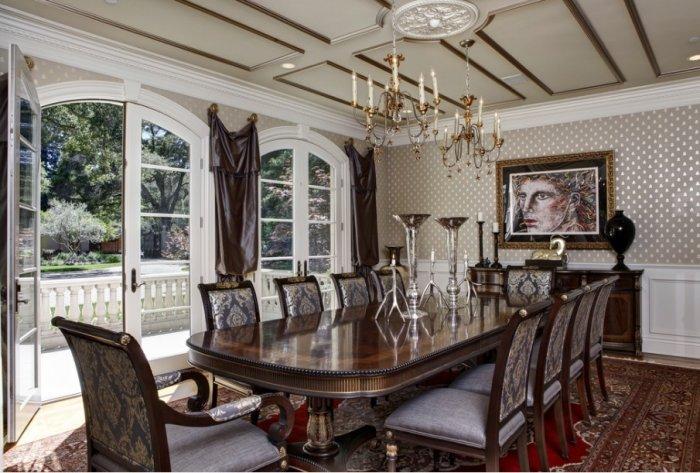 Luxurious Victorian dining room
Fabrics
Personally, I really appreciate velvet draperies and I think that the most suitable place for them is this kind of home interior design. For the rest of the furniture and upholsteries you can go after silk and satin in the colors described in the above section. This means that all the pillows, surfaces of furniture, curtains and tablecloths should follow one and only style that will truly recreate the authentic Gothic look.
And now I will reveal a little secret for you! Tapestries (as shown here: http://www.vam.ac.uk/content/articles/g/gothic-tapestry/) are a must! Especially if you have a 10-foot high wall. Can you only imagine how it will look like to see a huge antique tapestry hanging from there? I bet it will be majestic!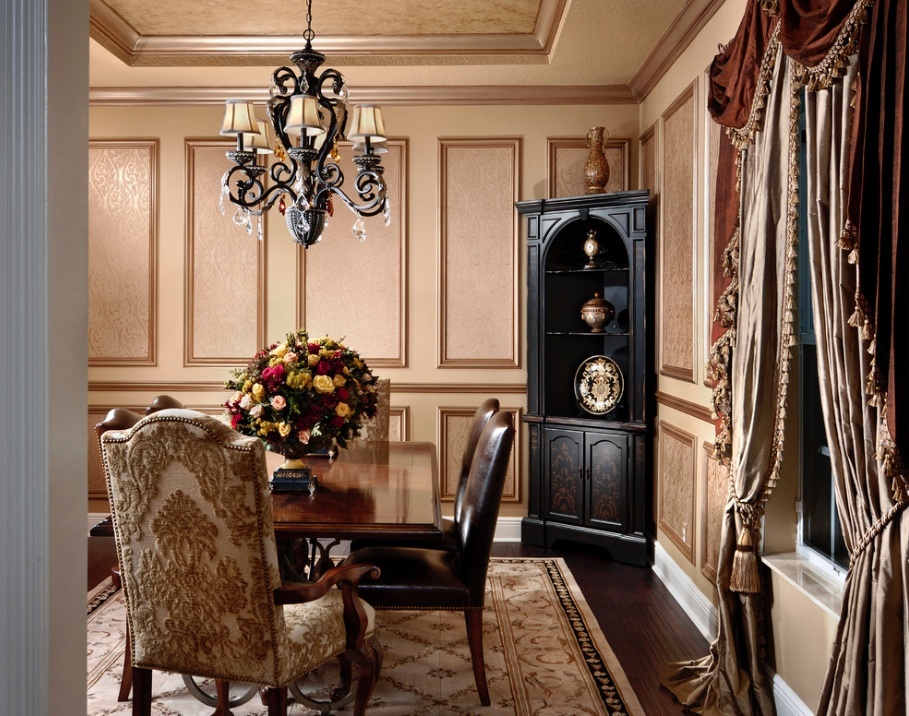 Gothic Victorian room
Drapery
There is one rule – they should be functional and decorative as they were back in the 18th century. One of the most preferred variations for draperies are the long and heavy ones that give an authentic look. Actually, draperies can be also used as room dividers.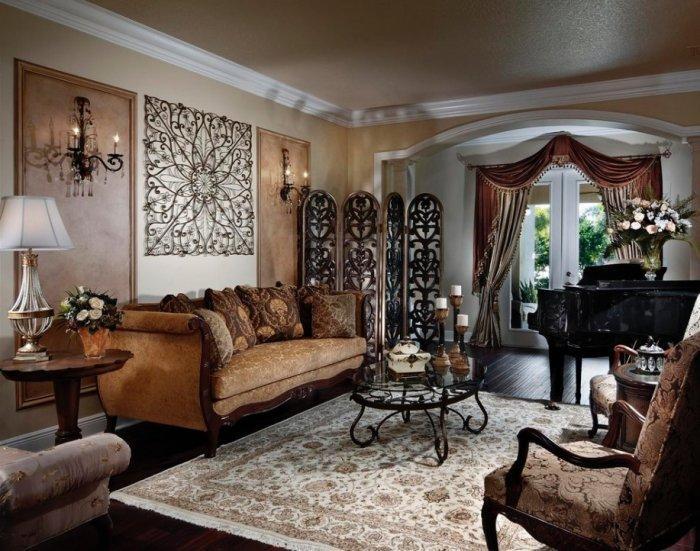 Victorian gothic with wrought iron details
Accessories
Accessories are able to complete change the direction of the look of a certain interior. That's why they are a very important part of the big puzzle called interior designing. So, let's have a look at what's essential for a Victorian Gothic mansion look.
I won't lie you that the best and most suitable decorations for your home will be heavy wrought-iron items, metal, wood or stone materials. And what about carved wooden sconces? Do you find them attractive enough? Old and antique lamps are also an option for a decorative small tables display. In my opinion the wrought-iron chandeliers are on of the best options! They somehow create that creepy feeling of being in a dungeon.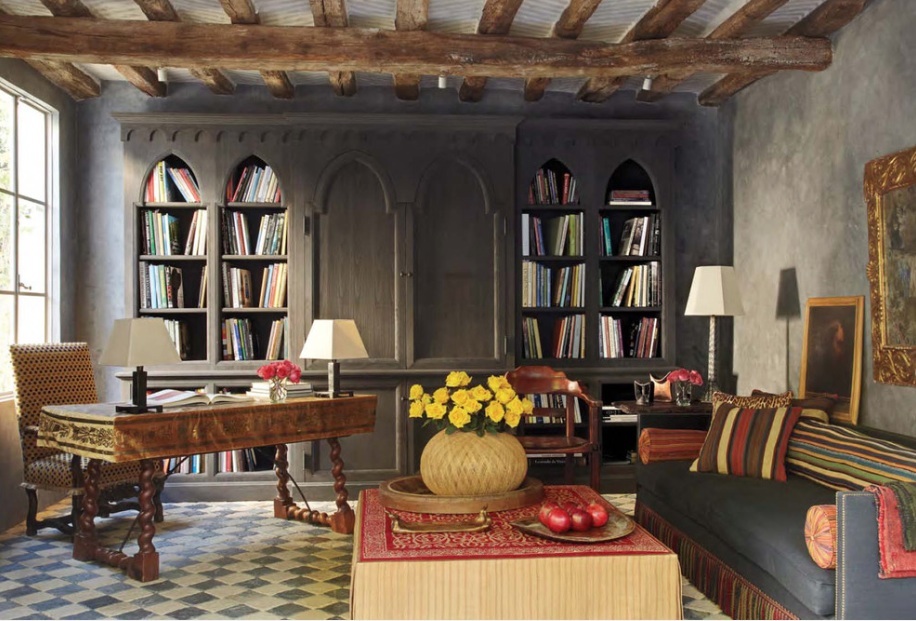 Victorian Gothic home
Lancet Windows
Have a you ever heard of this term? Well, if not I will briefly explain what a lancet windows is. So, this is a narrow window which is very tall and has an arched top. You will find that lancet windows are usually made of stained glass but, of course, other variations are also available. If you want to achieve the Victorian Gothic style in your home and you don't have the ability to install and entire new window, you should better think of finding an arched mirror, for example. It will do a fantastic job! You can go around your local antique shops and search for an authentic piece.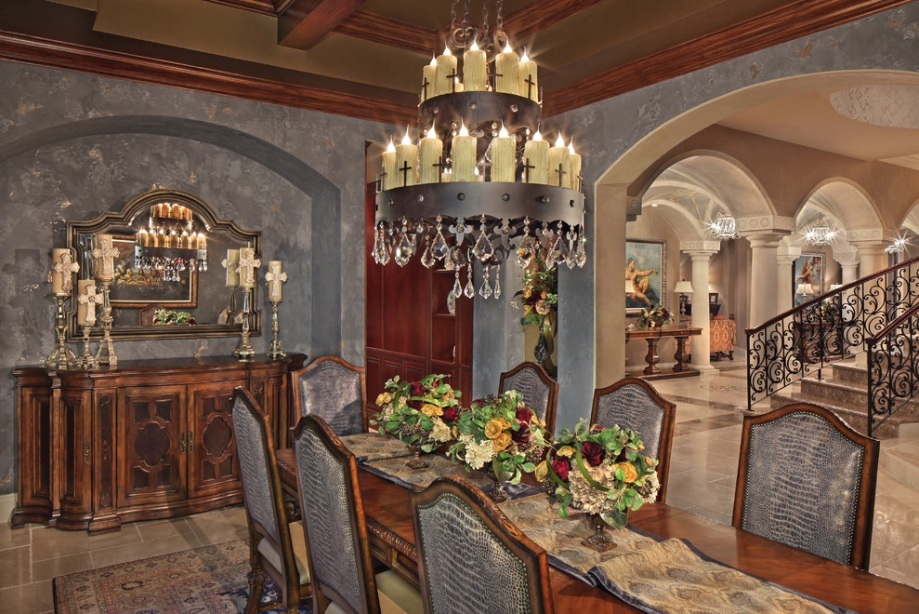 Victorian mansion with candle chandelier
Lighting
Well, originally old homes were lit by candles. Nowadays it will be completely awkward to have a candle-lit home! Instead, you can use LED lightbulbs. Actually, if you deeply need this authentic touch you have to think of real candles and old and heavy wrought-iron chandeliers. Yes, they make a perfect statement in the interior and if you do not have problems with the, in my opinion silly way of looking, go ahead and place them at a central place!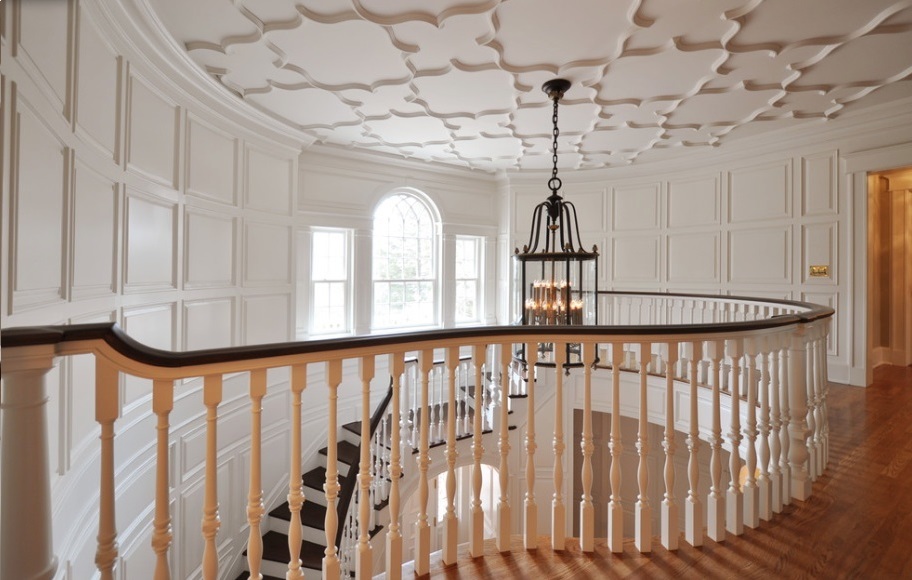 Victorian Gothic interior
Molding
One of the most important things in a Victorian mansion – the molding! You can find them everywhere – in the ceilings, the furniture, all kind of edges, little details, decorative elements, floor, walls, etc.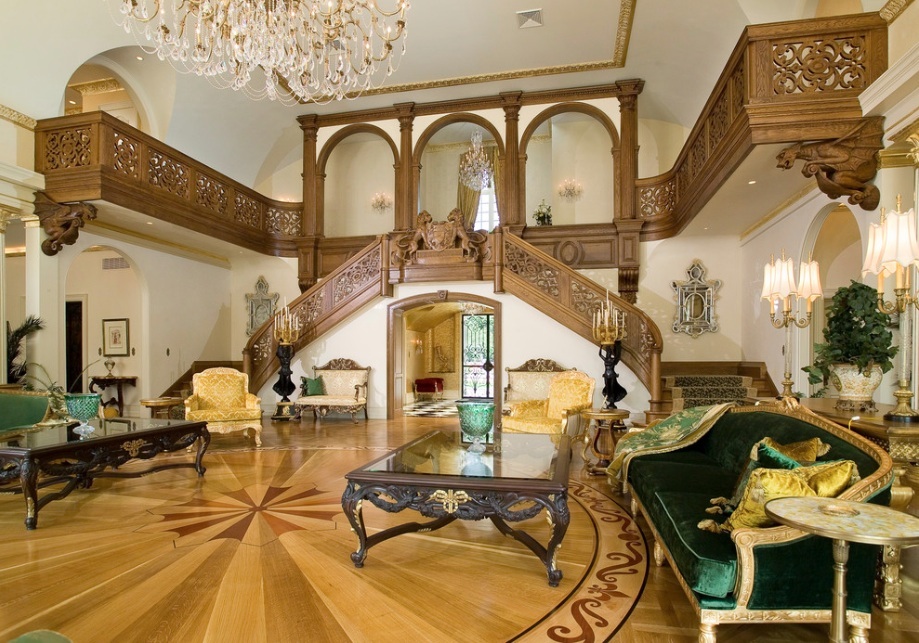 Very luxury Victorian house
Boss Architecture
Carved stone and wood are one of the most elegant elements you can add to your Victorian looking home. It name "Boss architecture" comes from the statement that bosses usually have the opportunity to live in mansions made with expensive massive materials. All kind of statues, relics and artifacts are welcomed here.
And if you need some more inspiration, here we go with the video: