White kitchen designs are extremely trendy these days. Girls simply love them! Maybe its because of its charm and the meaning of white. In most cultures white is interpreted as a symbol of purity and this is exactly what women like.
You can find various essential elements in a white kitchen. White shaker cabinets are a must! Marble counters and backsplashes are also an inevitable part of this type of cooking areas. They somehow add a stylish and luxurious touch in the interior. Well, there are also some functional features of white. It makes the place look a little bit bigger. White has the property to visually extended the volume of a place. To complete a modern kitchen with this color you have to think about wood floors – the mellow brown colors makes a brilliant contrast with whites. For example, these white kitchens have all of them: https://founterior.com/10-examples-white-kitchen-interior-design-ideas/
But if you have a marble counters, for example, you need to be very careful since they are easy to scratch. Its soft and porous surface can easily be damaged and acidic foods can etch it. Not easy to maintain but it has a gorgeous look! Quartz is a great substitute to marble but is more robust.
White traditional kitchen
In the image above you will see an outstanding white kitchen interior. It all begins with the oak floors and continues through beautiful white kitchen cabinets and ends to the French cafe stools. A place where I dream to be just right now! The island in the center of the kitchen has columned legs and Carrara marble top. Bianco Carrara marble is the material used for the backsplash.
White kitchen design
The next interior is of a kitchen in Boston. It has an outstanding feminine look that I believe most women will simply fall in love with. Its silvery Bertazzoni range hood (http://us.bertazzoni.com/) grabs the attention and sets the sophisticated look inside the place. Marble is also the main materials here which is used for the counters and the island. Huge windows allow natural light that complete the elegant divine look.
White kitchen interior
This interior is not only gorgeous looking! Its also very functional as you can see from the next image. You can find seven seats at the kitchen island. Well, this means that while cooking you can be in the pleasant company of your kids, family or some friends. What a better way to prepare the dinner? Several other elements and details reveal the true elegant nature of this interior – vintage clock, bell-jar pendants, built-in towel holder, etc. The white cabinets that you can find in the image are made by Wood-Mode.
White kitchen island
Lofts are usually designed in very attractive interiors. This one for example has an outstanding marble island that sets the luxurious atmosphere. One of the most famous stools – Norman Chernier's, allow occupants to sit and chat with those who cook. Elegant glass pendants complete the charming luxurious setting and dark wood floors highlight the silhouette.
Marble kitchen island
The next visual example presents a truly interesting modern kitchen in white. It has a Calacatta Oro Extra marble island and impressive industrial stools made of metal. Pay some attention to the amazing wooden shades that the pendants have – they are simply remarkable.
Kitchen design with stylish island
Have you ever heard of Cape Cod kitchens and their fascinating whites? Well, if you haven't now is the time to get familiar with their beautiful cabinets and beadboard walls. Delicate pendants and cozy stools complete the impressive atmosphere.
Small white kitchen
IKEA can be a really fine source when you are searching for something elegant, stylish and not so expensive. Mind the white kitchen cabinets that define the colorful palette in the interior. For the countertops the designers used HanStone quarts – a material much easy to maintain than marble.
Traditional white kitchen
Our next example is a kitchen in Minnesota. The interior designers of the project made a really interesting approach when they decided to use beautiful grays with silver touches. The cabinets used for the cooking area are made of Benjamin Moor http://www.benjaminmoore.com/ – well, they are painted there actually. Heading our look down to the floor we notice warm walnut wood floors and elegant finishes.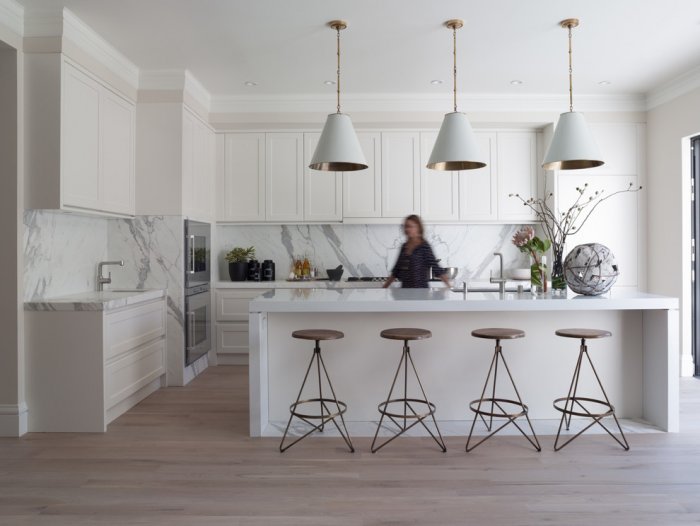 White pendants with traditional cabinets
Despite the fact the it is not easy to maintain, marble rules this kitchen from the image above. In addition we should outline that the precise materials is Calacatta Oro.
Small kitchen interior with marble top
Again, marble at its finest – this time there are two kinds of the polished white material. The interior is taken from a Vancouver home and it reflects the traditional atmosphere of a Canadian family's house.
Spacious white kitchen and walnut floor laminate
What should a white kitchen look like? Well, I have always been thinking that it should be warm and welcoming at first place. That means that pale nuances are preferred as well as elegant finishes. In the image above you will find a stunning island with Calacatta gold marble on the surface. Nickel pendants above the furniture lights up the bright interior and makes it a pleasant place to be.
Beautiful white kitchen in front of the sink
Blue and silver exist in a perfect Harmony in this New Hampshire farmhouse kitchen. However, the main color palette is white but the colorful tones reveal an interesting idea that has been successfully implemented in the interior. Again – marble top for the islands and nickel touches show a professional approach.
More ideas: