When you are in the middle of redesigning your home, you may be in need of a few ideas to help you along your way. Whether this is the inspiration for what sort of lighting to install or what sort of shelves you can use for storage, there are countless ideas. So instead of hesitating any further, try finding the perfect designs for your apartment or house that will channel a sense of home. Make sure that you think about modern dining room ideas as well! After all, you will want to enjoy your meals in a fantastic atmosphere. Check out our pick of 20 dining room design ideas and get ready to get creative with them!
Also consider quality tableware for your dining room
Once you have chosen your dining room, choose French dinnerware, especially porcelain, that will enhance the style of your room. These flatware are recognized worldwide for their beauty and durability. They have many advantages, including :
Resistant to mechanical shocks: these utensils are strong and will not break when stacked on top of each other.
Resistant to thermal shocks: French porcelain plates can be put in the oven without any problem.
They are very waterproof
Unalterable decorations: this cutlery is fired at a very high temperature, which allows the pigments used to draw the decoration, to integrate well into the porcelain enamel and to resist the passages to the dishwasher.
How to take care of your porcelain dinnerware
If you have chosen porcelain cutlery, you need to know how to take good care of it on a daily basis, so that it does not lose its shine. To do this, you can wash them with a cloth or soft brush and washing-up liquid. You can also put them in a dishwasher if you wish. If there are stubborn stains, clean them with baking soda, lemon or hydrogen peroxide. Marseille soap is essential to remove grease stains on these utensils.
1. A Gorgeous Gallery – Of Your Favourite Family Photos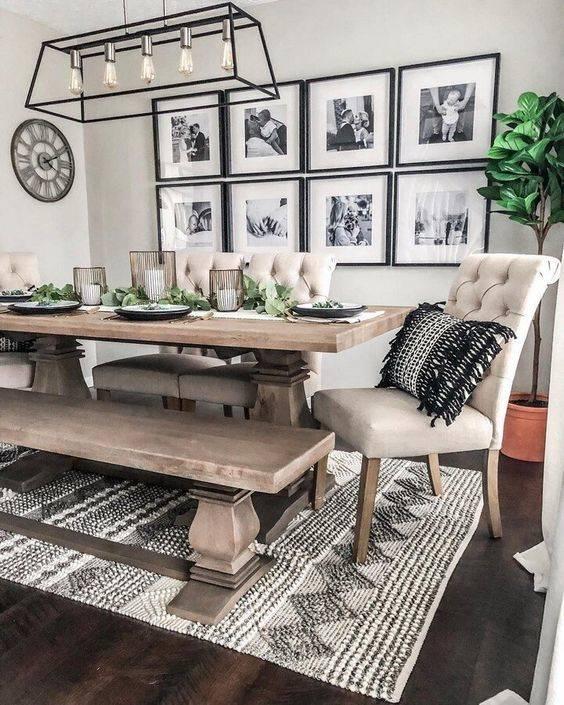 Create your very own gallery in your dining room! Fill it up with family photos! Gather a favourite selection of moments which have been captured on camera. These may include bigger events, such as a wedding day, a graduation ceremony or the birth of a child. Depending on what sort of vibe you'd like to create in your dining room, choose the right sort of frames for the photos. Then feel free to hang them on the walls in any way you'd like. Using a few family photos, you'll make your dining room feel more friendly and cosy.
2. Blue Banquette Seating – Great for a Corner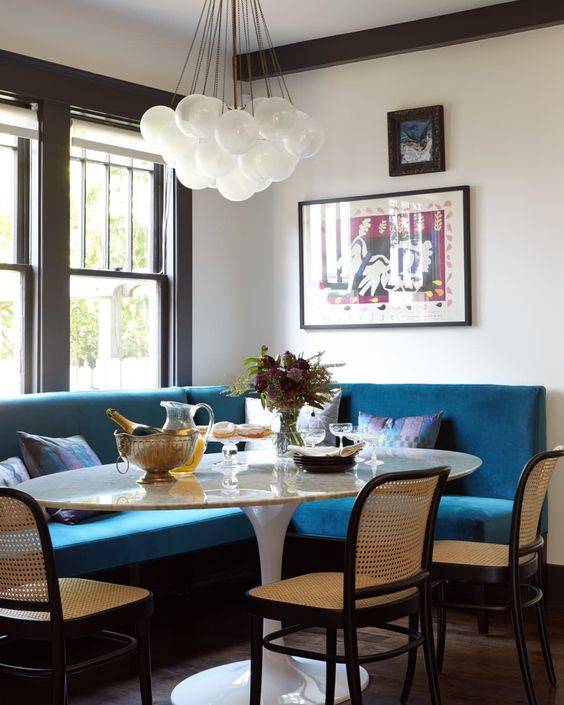 Perhaps you don't have an actual room to create a dining room inside of. Maybe you are putting together a dining area in your living room or in the kitchen. If so, you might be in search of some awesome ways on how to maximise the space. How about placing your dining table in one of the corners of the room? Instead of using only dining chairs, you can place banquette seating along the wall or in the corner of the dining area. This will provide a comfortable space for seating. For a bold statement, you may decide on using a vibrant coloured banquette seating, such as blue.
3. Illuminating the Room – Modern Dining Room Ideas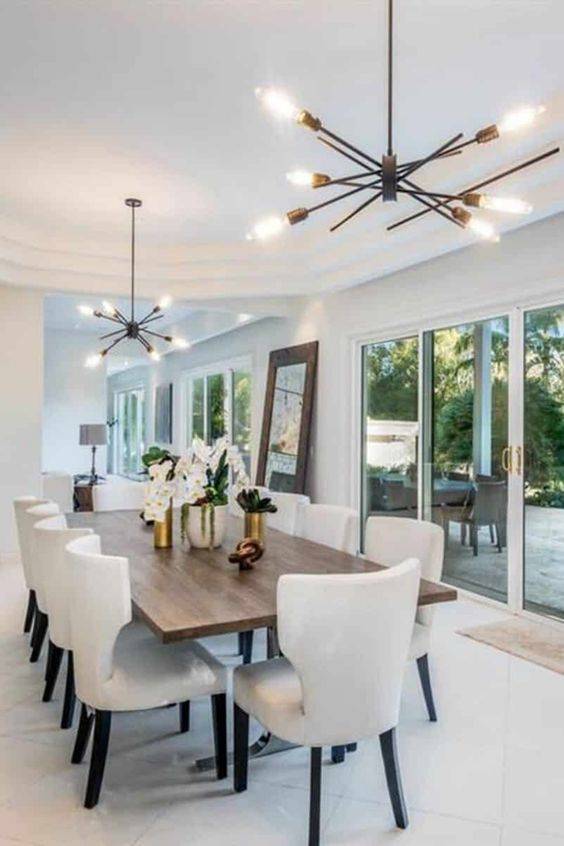 A crucial element of any room, not only dining rooms, is lighting. Thanks to the lighting, you can set a unique mood in a space. For example, using dim lights may create a very romantic ambience. When you think of a dining room, a more practical idea would be to use bright lighting. After all, you will probably want to properly see what you are eating or see the face of the person you are talking to. So make certain that you add sufficient and proficient lighting to your dining room.
4. Keeping It Simple – Easy and Effortless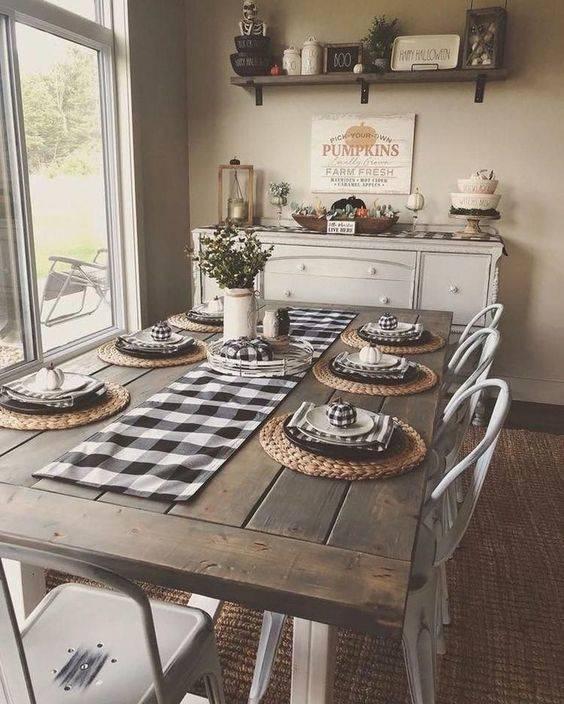 You don't have to go over the top with your dining room design. If your whole home was designed in a simpler style, for example, rustic or farmhouse, then continue that style in your dining room as well. A farmhouse style will look stunning anywhere. It uses mainly natural elements, such as wood for furniture. For decorating the dining room, you may use plaid tablecloths or arrange potplants around the area. There are a lot of directions you can go in, but try keeping it simpler to create that effortless look!
5. Beautiful in Black – Dining Room Design Ideas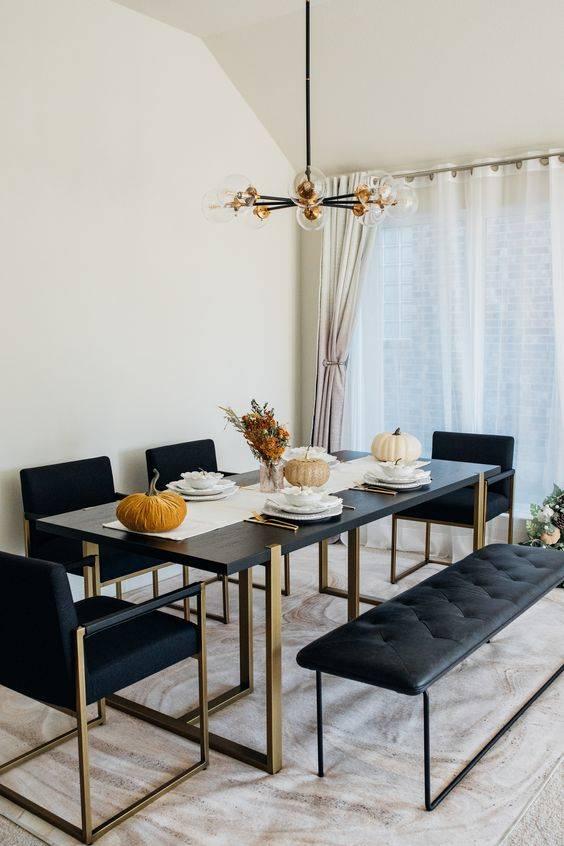 Perhaps your dining room uses very pale colours all around. For example, the walls have been painted white and the floor is also made up of a pale colour. The curtains don't add an extra dimension of colour either. If this is the case, make sure that the furniture you add into the room creates an interesting and bold contrast. For an elegant and refined look, how about you use black furniture? A black dining table framed with black dining chairs will definitely make a statement. You don't have to go overboard with the decorations, keep it minimalist.
6. A Vintage Vibe – Gorgeous and Classic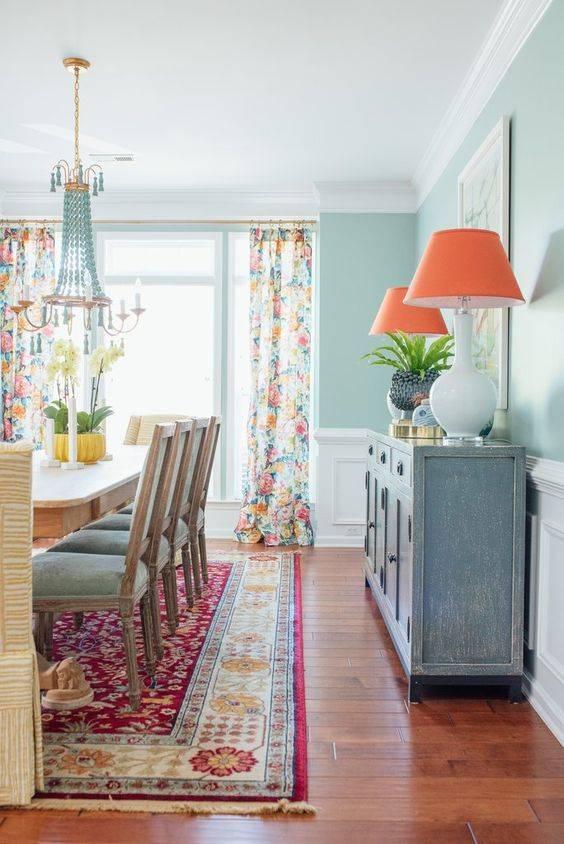 Have been eyeing with a more vintage dining room design? Naturally, you don't have to go fully old-fashioned, you can incorporate a few modern details into the room. For that vintage vibe though, you may consider using classic floral patterns for the carpet or curtains, as well as antique-looking furniture. Naturally, you can get more creative and install a chandelier to serve as lighting. A few modern elements might consist of unique art hung on the walls or contemporary shapes for the pots of your plants.
7. A Stylish Combination – White and Blue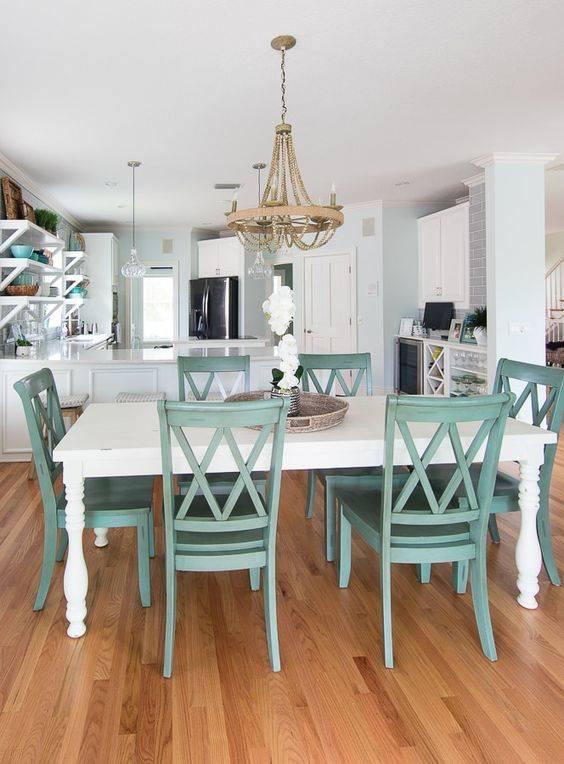 Are you trying to find a colour combination that will look perfect for a dining room? Well, choosing colours is important to think about. Colours can set the mood and atmosphere of a room. Depending on what sort of vibe you'd like the dining room to give off, try finding colours that will bring out these qualities. For example, if you'd like to create a serene and peaceful place out of your dining room, use paler shades of colours. A great combination would be pale blue and white. This will definitely channel a calm mood which will look fantastic for a dining room.
8. Making It Cosy – Dining Room Design Ideas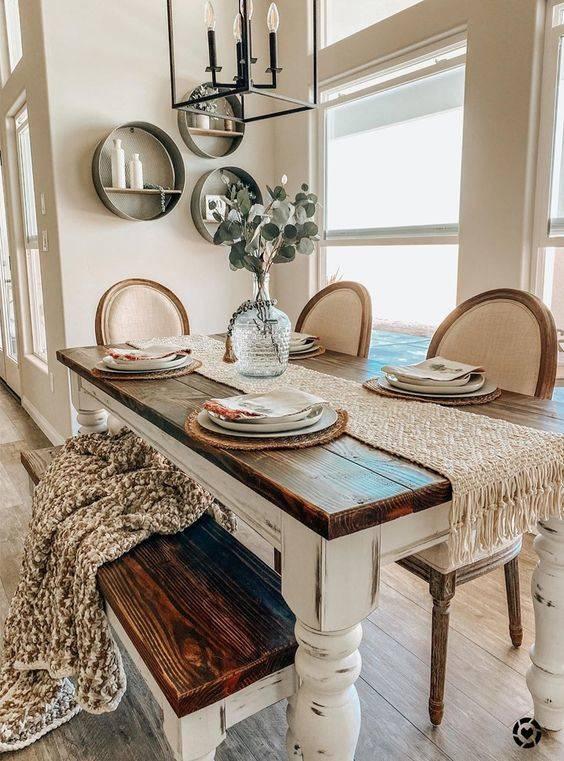 Transform your dining room into a space of comfort and cosiness! How can you easily achieve this? Add some blankets and pillows to the chairs or benches surrounding your dining table. Use natural, warm and welcoming colours throughout the room. For example, using a few shades of brown, including the wooden furniture, will definitely give the room a very inviting ambience. Thanks to the addition of the blankets, if you get cold during any time of your meal, you'll be able to wrap yourself up.
9. A Small Round Table – The Perfect Fit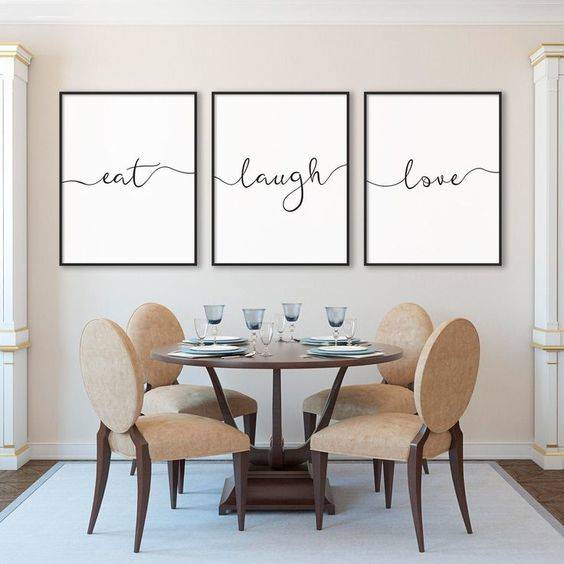 Maybe you don't have a large dining room or dining area. Instead of worrying about how much space you have, think about how you can use it in the best possible way! You don't necessarily need a large dining table, a smaller one will do just as well, especially if you have a smaller family or live by yourself. We would recommend adding a round table to your dining area. Round tables usually bring a sense of harmony and equality with themselves. So if you're hosting any dinner parties, this might help make your guests feel at ease.
10. Colourful and Fun – Modern Dining Room Ideas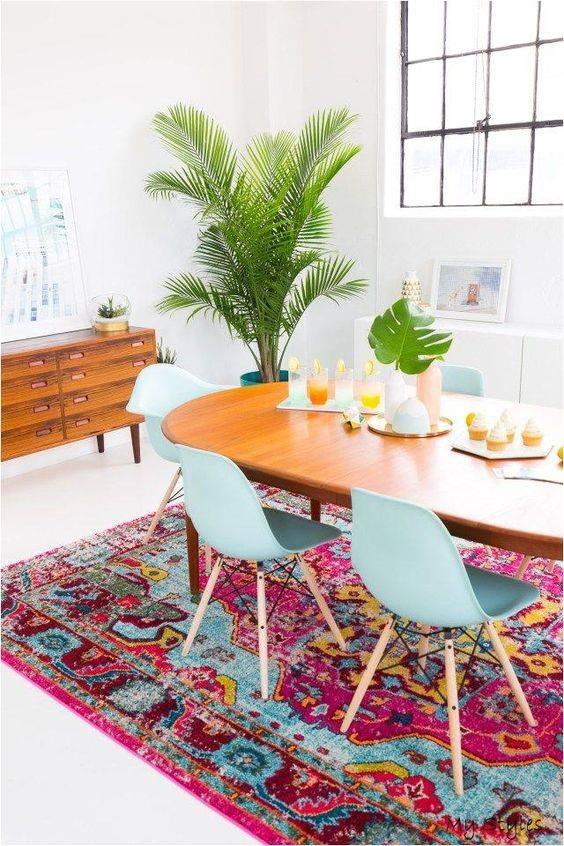 Do you love bohemian and groovy patterns? Then how about you incorporate something fun and vibrant in your dining room? While you may decide on using classic designs for your furniture, such as the dining table and dining chairs, get creative with the decorations. You can add a stylish and vivid rug to the dining room, that has a beautiful pattern running all over it. Then feel free to add a few different types of ornaments to the room, including pot plants or artistic paintings.
11. Unusual Shapes and Forms – A Modern Style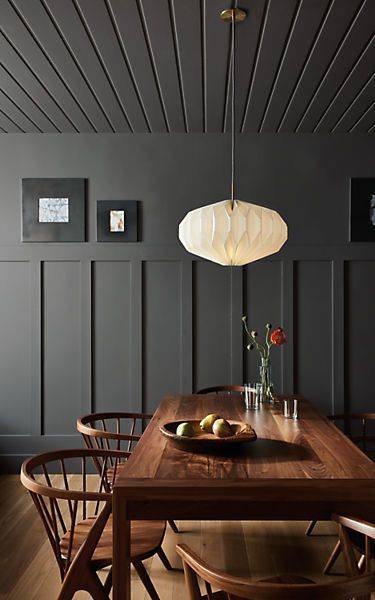 We have already talked about a few ways about how to bring a modern atmosphere to your dining room. One sort of design to try out is by using an array of geometric shapes. Whether this is a geometric lampshade or some pieces of furniture, you'll be able to achieve a contemporary look in no time at all. You might decide to opt for a more minimalist design. If this is so, then make sure that you don't overdecorate the dining room. Try keeping it simple instead!
12. A Coastal Setting – Dining Room Design Ideas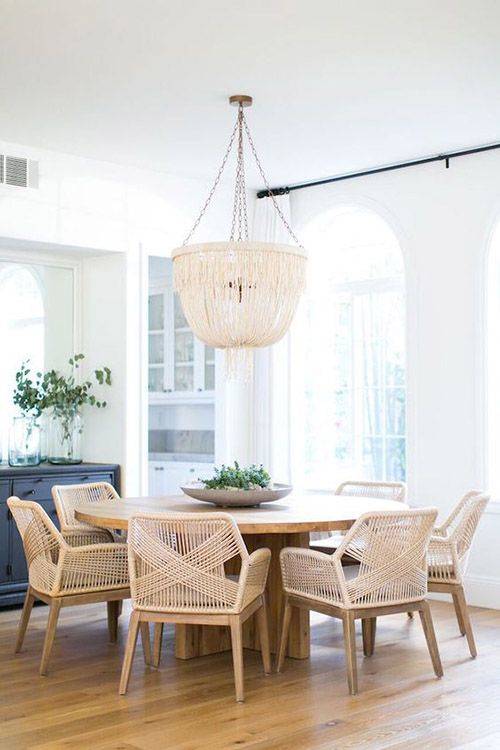 Take your inspiration for your dining room from the seaside! This is an especially fantastic idea if you live anywhere near the beach or it's one of your favourite places to be at. Use a combination of pale colours for the main design of the room. For example, white or pale sand for the walls, some sort of blue shade for the shelves and leave the furniture in their natural colours. So if you are using wooden or wicker furniture, such as the dining table or chairs, then leave them in their natural form. For decorating, you may include some coastal flora in vases or some seashells in a bowl.
13. A Warming Fire – Adding a Fireplace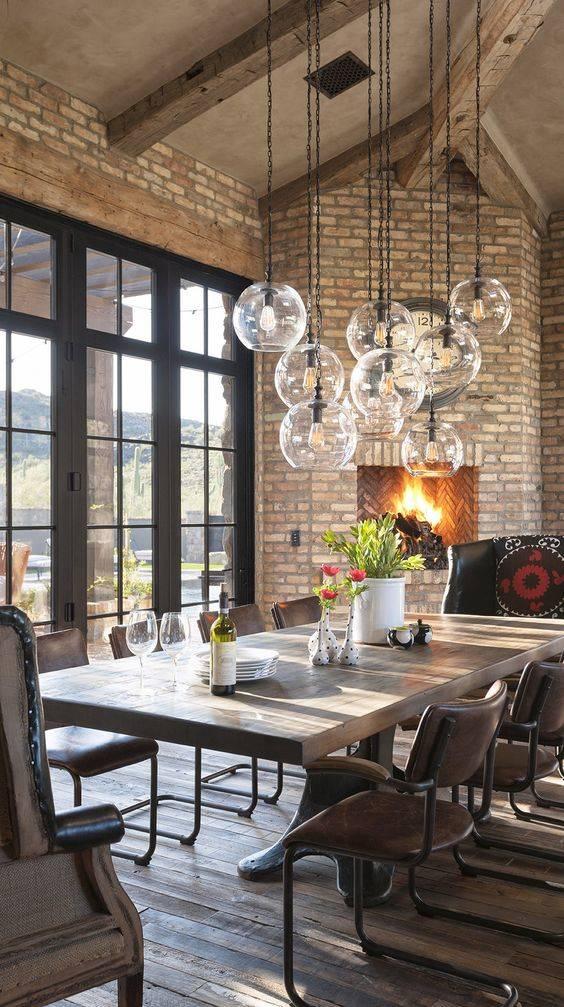 Take your dining room to the next level with this magical idea! Do you ever find that it gets chilly in your dining area, during autumn or winter months? Then how about you find a solution to this problem and add a fireplace to the room? Light a fire during cold days in your dining room, and let the warmth flow through the room. Enjoy a tasty dinner while listening to the fire crackle in the other side of the room!
14. Bright and Spacious – Modern Dining Room Ideas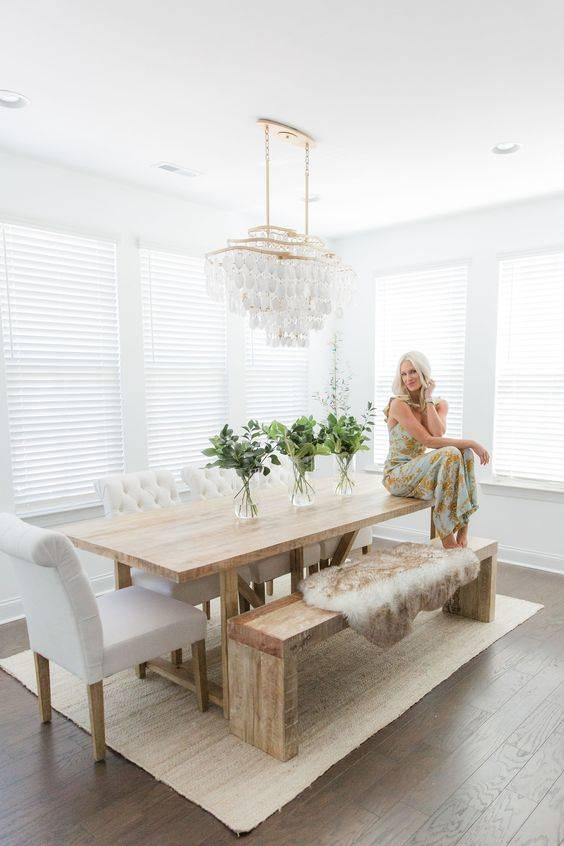 Sometimes, people tend to use darker tones in smaller rooms. This may cause an overall cramped feeling in any room. If you have a smaller space available for your dining room, make sure to bring out the best of it. How can you do that in a simple way? Use light colours for the whole environment of your dining room. Even if you want to add wooden furniture to the room, opt for lighter shades, as an alternative to darker wood. Naturally, you can add a few bursts of colour to your dining area, a few flowers in vases might just do the trick.
15. A Unique Feeling – Quirky and Exotic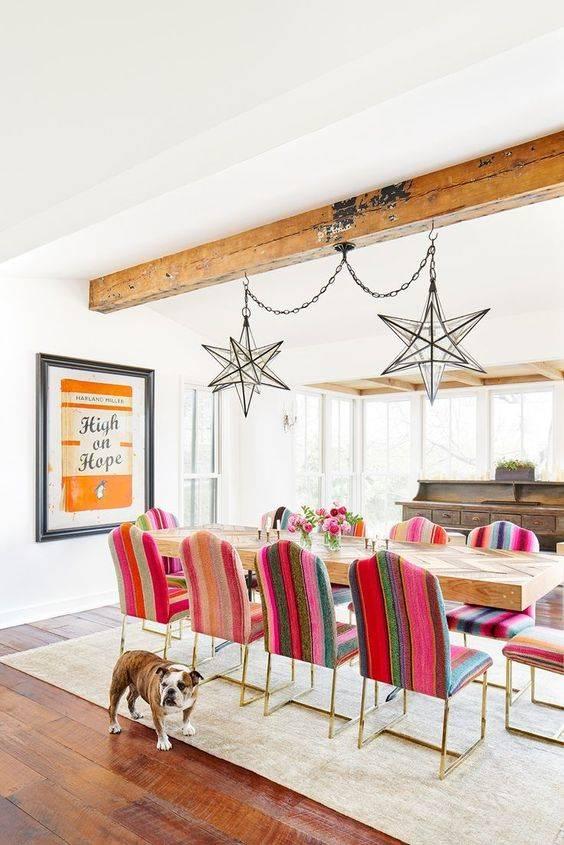 Do you have a fun-loving and bubbly personality? Then how about you let it shine through the design of your dining room? Instead of using plain or classic pieces of furniture and decor, try a variety of funky and quirky objects. These may include seats that are made up of vibrant colours and patterns. Or you may try hanging some lanterns from the ceiling, as an alternative to proper lampshades. There are a lot of fun ideas to try out in your dining room!
16. Smart and Sleek – Using a Rich Green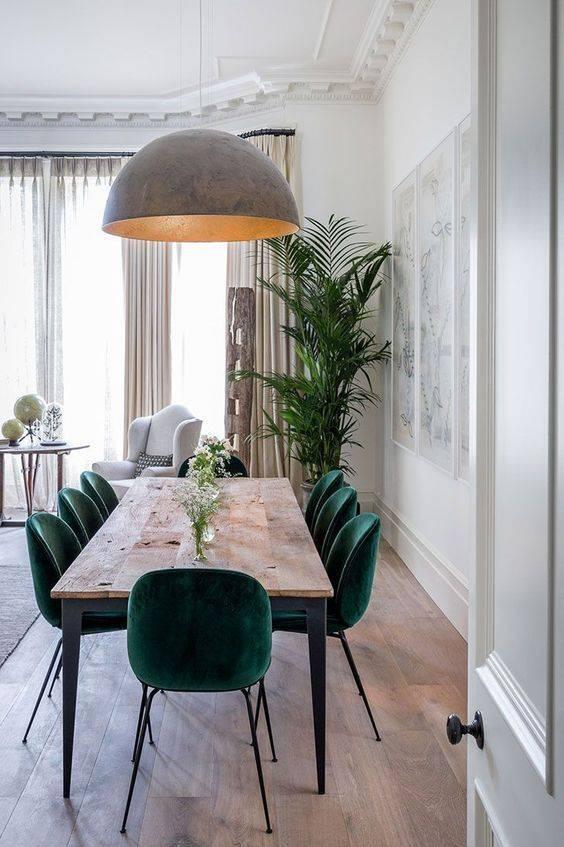 Does your dining room incorporate bland and neutral colours? That's completely okay! But instead of leaving it looking plain and feeling like it's missing a bit of colour, add some vibrance to it! Channel a natural ambience into the dining area, by using a rich green. A fabulous way of doing this would be by either getting a dining table or dining chairs that are painted green. To bring out this colour, even more, add some pot plants to the room.
17. Picking the Best Ornaments – Dining Room Design Ideas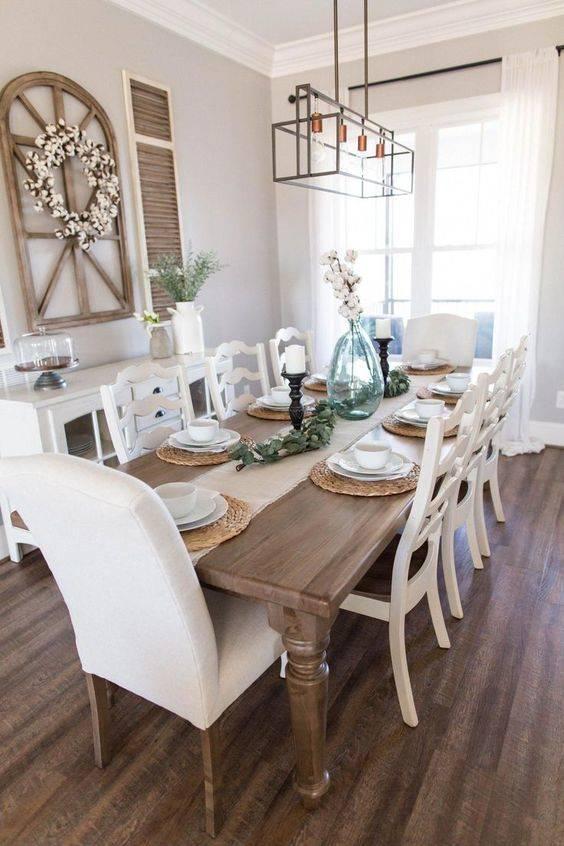 When it comes to redesigning your dining room, you may already have a plan on what colours you are going to use and what sort of furniture you'll have and how you will arrange it. But you will also have to think about how you would like to decorate the room, as they play a big part in setting the mood. For a welcoming and friendly atmosphere, add candles and vases filled with flowers to the dining table. Also, make sure to add decor to the walls, so your walls aren't bare and empty.
18. Saving Some Space – With a Banquette Seating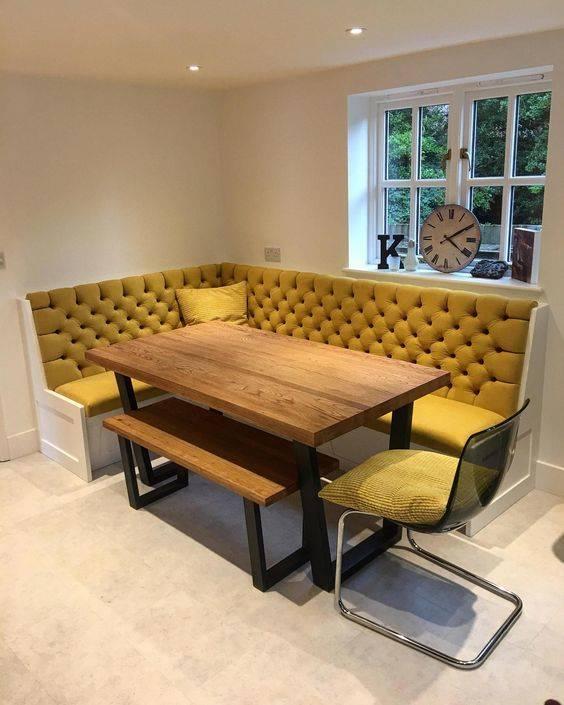 Here is another idea that involves adding banquette seating to your dining room. If you have a spare corner, which will be a perfect spot for placing your dining table, how about you place a banquette seat in the corner? This is a great way of saving space in a smaller room, as well as creating a comfortable seating space!
19. Classic and Dark – Dining Room Designs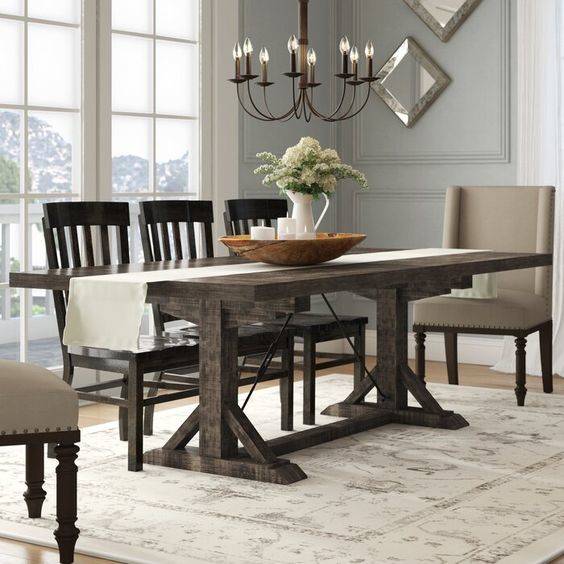 You don't necessarily have to go for a modern design. Perhaps you've always preferred more classic designs. If so, then make sure that you use timeless furniture throughout your dining room. But if you'd still love to give your dining area a bold look, how about opting for furniture that is darker? For example, dark wooden chairs and a dining table will look amazing!
20. Lighting from Directly Above – For a Brilliant Glow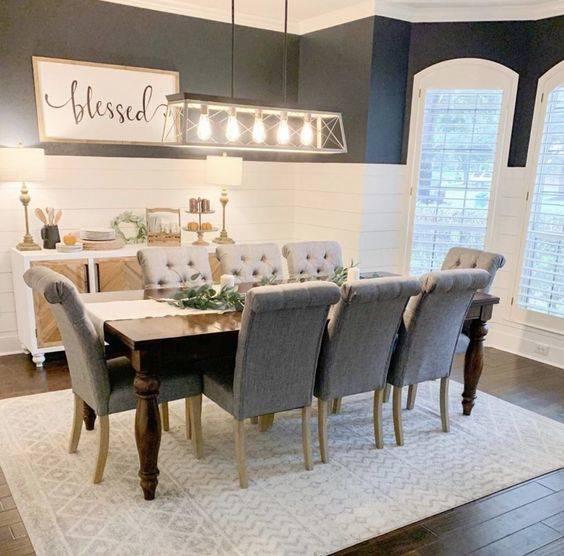 You'll probably remember that we already mentioned that lighting will play an important role in any room. Are you think about where you can install some lighting in your dining room? How about you create a set of lights, which all point directly at the dining table. This will ensure that the most important part of your dining room is well-lit.
We trust that you found some inspiration for dining room design ideas! For other home and design ideas, such as small front porch ideas or tips for renovating your bathroom, visit our website.