Maybe you live in a house, that has a front porch overlooking the street or your front yard. If you feel like it's a bit plain, how about you spruce it up a little? There are dozens of ways you can do this! Depending on what you choose your porch will exude a different and unique sort of ambience about itself, which you can call your own. How about you check out our pick of 20 small front porch ideas on a budget? With a few tips and ideas, you'll be able to find something that really fits your own vibe and style. So don't hesitate and check out our small front porch decorating ideas on a budget!
1. Fantastic Farmhouse Feels – Create a Rustic Atmosphere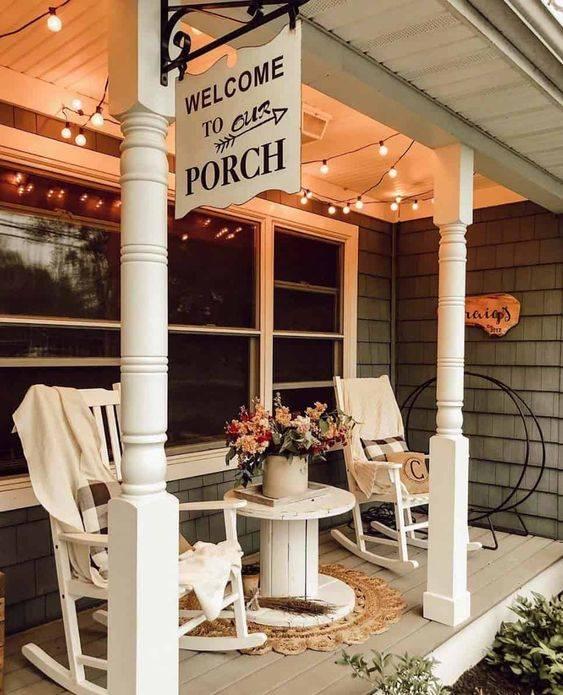 If you have always admired the farmhouse sort of design, then why not use it all around your home? Don't just incorporate it on the inside, but the outside as well! This will include your small front porch! There are so many ways you can embody the farmhouse feels in a porch. One of many great ideas would be to add rocking chairs to the porch. Use rustic and old-fashioned furniture for this design. Also, set a romantic ambience during the evenings or nights by placing strings of fairy lights above them. You can also arrange a bouquet of your flowers and place it on a table as extra decor.
2. Bold and Modern – Small Front Porch Ideas on a Budget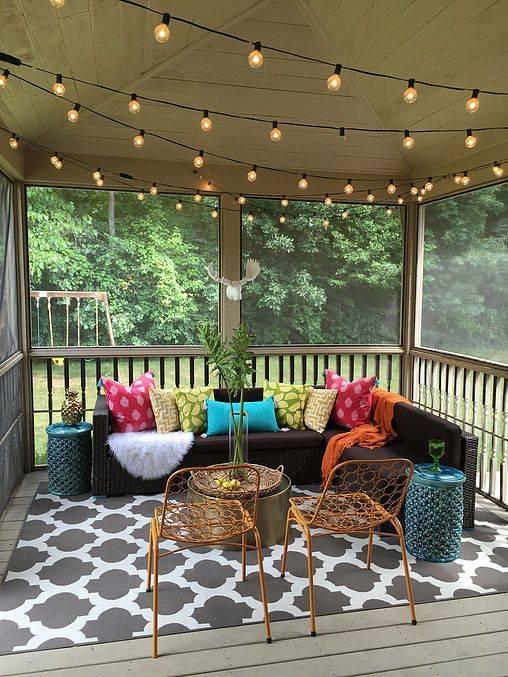 Are you the sort of person who goes for bold and funky colours and combinations? Then this front porch setting will be perfect for you! It's all about combining unique patterns and different sorts of materials to create something new and fun. Instead of worrying, whether two or more colours will create a sense of harmony on your porch, go wild and get creative! Add a funky rug to your porch on which you organise your sofa and chairs. Make sure to make the whole front porch groovy!
3. Pale and Pretty Shades – Simplistic and Effortless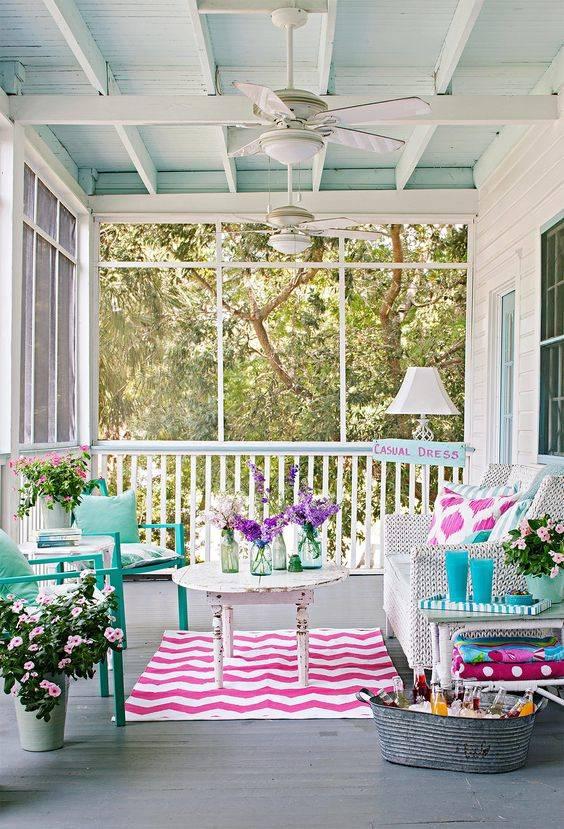 A lot depends on what sort of colours you use for your front porch decorations. For example, if you want to go for something bohemian you might try combining an abundance of wild and bold colours. But if you would like to achieve a more simplistic and clean look, use an array of pale shades for decorating. This might mean white, baby blue, pale pink. This is a perfect idea for a small porch, as the lighter colours won't make the porch itself look cramped and will give it a more spacious vibe.
4. Black and Yellow – Small Front Porch Decorating Ideas on a Budget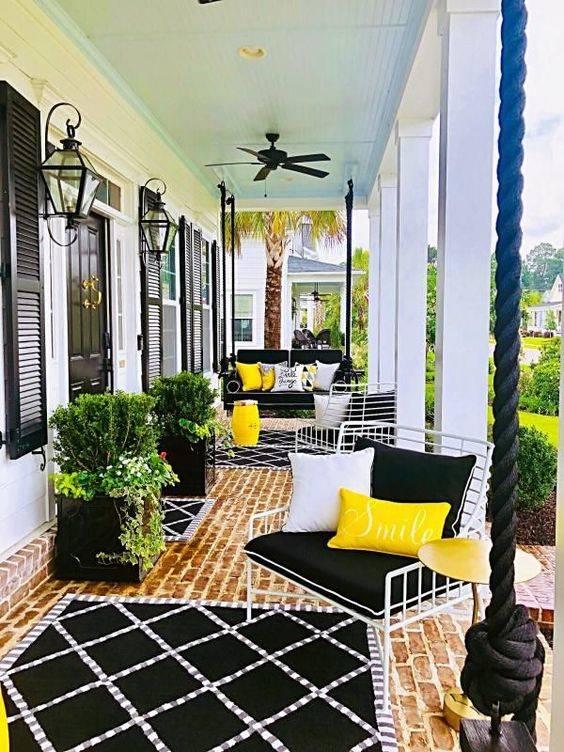 Are you trying to find a groovy colour combination, that will definitely make your porch stand out? How about you use mainly black furniture or decor items for your porch, that have white accents on them. But instead of leaving your porch in monochrome shades, add some bursts of yellow to them. This might come in the form of yellow flowers arranged in a vase or yellow pillows on the seating. The colour yellow will add a bit of sunshine and happiness to the whole ambience of the porch.
5. A Hanging Chair – A Romantic Design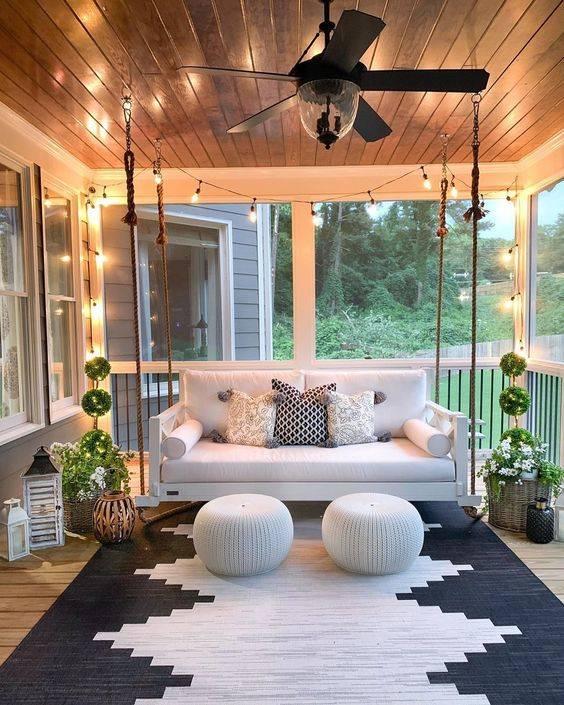 Create a romantic setting on your front porch. What sort of furniture should you install to achieve this? A fantastic idea would be to install a hanging sofa from the ceiling of your porch. When you need to relax a bit with one of your loved ones, you can just sit out on your front porch and let it sway you into a blissful state. Also, you can add lanterns and vases of flowers around your front porch. Naturally, don't forget to add the strings of fairy lights to the environment either, this will really set the mood!
6. Lemons and Limes – Small Front Porch Ideas on a Budget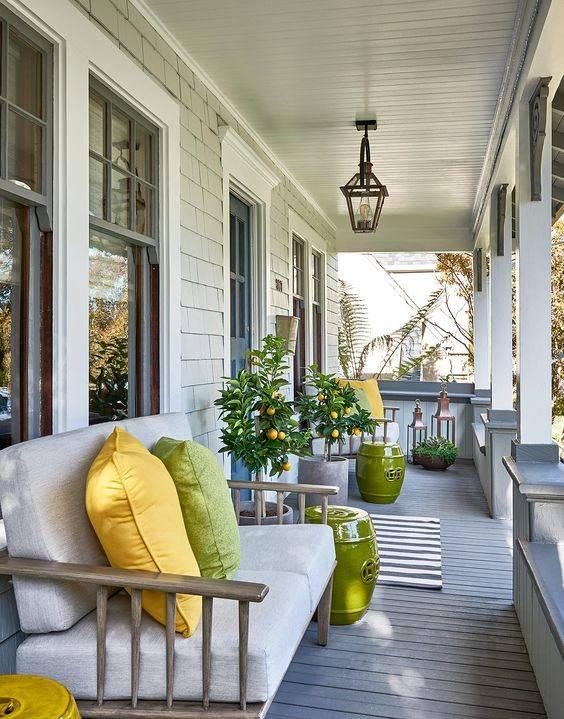 Do you feel like you have no inspiration for decorating your front porch? Then take your inspiration from nature itself! Use the colours yellow and green to add some pops of vibrance to your small front porch. Add lemon and lime trees in pots in front of your front door. Take yellow and green and use it for decorating the rest of the porch. This might include yellow and green pillows or other small ornaments in an otherwise all plain setting. A few bursts of green and yellow will look amazing!
7. Black and White – Fun Sorts of Patterns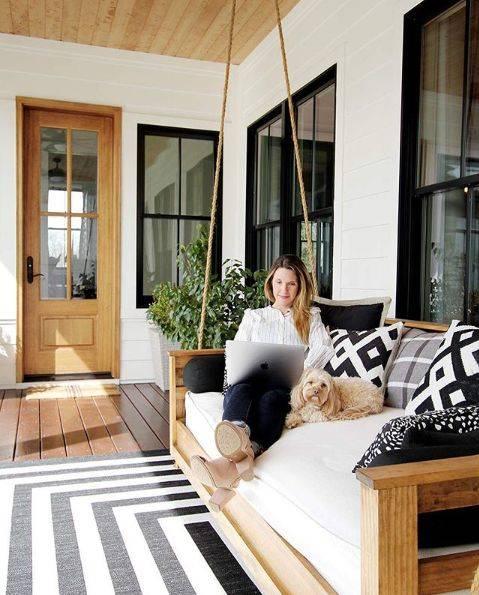 We have talked about using fun and vibrant colours, but if you'd like a more elegant setting, how about using black and white for decorating? The combination of black and white is a classic and timeless way of decorating any space. You can use them in all sorts of patterns to create a truly unique vibe on your front porch. For example, different sorts of geometric patterns on the pillows of the seating or the rug. Of course, if you'd like to add a bit of colour, then try out green! Organise a few potplants on the porch for that amazing look!
8. Nautical and Coastal – Stylish Ocean Vibes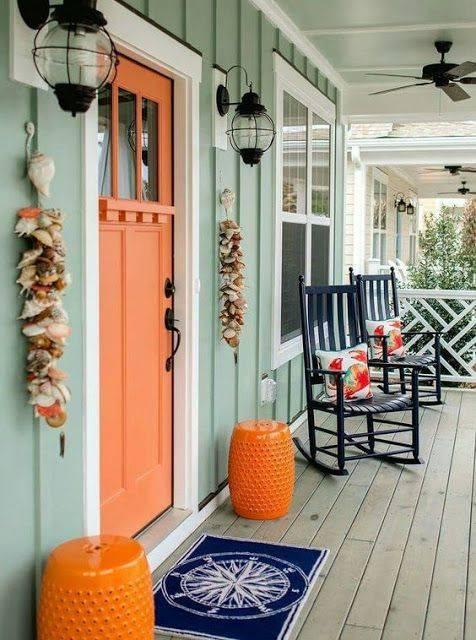 Do you live anywhere near the ocean or the sea, or perhaps you just love being close to it? Then make sure to use the ocean as inspiration for decorating your front porch! You can use all sorts of nautical elements to do this! For example, a doormat that has a compass on it. Shells attached to strings hung in front of the front door or pillows with fish paintings on them. There are many ideas on how to incorporate the ocean or sea in your porch, to create that nautical or coastal setting!
9. Elegant Refinement – Small Front Porch Decorating Ideas on a Budget
Here is a design which is perfect for anyone that would like to bring a sense of elegance to their porch. You can opt for a hanging chair, installing it from the roof above your porch. Another way of enhancing this ambience is by using a stone coffee table. This will look amazing! If you are truly going for refinement, then try not going overboard with your selection of colours. Stick to simpler and cleaner tones without mixing them much with others.
10. Adding a Dining Table – Great for Entertaining
We have talked about what sort of colours and designs to try out on your front porch. But what about adding a different sort of function to it? Just by adding a dining table with some chairs, you will transform your front porch into the perfect place for entertaining any guests who might pop over. Just imagine, eating a delicious lunch and feeling the fresh air all around you. Or spending a night outside on the porch drinking wine after dinner with friends or family and just enjoying the whole atmosphere!
11. The Minimalist Look – Small Front Porch Ideas on a Budget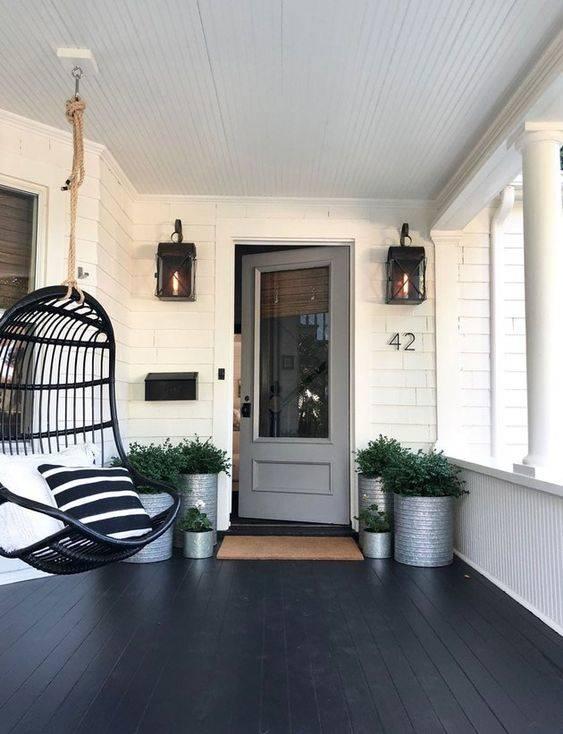 Maybe you love minimalism in all forms! Whether it's fashion or home design, you would opt for something simple and clean. If this is the case, then how about using only a few pieces of decoration on your porch? This might just include a few pot plants arranged next to the front door. Of course, feel free to add some furniture to your composition, such as a hanging chair which you install from the roof of your porch. Naturally, since we are talking about minimalism, try not to use an array of colours, keep it as simple as possible!
12. Happy and Bubbly – A Positive Ambience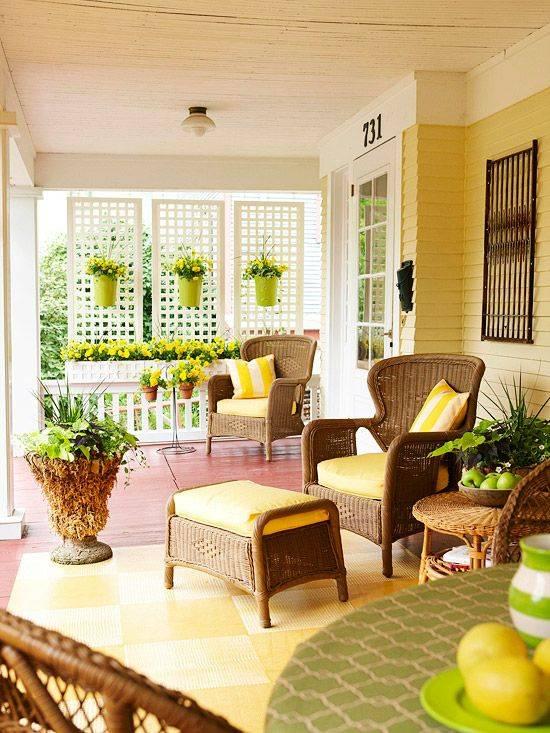 Would you like your small front porch to radiate a sense of happiness and joy? If so, make certain that you use happy and bubbly colours to achieve this. Yellow is often associated with sunshine and warmth, so using it in a few different shades will brighten up your porch instantly! Yellow pillows, a yellow rug, yellow flowers in pots or the walls of your house painted in yellow, will all add to the overall bright and bubbly mood!
13. Natural and Easy – Small Front Porch Decorating Ideas on a Budget
Even if you don't have an actual front porch, you can still create an area to substitute it. Just place some furniture in front of your house. This might consist of some simple sofas and coffee tables. You can keep this space looking effortless and natural, using mainly wooden furniture. To keep the natural ambience of the porch, also include an abundance of pot plants and decorate the outer walls of your home with woven plates or baskets. This will not only give it a natural vibe but a bohemian style as well.
14. Keeping it Simple – How to Style a Porch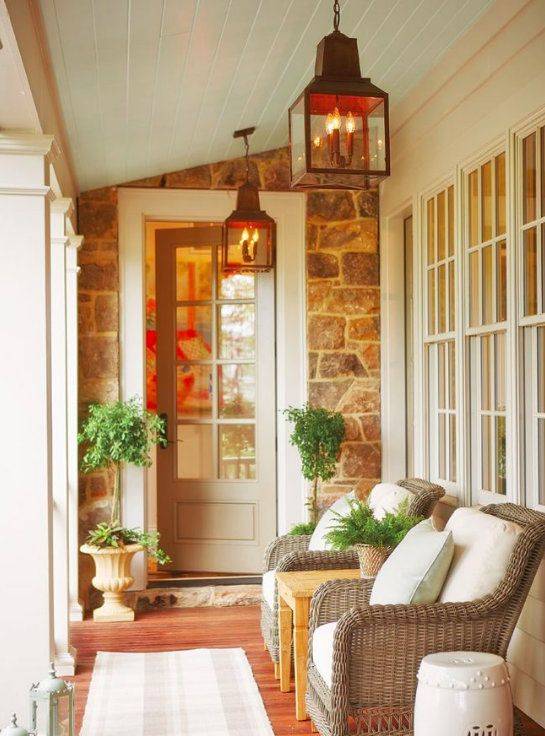 Get ready to decorate your porch in a simple manner! Perhaps you live in a brick house and you are uncertain about how to style it. Keep it simple but elegant! Vases of flowers resembling antique objects might come in handy as well as wicker chairs or sofas. Also, make sure to include lighting for your porch. You can use vintage-styled lanterns hanging from the ceiling of the porch, in order to keep the style homogeneous. 
15. A Space for Relaxation – Perfect for the Afternoons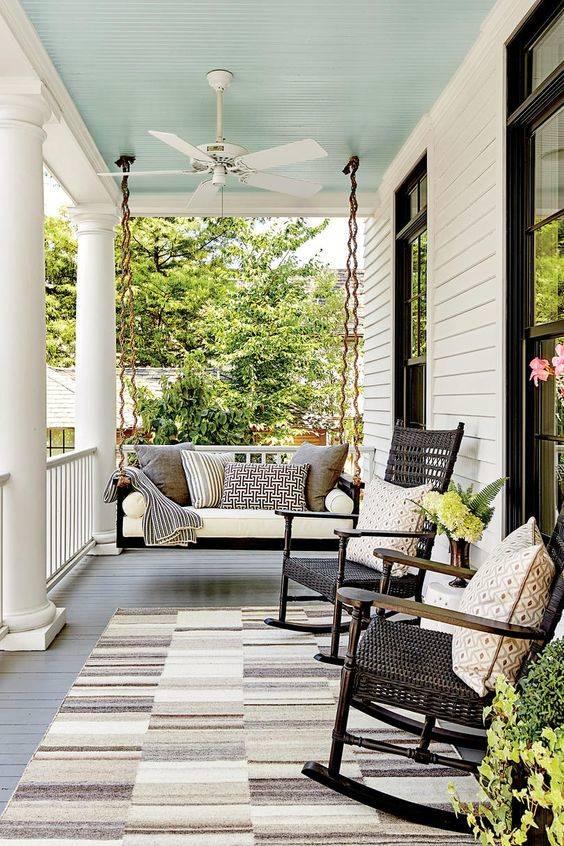 After you get home from a long day of work or school, how would you like to spend your afternoons or evenings? Perhaps you'd just like to de-stress a little and get some peace and quiet. Turn your small front porch into a retreat of relaxation! Add a hanging sofa to the porch as well as some rocking chairs, all of them should be super comfortable. Create a cosy space with familiar and friendly ornaments, which will make you feel all the better! Sit out on your porch and enjoy a lovely cup of coffee or tea and unwind!
16. A Sense of Privacy – Adding Curtains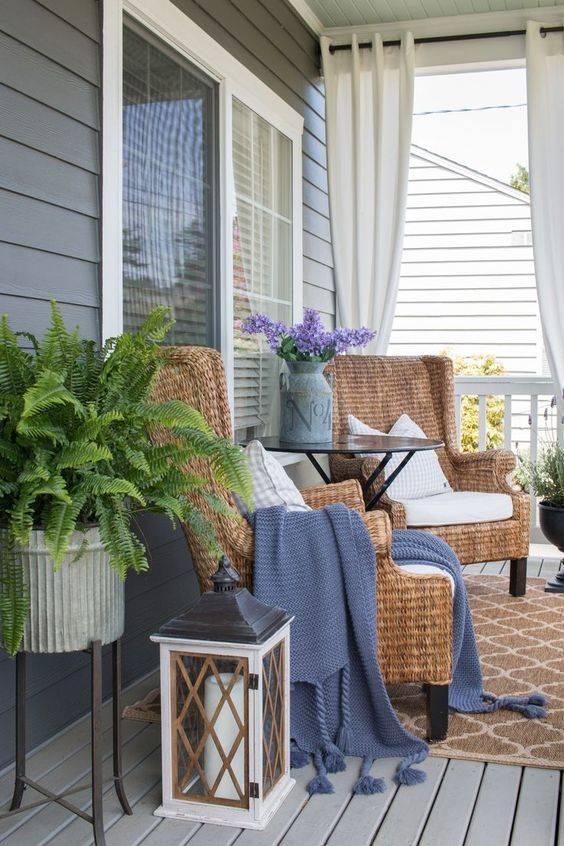 You might want to add a sense of privacy to your porch. After all, it can be a bit irritating when people keep looking at you from over the neighbours or from the street. If your porch doesn't have walls surrounding it, how about you add some curtains? You don't have to add curtains all around, just a few, maybe at the sides of your porch. Then make sure to add some comfortable seats in which you'll be able to relax in!
17. Lush and Green – Small Front Porch Decorating Ideas on a Budget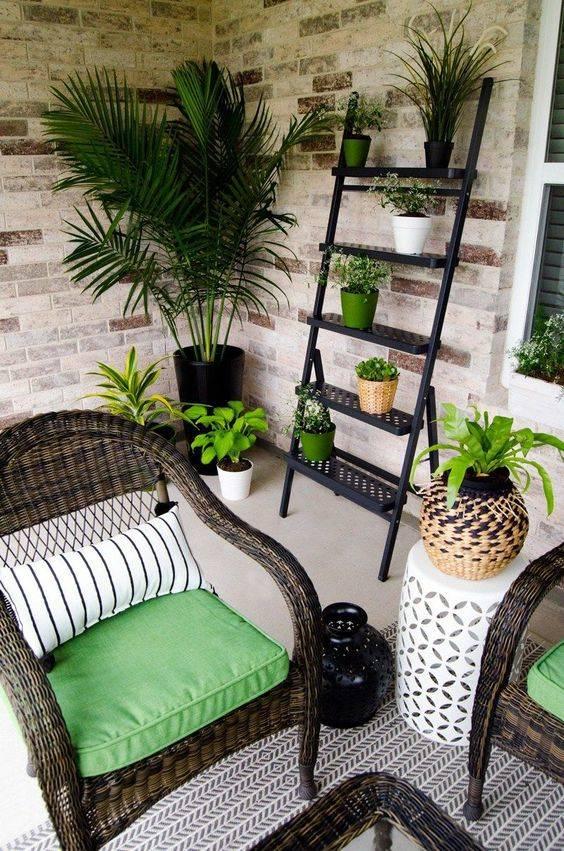 If you love the colour green, then you might just like to use it for decorating your front porch! Use green in all sorts of shapes and forms. Whether it's a pillow on your seat or a green rug, it will look fantastic and lush when you are finished! Naturally, since it's the colour green, we also recommend adding a lot of pot plants around your porch. You can even set up a ladder and place pot plants on each step of it for a stunning and effortless look.
18. A Coastal Design – Best for a Beach Porch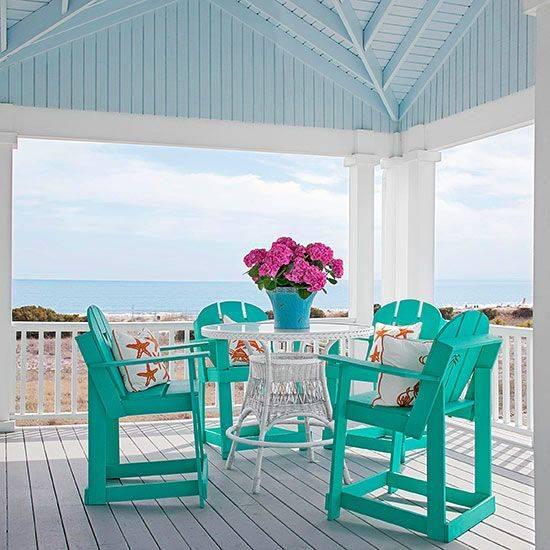 Perhaps your porch overlooks a beachside view. If this is the case, make sure that the design and style of the porch match the overall vibe of the environment around it. For example, for a coastal look, you may decide on using aqua coloured wooden seats. Add some fun pillows to your chairs, that have nautical decorations on them.
19. Illuminate Your Porch – Lighting is Crucial
Lighting is crucial when it comes to designing any part of your home! So even if we are talking about your porch, you will want to add some sources of lighting to it. This may be a string of fairy lights hanging across the porch, but you may place some flameless candles into lanterns and arrange them all around the space.
20. A Table Arrangement – Small Front Porch Ideas on a Budget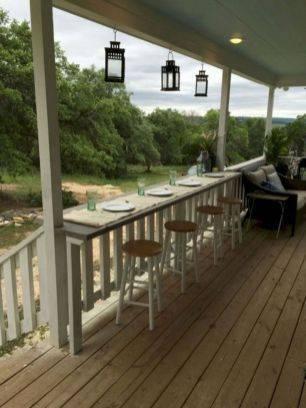 Here is another great idea on how to add a dining area to your porch. Install a table on top of the railing of your porch. Then place some stools underneath it which will allow you to sit down! This is perfect for someone who wants to fit in a dining table but only has a smaller sized porch!
We hope that this pick of 20 small front porch ideas on a budget has helped you find some inspiration! For other home design ideas, such as fireplace design ideas or home bar ideas, visit our website!