There are a number of details you have to watch out for when designing an apartment or house. These details will range to the decorative elements of the rooms to the practical ones. For example, it will be just as important as to install proper heating as it will be to choose the colour of the room. One other crucial element in any home is none other than lighting! Thanks to the lighting, you'll not only be able to see what or who is in the room, but the lighting will also help set a mood and atmosphere. Check out our collection of 20 dining room lighting fixture ideas! With the help of these dining room lighting ideas, you'll be able to add some modern dining room lighting installations to your dining area!
1. Old-fashioned and Industrial – Dining Room Lighting Fixture Ideas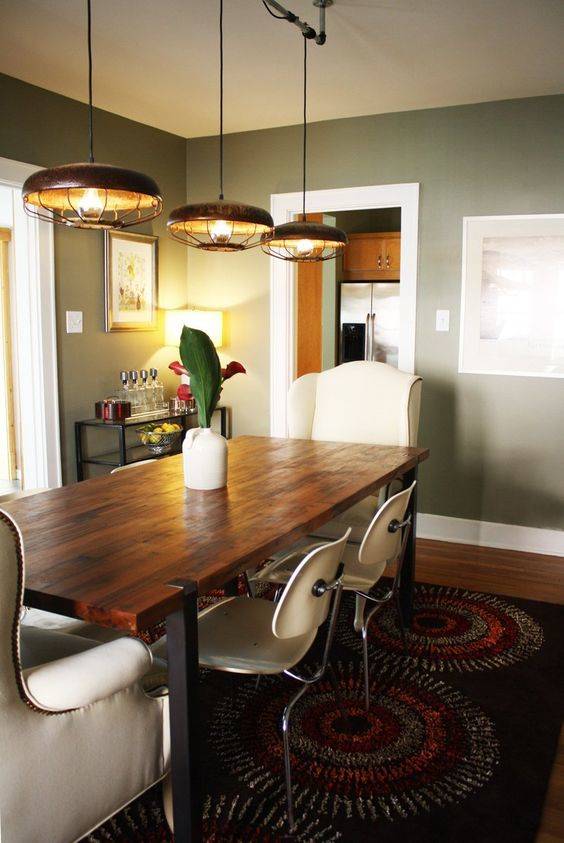 When you choose a type of lighting, a lot depends on what sort of mood you'd like to create. Or what sort of style you'd like to bring alive in your dining room. Perhaps you have always admired a modern twist on old-fashioned and industrial pieces. If this is the case, then this lighting idea will look perfect in your dining room! Pendant lights hanging from the ceiling, their light directed right at the dining table. All you need now is some edgy, metal lampshades to give them that industrial look. While this at first may appear simplistic, it will be sure to complement any style you choose for the dining room.
2. Tubes of Light – A Modern Refinement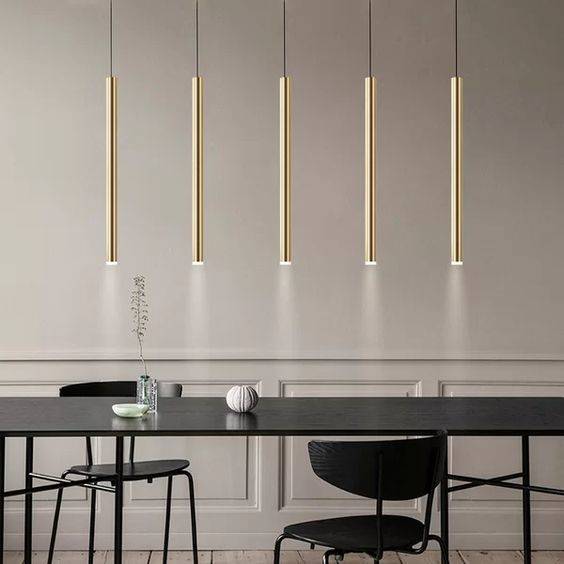 Are you thinking about using simple and minimalistic shapes in your dining room? If so, you might just love this idea of using tubes or long and thin metal cylinders for your lampshades. The lights themselves only shining through at their very tips. Again, pendant light instalments hanging right above your dining table is a smart option! Thanks to lights such as these, you'll be able to see what you are eating at the dining table!
3. Fancy and Elegant – Going for Glamour
Maybe you would love to transform your dining area into a space filled with magic. As if it were a dining room fit for lords and ladies. Using a bit of vintage glamour for inspiration, how about you add a chandelier as a source of light to your dining room? This is guaranteed to bring a fancy and elegant atmosphere to the whole environment. Instead of using actual candles for your chandelier, as they did before the invention of electricity, a safer option to stick to would be flameless candles installed on the branches of the chandelier.
4. Fun in Farmhouse – A Barn Beam Fixture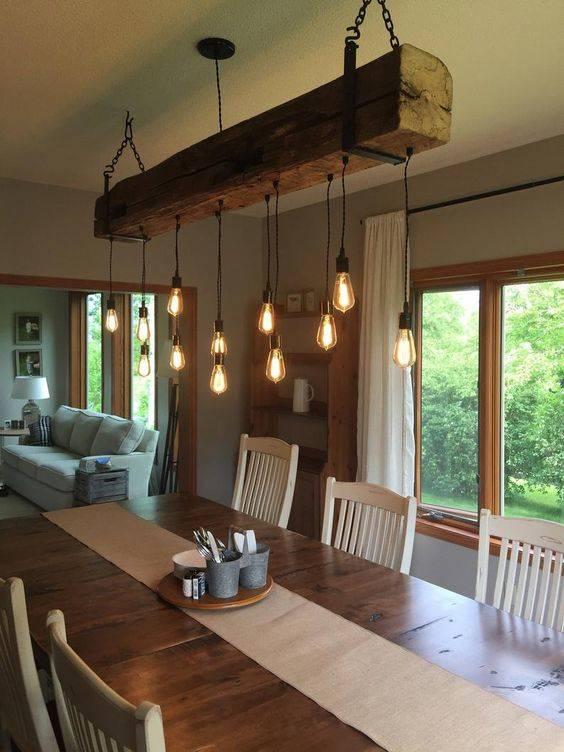 As you will probably already know, there are plenty of home design ideas you can choose from. Maybe your dining room will be styled in farmhouse design. If this is the case, make sure you choose lighting that will match the ambience of the room! For example, how about installing a barn beam lighting fixture right above your dining table? Have Edison lightbulbs or just plain lightbulbs hang down from the beam for a stylish look. The beam itself with some more retro lightbulbs will definitely bring out an intense farmhouse feeling!
5. A Swirl of Lights – Modern Dining Room Lighting Designs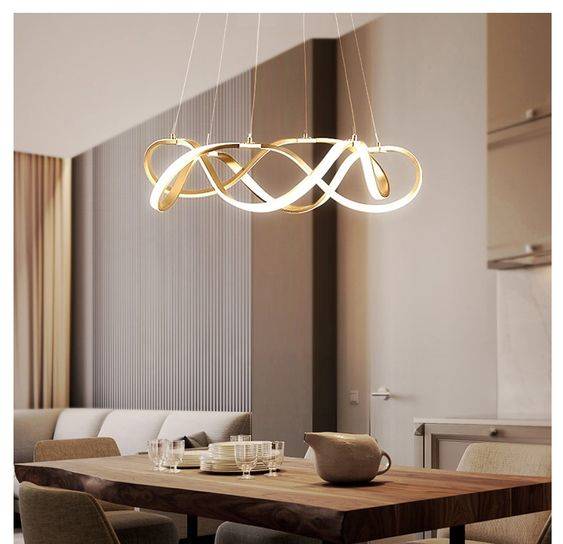 You can get creative with the shape and size of your dining room lighting fixture. It doesn't have to be anything standard or regular, it can be out of this world! This is when led lights come in handy because you can use them in so many ways and forms! For example, you can have a swirl of lights created, one side of the swirl made of metal, the other lined with led lights. While this source of lighting will be sure to give your dining area the perfect illumination, it will also most likely become a centrepiece of the room that will attract anyone's attention to it.
6. Spectacular Spot Lights – Installed in a Wooden Board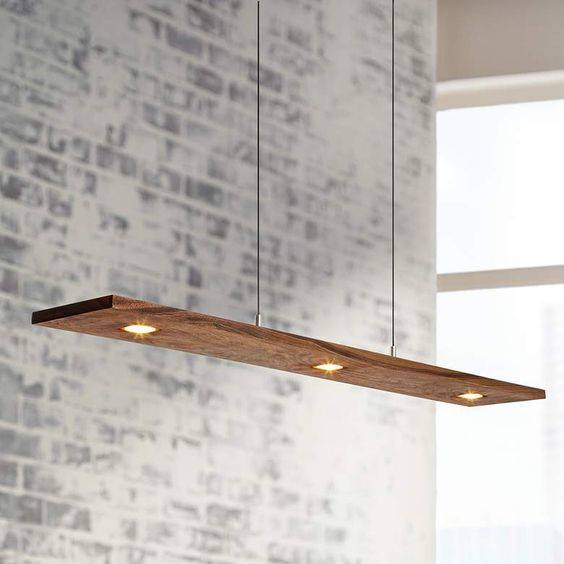 Perhaps you love minimalism. If so, you may just be in search of some sort of minimalist lighting design for your dining room. Well, just check out the one above! It's all about having small, spotlights installed in a thin wooden board or pallet. Then all you have to do is hang it from the ceiling of your dining room, above the area, you'd like to illuminate with light. This is a truly perfect design for anyone who is into minimalism!
7. An Assortment of Lampshades – Dining Room Lighting Ideas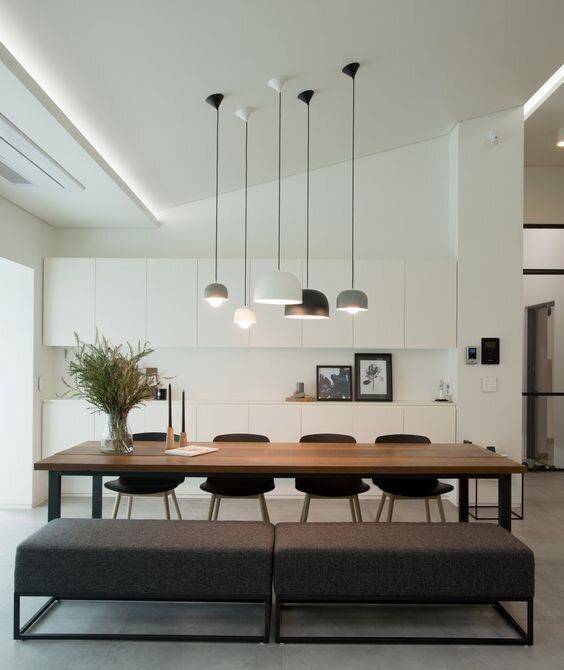 Are you a very creative person and would you like to express this in your home design as well? How about you add some unique and unusual elements to your home. Just an example of this is your dining room lighting. As an alternative to conforming to only one sort of style, how about you mix and match? While you may decide that you'd like pendant lights in the dining room, you can get funky and creative with the lampshades! Use different lampshades for each pendant light hanging from the ceiling. This will definitely help create a brilliant and fun look!
8. Flat and Wide – Amazing Led Lights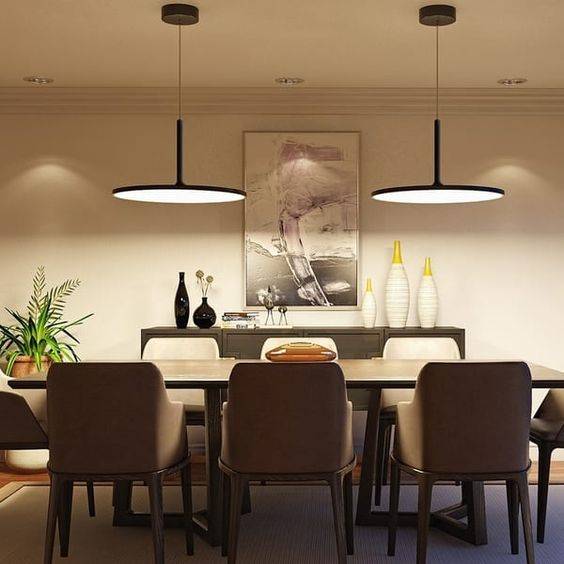 You may have trouble choosing the lighting for your dining room. After all, there's a huge variety of lighting fixtures and instalments. For a groovy and modern look, how about you add some disc-like led lights above your dining table? The lights themselves should be flat and wide and a circular shape. Hopefully, thanks to their wide shape, they will be able to project sufficient light all over your dining table! Depending on how large or long your dining table is, you may only need to install one or two of these lights.
9. One Main Light – Dining Room Fixture Lighting Ideas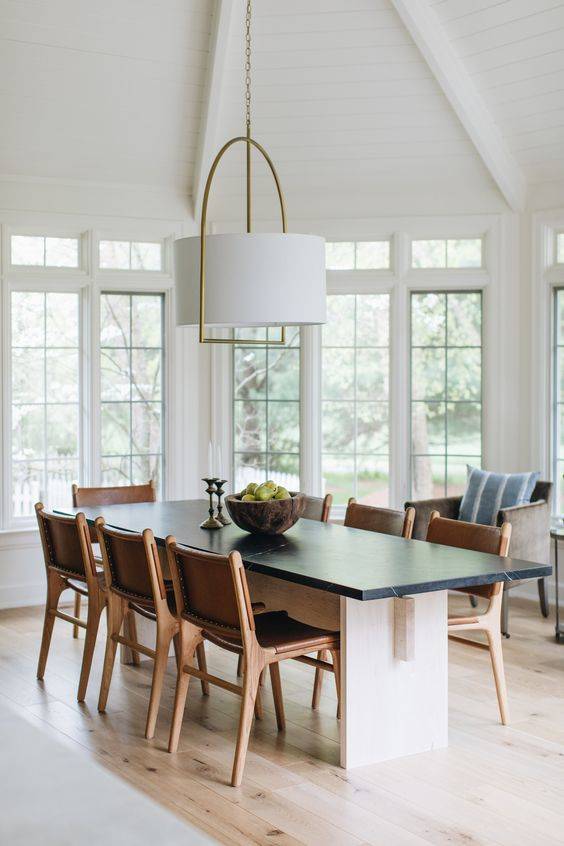 When you imagine your dining room as a ready space, we're certain that the lighting also plays a big part in your thoughts. Maybe you would like to create dimmer lighting in the dining room. After all, this will help in creating a romantic and intimate ambience. If this is the case, then try using only one main light above your dining table. Also, find a lampshade that will somewhat block out the light, or turn it into a much dimmer version of itself.
10. Hello to Hexagons – A Few Tiers
If you have been trying to find something modern, then this dining room lighting idea will definitely catch your eye! The lighting is put together of three hexagons. Each hexagon has led lights attached to their outer sides. You can get a few of these hexagon lights in different sizes and hanging them underneath each other for a stylish and contemporary look. Of course, you may decide on getting lights designed in different shapes, it doesn't necessarily have to be a hexagon-shaped light!
11. Keeping it Simple – Easy and Effortless
We understand if you don't want to use over the top or fancy designs for your lighting. Keeping things simple may be the way to go! Especially if you want to create a clean and simplistic atmosphere. How about installing a linear pendant light above your dining table? This should have a long row of led lights installed inside of it. A longer, linear pendant light will provide sufficient and equal light all over the table. Naturally, it is up to you whether you'd like a brighter light or a dimmer one. It all depends on the atmosphere you'd like to set.
12. Vibrant and Vivid – Dining Room Lighting Fixture Ideas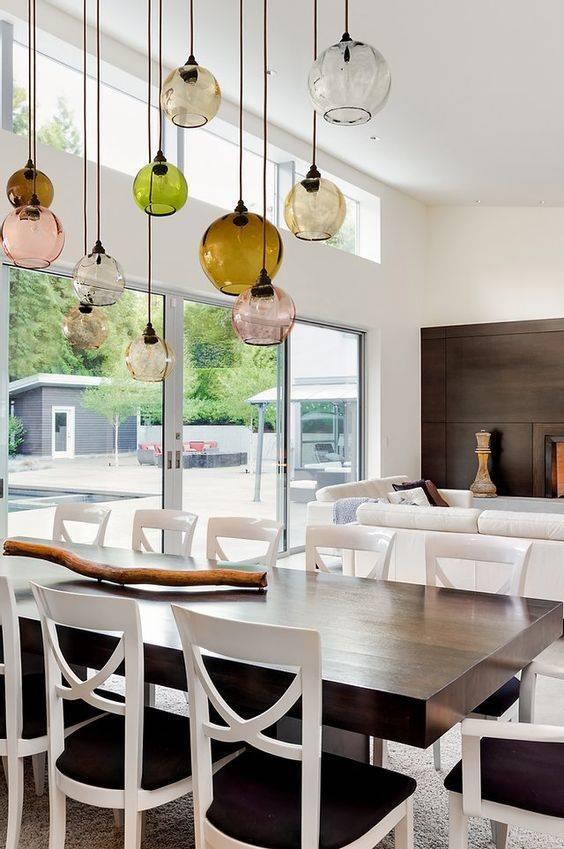 Would you like to add a few pops of colour to your dining room? Especially if it is styled in neutral colours, you may be thinking about how to turn it into a more vibrant space. How about using glass lampshades for covering each pendant light, that is hanging from your ceiling? But instead of simple, see-through glass, try using colourful glass lampshades. You can use any shades you'd like, ranging from pink to green to blue. These lights will also help create a flow of colours during the evenings in the dining room.
13. Stunning in Geometric Patterns – Fantastic and Funky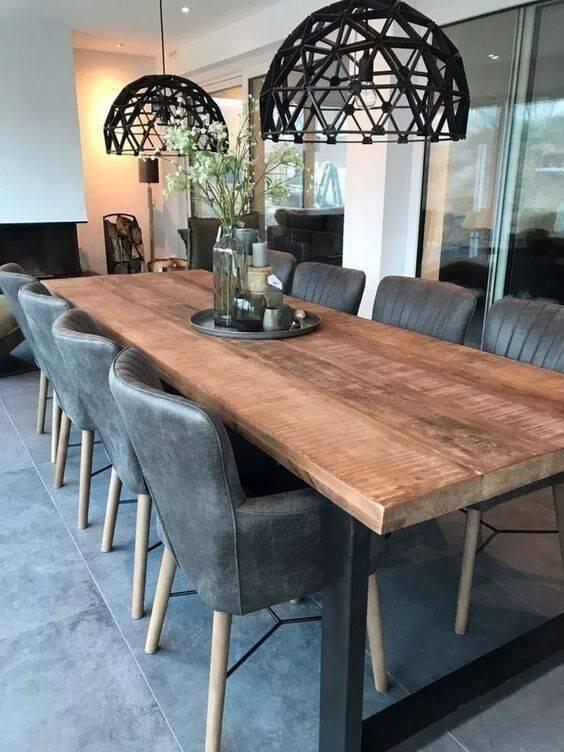 Have you always loved unique patterns, which can uplift the vibe of a whole room? If so, then you will definitely adore this lampshade idea! Put together of small bits and pieces to form geometric shapes, the lampshades will add an element of funk to your dining room. These geometric-patterned lampshades will look perfect in a dining room which has a simplistic design or one that has previously used some sort of geometric patterns.
14. A Variety of Lights – Modern Dining Room Lighting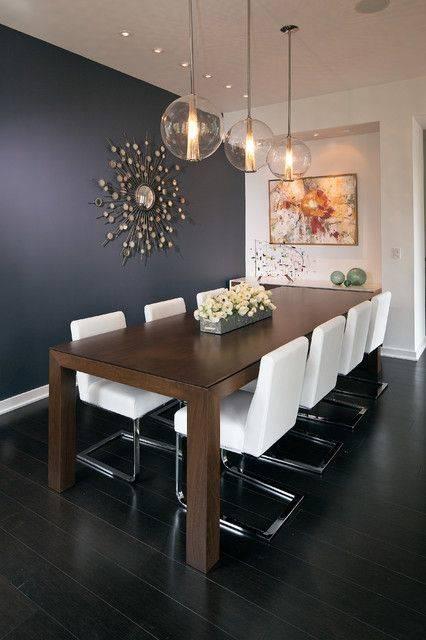 How about you have fun with installing your lighting in your dining room? You don't necessarily have to stick to only one sort of lighting, you can experiment by adding a few different types to the room. For example, you can feel free to add some pendant lights with unique lampshades. But you can also have some spotlights installed in the ceiling, which will help in providing extra light. Of course, there are a lot of options to choose from, whether it's a few lamps close to the dining table or trying out other types of lights hanging from the ceiling.
15. A Few Connected Rings – Light Up the Room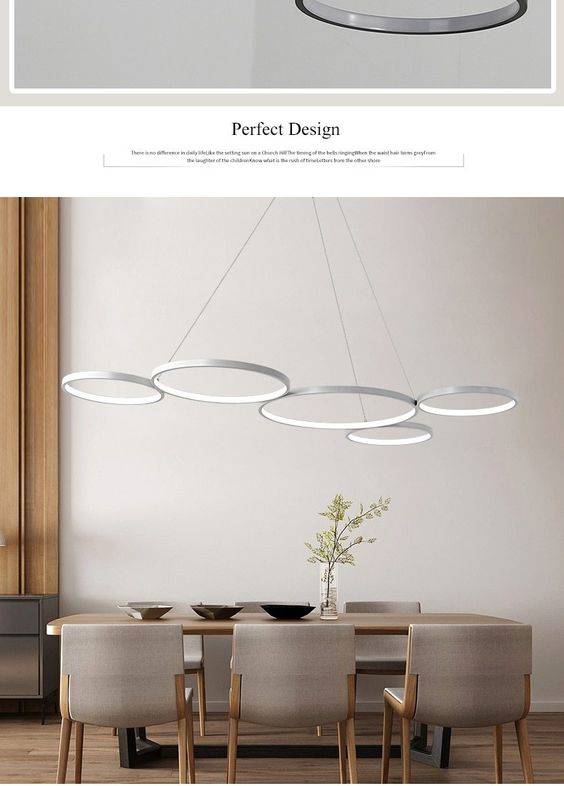 Here is yet another stylish design for modern dining room lighting ideas! It consists of metal rings connected to each other. But the rings will contain led lights somewhere in them, with which they light up the whole dining room. Have different sized rings attached to each other for a unique and contemporary look. Depending on how large an area you'd like to light up, make sure that the rings cover that space. These led light rings will blow anyone's breath away who steps into your dining room.
16. A Modern Chandelier – Refined and Contemporary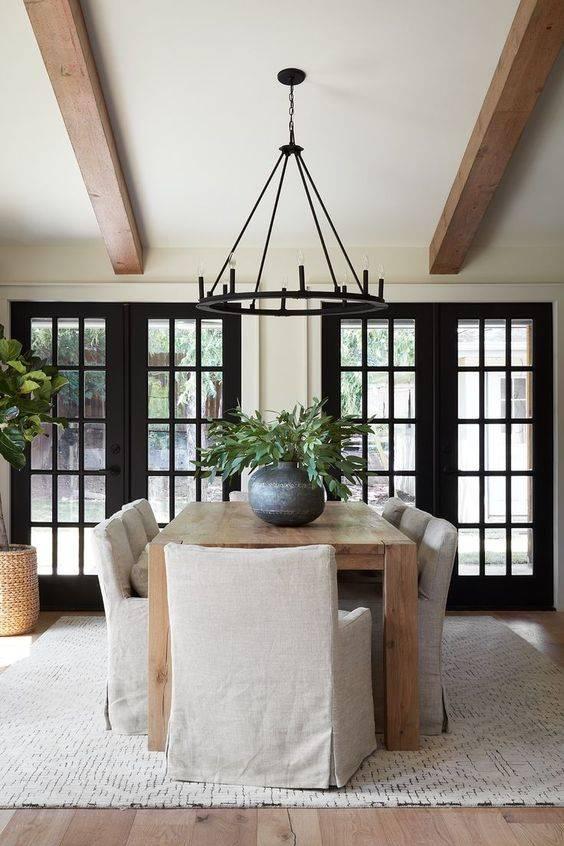 You may love the look of a chandelier, but it might not match the design or atmosphere of your dining room. How about putting a twist on the classic chandelier and turning it into a modern source of lighting? This modern chandelier is made up of a simplistic hoop, that has either lightbulbs or flameless candles sticking out of it for the chandelier effect. Then simply install this contemporary chandelier in the ceiling right above the dining table.
17. Easy and Fabulous – Dining Room Lighting Fixture Ideas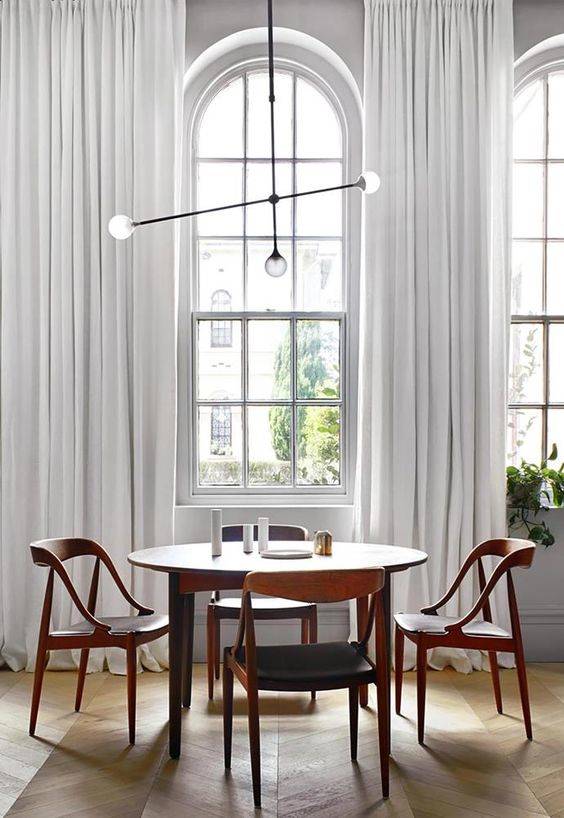 If you've been looking for modern lighting designs, then you'll adore this idea! Just take a glance at the lighting design above! Two rods connected in the middle, with lightbulbs attached to their ends. The two rods don't need to create a right angle, you can have one of the rods slightly tilted for a more modern look. The rest is up to you! For example, what sort of lightbulbs you choose, whether they are tinted yellow or glow with white light? It mainly depends on what sort of mood you want the dining room to embody.
18. Ready for a Rectangle – Led Light Installations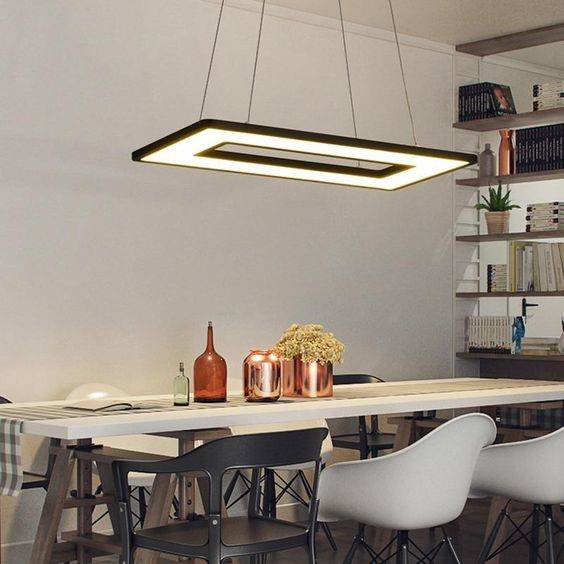 We have already discussed using different sorts of shapes for your dining room lighting. Hexagons or circles are guaranteed to look amazing, but how about trying out a rectangle-shaped lighting installation? The light itself will look sort of like a frame, with led lights shining through at the bottom of the rectangle, directed at the dining table.
19. A Lantern Vibe – Modern Dining Room Lighting Designs
If you've always loved the look of lanterns, then try out this lighting design in your dining room! It's all about having flameless candles installed in a large glass box, which will resemble a lantern! The combination of a large glass lantern with the candles inside will be certain to give off lantern vibes. This is a great modern interpretation of a lantern!
20. Reimagine and Recycle  – Environmentally Friendly Options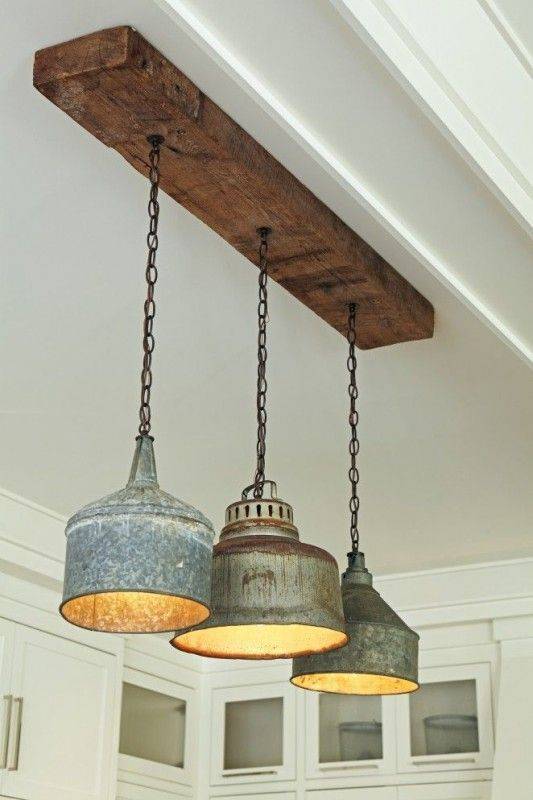 Perhaps you are in search of environmentally friendly solutions, even when it comes to lighting! How about recycling old objects to create your lampshades out of? This may include items made out of galvanized metal, that you wouldn't use again. It's all about reimagining things and recycling them, instead of buying a new one at your local shop!
These are just a few modern dining room lighting ideas! Naturally, there are a lot more out there! For other home design inspiration, such as bathroom design ideas or fall living room decor ideas, check out our website!