The season of fall has finally arrived. With it has come the time of harvest, apple picking, carving pumpkins and the landscape turning into shades of red, orange, yellow and brown. Sometimes you might feel as if you really want to channel the outside natural world in your own home. Taking this into consideration, this might mean that you decorate your home with fabulous autumn decorations, in order to give your home a sense of autumn! So how about you check out our pick of 25 fall living room decor ideas? You'll be feeling inspired in no time and will have some ideas on how to get ready with autumn living room decor.
1. A Selection of Everything – Fall Living Room Decor Ideas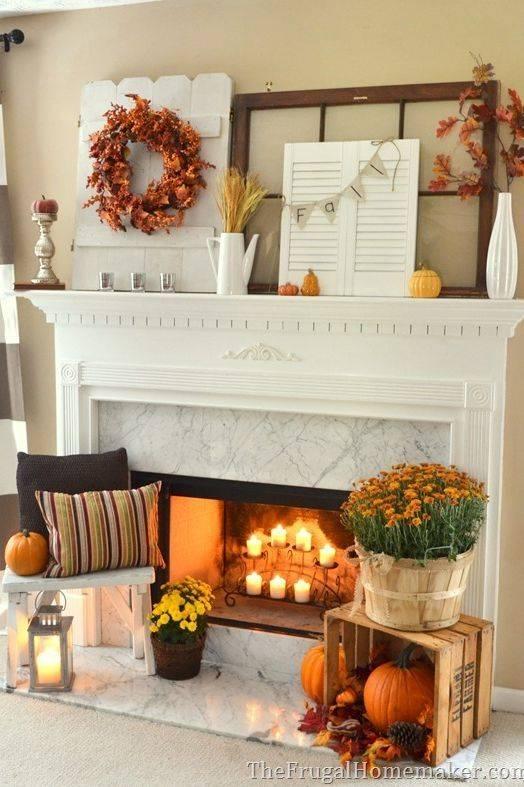 Transform your living room into the inside world of autumn! You can achieve this by finding a selection of fall-themed items and carefully arranging them around your living room. This might come in the form of placing pumpkins, seasonal flowers and an autumn wreath in the room. Feel free to get creative with this idea, really turn the decorations into your own. Place the pumpkins everywhere, in wooden crates or on the mantelpiece. You might even string some banners across the room which read "fall." There are a lot of directions you can go in, just make sure that it feels like home to you when you step in!
2. Centrepieces for the Coffee Table – In the Middle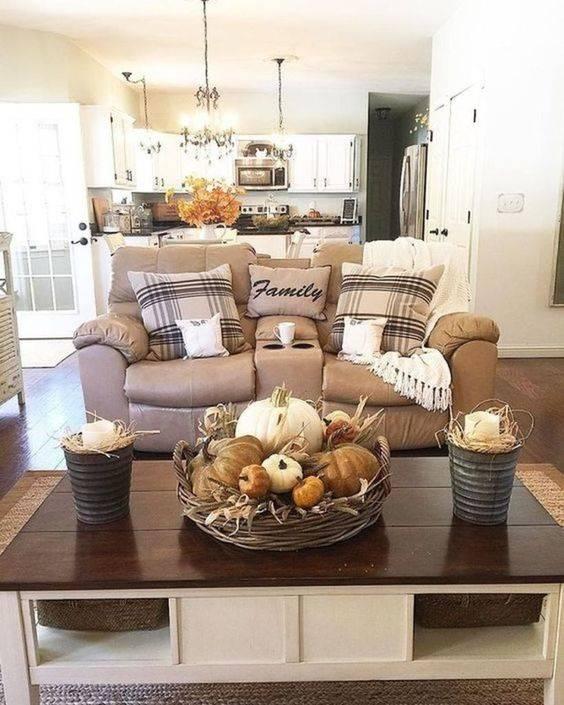 Check out this easy way of decorating your living room for autumn! You don't have to go overboard and overdo the decorations. Sometimes using a few simpler ornaments will stand out more! Your coffee table may be the centre of your living room. If so, make sure to add a few autumn decorations to it. This might just be a basket of pumpkins with two candles placed on the sides. Even if it is simple, we all know the saying that less is more!
3. A Colour Combination – Stylish and Simple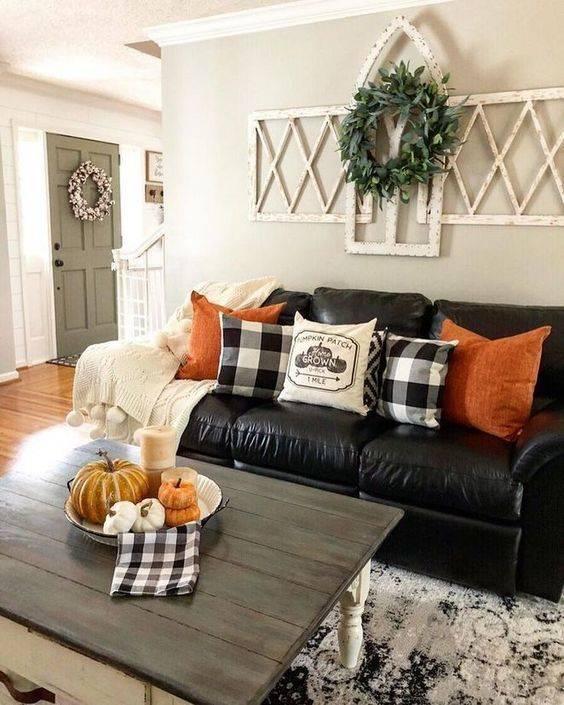 At times, all you need is a fabulous colour combination in your living room to exude a different ambience. A great colour combination for the season of autumn would be black, white and orange. The orange really expresses the colour of the falling leaves, as well as the pumpkins. Match the orange with black and white, to really bring out its vibrance and energy. For example, add a few orange, as well as, black and white pillows to your sofas. Feel free to add a vase of orange flowers to your composition as well! 
4. Illuminating Your Design – Autumn Living Room Decor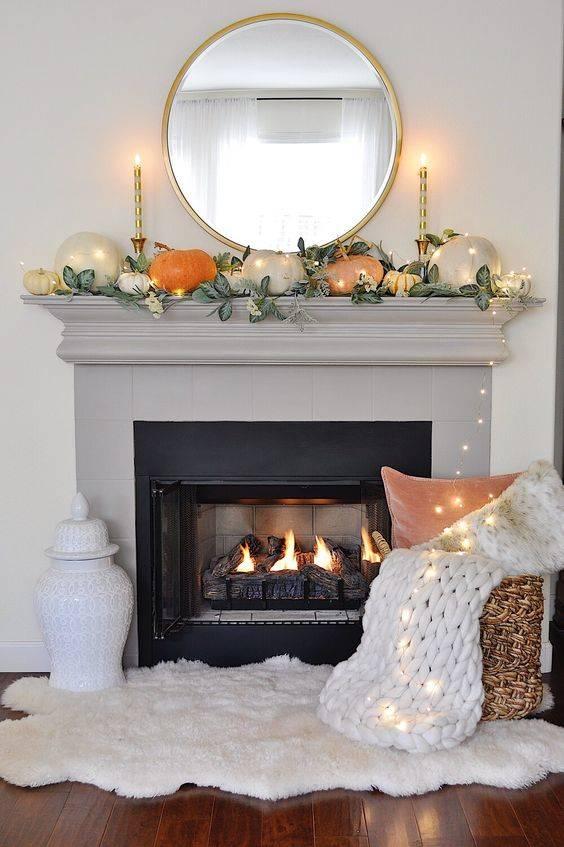 Everyone loves autumn nights when the weather gets chillier and you can cuddle up on your sofas. Turn your living room into an ambient and friendly space to be in, especially if you are determined to spend most of your nights there. Perhaps you have a fireplace in your living room. If this is the case, how about you decorate the mantelpiece? After finishing that, arrange a string of fairy lights all along the decorations. The small and glowing fairy lights will help in creating a unique and welcoming atmosphere throughout the living room.
5. The Multi-Tiered Tray – A Fun Addition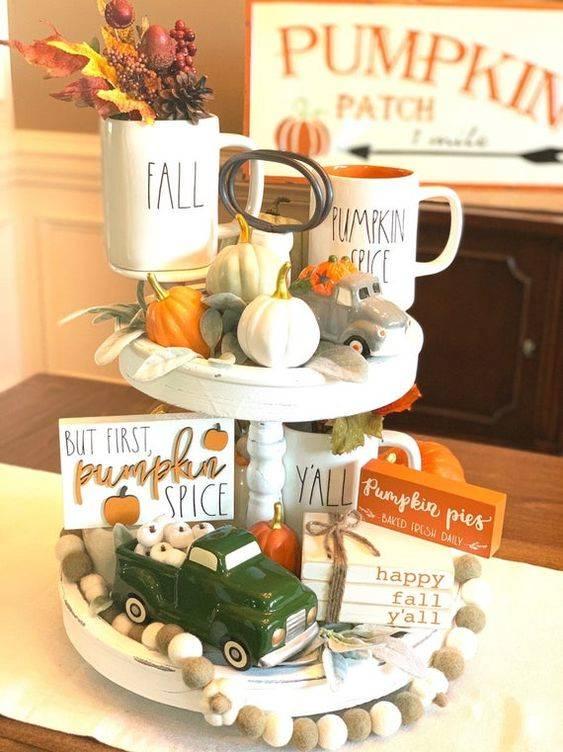 Are you in search of a super easy and quick way to put together a bit of autumn decoration for your living room? If so, you have come to the right place! All you need for this idea is a multi-tiered tray and some small ornaments. For example, you can use small pumpkins or even pinecones to place on the tiers of the tray. Or another fantastic idea would be to add some mugs to your tray arrangement. Mugs that have the words "fall" or "autumn" written on them will truly channel an autumn vibe.
6. Unusual and Unique – Different Types of Pumpkins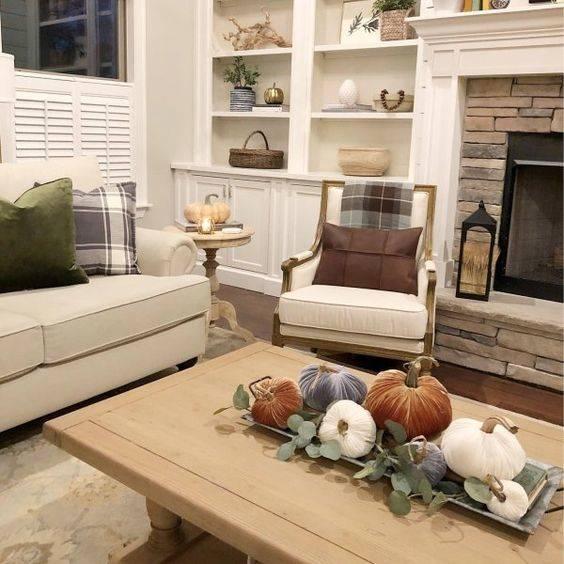 Pumpkins are one of the main symbols of autumn! After all, it's a seasonal vegetable which is incorporated into every sort of autumn food and drink. From pumpkin pies to pumpkin spice lattes, pumpkins really do embody the taste of autumn! Keeping this in mind, it would only make sense to use pumpkins in some sort of form in your autumn decor. While you might use a few actual pumpkins in your decor, it wouldn't hurt to try finding or even making a few of your own! For example, you can try creating pumpkins made from textile for an unusual and unique look!
7. A Vase of Autumn – Fall Living Room Decor Ideas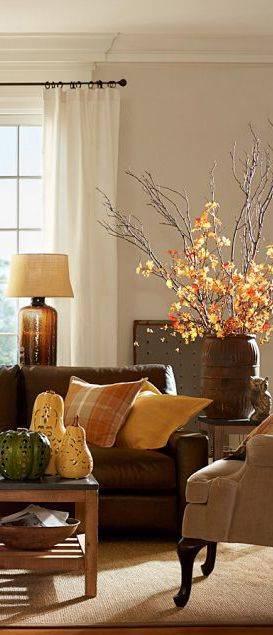 When you think of the season fall, what image comes to your mind almost immediately? If we had to take a wild guess, it would probably be a landscape with leaves falling and being carried away in the autumn wind. Take inspiration from nature and use this image for creating a fall decoration in your living room. All you need to do is place some branches in a large vase or pot. You can stick artificial fall leaves to the branches, to prevent them from wilting and withering up before autumn is over.
8. Warm and Welcoming – A Mix of Seasonal Flowers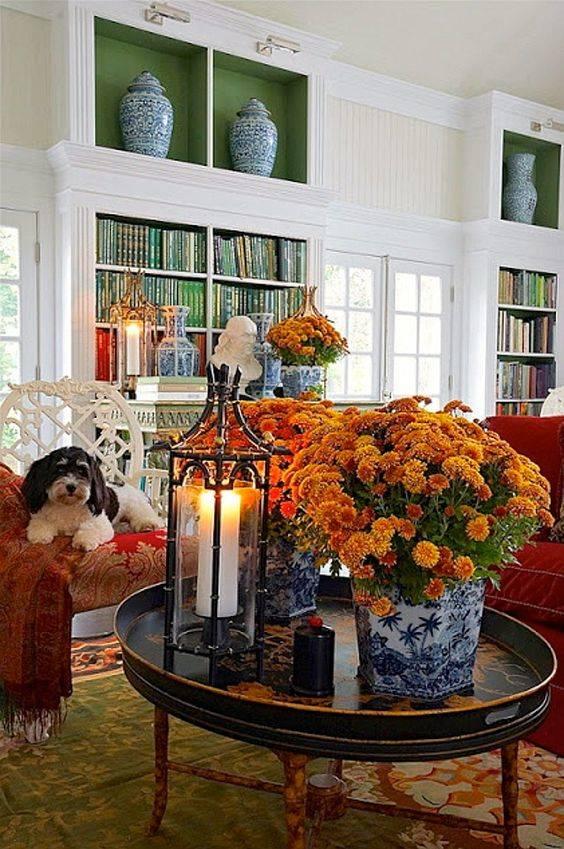 Using warm colours to decorate your living room with for autumn is quite logical! After all, fall embodies all sorts of warm colours. You might place a red or orange blanket over your sofa or change up the pillowcases. Another fantastic idea is to include a mix of your favourite seasonal flowers in a vase or two. You can then arrange them on your mantelpiece, coffee table or shelf. Try using flowers which are coloured in the same shades as the autumn leaves.
9. Decorating Your Candlesticks – Autumn Living Room Decor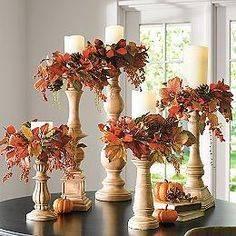 There are so many fabulous ideas that revolve around decorating your home for autumn! Just one of these is decorating your candle holders or candlesticks. You can wrap a foliage of autumn leaves or vines around them. Naturally, you can use artificial leaves for this, as this will prevent them from losing their colour before their time. You can also wrap a few sprigs of berries around them. Then carefully place candles in them. A safe option would be to use flameless candles!
10. A Happy Halloween – Abundance of Pumpkins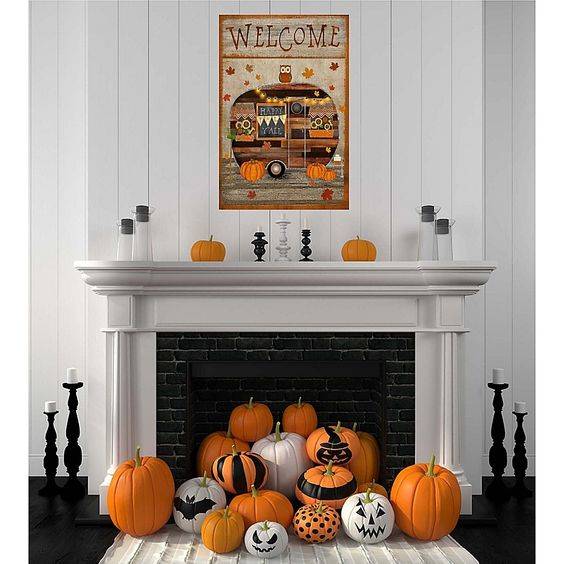 One of the main events during autumn is no other than Halloween. It's a fun time for kids as well as adults to dress up and enjoy a night of tricks and treats! If you are in search of ideas on how to get ready for this autumn occasion, then check out the one above! You will need an abundance of pumpkins which you can arrange in your living room. Instead of carving them out and turning them into jack-o-lanterns, how about painting over the pumpkins? You can paint scary faces or just add patterns on them. It's really up to you! Then create a pile of them in your living room!
11. Brilliant in Burnt Orange – Fall Living Room Decor Ideas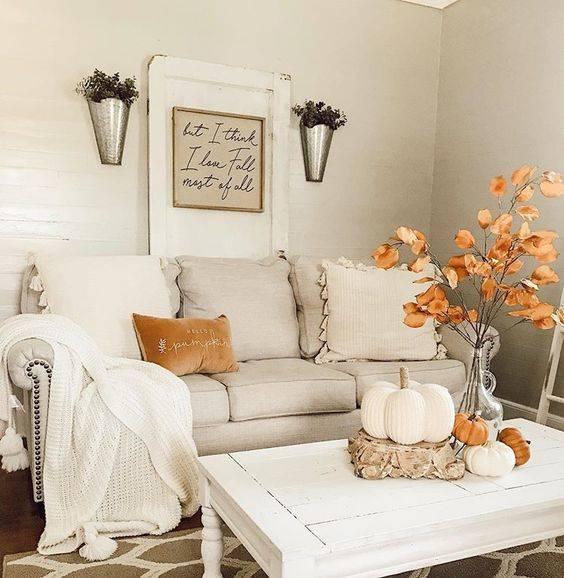 Maybe you are having trouble deciding what sort of fall shade you'd like to incorporate in your living room. Naturally, a lot depends on what colours your living room already incorporates. Perhaps you have used neutral and pale tones for the design. If so, you may opt for adding a few pops of burnt orange in it to symbolise autumn with. Burnt orange is a special colour. While it can't really be called vibrant and vivid, it does create a calming atmosphere and also exudes elegance. A burnt orange pillow a few burnt orange pumpkins will certainly bring the season into your living room!
12. Load Up the Candle Holders – Cute and Smart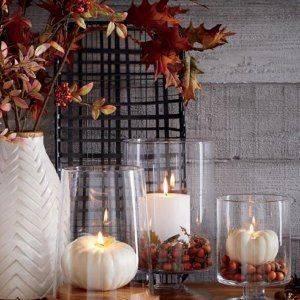 Add some candles to your living room's autumn environment! Place your candles in glass candle holders. But instead of leaving the candle holders plain, how about filling their bottoms with autumn foliage? For example, you might fill up one candleholder with chestnuts and another with acorns! Then you can simply place your candles inside. For an extra autumn touch, you might gather small pumpkins and carve out their stems and tops and place the candles in them before putting them in the candle holders.
13. A Cart of Trick-or-Treats – Fun and Festive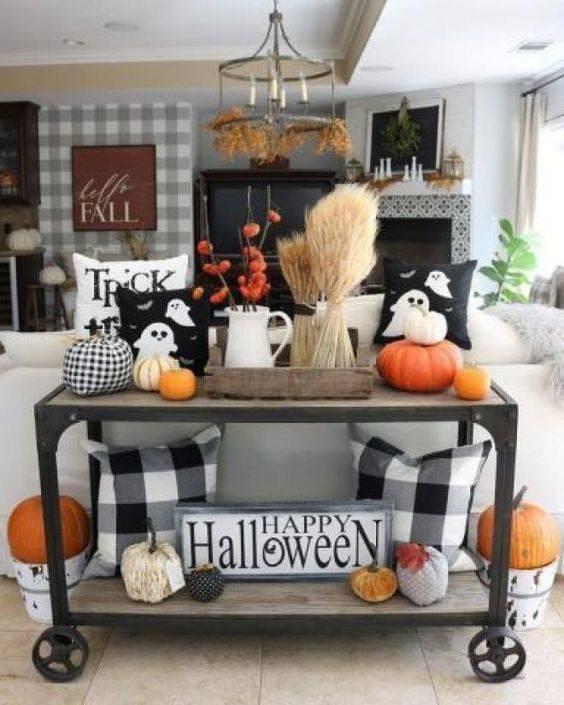 As we stated before, fall is the season of Halloween as well! This means you may be in search of Halloween living room decorations as well! How about you put together a cart that is filled with all sorts of Halloween and autumn ornaments? This may include a few bundles of wheat or hay, a sign saying "Happy Halloween" and naturally, you can't forget an abundance of pumpkins!
14. A Homely Vibe – Autumn Living Room Decor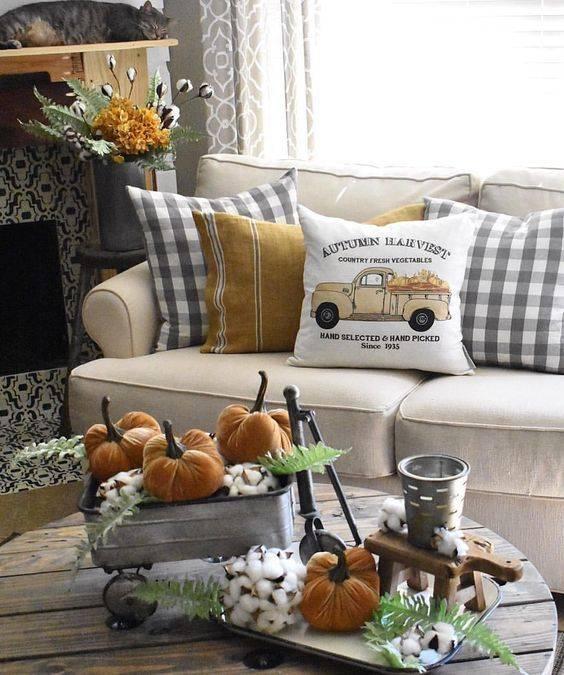 Would you like to create a homely and very friendly vibe in your living room for autumn? How about combining a few plaid patterns with autumn colours around the room? For example, a few plaid pillows or blankets, while the rest is made out of autumn colours. Also, don't forget to arrange a few pumpkins on your coffee table!
15. A Bit of Blue – Different and Nice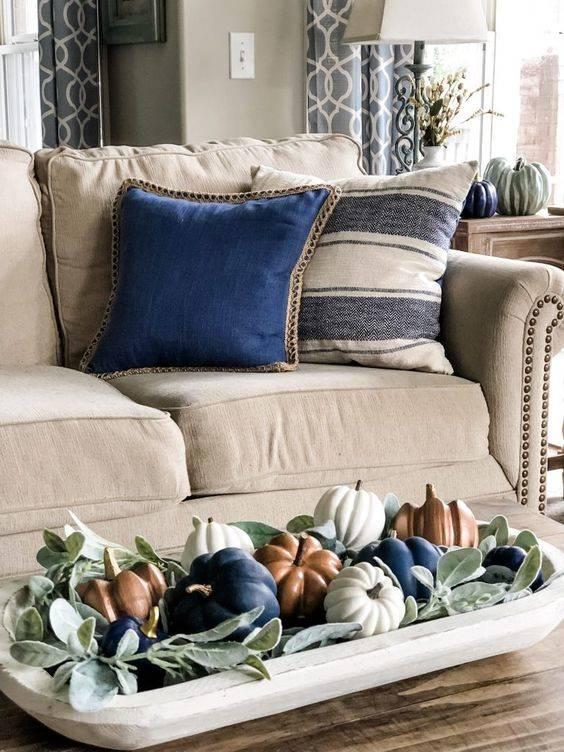 You don't necessarily have to conform to autumn tones. For example, if your favourite colour is blue you can use it to create your fall living room decorations! Let's say you have a tray or basket of pumpkins arranged in the room, how about you paint a few of them blue? This will definitely give your living room an unusual and different vibe but will be certain to stay sophisticated.
16. Handmade Leaf Garlands – Delicate and Adorable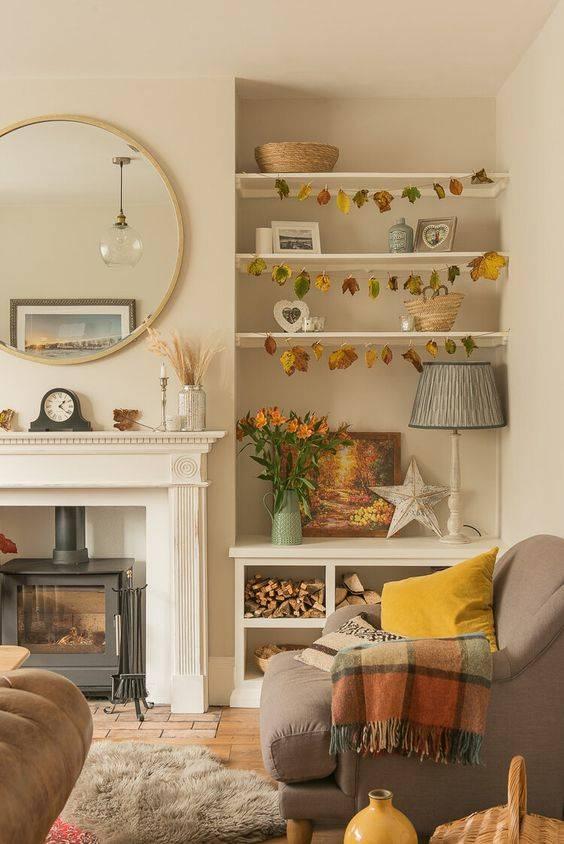 Do you love making small crafts with which you can spruce up your home? A great example would be to use autumn leaves and string them on a longer piece of yarn. You will be able to create a few of these autumn leaf garlands. Hang them in your living room, on shelves or across the ceiling.
17. Adding an Autumn Message – Fall Living Room Decor Ideas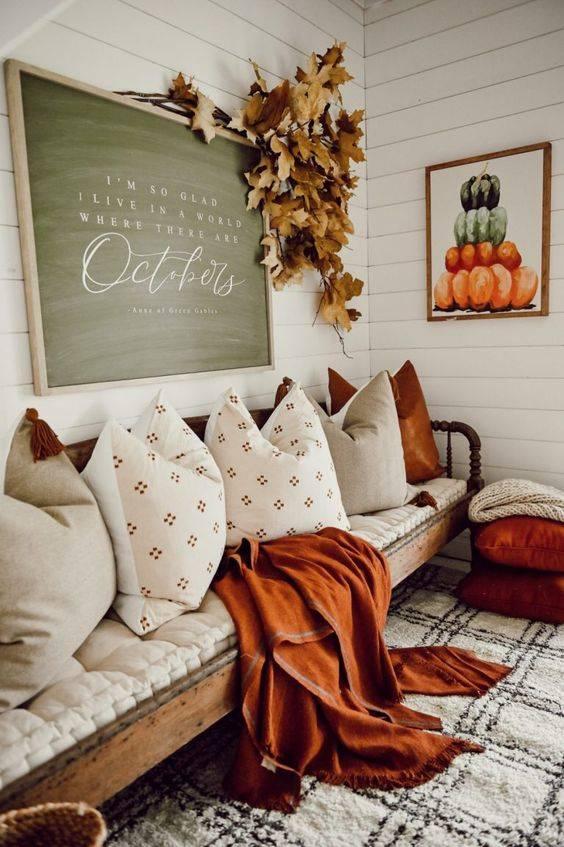 An easy idea is to actually write an autumn message in your living room. You can either place a black or white board in the living room, on which you might write messages occasionally. Well, how about adding a message to it with which you will welcome the new season?
18. A Bucket List – For the New Season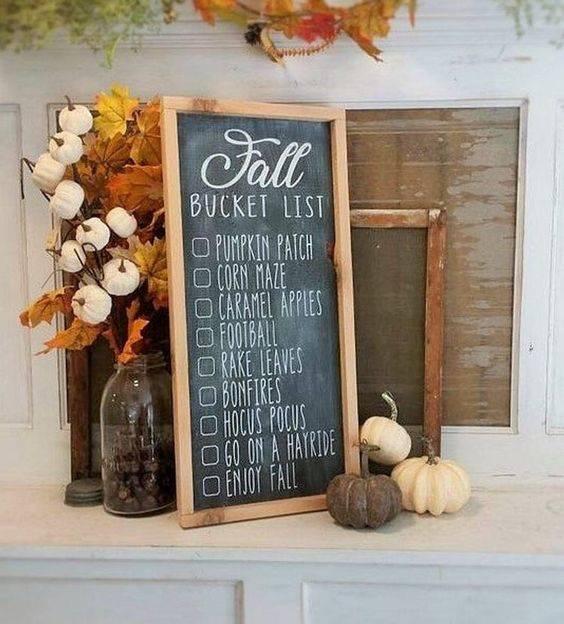 Get ready for the upcoming season with a bucket list! Write up all the things you want to do this autumn! You can create this on a blackboard and then place the blackboard in your living room as a centrepiece. This will make the perfect seasonal decoration as well as inspiration!
19. The Fall Theme – Autumn Living Room Decor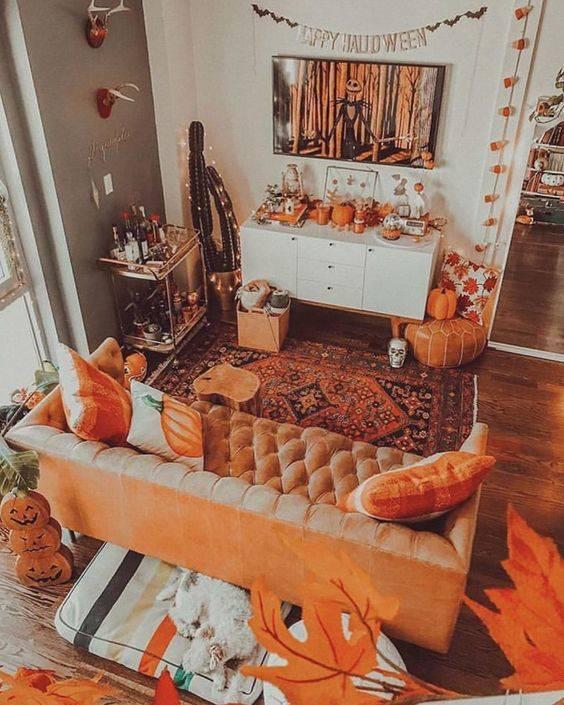 You may be unable to decide what sort of fall decorations you'd like to include in your living room. How about using an abundance of them? Everything from leaf garlands to stacks of pumpkins. Use earthy and warm colours to create your fall-themed living room.
20. The Same Ambience – Recreating the Outside World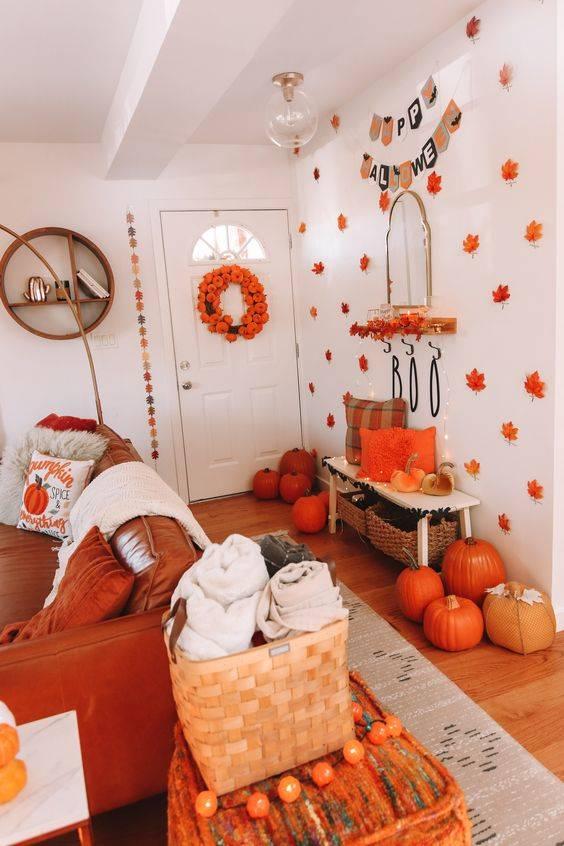 Recreate the outside autumn world in your living room! Either buy some artificial leaves, make some at home from paper or press and preserve leaves. Then all you have to do is stick the leaves on one of the walls of your living room. It will look as if the leaves were falling from the branches of trees and dancing in the wind!
21. A Variety of Fall – Cosy and Creative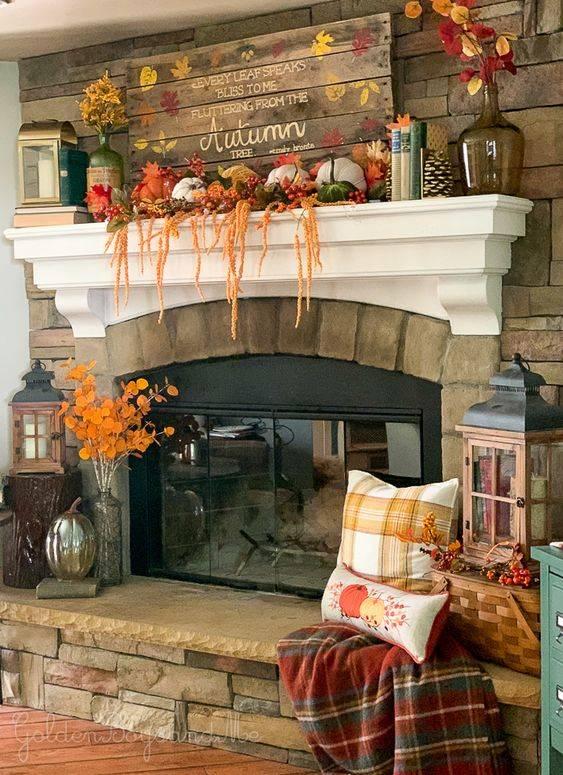 Transform your living room into a space of cosiness and comfort. Arrange an abundance of pillows and blankets all over the room. Also include an array of pumpkins and lanterns. Of course, feel free to add sprigs of berries or pinecones here and there. Get creative with your decorating!
22. Electric Lighted Maple Tree – Beautiful and Lovely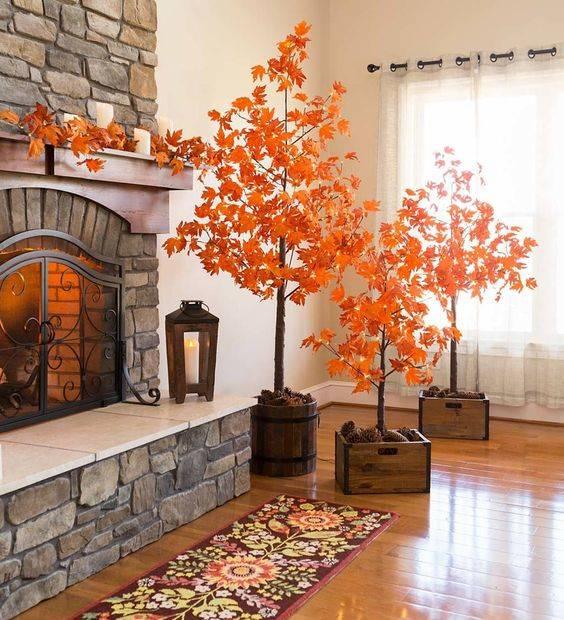 There are countless ways you can bring the season of autumn alive in your living room! Just one of these is getting yourself indoor electric lighted maple trees! You can switch these on during the evenings and nights. These trees will create a beautiful illumination in your living room when they are turned on!
23. Getting All Cosy – Fall Living Room Decor Ideas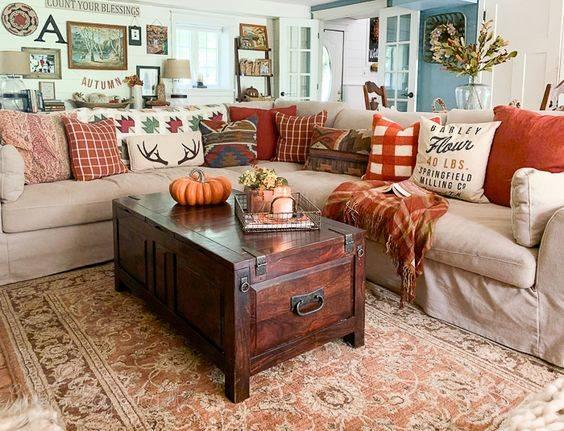 Autumn is the season, when you spend more time indoors than outdoors, especially when the weather gets chilly. So taking this into consideration, how about you include a whole abundance of pillows and blankets, which are all coloured to set an autumn mood in your living room? This is a simple idea for creating an autumn vibe!
24. Decorating the Mirror – Wholesome and Effortless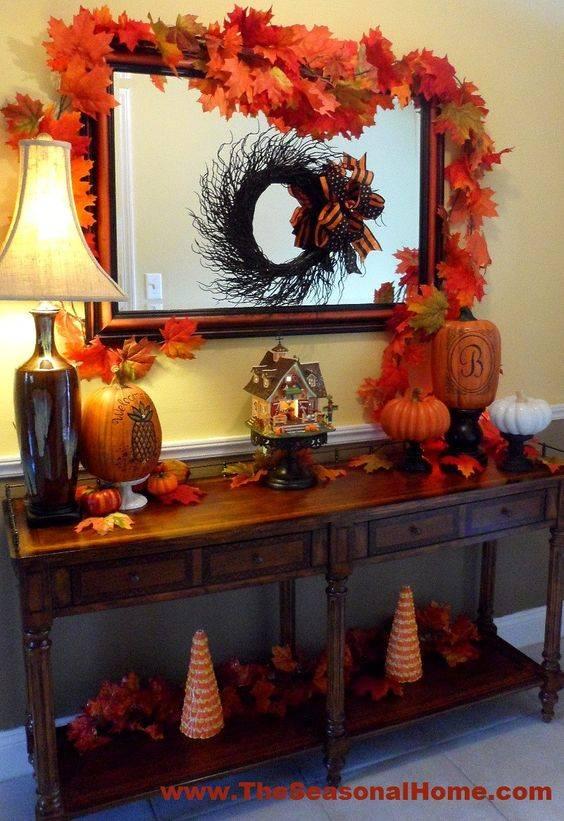 Perhaps you have a mirror in your living room. If so, then it's time to decorate that as well! A simple way of doing this is by wrapping a garland of fall leaves on top of it, letting the ends hang down on the sides of the mirror.
25. Wonderful Wheat – Autumn Living Room Decor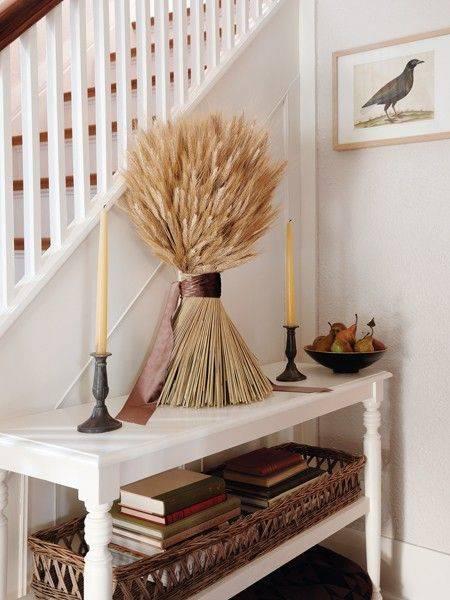 As we all know, autumn is the season of the harvest. Using the harvest as inspiration, how about tying together a bundle of wheat with a ribbon and placing it on a shelf or your coffee table? This will look absolutely gorgeous as well as bringing an autumn atmosphere into your living room!
We hope that this pick of 25 fall living room decor ideas helped you find something for your own home! For other home design ideas, such as fireplace design ideas or home bar ideas, visit our website!