Have you recently been feeling that something is missing from your garden? When you look around and feel that it's not yet complete. Well, maybe it is time to redesign your garden a bit! One easy way of enhancing the whole ambience of it is by adding a garden walkway to it. This will create a route around your garden, or just connect two points to each other, on which you can walk and admire the environment. Naturally, a lot depends on what sort of garden walkway you'd like to have created in your garden. What sort of materials or colours you use to make it. So check out our 20 garden walkway ideas to get inspired! We'll be sure that you find some garden pathways to your liking!
1. A Sense of Peace – Easy Garden Paths
Would you like to convey a sense of peace and harmony in your garden? Then how about you take inspiration from oriental gardens? For example, you can create stepping stones out of square-shaped cobble. Fill the gaps between the stepping stones and the rest of the path with small and smooth pebbles. To further boost the ambience of this garden, you can have some small bushes growing along both sides of this path. Have them trimmed every once in a while so that they are all the same size and shape. Don't forget to add some source of lighting to your walkway either!
2. The Wonders of Wood – Style and Ease
Wood is a truly wonderful material to work with for home or garden design projects. It is very versatile, meaning you can do just about anything with it. You may be considering using it for creating a garden walkway. If this is the case, how about lining wooden panels next to each other? Make sure that they are varnished before installing them in the terrain in straight lines. After all, you wouldn't want your wood to slowly start rotting and falling apart. A walkway made of wood is guaranteed to look amazing!
3. Stairs for a Slope – Easy Tricks to Try Out
Perhaps your house and garden weren't built on a flat area of terrain. If so, you might have a few slopes here and there. Whether or not there is a slope in your garden or not, you don't need to worry about it at all, even if it falls in the route of your garden walkway. You can use larger slabs of stone for your stepping stones, but you can also use them as stairs. All you will have to do is place each stone a bit above the one below it. 
4. Slices of Logs – Garden Walkway Ideas
There are a lot of directions you can go in when it comes to putting together a garden walkway. If you'd prefer to create a more natural vibe, as if the pathway was one with your garden, then check out this idea! It incorporates slices of logs as the stepping stones of the walkway. This will definitely transform your garden into a unique and magical environment! It is advisable to coat your slices of logs in varnish before installing them into the ground of your garden.
5. Style and Beauty – For an Elegant Look
Were you trying to find an elegant garden walkway, which will match the rest of your garden perfectly? Then you don't need to look any further! How about you place square-shaped stepping stones along your garden path, cutting the ones on the sides in half, creating triangles. You don't have to place the stones in a verticle or horizontal line, try out a diagonal line instead! Let the grass of your garden grow out in between the gaps separating the stones from one another. It will look as if you had laid a carpet down in your garden, that is made of stone and grass.
6. Keeping It Simple – Recycle and Reuse
Have you been building or renovating in your house and garden? Then you might have some leftover materials to work with in order to create a garden pathway. For example, one thing you may have are some wooden boards or panels. You can lay these out in your garden ground putting together an easy and cheap walkway. For a different look, you don't have to necessarily arrange the wooden boards in a straight line, feel free to add some curves to your pathway. 
7. A Carpet of Flowers – Easy Garden Path Designs
If you have always been enchanted by flowers blossoming, then add this magical feeling to your garden pathway. Lay down cobblestones into the terrain of your pathway. They don't have to be the same shape and size but make sure to leave gaps between the stepping stones. Instead of scattering gravel or pebbles in these gaps, allow the grass of your garden to grow through them, as well as small flowers. Waiting for your flowers to bloom may take a while, but once they do, the whole image of this walkway will become gorgeous!
8. Cutting Through Your Garden – Innovative and Interesting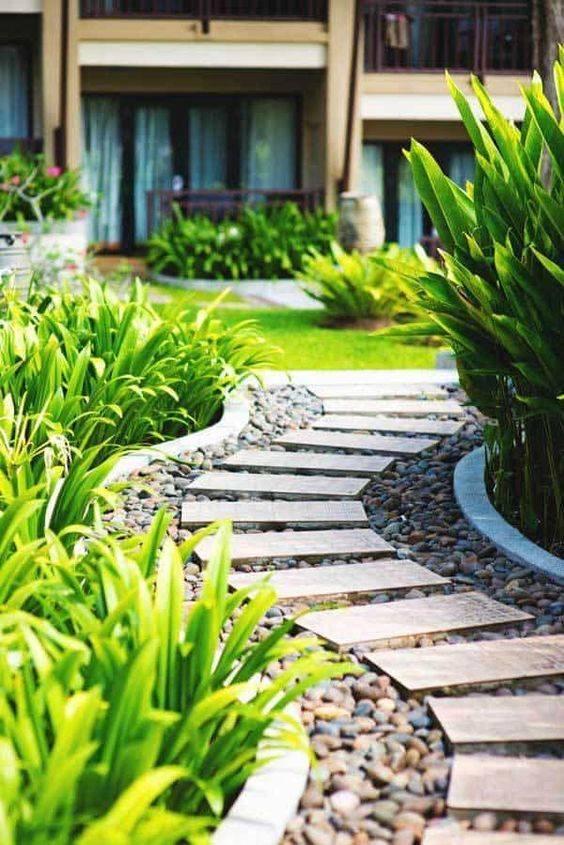 Your garden might be put together with different parts. For example, you may have a small area for relaxing and sitting down, or you may have a herb garden. Whatever the design is like, you will want to make sure that you can reach every area easily, maybe by connecting them with a pathway! You can keep your walkway simple, with wooden boards as stepping stones, that are surrounding by pebbles. If any guests come over to your home, they'll be able to follow the pathway to see all of the unique parts of your garden!
9. Using the Same Material – For Everything
Do you have a space built in the back of your garden, that has a seating or dining area and even an outdoor grill or barbeque? You might have used a simple material for paving out this area and also used it for building up your outdoor grill. If this is the case, then make certain that you use the same material for putting together your garden pathway. This will ensure that your garden has a sense of harmony running through it.
10. Reclaimed Boards of Wood – Garden Walkway Ideas
We have already mentioned that you can use all sorts of leftover materials for putting together a garden pathway. This includes using reclaimed boards of wood. Coat your reclaimed pieces of wood in different colours of paint if you'd like. This will make your whole walkway pop with vibrance and fun! Using this idea for making your own garden pathway is great for anyone who would like to add a bit of grooviness and colour to it!
11. Fancy and Sophisticated – A Space of Refinement
Is your garden arranged in a very elegant and refined manner? Perhaps you have an abundance of bushes and trees that are all trimmed into the same sizes and shapes. Or you might have a very detailed flower bed, that exudes sophistication and good taste. Maybe you have even included a fountain or some statues in your garden. If so, you might decide to opt for a garden walkway, that is more on the simpler side. This way it won't take away any attention from the garden itself. Line the two sides of your pathway with bricks or small rocks and fill up the middle with gravel.
12. Simplicity at its Best – Garden Walkway Ideas
When you are focusing on what sort of walkway to create in your garden, you might be overthinking things. But how about you keep things simple? After all, we're all familiar with the saying that less is more! Keeping this in mind, you might just try out combining some large stepping stones with an abundance of pebbles scatted around the gaps. You can allow any of the plants in your garden to grow and expand onto the pathway as well. And naturally, don't forget to install lighting along your pathway, which will allow you to see during the nights!
13. Making It Yourself – Get Ready to Build
Perhaps you are the sort of person who loves to work on DIY projects or you like building furniture. If this is so, why not consider making your garden pathway yourself? It's all about understanding what sort of materials you use for putting it together, and which material comes where. A great example is to start the path by laying out sand on the bottom. Only after the sand is laid on the ground can you place the stones, bricks or cobblers on top of it. You might even need to use edging stakes on the side, to keep everything in place.
14. Creating a Pattern – Fun and Funky
Another fantastic idea is to create a pattern with the stepping stones you have. As an alternative to laying them down next to each other, one after the other, in the same direction and line, you can mix and match them. Try tilting them to a different side, while adding two other stepping stones next to them. So make sure you get creative with this idea, to put together your own and unique pattern for your walkway.
15. A Rustic Atmosphere – An Easy Garden Path
Transform your garden into a peaceful retreat of bliss! Perhaps you would like to bring a rustic or vintage vibe to your garden if this is the vase we have a solution! Instead of using stepping stones, arrange bricks next to each other, creating the steps of your pathway. Scatter an array of pebbles all over them, to show which way the path turns. Enhance the rustic vibe of it all, by adding some stone statues or stone lanterns along the walkway.
16. Switch It Up – Stunning and Effortless
We have already talked quite a bit about how it doesn't really matter what materials you use for creating your garden path! The uniqueness of it will come from the way you arrange your stepping stones. When it comes to how you can arrange them, you might search for a few tutorials or designs in order to find some inspiration. After all, the style of your garden walkway should match the whole ambience of your garden, as this will create a lovely harmony in the whole area.
17. Beautiful in Bricks – Garden Walkway Ideas
Bricks are a fantastic choice when it comes to finding good material to make your garden walkway out of. After all, bricks are a stable and trustworthy material, you can count on the fact that they won't fall apart or start to rot. Not to mention, they aren't that expensive either, making them a fantastic option for anyone! Again, we have to put stress and emphasis on that you can arrange your bricks in unusual patterns to give your pathway a fabulous look!
18. Miniature Mosaic Idea – Artistic and Inventive
Here is a truly unique composition you can choose for putting together a garden pathway! How about you create a mosaic path using all sorts of materials you find around your home or shed? This might mean large stones, cobblestones, cement or even tiles! There are so many items you can use for creating such an extraordinary effect! Whoever steps on your walkway will be sure to admire its detail.
19. Simple and Clean – Easy Garden Path Ideas
You don't have to go overboard with your pathway design to create something spectacular! Sometimes keeping it simple is the best possible way to go! Use different shades of the same sort of stone, using lighter shades of it for the middle of the pathway. Then use two lines of the darker shades to create the edging of the walkway. It's easy and simple and is guaranteed to look amazing!
20. Bold with Bamboo – Woven Together
Here is another awesome material to try out for your garden pathway! This is no other than bamboo! The bamboo will be sure to lend your garden an oriental or bohemian vibe. You can have the bamboo sticks varnished before placing them in the terrain, which will prevent them from rotting. You can also have them woven together, which will help keep each stick in place!
We hope that this pick of garden walkway ideas has helped you find something! For other home or garden ideas, such as fireplace design ideas or indoor herb gardens, visit our website!