Shopping online is a convenient way to get what you need without spending so much time and effort looking for items and walking around in a physical store. However, when it comes to a huge purchase, visiting a mattress store is still better than buying online.
Continue reading below to find out more why visiting a store is preferred than buying a mattress online.
You Can Personally Test the Mattress In a Store
In a store, you can touch and feel the new mattress. Just imagine lying down on a new mattress, turning and tossing around, and sitting on the edge to see its quality. The ability to test the new beds in mattress showrooms, like in a mattress store at Galleria in Houston, will give you not only satisfaction, but also peace of mind.
You Get the Value for Your Hard-earned Money
For some people, shopping online is better because of the discounts and deals. Website retailers understand that customers want to test a mattress. Free trials and returns are offered, along with up to 20% off the price of mattresses in stores. However, can you bear wrapping up the new bed and getting it to the courier or post office to return it? If you want to eliminate the hassle of arranging to return a heavy mattress, paying the price difference in buying a new mattress at a physical store is worth it.
Unlike websites with fixed prices in place, you can also negotiate the price of a new mattress with salespeople in stores. You'll get a price that fits your budget and makes you happy. Also, you may get great add-ons, like a free pillow or mattress pad, or even a free removal of your old mattress.
Personalized Customer Service
One of the biggest advantages of buying a new mattress in a store is personalized customer service, wherein you'll be talking to a live person or salesperson. You can ask questions related to the warranty, design, and size options. While online stores have dedicated customer service chat support and toll-free phone numbers, talking to a person face-to-face is still better. You'll feel the connection, sincerity, and assurance. If ever you have questions, a person in a store can answer them immediately instead of you waiting for the reply of an online seller.
You'll Better Understand Mattress Features In a Store
Do you know what to look for in a new mattress? Mattress manufacturers like the best mattress brand in India tend to use jargon and scientific-based terms to entice people to buy, such as "orthopedic bed" and "medically-approved bed." Don't be fooled by these terms. It's quite difficult to understand what "mattress comfort level," "adjustable bases," and "pillow tops" are, until you have personally experienced these attributes by laying on a mattress.
Remember that what you see online are only product details. The information can be impressive, but the real look and feel make your shopping experience totally different. That's why you have to know the different types of mattresses and features before making a purchase. Improve the look and feel of your room by choosing the right mattress.
Get Full Satisfaction with the Mattress Quality
Online sellers use professionally-taken pictures to ensure that the mattress is in its best look by using lighting and expensive cameras. You'll never know if these photos were edited. Many mattresses look very similar when you compare online. It adds to the difficulty of deciding which brand to choose for better sleep.
Also, you can hardly determine the quality of the construction of the mattress online. If ever you find yourself doubting and questioning those pictures and descriptions online, it's better to visit a mattress store instead. That way, you can test the model of mattress you want to buy. Narrow down your choices by physically checking the new mattress you're interested in.
Choose the Right Size of Mattress for Your Bedroom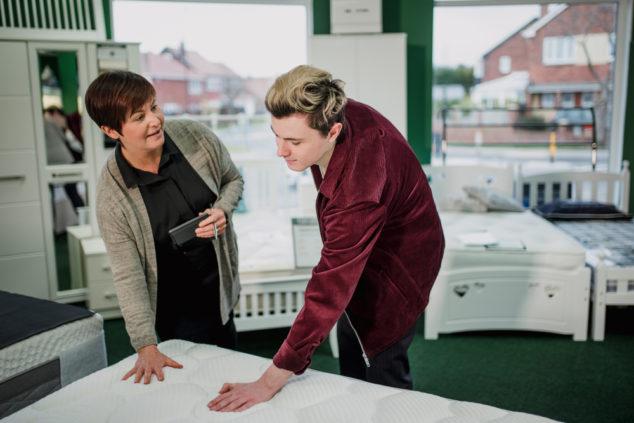 While mattress measurements are provided online, many people still get overwhelmed buying online and miss to take actual measurements. That's why some customers end up receiving a mattress that's too big or too small.
Eliminate unexpected mattress sizes by visiting a physical store. Remember that the height of the mattress can be different. You can eliminate the frustration of unforeseen issues by seeing and testing the new mattress yourself.
Conclusion
You can buy beds online although with a physical mattress store, you have more options available. You can request to see the different sizes and personally test the mattress. Also, you'll get the best value for your money because you're satisfied with the quality of the bed and the personalized customer service you receive. More importantly, buying a new mattress in a store eliminates worries and frustration brought about by unexpected issues.