Are you in the process of renovating and refurbishing your whole home? Or maybe you are just in search of a few ideas on how to spruce up a few rooms. Either way, one room you can't forget about is your dining room! It's the place where you and your family will gather to eat meals together while talking about all sorts of interesting topics. Because of the quality time spent here, it will make the dining room a special place. You may be looking for ways to decorate the dining table itself with some simple dining table centrepiece ideas. Look through our collection of 20 dining room table decor ideas and find some inspiration for your own!
1. A Few Mason Jars – Cheap and Creative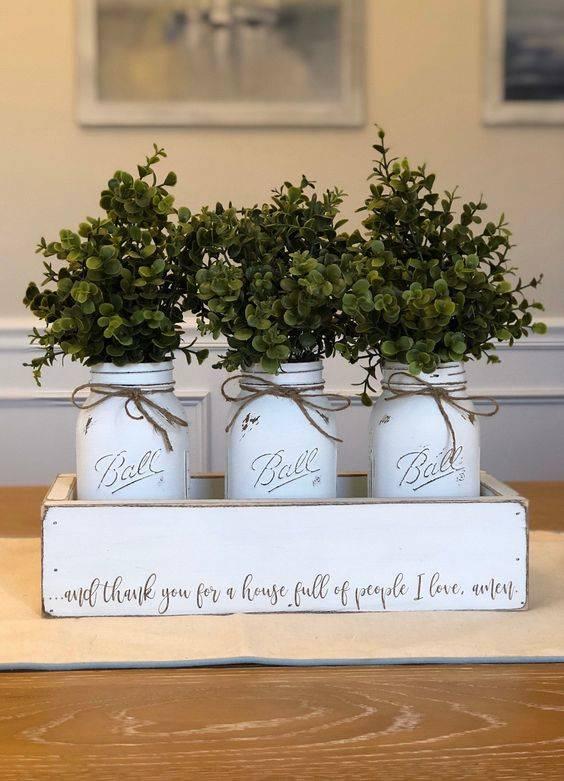 If you aren't trying to find anything too fancy, then maybe mason jars will be your best friends! Not only are they a cheap option, but you can use them in a variety of ways. For decorating your dining table, you may just coat them in a layer of simple paint. After allowing them to dry, place each mason jar on a tray. Fill the mason jars with whatever you'd like. Whether this is a bouquet of flowers or planting some sort of flora in them, we're certain it will look amazing! Place this arrangement in the middle of your dining table for a rustic and simplistic look.
2. A Selection of Nature – Simple Dining Table Centrepiece Ideas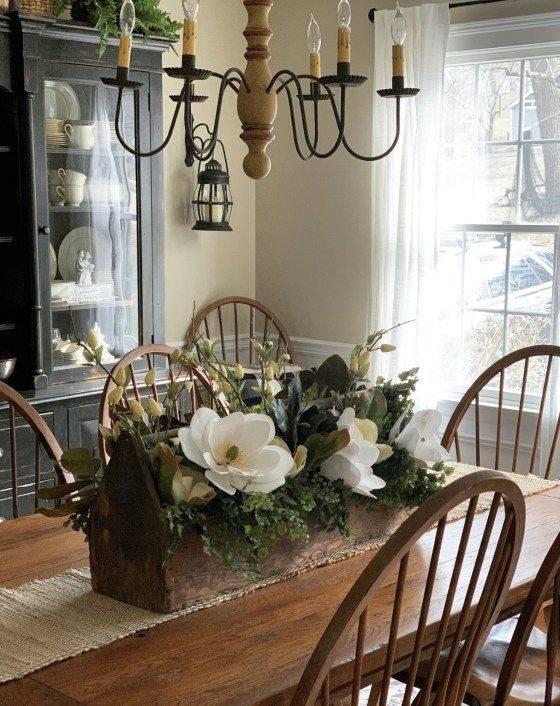 Using flowers in some sort of form is a common way to decorate your dining table. You don't necessarily have to stick to a plain design though! Neither do you have to use flowers that were cut from their stems and placed in a vase. An awesome idea would be to grow flowers, as well as a whole abundance of plants, in a wooden box. Use that as a dining table centrepiece, to channel an essence of nature in your dining room!
3. A Seaside Ambience – Lemons and Blue Glass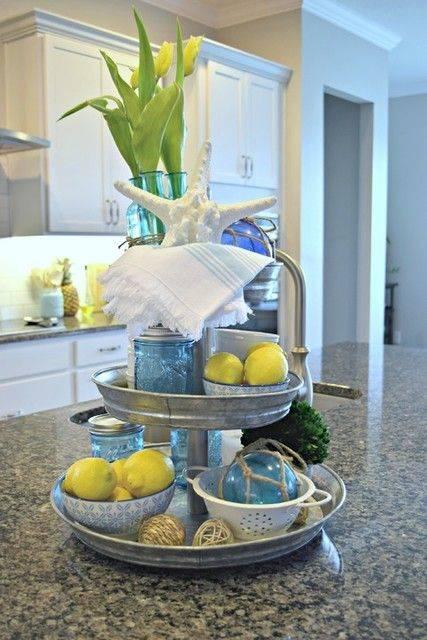 Do you love the atmosphere of the seaside? The smell of seaspray, the sound of waves crashing and smooth sand covering the shore. Then how about channelling this seaside ambience in your table decor? This is a perfect way to get ready for summer! Place a selection of objects, such as bottles or vases made out of some blue glass, on a multi-tiered tray. Also, feel free to add shells or starfish (you can get ceramic versions of these) to the arrangement. To really channel a summery vibe, you can also consider adding a few plates of lemons to the design, giving it a few bursts of colour.
4. Welcoming Spring – Dining Room Table Decor Ideas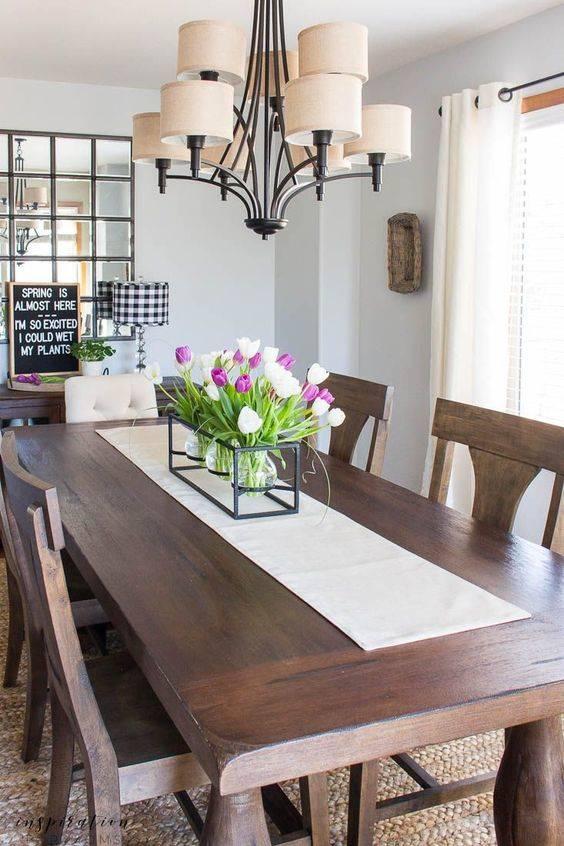 Is the season of spring just around the corner? Then make sure you are ready to welcome it into your heart and into your home! This includes trying to find a decoration for your dining table which will really bring the essence of the upcoming season into your dining room. A typical spring flower is a tulip. These flowers caused a whole mania during the Dutch Golden Age, thanks to their unique look. The great thing about tulips is that they come in a variety of colours and shapes, so you'll be able to find a type that fits right into your home.
5. A Selection of Candle Holders – Brilliant and Beautiful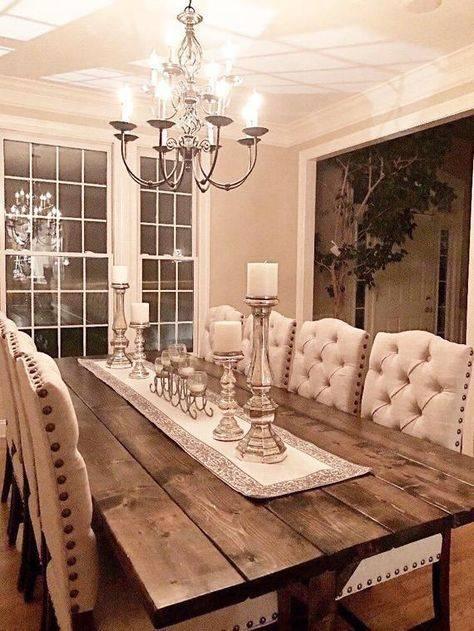 Perhaps you would like your dining room to incorporate an elegant sort of atmosphere. You may have installed a chandelier as the lighting of the room or bought and organised refined furniture around it. This means that you'll be in search of a dining room table decor that brings the same essence to the table. How about choosing a selection of candle holders made of glass and arranging them on the table? The glass will look amazing as it sparkles when the room is basking in candlelight.
6. Candles and Lemons – A Tray of Them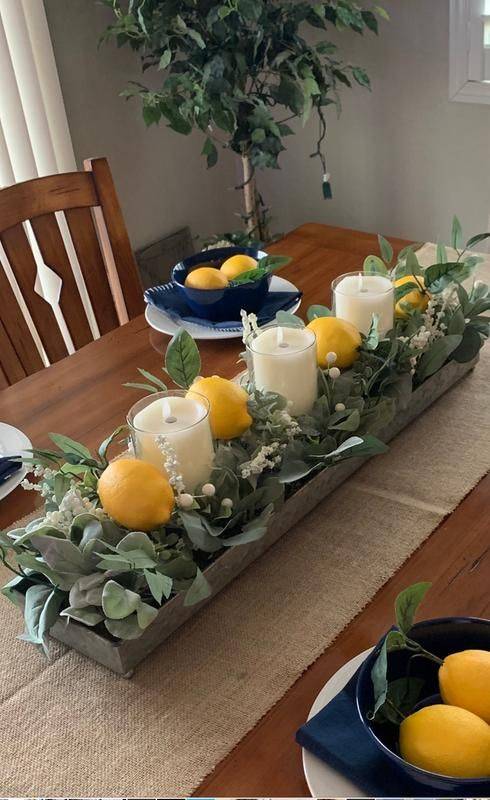 Add a bit of sunshine and happiness to your dining table! You will be able to achieve this easily by arranging a few yellow elements on it. For example, a few lemons placed on a tray which is covered with foliage. Place candles in between the lemons, which will look perfect when you light them during the evenings or nights. A few yellow elements shall help your dining table pop with a bubbly vibrance!
7. A Multi-tiered Tray – Simple Dining Table Centrepiece Ideas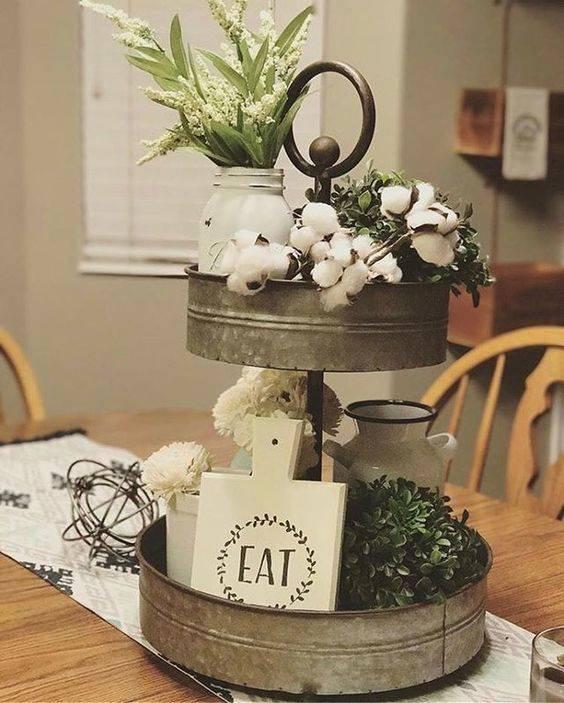 Are you unsure how to arrange your decorative ornaments on your dining table? How about you get yourself a multi-tiered tray? This will allow you to decorate your table stylishly, but without taking up a lot of space, making it perfect for a smaller dining table! Depending on what sort of ambience or mood you'd lie to set in your dining room, you can pick any type of material for the tray. For example, you can go for a simple choice such as wood, galvanized metal for a rustic or farmhouse effect or glass for a fancy look.
8. Stunning in White – Candles and Flowers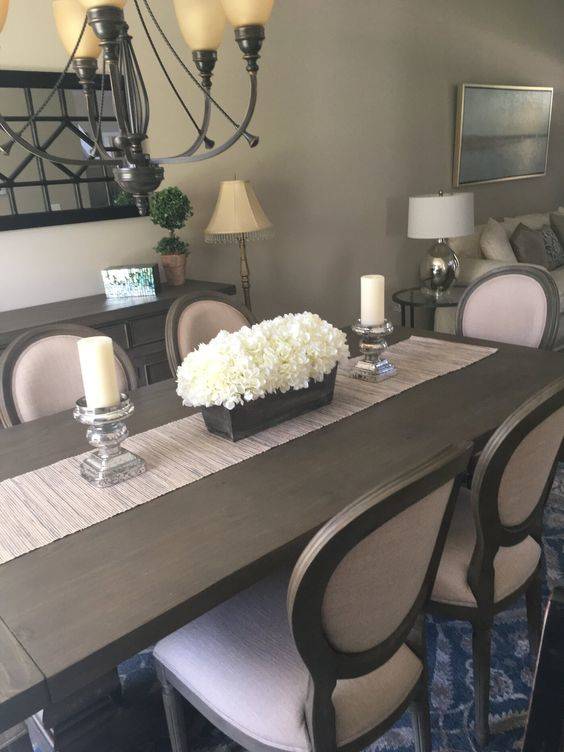 Keep your dining table decor simple for an elegant look! You don't necessarily have to choose something that is bold and colourful. Instead, opt for something simplistic that only uses one shade. Try out the colour white! You can arrange white candles and a vase or pot of white flowers in the middle of your dining table. One of the best things about white decor is that they'll complement any other colours you use in the room. Naturally, you can place a tablecloth on the dining table as well, to bring together all the decorations.
9. Miniature Pumpkins – Perfect for Autumn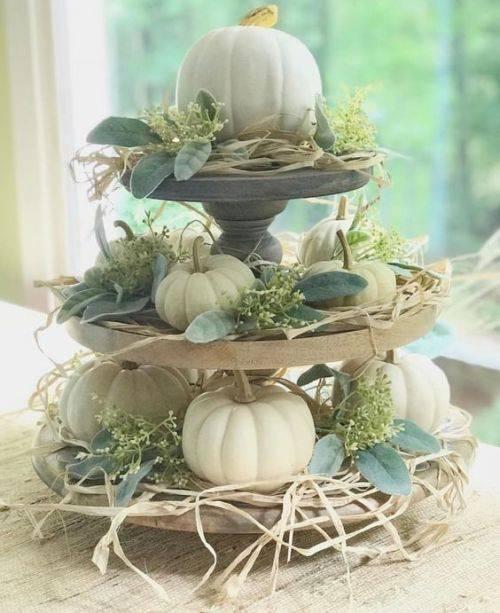 Depending on what season is about to arrive, you may try finding home decor to welcome it with. Maybe you are getting ready for fall. If so, then here's an easy and cute idea to decorate your dining table with! When you think of autumn, what image pops into your mind almost immediately? Perhaps it's no other than the seasonal vegetable pumpkin. Pumpkins are a great source of decorating a room while channelling an autumn essence into it. You can find small or miniature pumpkins to lay on a tray covered with hay. If this doesn't bring a fall vibe into your home, we don't know what will!
10. A Giant Bouquet – Dining Room Table Decor Ideas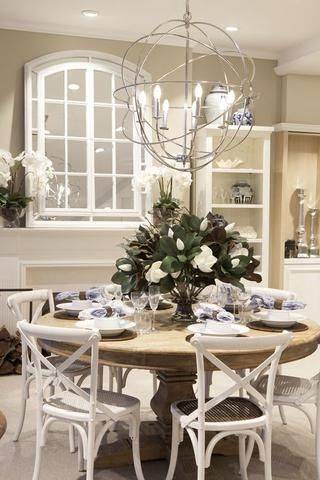 There are plenty of dining table centrepiece ideas to choose from! Your choice will depend on what sort of mood you'd like to set in your dining room. If you'd like a sophisticated and refined ornament in the middle of your table, how about sticking to a vase filled with a giant bouquet of flowers? According to what month is, we're sure you'll be able to find a gorgeous type of seasonal flowers that will fit right into your dining room! 
11. Exquisite and Grand – For a Classic Design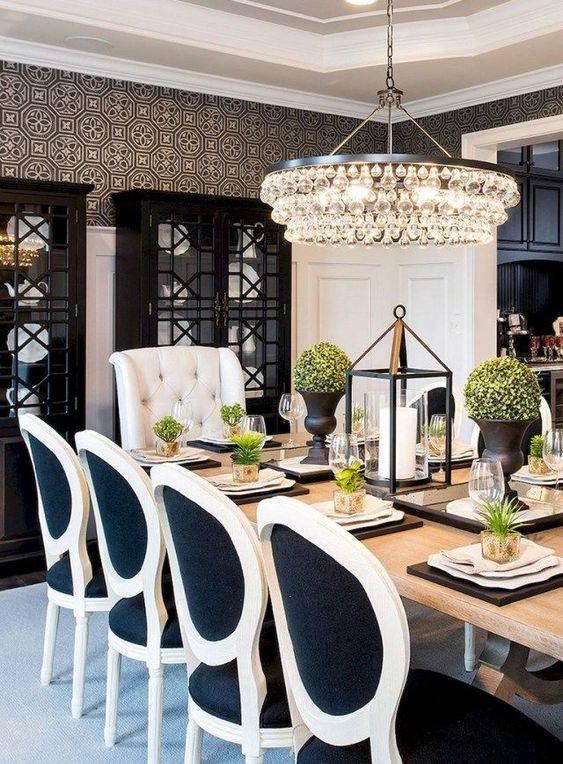 As we mentioned before, there are a number of elegant designs for dining table centrepieces! Here is just another idea which will help get you inspired! In the very middle of your table, place a candle in a glass lantern. This will immediately boost the elegant vibe of the room. On both sides of the lantern, arrange small bushes in pots or urns that are trimmed into shapes. This tablescape may remind you of a sophisticated garden, that has a variety of trimmed trees and bushes.
12. A Minimalistic Style – Simple Dining Table Centrepiece Ideas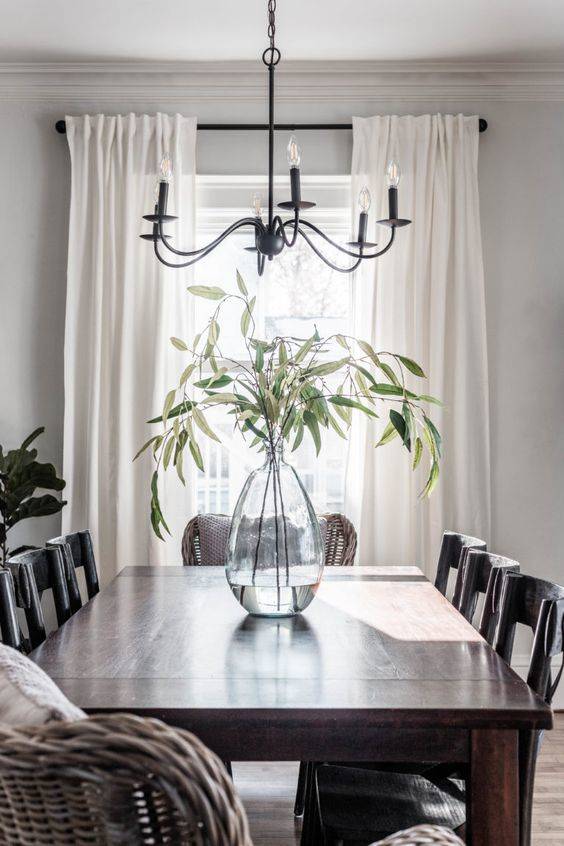 Is your whole dining room designed in a simplistic and minimalistic style? If this is the case, you'll want your dining table decor to match the style. So, taking this into consideration, use simple shapes and forms for the centrepiece of the table. For example, place a simple glass vase in the middle of the table, that contains a few branches or a few flowers. You don't have to go over the top with this design. The more simple it is, the more intense the minimalistic vibe it will channel!
13. An Abundance of Bottles – Easy and Effortless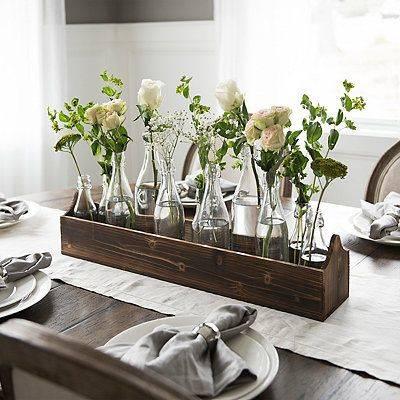 Here is one of many great ideas on how to style your dining table. Especially if you don't want to spend a lot of money on your tablescape and you are in search of cheaper options. All you need for this table decoration is a wooden tray and a whole array of glass bottles. The glass bottles don't have to be the exact same size and shape. If you get a set of different sorts of bottles, you'll be able to create a unique look! Then fill up the bottles with water and place an assortment of flowers in each one!
14. Balancing It Out – Dining Room Table Decor Ideas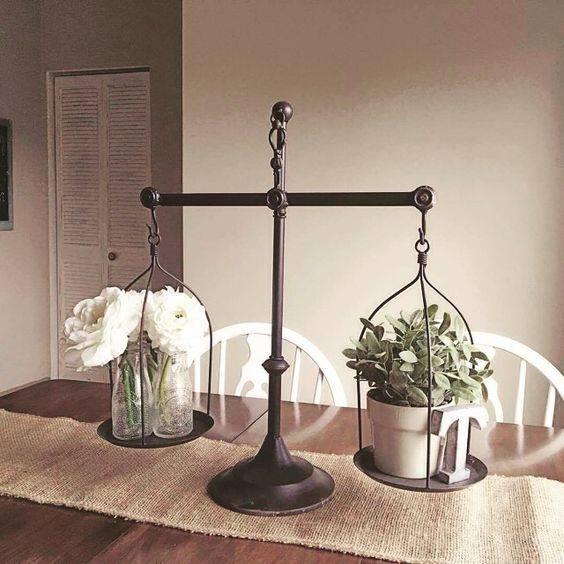 Even if you have decided to use a pot or vase filled with flowers for your dining table decor, you can still get creative with the idea! As an alternative to just placing these vases or pots on the table, firstly place a balance scale on it. On both sides of the scale, you can put your flower-filled items on. Of course, you don't have to stick to using flowers. Feel free to place any sorts of ornaments on either side of the balance scale.
15. Pretty in Pink – A Fun and Fabulous Colour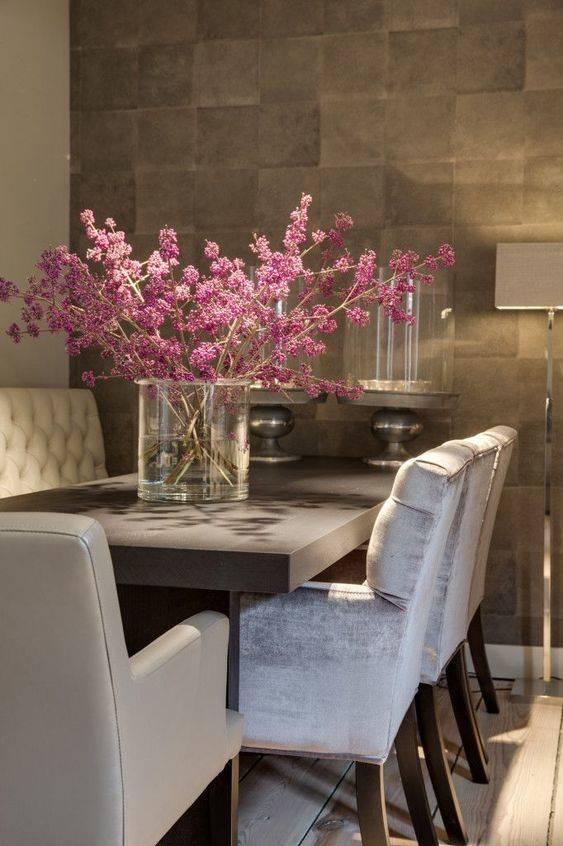 Maybe your dining room is designed in monochrome shades. While monochrome shades are a great choice for creating a peaceful and calm environment, you may feel that you'd like a bit of colour to perk up the atmosphere. This is when a piece of wall decor or a dining table centrepiece will come in handy! An easy idea would be to place a bouquet of flowers in the middle of the table. A fabulous colour of flowers you can choose is no other than pink! Pink will exude a sense of harmony throughout the dining room!
16. Marvellous in Metallic – Use Stylish Ornaments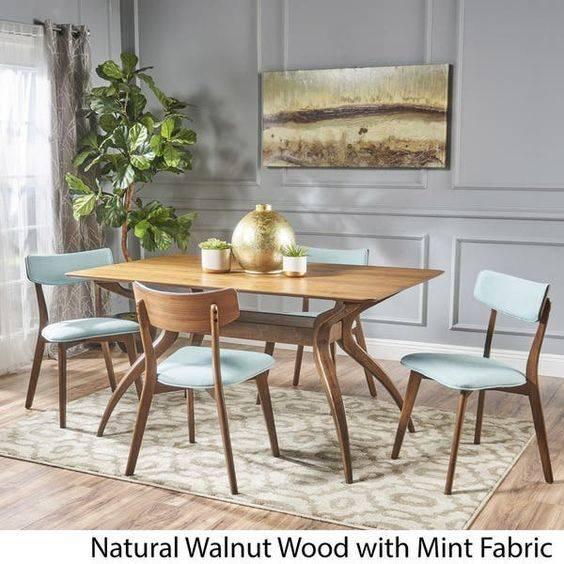 Add a stunning and fancy element to your dining table decor! For example, try finding a vase, pot or candle holders which are made out of or painted in metallic material or colours. The shimmer of a metallic shade, whether it's gold, bronze or silver, will look amazing! Arrange your metallic ornaments in the middle of the dining table. It will look even better if you already have a few metallic elements decorating the dining room, as these will only accentuate the shiny colours.
17. Spruce Up the Candle Holders – Dining Table Centrepieces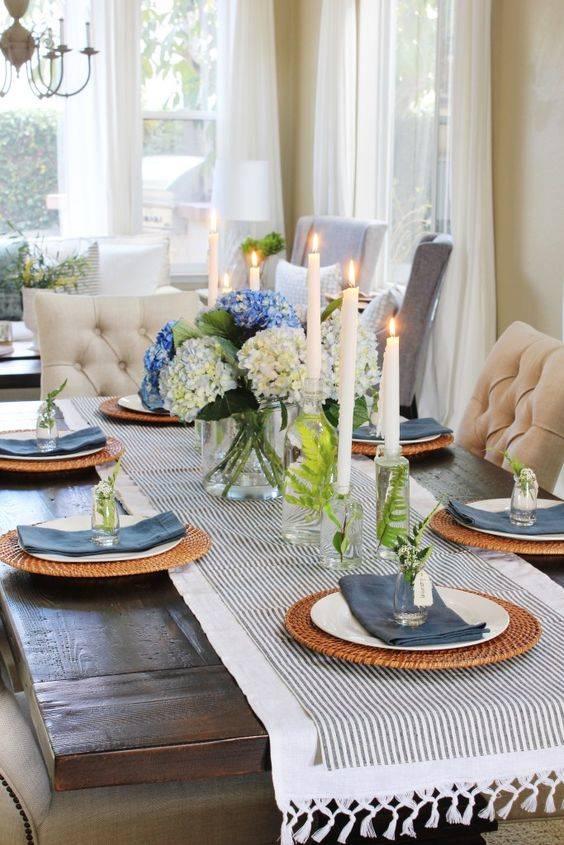 If you love to work on DIY crafts, then here's a fantastic idea for you to try out! It involves candle holders! So, if you've been considering adding a few candles to your dining table, then maybe place them in candle holders such as these. All you need to do is place leaves or ferns inside of each candle holder, before pouring water into them. Then just squeeze the candles through the tops of the candle holders, letting them stand upright. Arrange these on your dining table and include a vase filled with flowers as well!
18. Post-Modern Art – Unique Statues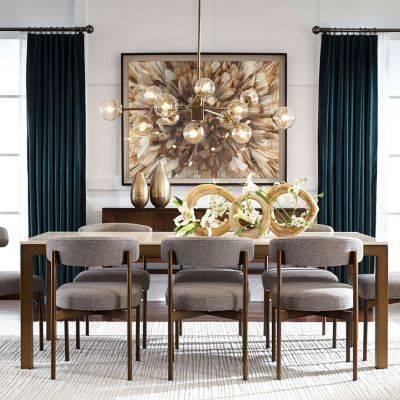 Do you love modern, state-of-the-art pieces of art? If so, then why not choose some post-modern statues to arrange on your dining table? This will be a perfect choice if the rest of your dining room is designed and styled in a similar manner. Perhaps you love to create art, so you can make the statues for your dining table yourself!
19. Exotic Orchids – Dining Room Table Decor Ideas
If you have decided to place a vase or pot of flowers in the middle of your dining table, the next question is what sort of flowers should you use? A stunning idea would be to plant orchids in a pot for your dining table decor. Orchids are an exotic and gorgeous species of flowers and will uplift the whole ambience of the room!
20. Set in Stone – An Alternative to a Pot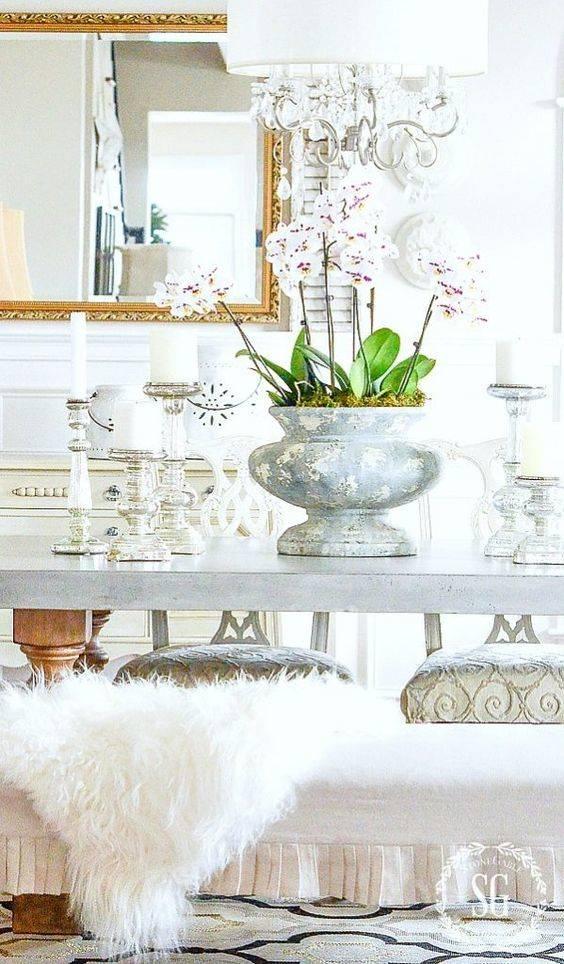 A lovely dining table centrepiece would be a stone urn with unique flora planted inside of it! The stone urn will take you back to a different era, creating a rustic ambience around the dining table. This is a magnificent choice for a room where you'd like to bring a rustic vibe alive!
Hopefully, these 20 simple dining table centrepiece ideas have inspired you! For other home design ideas, such as gallery loft designs or modern living room lighting, visit our website!