Simply Chic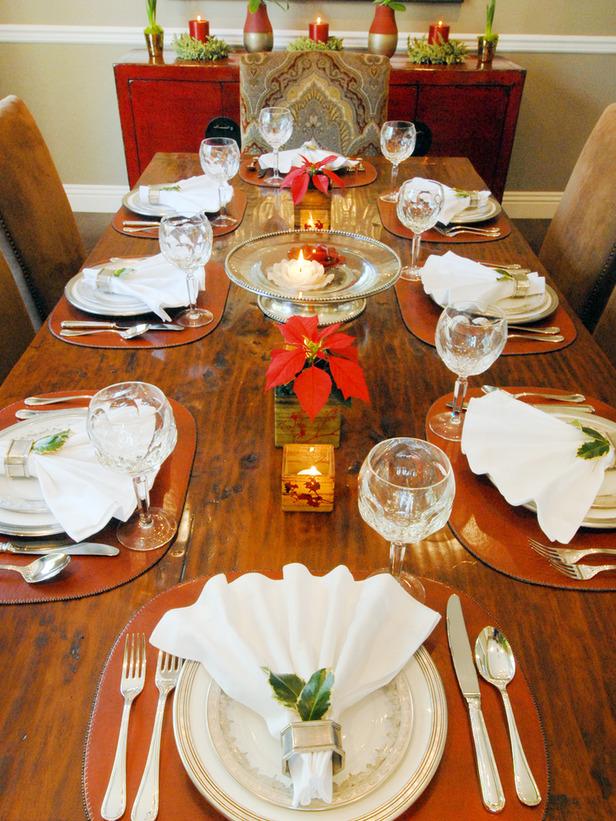 The holiday table can look in many different ways according to our choices in decoration. You will be surprised how springs of napkin rings, centerpieces like the good old poinsettia and a piece of old fashion garland , of course all of them created with precision, are able to transform the Christmas room into a sophisticated paradise of the festive look. Of course, an important part are the Christmas table centerpieces.
Holiday Minimalism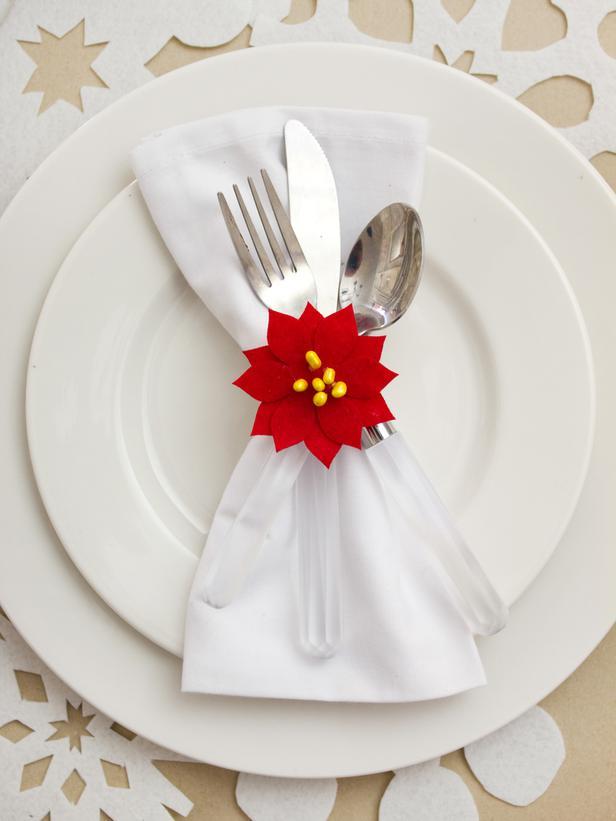 For all those who love to follow latest fashion trends and feel better in a simple minimalist interior rather than in the overwhelmed traditional settings, our next idea will seem like the perfect addition to their holiday table. The ingredients are simple – everyday white dishes and a clear napkin ring embellishment. The good part is that this composition is a temporary solution that can easily be turned back into its original state after the holidays finish.
Simply Elegant
The sophisticated beauty of this matured-looking interior was highlighted by Leanne Michael Interior's work. Branches and nests for birds were placed in the right position using gold powder for an additional Christmas glow. To finish the picturesque elegance, there are candles and sparkling accessories that simply put the full stop of the story.
Blue Christmas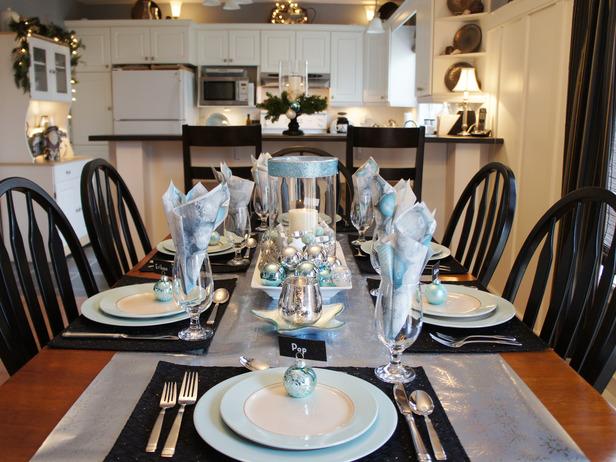 Some professional interior designer prefer to follow only one colored theme. In this visual example, designer Katrina Giles have chosen icy blue and silver as leitmotif for the Christmas table setting. Additional splash of black create a good opposition between all the visual elements. Instead of a tablecloth, Katrina used a silver snowflake wrapping paper and thus she accomplished the task of creating a memorable atmosphere.
Glamorous Dining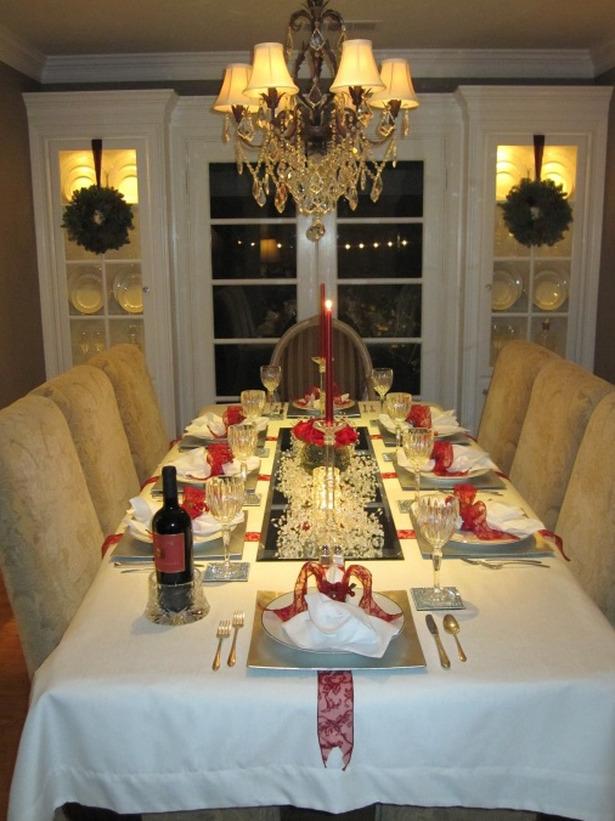 Plain white tablecloths have always been at hand when you need to set the base of the Christmas table. Fabrics with not any single patterns are great, because you can easily combine them with complex patterned additional elements and you immediately get an elegant opposition. This is also the particular case with our next example. See the tablecloth beneath a red decorative ribbon. See how it pops in front of the visual perception, while the white colored tablecloth functions as solid foundation.
Au Naturel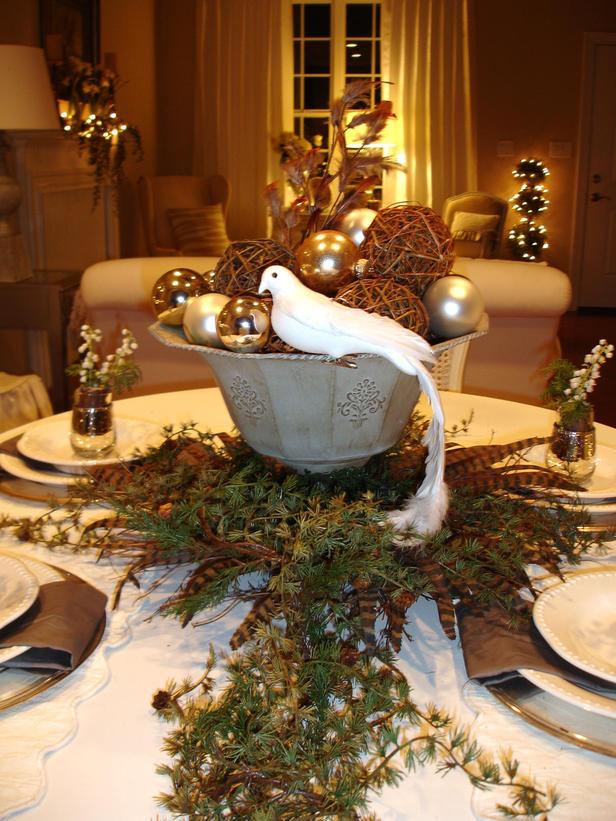 Having natural elements on the Christmas dinner table is not a hard task. Greenery makes lovely centerpieces that are well accepted by everyone. For a greater effect you can use decorative vine and classic ornament shiny balls.
Touch of Drama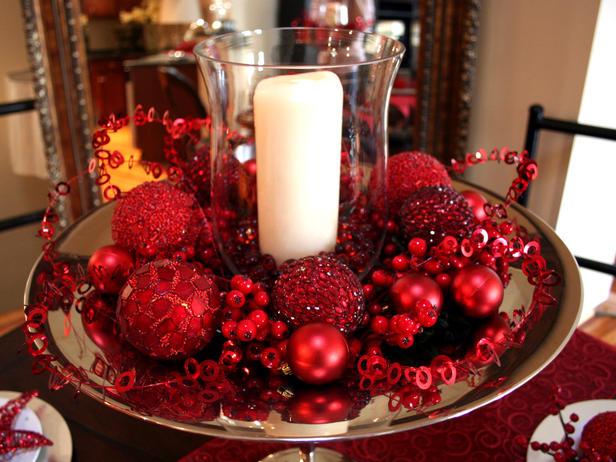 Red is the color of passion and drama and having this color at your holiday table can be an appropriate condition for creating such kind of mood. If you want a screaming Christmas interior in dramatic nuances, place shiny ornament balls, berry springs, garlands and a white candle in the middle of the scenery.
Winter Wonderland
White is the symbol of the divine pureness in the world. And why not use it on one of the holiest Christian nights – the night of the birth of Jesus Christ? In the image, you will find ceramic white plates with a small personalized white gift box inside it.
Bountiful Centerpiece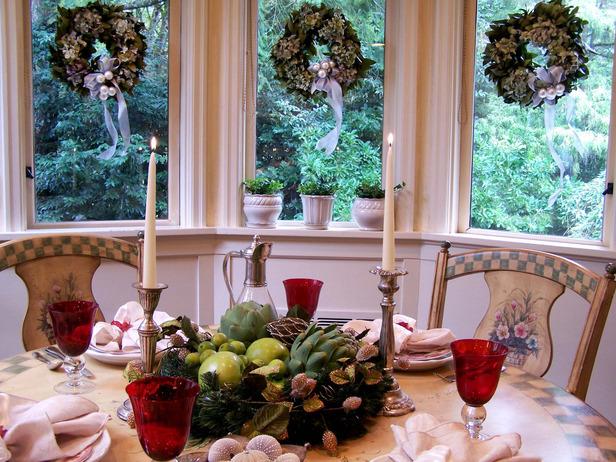 Some people think not only for their primary dinning table but also for their kitchen one. Why not decorate it in the most beautiful Christmas ornaments? All you need is a simple wreath filled with some fruits and a garland. Thus created, the unique centerpiece becomes the holiday mood inspiration.
Non-Traditional Colors
Designer Cindy Aplanalp explains her professional point of view that Christmas is not all about red and green. For example, a good alternative to the traditional nuances is the gold holiday décor. Yet, the Christmas table decoration has little traditional accents that complete the main gold theme.
Golden Touch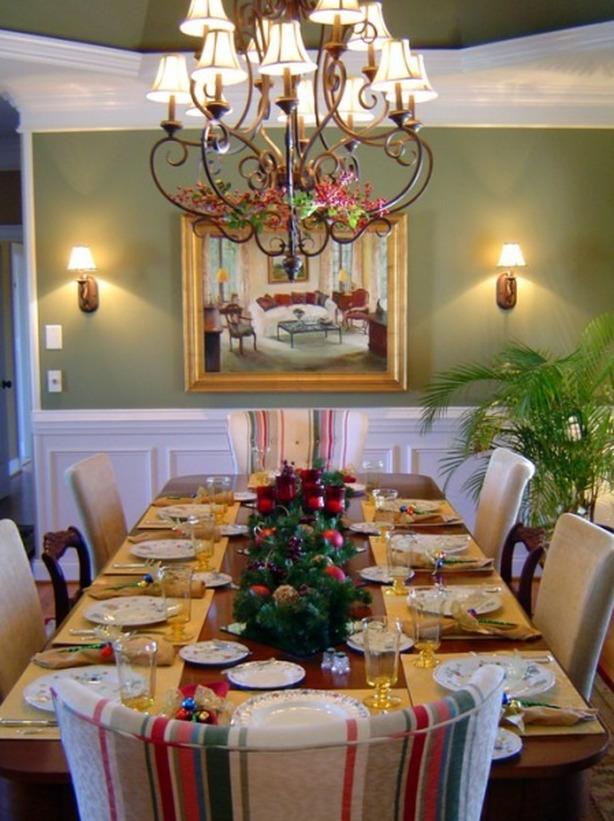 We can see here another great example of a gold themed Christmas. As a centerpiece the decorators used a large natural inspired garland. Lifting the view from the eye level we can find an unique chandelier, decorated with berry springs. As for the overall look of the room, we must admit that it fulfills all stylish requirements of a refined place.
Holiday Festivities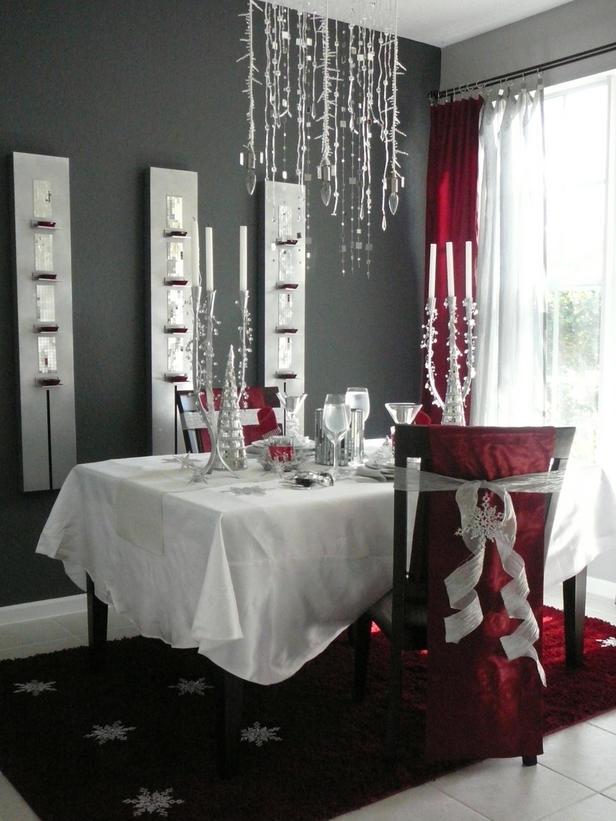 For a more formal, traditional, yet modern looking Christmas interiors you can stick to the red and silver combination as prime colors at the table. White tablecloth is an essential foundation for the decoration that can be prepared with candelabras and sparkling snowflakes. The chairs also have a festive look with the red fabric and silver ribbons wrapping them as a gift box.
Fanciful Feast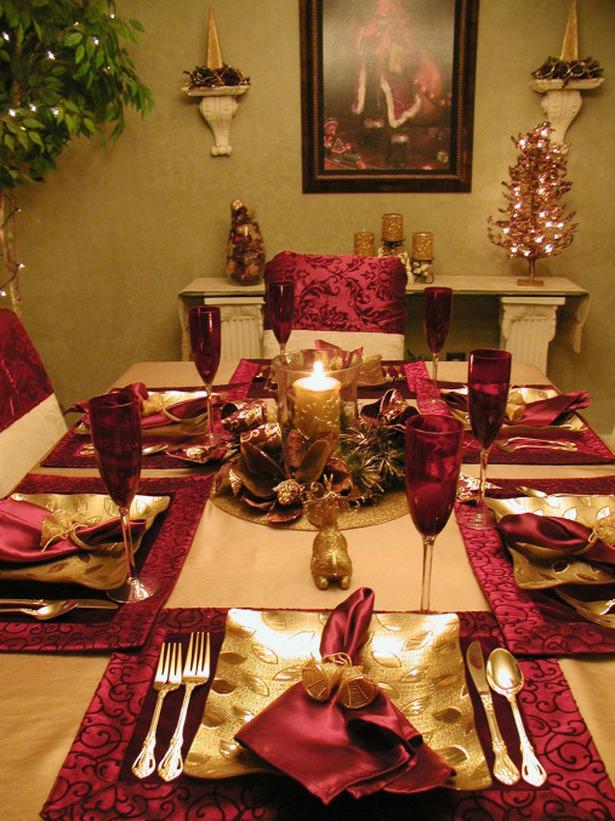 And one more interpretation of the gold theme into a stylish dinning room specially decorated for Christmas.
Silver and White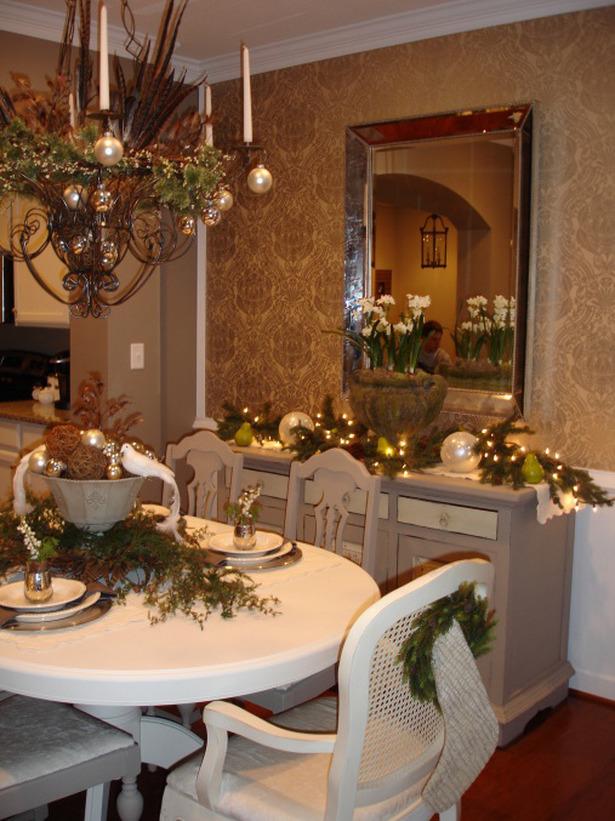 This time the setting of the Christmas table is really simple. The natural inspired centerpiece functions as a focal point at the setting. There are also white plates on silver platters around it. And the cherry on the cake is the small Lily flower for each guest on the table.
Jingle Bells
Such kind of oversized bells with personalized name cards are for those who love creative decorations. Enjoy!
Simple Settings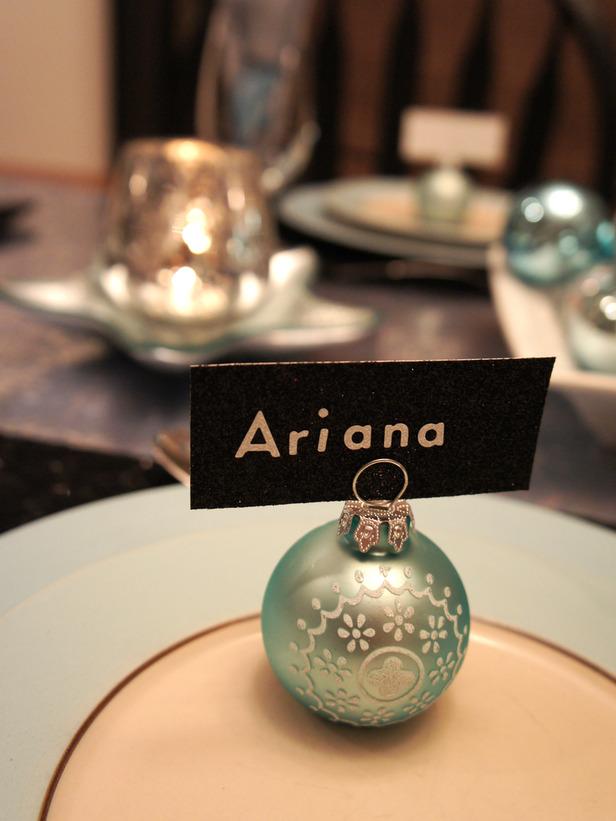 Another personalized setting of the Christmas table. Designer Katrina Giles placed ornament balls instead of a real card holders. What a lovely idea!
Minimal Decor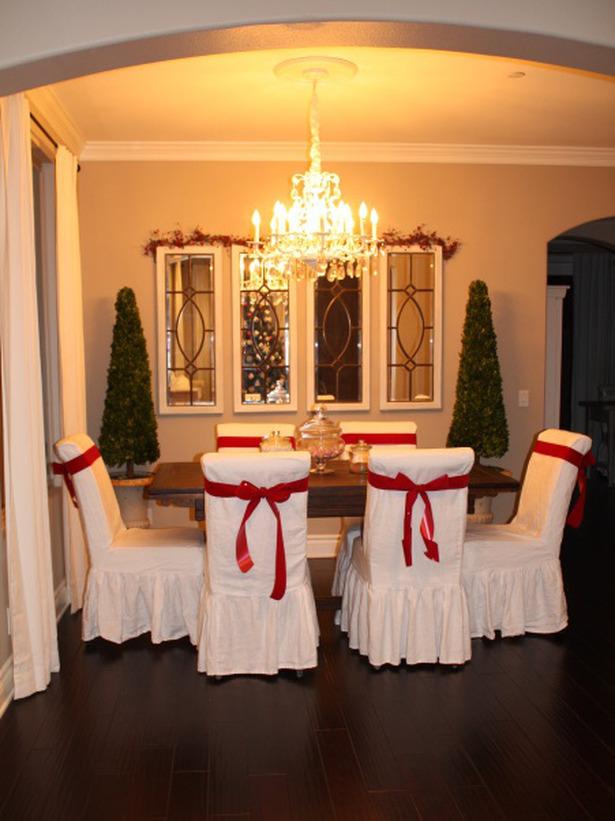 Place a red ribbon to all your white chairs and a natural inspired garland above the windows and you will get an effective minimalist holiday décor.
Winter Snow
Winter snow can be a really inspiring theme for a festive table décor. As an addition to the white setting, you can place crystal glasses and a colorful accent in pale color, like the blue table runner from the image above. For an elegant touch, get your most beautiful silver cutlery and finish the Christmas tablescape.
Black and White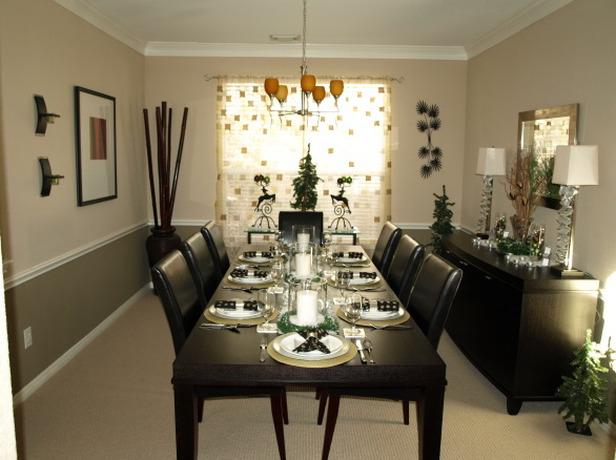 Why not create a black and white themed Christmas interior? Of course, you will need a colorful accent so that the holiday emotion can stand out and gold is the perfect one.
Sky-High Centerpiece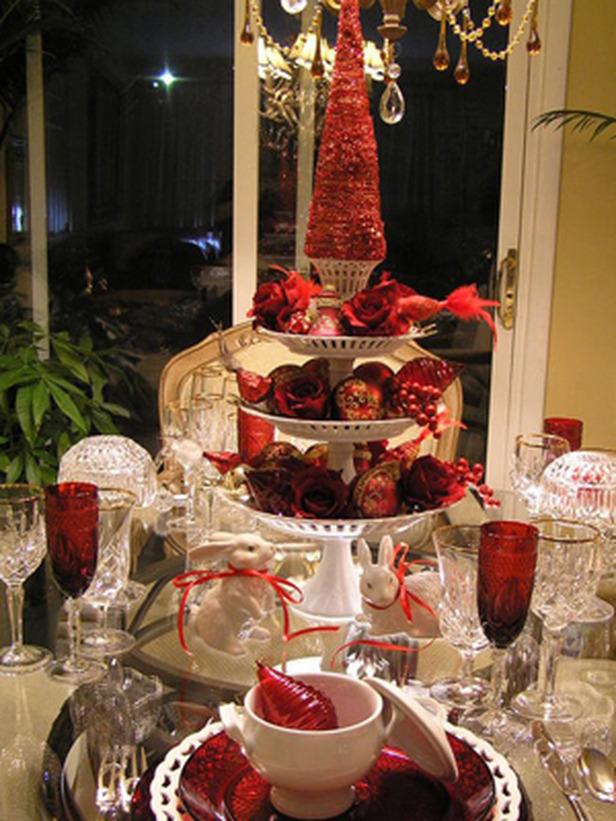 Do you need and extravagant centerpiece? Ok, in case you do, follow our advice. You need to combine traditional Christmas nuances with red ornament balls, berry springs, different in color beads and a ribbon to finish the composition.
Copper Tones
Our next example hold the key to simplicity in décor. The mild copper-toned table décor consists of a small table runner, some glittering stars and a few Christmas balls. That is all you need for a stylish and elegant holiday night.
Individual Place Setting: Rosemary and Sage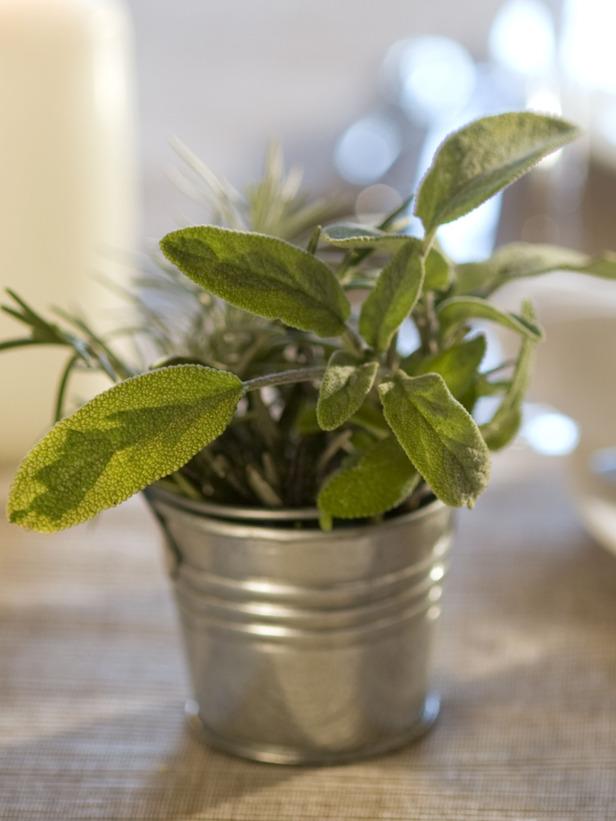 In case you want to add some fresh natural-inspired items on the table, this idea is just the right one for you. You need a galvanized bucket, a few springs of rosemary and sage stem. That is all!
Ivy and Red Berries
If you liked the previous idea but the colors are not your type, you can try this one. An egg cup full of springs of red berries and ivy. Do you see the difference?
Fresh Flowers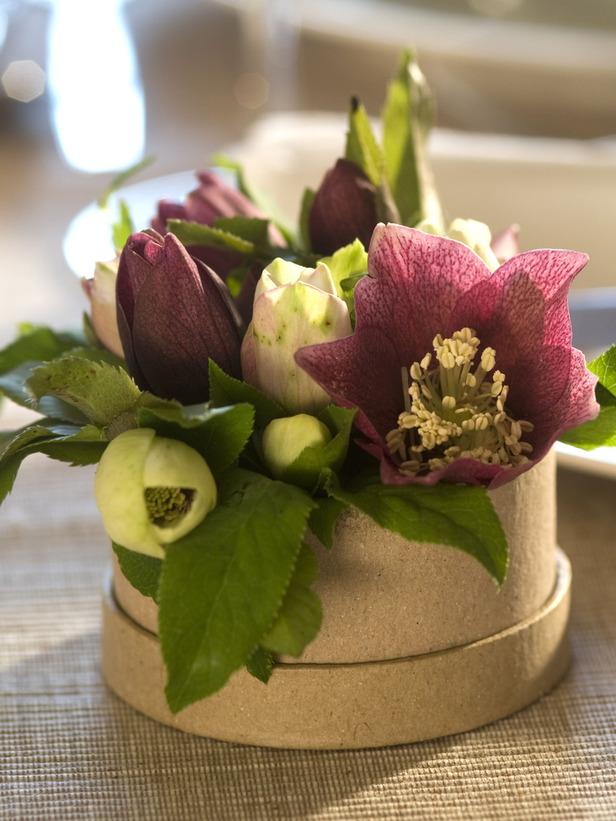 And another variation for a natural-inspired Christmas table decorative item. This time the arrangement consists of Christmas rose, Lenten Rose and witch hazel. The beautiful green and purple hues are welcomed at every Christmas setting.