Easy Open House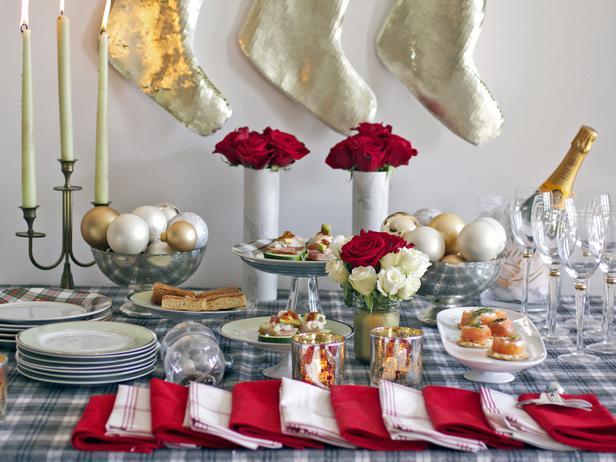 Holidays are a great way to get all the stress out of our bodies and let us entertain. The good part is that we can have guests for a longer time since there aren't many engagements during non-working days. And if we are expecting guests to stay in our homes, we should prepare the areas for the fun.
Set the Date With Style
Every holiday should have a proper invitation because it not only give the guest a clue for the details of the event, but it also creates some kind of positive mood even before the event itself.
Bold Buffet Table
Open house parties have a secret and this secret is a buffet table. If you want to get just the same look as in the image above, you need a menswear fabrics in tartan and add extra chic decorations, like roses or other sparkling elements. A great idea is to name the particular dishes so that every guest will be sure what he is going to eat.
Glittering Backdrop
.
And don't forget the stockings! They are a traditional Christmas decorative item that can remind everyone what is the occasion of their gathering.
Simple Centerpieces
Mercure glass is a great material for Christmas table centerpieces. You can have bowls made of such material and decorate the table with them. To finish the composition, use tall objects, like vases for example, filled with colorful flowers, like roses, that will add an interesting opposition and a splash of colorful accent.
Cozy Fabrics
For the Christmas table, you will also need a tablecloth in dark-toned wool tartan. This will create a warm and cozy look that feels very welcoming. If you want to create your own wool tablecloth, find a proper fabric and be sure to create clean edges using iron and seam tape.
Plaid on Plaid
You can bet on fabrics, instead of dishes and plates. This is a fantastic idea for the lovely Christmas Eve. Find a proper assortment of tartans and plaids and mix them with more neutral fabric and the charming character of the dinner table will captivate your lovely friends and family members.
Set the Mood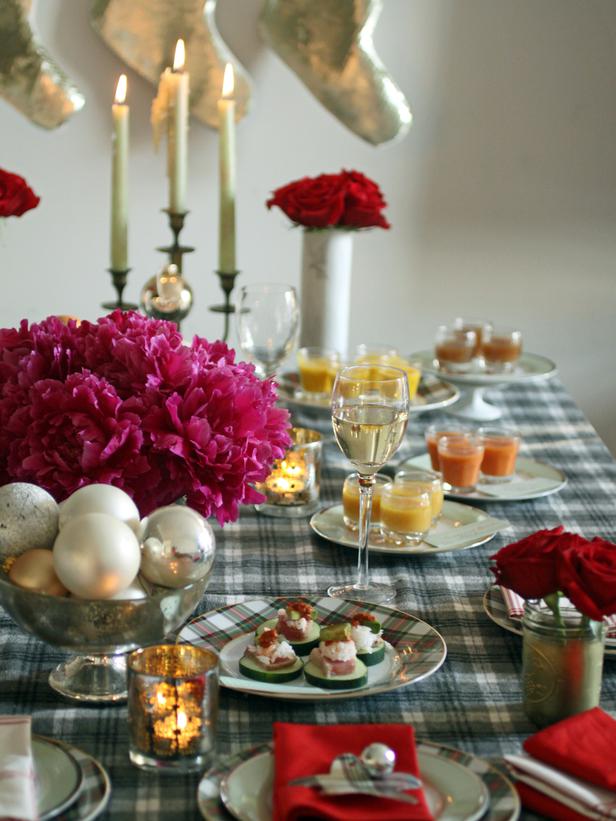 Another interesting idea reveals a fascinating combination between tall tapers, usually places at the far, wall-end of the table, and small votives. These two elements are able to do miracles when we are talking about Christmas holiday decorations.
Such Great Heights
Placing different dishes on cake stands is a clever way to allow all your visitors to reach the food.
Party Bites
When planning a long holiday evening you should think of dishes that will be able to survive three or four hours without loosing their charm. Cold bites, like these prepared with salmon, are a great way to have a proper fresh food during the entire evening.
Single-Serving Soups
Soup in a glass? Yes, that's right! Another splendid idea that our editors found.
Create a Bar Table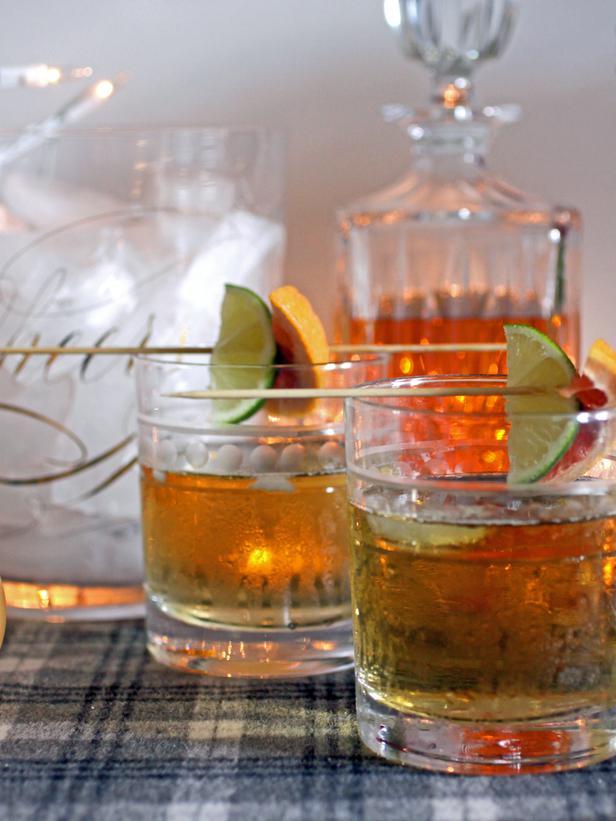 A beverage station is a must for an open plan holiday evening. Creating one will also keep the buffet table free of crowd that wants to have drink. That's why the most proper organization of spaces is as following: One area for beverages and one area for food. Decorating the drinks table is up to your choice. If you want to continue with the masculine look, find a vintage decanter and an old ice bucket. This will cheer the atmosphere up and will create the desired look.
Create a Card-Making Station
And what about a card-making station? All the girls will love it! This will keep all the guests engaged with planning the activity for the party. Of course, you should think about the entire appearance of the table and if you want to synchronize it with the rest of your decorations, if you are following our image examples from above, you should find the same pattern used for the buffet table.
Starry Night
Garlands are traditional for Christmas decorations. Stars are also, mostly used as tree toppers. And why not you make a garland of stars? This is really creative idea that will turn your wall into a starry sky. Lovely!
DIY Paper Bins
An easy DIY Christmas decoration elements are vases filled with patterned fabric or paper. This is simple, elegant, stylish and fast way to get e festive look in the interior.
Double-Duty Party Decor
Additional card holders may be placed on the buffet, beverages and card-making stations thus leading your guests to their purpose and function.
Gather the Supplies
And when you are creating a card-making station, you should think about all kind of essentials that your guests will need. We mean scissors, cards, pens, fabrics, washi tape, etc. Arrange them neatly and ensure an easy access to them.
Look for Unique Accents
Any kind of vintage and charming items are welcomed for the festive touch. In order to create and unique and intriguing Christmas home party you need to think outside the box!