Mossy Gift Box Centerpiece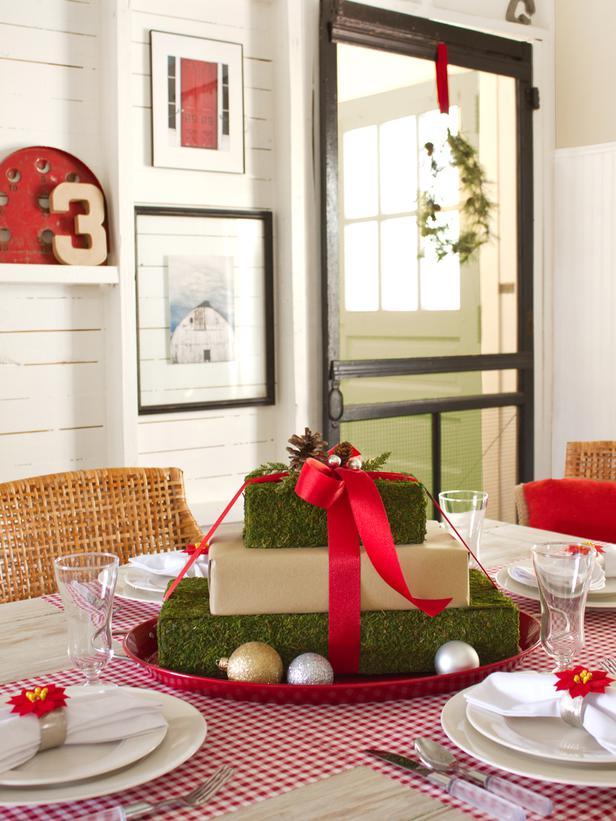 Have you ever thought about surprising your diner guests? We mean in the positive way, by adding such kind of interesting eye-catching Christmas table centerpiece? They moss-covered gift box is a really attractive decorative item that is completed by a fascinating ribbon.
Tiny Christmas Tree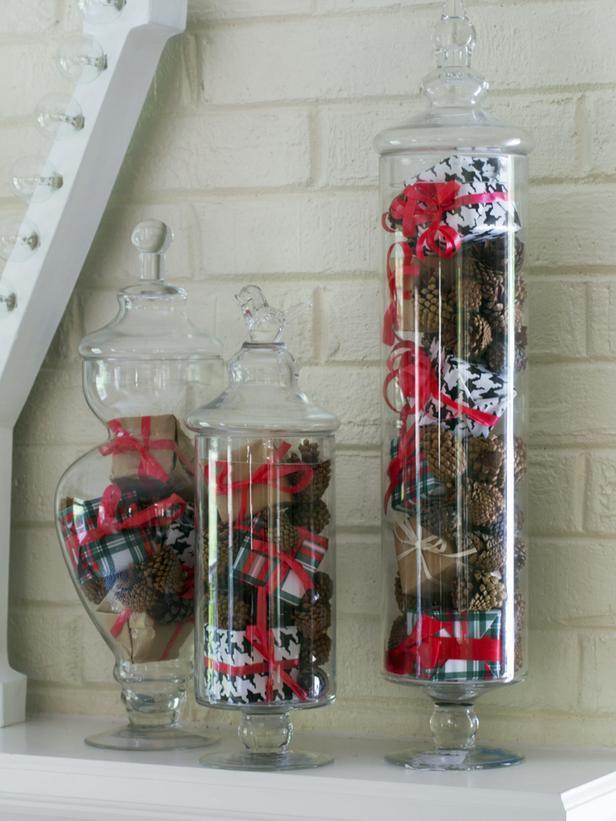 Another fantastic Christmas table setting reveals the brilliance of silver plates and ornaments combined with natural colors. If you want to have such small flower inside a pot, you should fill a proper vessel with floral foam and stick the chosen plant in it. You can also use hot glue gun in order to attach silver dragees and other decorative elements.
Classic Silver-and-White Centerpiece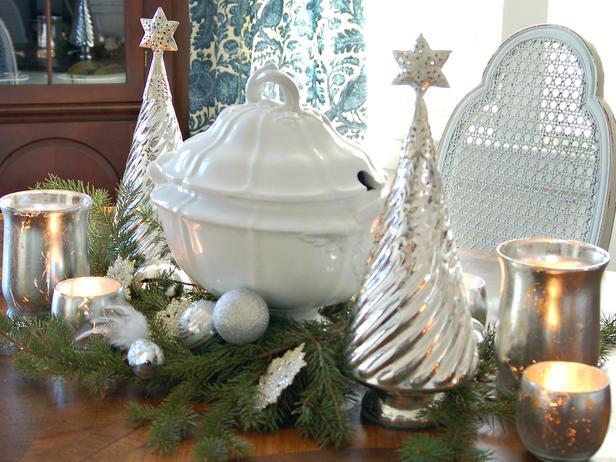 Classic style is mostly preferred by matured couples wich are able to understand the brilliance of ornamented masterpieces. If you don't have an entire classic home, you may want to include only a small tiny part of a classic world on your Christmas Eve's table. Achieving such kind of setting is not a really hard task. We believe that only using items at hand in your kitchen can be enough to reach the desired touch. Follow our idea from the image above and find a soup tureen which you can wisely used as a beautiful accent on the table.
Candy-Inspired Centerpiece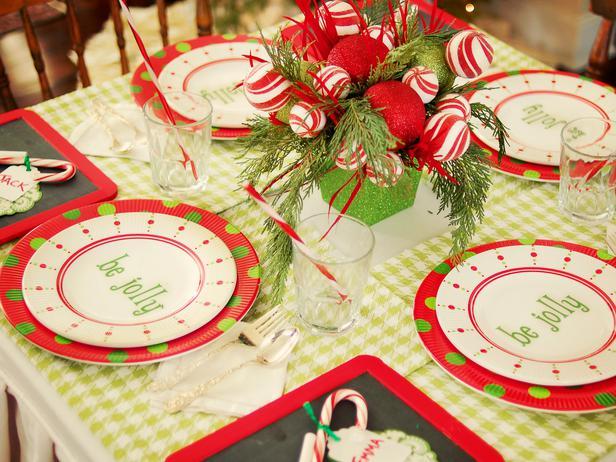 The candy themed Christmas table setting is particularly preferred environment for kids. The shatter-proof centerpiece is formed by candy cane spheres. The other components of the charming item are tree trimmings and red feathers. There are also some plastic ornaments that glitter in order to create a positive holiday mood.
Rustic Charm
The most important, the essence of a rustic decor is wooden accents. Of course, the wont be as mighty as they should be without the presence of evergreen branches. In this particular holiday setting you will find garlands around the bucket full of natural items, candles symbolizing the Holy Spirit and pinecones finishing the rustic interior of the room.
Green Glistening Centerpiece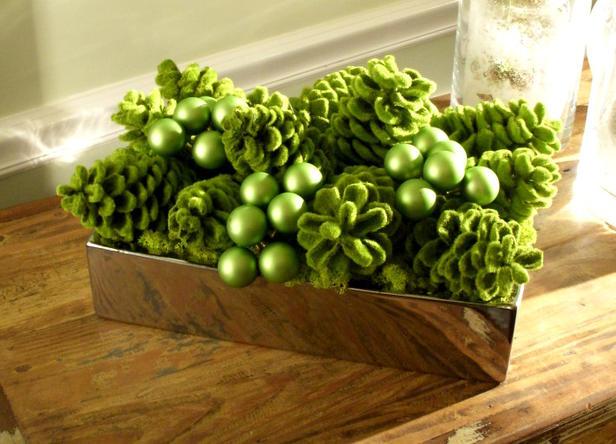 Add a modern touch in your holiday decor by placing such kind of sparkling green hues over traditional evergreen nuances. Display the mighty colorful choice in a wide and low basket so that everyone on the table will be able to enjoy their presence.
Chic Silver Centerpiece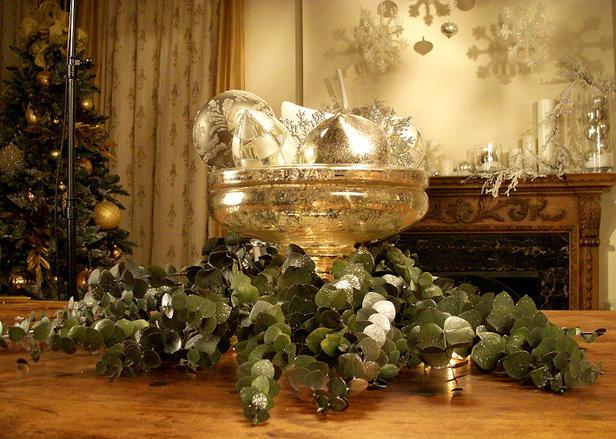 All you need is a holiday serving dish. Add also some sparkling ornaments. Then finish with greenery. You can experiment in some many different ways in order to get the same touch as in the image above. Well, if you want to be exact and copy the idea completely, make sure that you will find such silver bowl,glass balls and eucalyptus branches.
Reflective Quality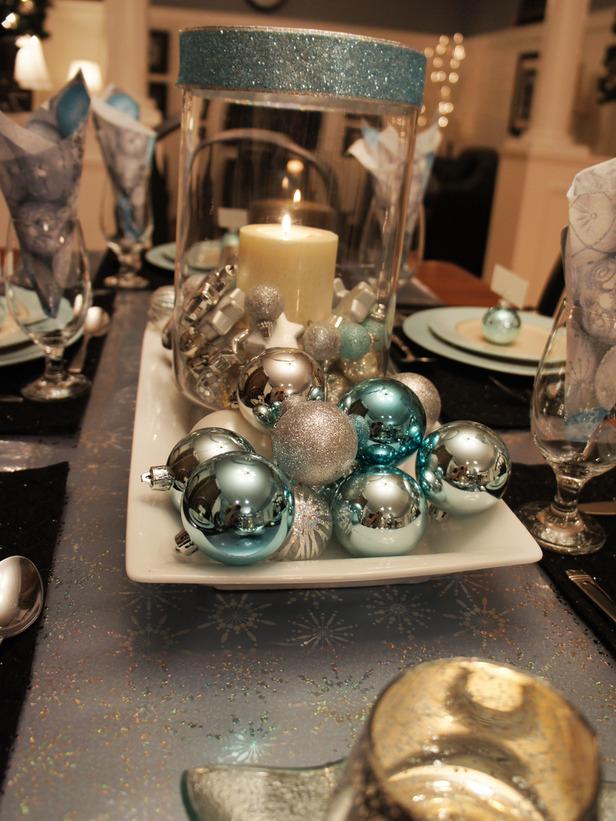 Glass hurricanes has always been an elegant addition to a table decoration. Well, in case you want to take the things further you can surround the hurricane with other glass ornaments in silver and blue, for example, like in the image above.
Simple, Yet Stunning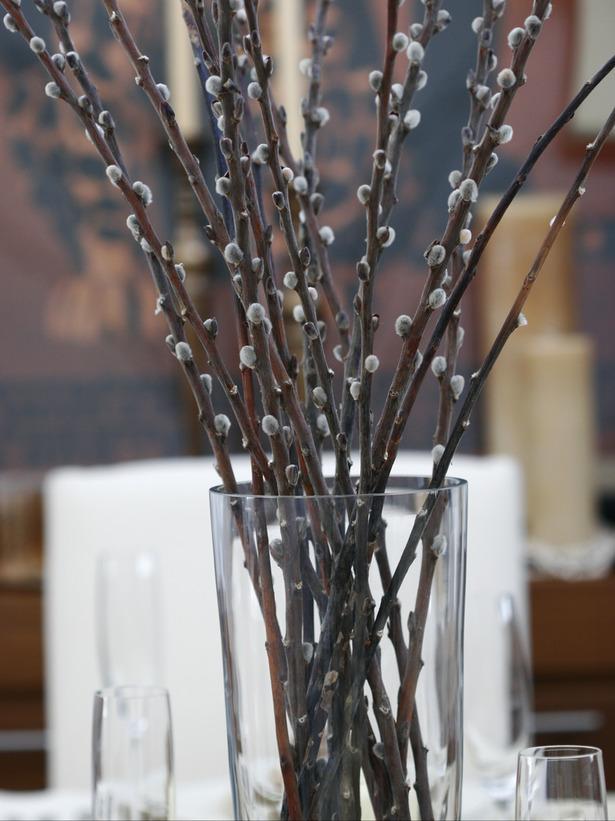 Erinn Valencich has made an outstanding simple and elegant decorative item out of glass cylinders that he filled with branches. And the best part is that you can continue using the beautiful centerpiece for a long time, compared to decorations made of flowers since they are not able to survive fresh for more than a week.
Warm Up the Table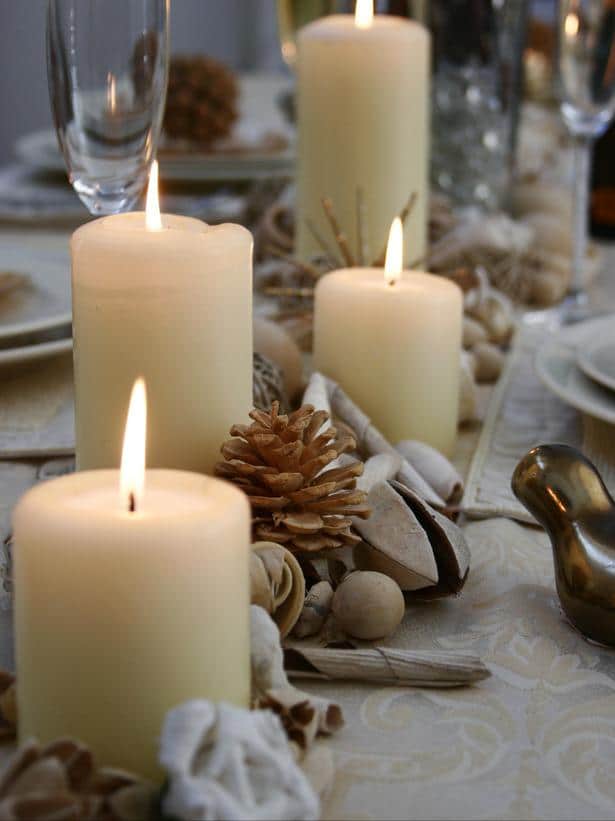 There is not other, no better centerpiece than candles. This is a classic approach in professional decorations. They are able to create a pleasant, relaxing atmosphere into the dim light of the ambiance. And the good part is that candles are adjustable to every single type of interior design. Of course, particular finishing can underline and provoke a sense for a certain style. For example, adding pinecones next to the candles can create an unique rustic experience inside the place.
Cheery Christmas Topiaries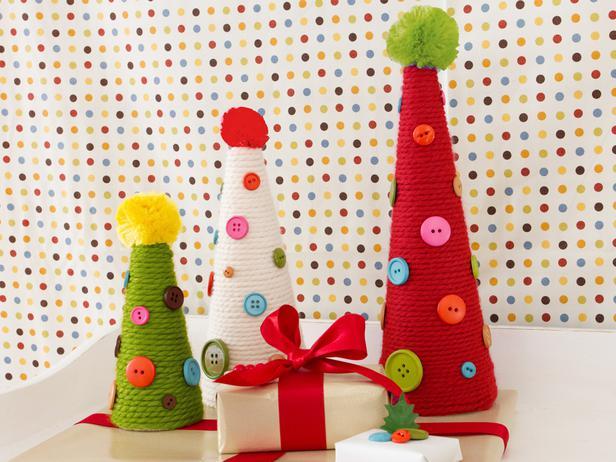 Do you like spoiling the family members into one entire happy household? If the answer is yes, go and find your kinds and ask them to help you with this bright and interesting Christmas tree alternatives. They are made from foam cones, yarn and buttons. They are also a great way to add some interesting colorful accent on the holiday table.
All That Glitters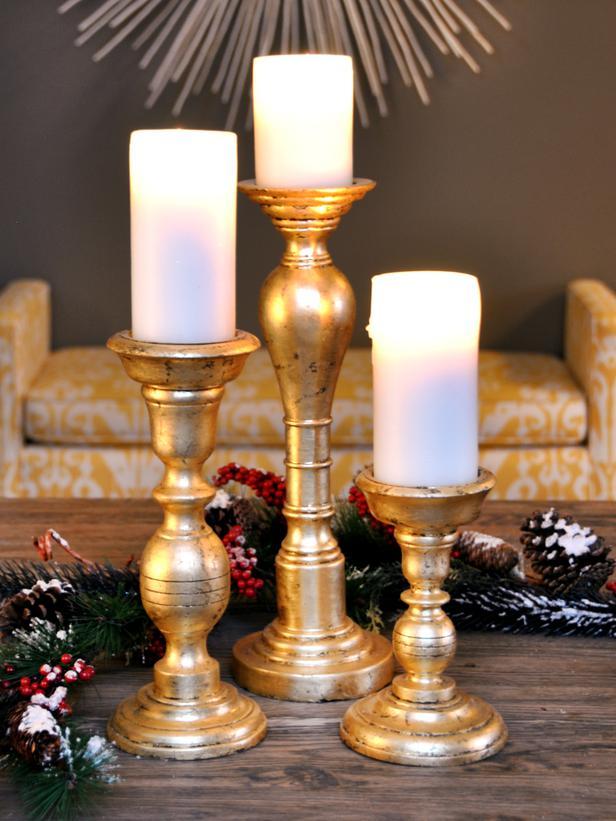 Using old and forgotten pieces of decoration after repainting them is a famous way to bring a vintage look. In this particular example we can see an inspiring eclectic collection of wooden candlestick holders. They are simply a gorgeous table centerpiece that every woman in the world would love to sit around. Yes, that's right, get such kind of feminine look using you old stuff.
Colorful and Cheery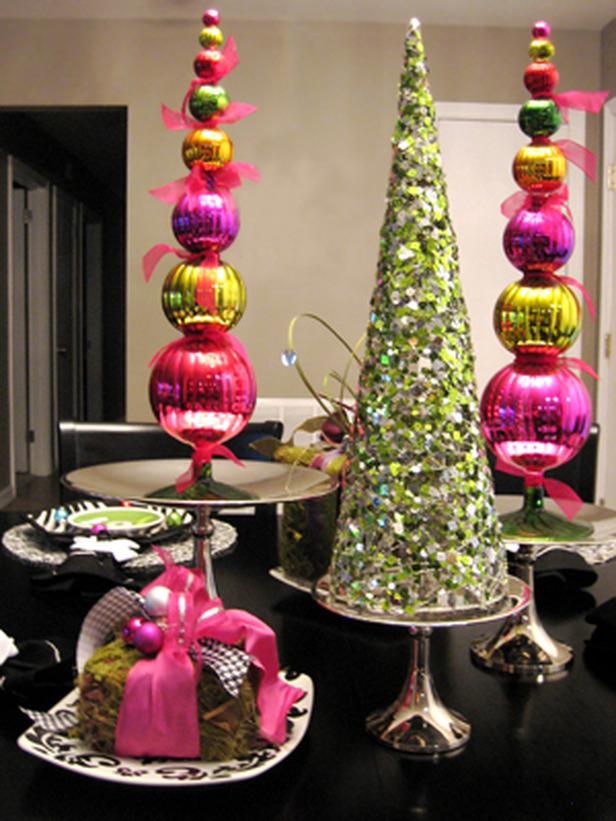 For those who love to experiment we are showing our next visual example of a cheerful Christmas table decor. As you can see, the table centerpiece is a made of glittering trees and stacked ornaments.
Herb Centerpiece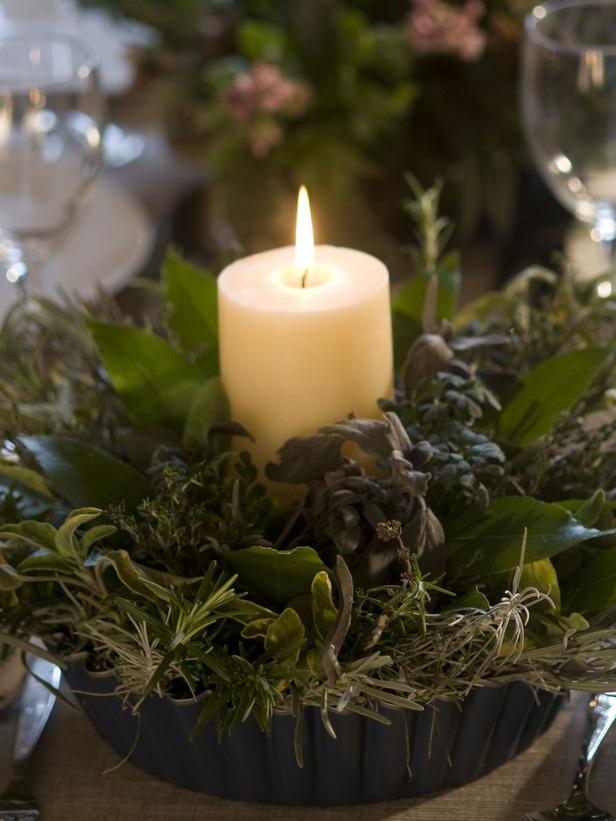 Herbal accents are another preferred centerpiece items. For best decorative results you can use rosemary, tyme, sage or bay leaves. And why not all of them? This is really your choice so whatever you choose, be sure that you will get the holiday touch. Using the flowers in the right collection will also permeate the air with wonderful scents
A Touch of Glitz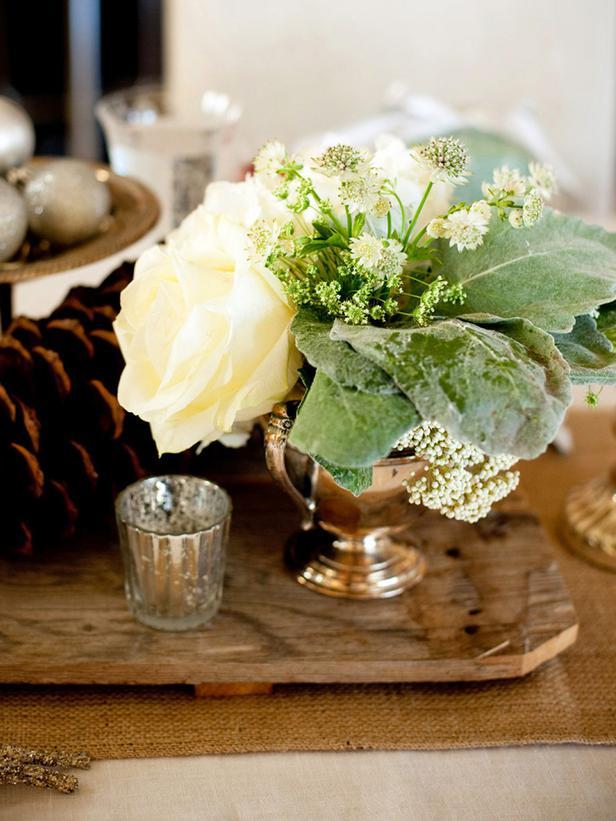 Do you feel that your old candleholders are not a suitable addition to the Christmas table? In case the worn out paint is the problem, don't worry! A little bit of paint will get them to their original state. A smart move is to combine gold and silver accents with rustic or vintage items.
Mercury-Glass Votives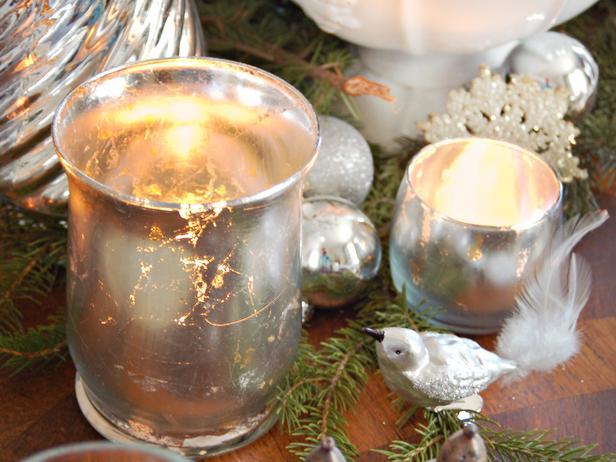 Now, forget about vintage and rustic and let's talk about some real metallic interiors. We are not provoking you to transform your entire living areas, just to add a metallic touch in it. The trick is to apply silver leaf to glass votives and hurricanes. We believe that you will make your own decoration within a minute following our guides.
Traditional Trimmings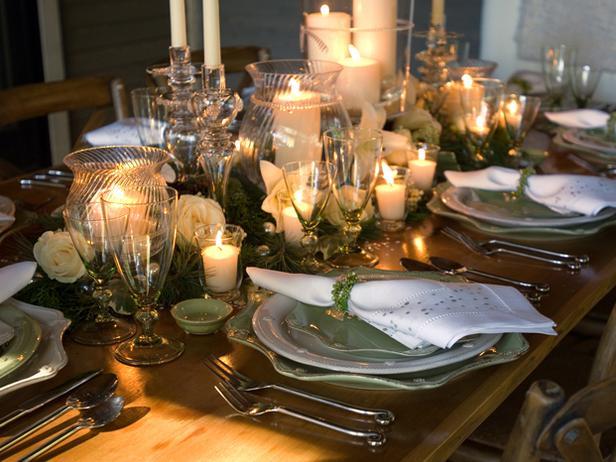 Warm table decor can be easily achieved by placing soft candlelight, crystal tableware and silver cutlery. Delicate white blossoms create a picturesque elegance together with stylish linen napkins and tall pillars.
Terra Cotta Candleholders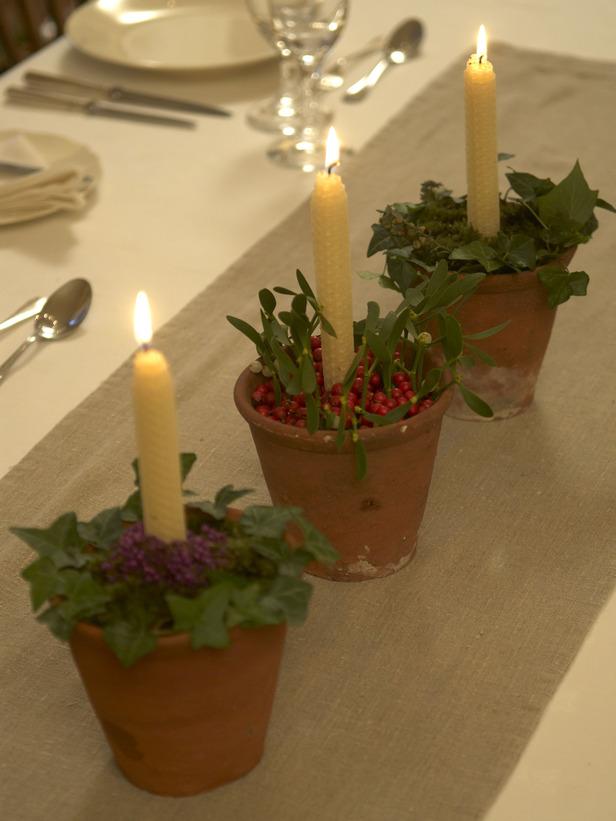 Some people tend to show creativity when it is up to decorating their homes. Take this unique creative idea, for example. Terracotta pots turned into stylish candleholders! You can also have such kind of Christmas decorations at your place. To begin with, you should line all the bases with recycled aluminum foil. Then you need to fix a beeswax candle in the middle of each pot. Fill the newly created candleholders with sand and add some fresh fruits around the candle. Voila!
15-Minute Centerpiece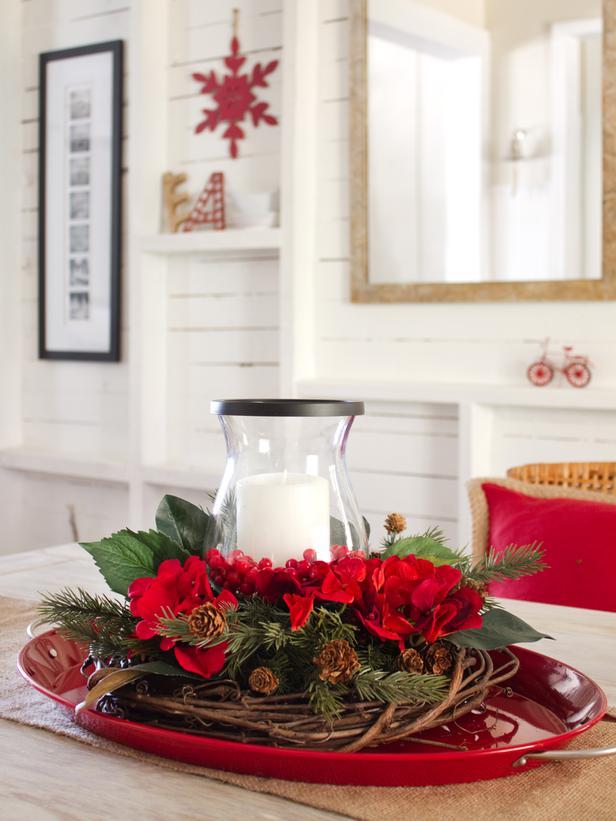 Another easy DIY Christmas table centerpiece. All you need to create this kind of effective decoration is to search your house for a grapevine wreath form and some kind of glass candleholdder.
Cottage Christmas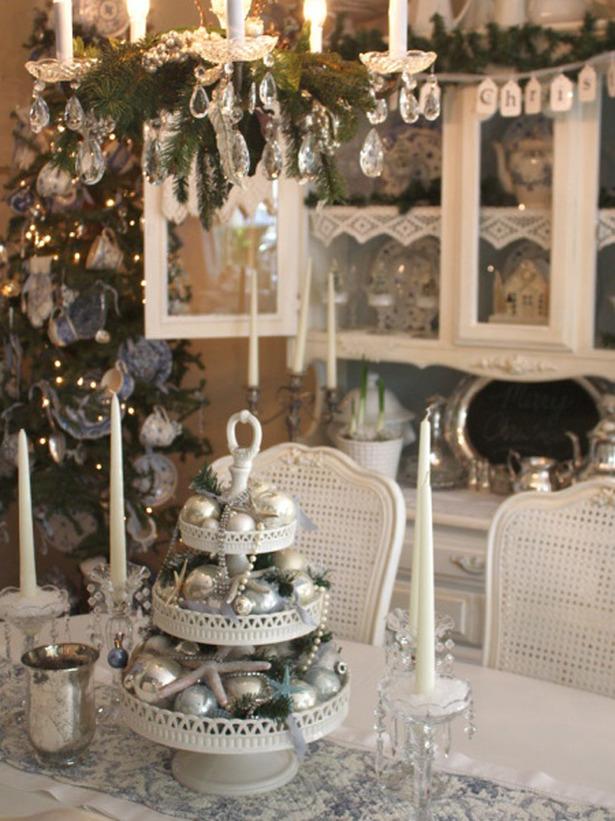 Does this centerpiece look like a wedding cake to you? Yes, it definitely borrows the idea of a three layer construction but it is featuring Christmas ornaments. You can find Christmas silver balls, some jewelry and greenery wrapped around the item.
Look Up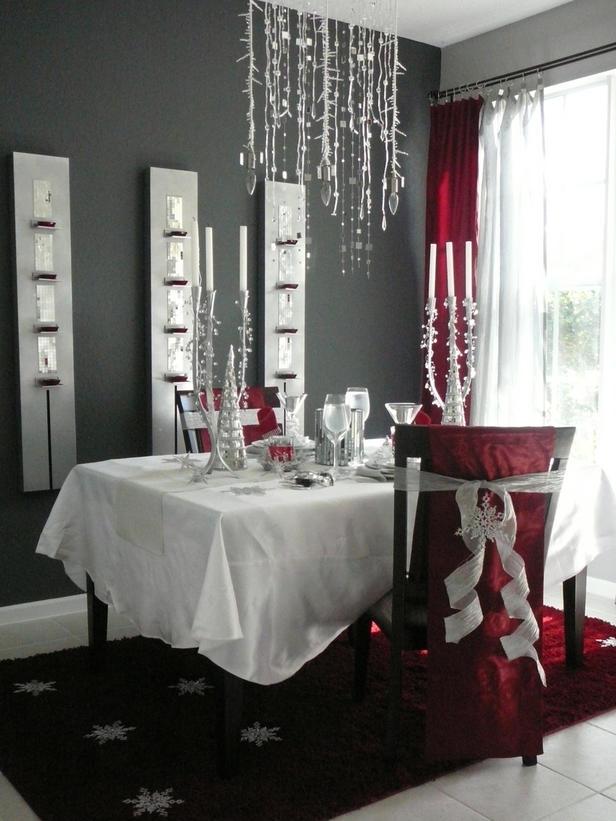 Our hint: Table centerpieces may not be only fixed to the table surface. Our next adorable idea shows a creative way to free some space at the table by placing the centerpiece…. at the ceiling. Its glittering icicles and crystal ornaments create a sense for luxury chandelier that, of course, ads a stylish finish to the Christmas diner table.
Christmas Countdown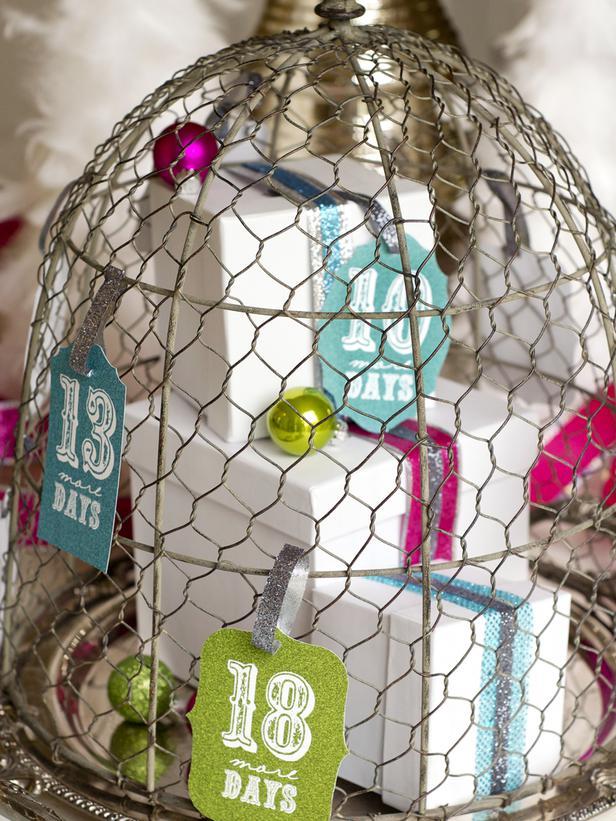 Advent calendars are a wide spread way to countdown Christmas Eve. For this idea, you will need a vintage bird cage. Inside the cage you can place several gifts, if they are small enough, of course and finish the masterpiece by adding date tags at its outer side. This is not a centerpiece only for Christmas Eve but it can be placed several days before it. Each day remove a tag and this will keep the spirit live for the entire December.
Dramatic Table Runner
A simple snowflake table turner can be the perfect centerpiece to add a frosty touch at the holiday table. It is very suitable to add different kinds of rustic ornaments that will finish the gorgeous look.
Modern Tabletop Tree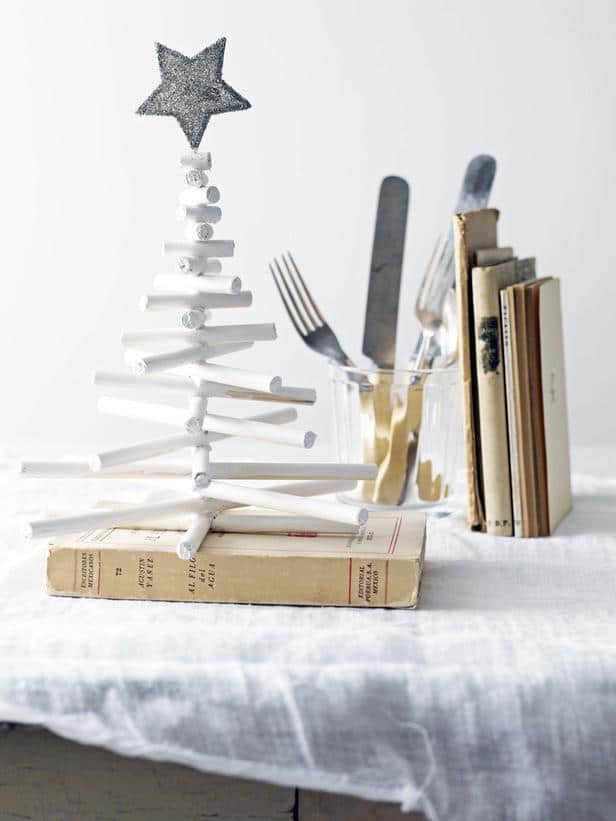 Do you like alternative Christmas trees? What a great way to add uniqueness at the night before Christmas by creating such kind of decorative item! The main advantage is that this artificial tree can keep its shape forever and you wont need to rearrange it now and then. At the top, you will find a glittering star finishing the impressive composition.
Ombre Tabletop Trees
If you want a modern ombre effect – use colorful splashes. If you want to get a more traditional touch – use solid ones. Either way such creative DIY Christmas tree will create a personal touch at the table.
Coffee-Filter Christmas Trees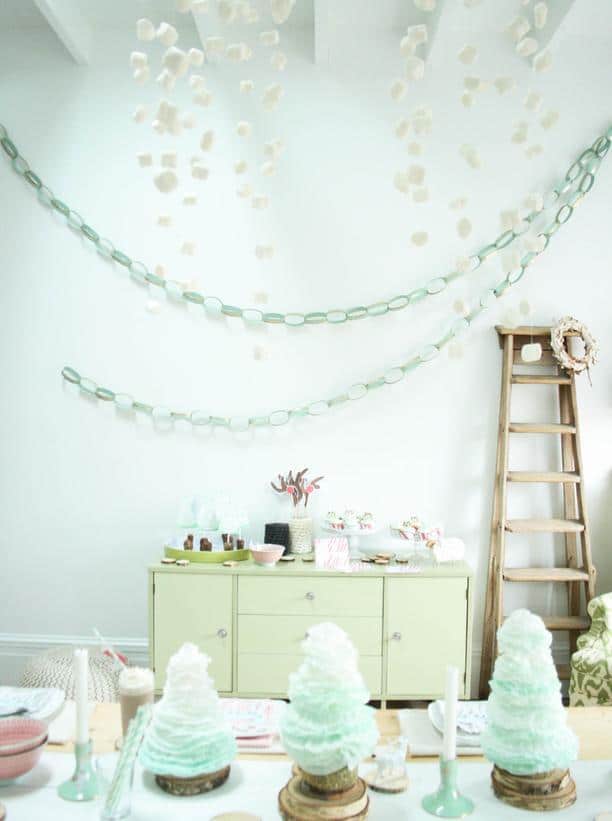 We bet that you haven't imagine such kid of application for coffee filters. The truth is that they create an outstanding festive spirit when dipped in fabric dye and stacked afterwards.
Cake Plate Ornaments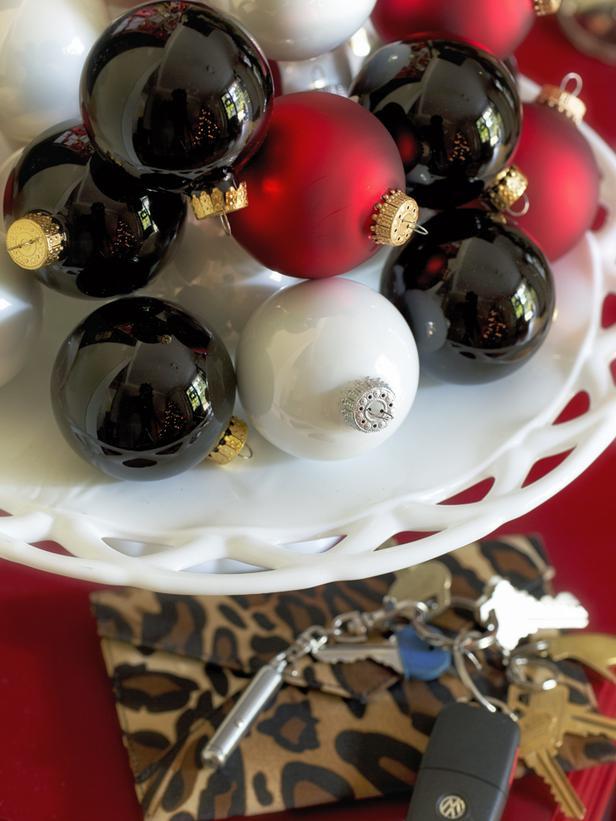 Arranging Christmas ball ornaments in a pile is not a hard task. This is an easy solution when the door bell is ringing and you still haven't prepared the Christmas table decoration. You can stick the balls together by using double-sided tape.
Cranberry Topiary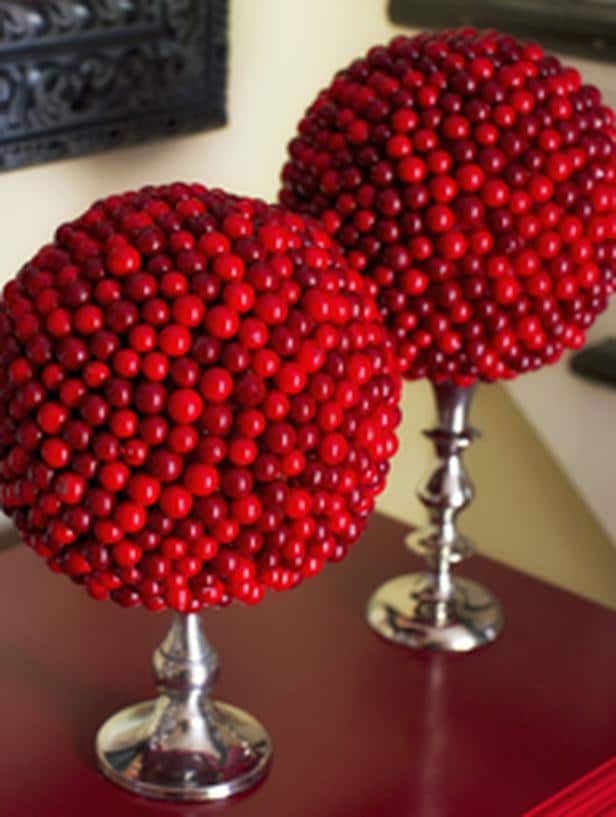 Aren't they sweet? The key to success in having this table centerpiece is to find some faux cranberries, candlesticks and foam floral spheres. As you can see, the elegance is a major impression that one can get when seeing it at the table.
Silver Bells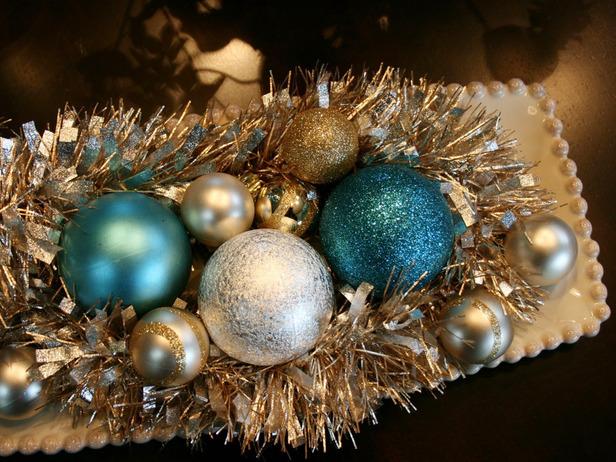 Another great idea with shiny bells shows us how to decorate our table. Bells in the center of the composition and shiny garlands wrapping them. That's all! Of course, the colorful composition is essential for the final look of the centerpiece, so keep it stylish.
A Contemporary Tabletop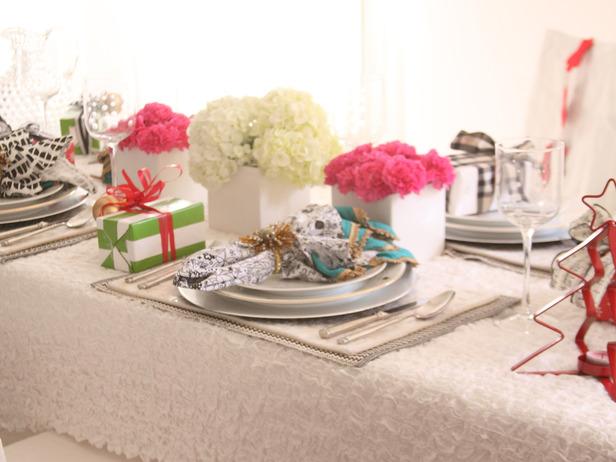 Nowadays it is really trendy to have flowers as decorative ornaments. Poinsettias and white hydrangeas make a beautiful table centerpiece and add an unexpectedly gorgeous touch. For a contemporary look, use clean and elegant white vases that can match the cutlery and all the other kitchenware.
Bring the Beach to Christmas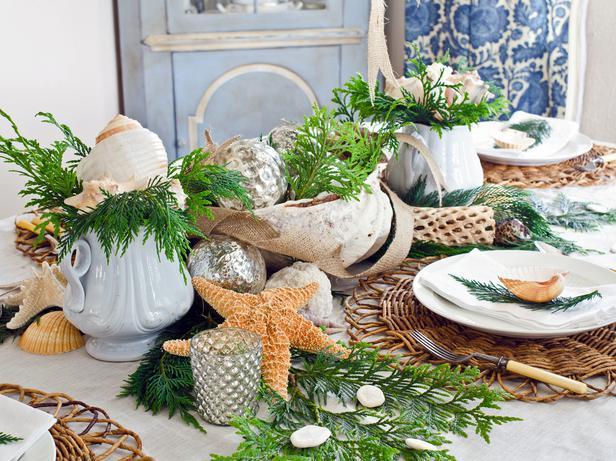 Another common idea is to get a beach touch at Christmas Eve. Fill a shell of a large size and a basket with different kinds of glass ornaments. Add some greenery, ribbons and garlands around them and you have your beach themed Christmas centerpiece.
Simple Centerpieces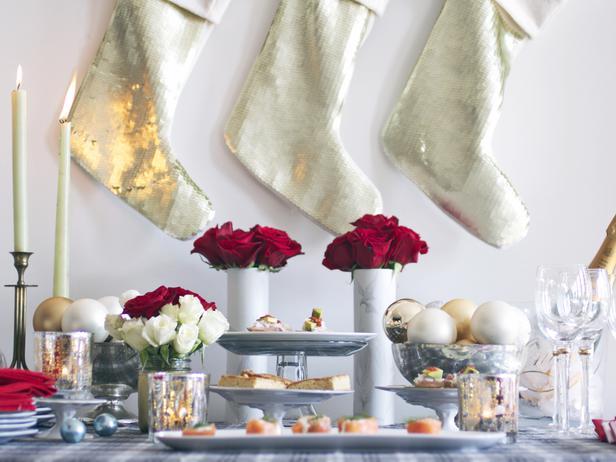 As a centerpiece this idea is not represented by only one item, but it is a composition of several ones, instead. Mercury glass footed bowls play a stylish game with tall ceramic vases. Inside them you will find silver and gold ornaments and red roses that add a feminine touch to the table.
Supermarket Centerpiece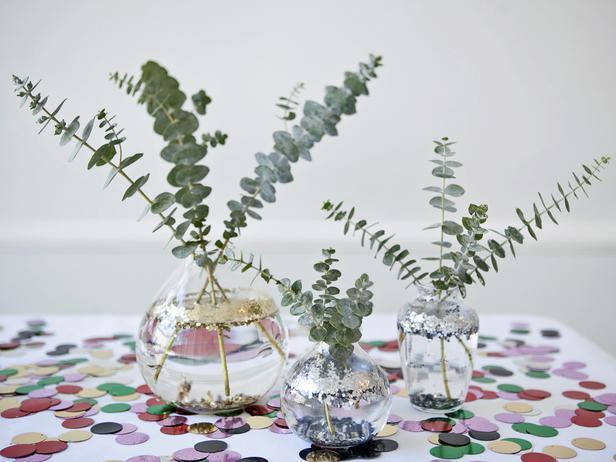 You will be amazed how beautiful flowers you will find at your local grocery store. No need to say that they can be used for you home decor. An easy way to decorate the table is to stick to only one flower or greenery, like the eucalyptus branches from the image above. IT is simple, elegant and very effective solution.
Paper Centerpiece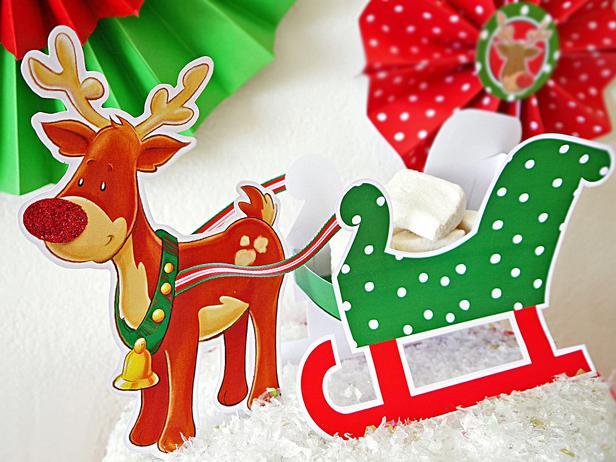 And what is a Christmas without the most famous reindeer – Rudolph. You can fill the sleigh with goodies so the kids will be very surprised to find the unexpected candies on the table.
Gingerbread House Centerpiece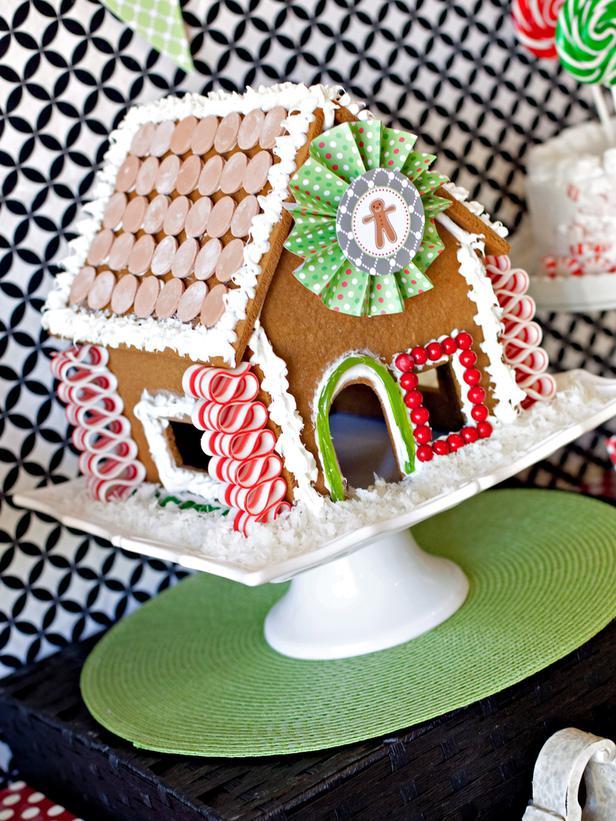 Another chic centerpiece shows us a creative thinking outside the box. Decorate it with candies and printable party circles. In order to finish it, use coconut "snow" alongside the top part of the decorative item.
Make a Centerpiece That Pops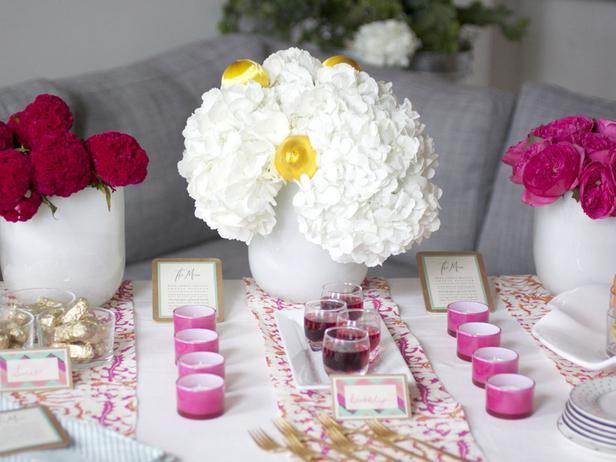 Vases filled with flowers – each color in a separate vase, is a fantastic way to get the desired modern and elegant look at the Christmas holiday table. You can also add a few gold ornaments and you have your unexpected sparkle.