A large part of the interiors that we see, it does not matter if they are for private homes or public areas, are a mix of several different styles. Some look great together, make up and turn the interior in joy to the eyes, while others are not meant to be together in one place.
In that vein, today we have prepared an example of an unconventional combination of styles and more accurate mixing of the modern interior with industrial elements.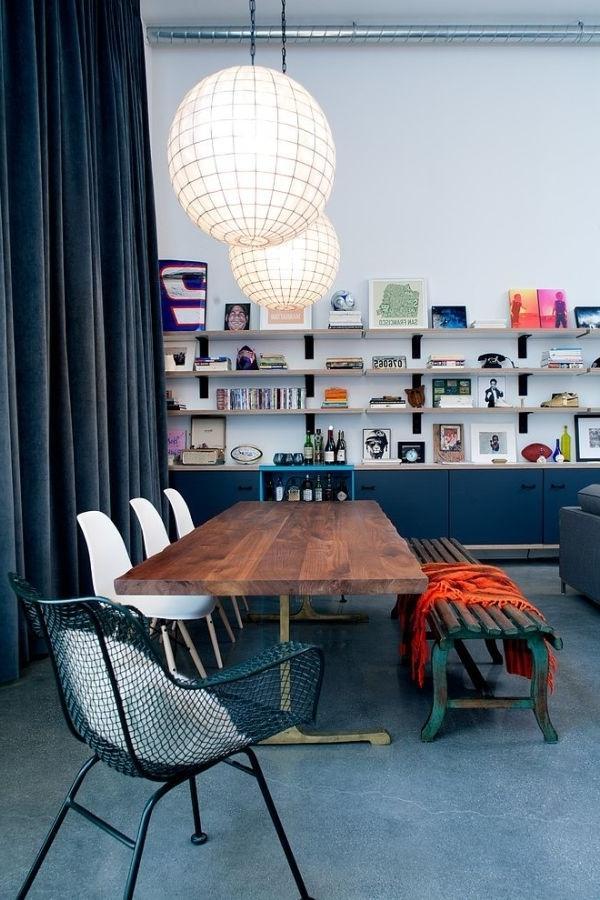 Dining room with industrial elements
The color palette includes bold shades that are strategically located to create focal points to the elements that add comfort and friendly feeling of the home. Comfortable sofas, large blue curtains, and the area with cheerful rug, show unusual and interesting taste of the owners.
Living room with modern graphic rug
An interesting decorative detail we found in the face of the bicycle, who incidentally is in the middle of the room. It is in the colors of the surrounding furniture, which makes him seem spontaneous part of the decor, while producing a moment of surprise.
Modern bathroom in blue abstract walls
In the bedroom, we find the same large blue curtains, like those in the living room. Industrial atmosphere here is almost invisible in the face of hanging "bubble" lamps. But should not intrude in the place that is reserved for rest.
Modern bathroom in dark color
The bathroom is very interesting – in light blue color with different patterns and black furniture, which again shows the creativity of the designers.
Vision obtained by mixing the two styles is equally casual, modern and brave.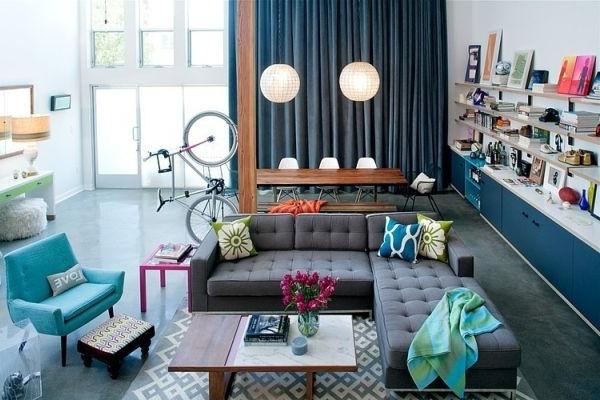 Modern interior with blue accents