Contemporary and Luxury House
When a person is looking to get rid of the busy city lifestyle and find a luxury home somewhere in the country, he has to take a look at the spectacular Pearl Valley Golf Estate, which is only 30 minutes away form the capital of South Africa – Cape Town. For this particular luxury property the owners contacted Antoni Associates in order to develop a project for the whole interior design of the place. The task was to create a contemporary home with a slight touch of luxury while using organic materials like stone and timber. Designers Jon Case and Mark Rielly did the job extremely professional and they achieved an interior that is simply impressive. If you enter the house you will be fascinated by the timber flooring that is standing in an opposition with the concrete ceilings. Another great decision was to use marble cladding and warm stone. And you should definitely have a look at the fantastic bedroom design ideas.
As a young family, the owners wanted the luxury home to show what their lifestyle is. Spaciousness and openness is the key features of the property. There is an open plan kitchen, open bar and a dining area which are not separated as isolated rooms, but are linked together in a perfectly sequenced balance of functional areas.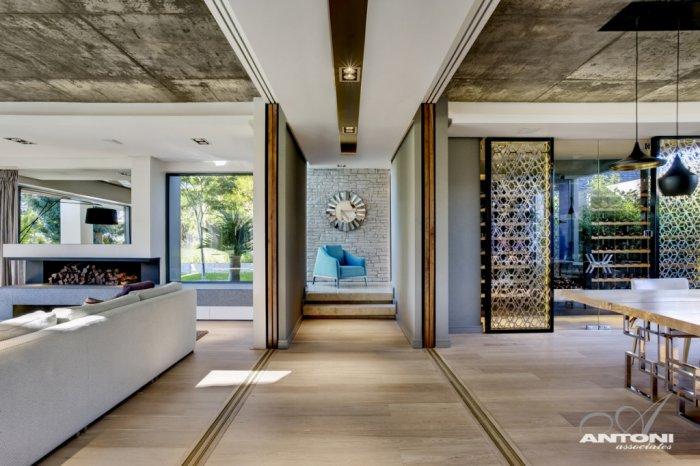 Can a home be warm and welcoming without a fireplace in it? Of course, not. The marble fireplace is separating the spa and lounge rooms. This spaces flow into the outdoor entertainment area with a sunken outdoor boma, which is actually an outdoor enclosure, typical for the regions in South Africa.
Now, let us leave the fantastic interior design solutions and pay attention to the furniture design. Modern, elegant and impressive – the best description we can made. The owners have a love for color and they showed this in their furniture from OKHA Interiors. Little colorful accents make this place look so full of life and energy that you can't resist it. Yes, you wont resist it and the inspiration will lead you to the indoor swimming pool where you will spend ours in a pleasant company. And the lighting design is simply gorgeous. You can see the fantastic layering effects of the lighting systems that are ready to reflect all the owners' moods. It is not only the central areas that are full of light. The peripheral ones are acting like a decorative elements thanks to the hidden led lighting that springs a touch of stylish colors.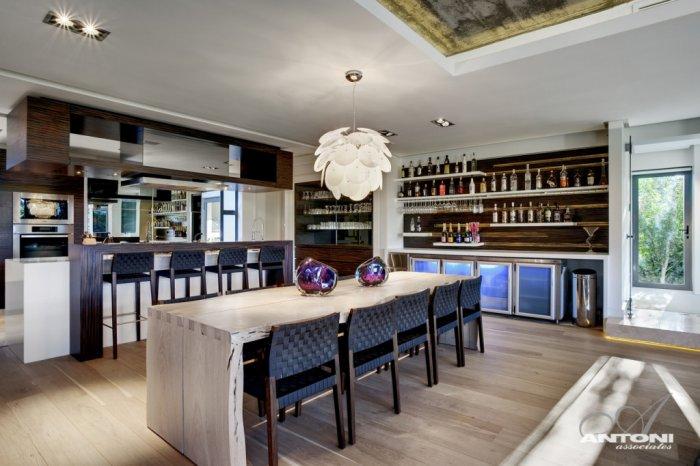 See the other images of the project by clicking them below:
[lg_folder folder="Contemporary and Luxury House Interior Design in Cape Town – Gallery/"]