Are you in need of a positive work environment that would give outright justice to the work you do? A positive and healthy surrounding is the key to an employee to be the best from the worst. If a person is working calmly and peacefully, then they can be more productive and can work with full potential.
Nowadays people prefer home offices more than outside offices. A healthy working environment is very decisive for making the job a successful one. Today, home offices are continuously arising in the industry. A poor working environment creates stressful employees who are then unable to give their 100 percent output to their desired work. You must create the type of office environment which boosts your productivity. Your workspace should always be perfect and creative. The aura should inspire and motivate you. The ambiance of the atmosphere should be reflecting your exclusive charisma.
While decorating your home office, you can showcase your creativity in the most beautiful way possible. There are beautiful antique pieces, vintage paintings, fabrics, canvas printings, etc. that can give your workplace the most pleasant outlook. These eye-catching prints on canvas serve the most soothing view anyone can have. The beauty of artwork can attract a viewer, only if it is perfectly placed and fits in the surroundings. Decorating your home office is the most fun work if done with proper care.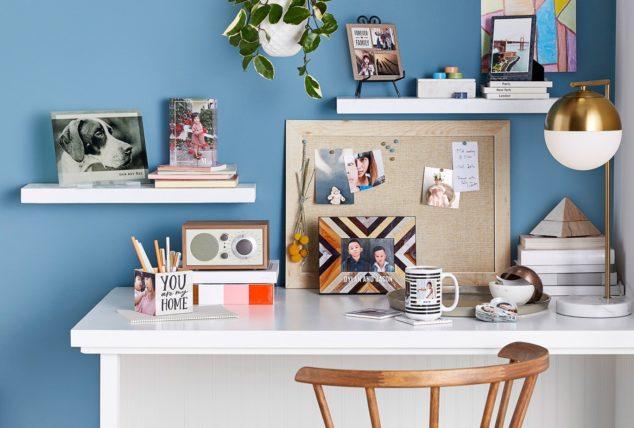 Do's And Don'ts
Decorating your house office is a tough task. Before beginning, you have to do proper planning for getting the best masterpiece. There are few mistakes that must be avoided; and few things that must be paid importance while designing your home office.
Do's
---
Always chose an artwork of contrast color to the color of the wall, so that it can be the center of attraction.
Keep a color combination that isn't very loud. Mostly pastel and neutral colors.
Keep comfortable furniture.
Have the perfect space.
There must always be a source of natural light.
Keep reshuffling.
Don'ts
---
Never worry about identical supplies. Avoid placing a painting of color the same as that of the wall.
Don't try to apply each and everything you researched.
How To Choose Perfect Décor For Home Office
Create your own style and give your imagination a life, this is the best part; about home office decor. One must mainly focus on maintaining a calm and peaceful atmosphere for beneficial work. Let the creative mind of yours do the best it can, by using some of the tips given below, for office decor.
The Gallery Wall
Our eyes are in need of a mesmerizing view for calming down the stressed-out nerves of our brain. Each office must consist of beautiful sketches that can reduce the stress level whenever feeling exhausted. Paintings are visually appealing and help you in producing some quality work.
The clustering of depictions and prints together; gives the most dramatic feel, one can ever have. Create a cluster of some official pictures, your credentials, antique paintings, etc. Hang them on the wall and get the new center of attraction of your office. This grouping of photographs will enhance the beauty of your living room and give a soothing view to everyone's eyes.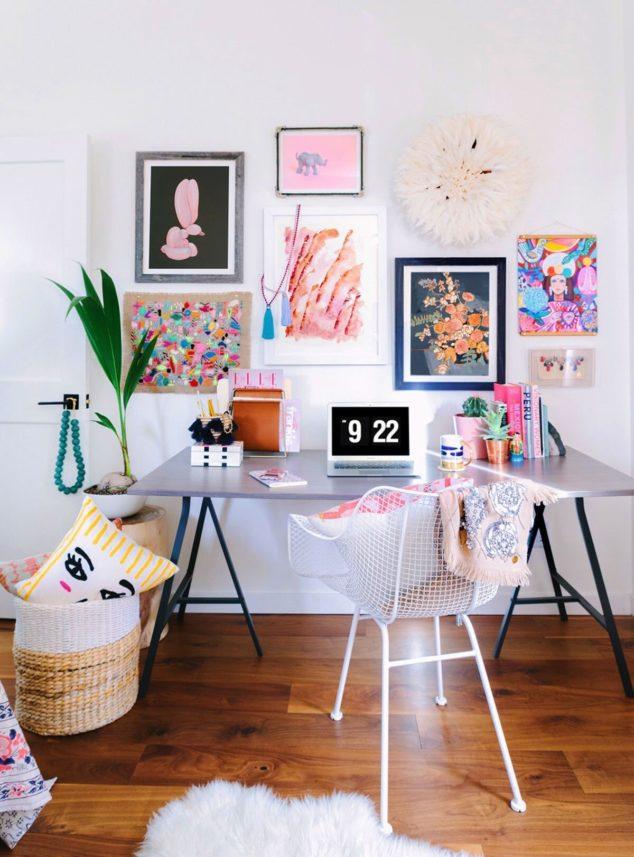 Go Green!
Each office must consist of appealing plants that can curtail the anxiety level whenever feeling drained. Plants are optically tempting and help you in producing some quality work. Plants like Peace Lily, Gerbera Daisy, etc. are other quality things that can give us a pleasing and soothing view. They also help in keeping the air clean, and their fragrance keeps are nostrils relaxed, thus avoiding headaches. Greeneries like Ficus, Spider Plant, Boston Fern have air percolating traits.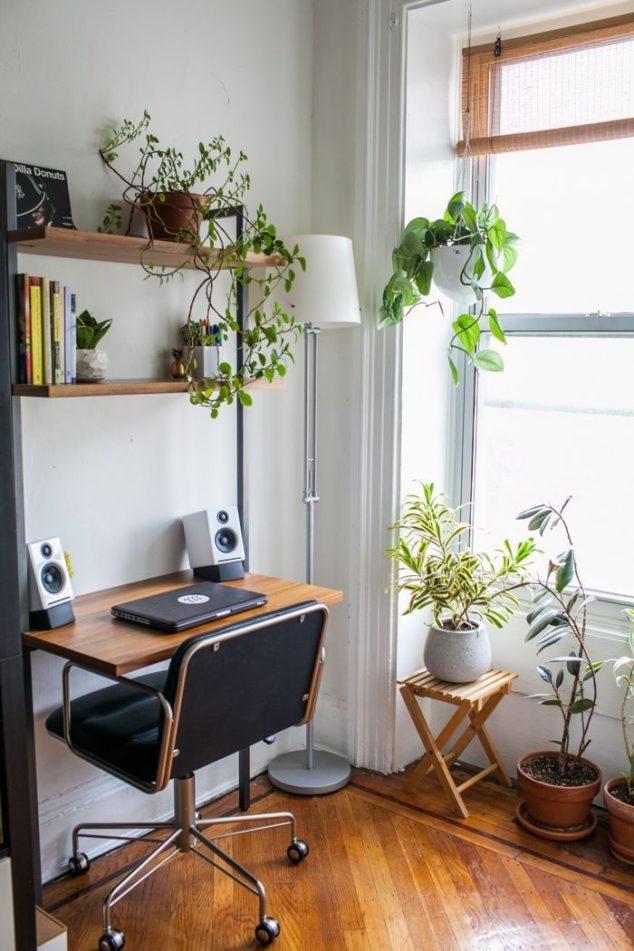 Stay Organized
For a better workplace, one must definitely focus on the cleanliness and organization of the home office. A well-organized zone requires a proper functioning environment, an arrangement of the furniture, etc.  A contaminated place may lead to an unhealthy lifestyle. It can make you sick and thus affecting mental health. You cannot happily work if you are not mentally fit.
Your home office must definitely consist of standardized bins and cabinets for keeping files and other documents in place. There must be floating shelves for a better layout of documents. They will also enhance the beauty of your office.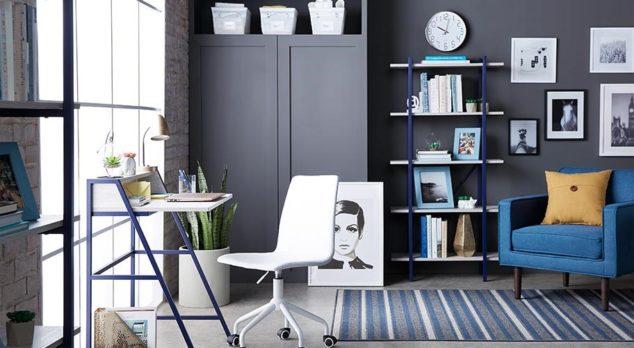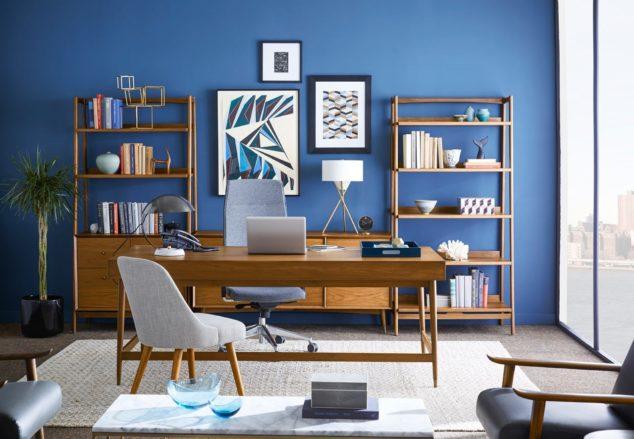 The Surroundings
The atmosphere of your workplace contributes a lot to your home decor. Keep a color combination that isn't very loud and bold. Dark colors can create negative energy around you and demotivate you. Try choosing mostly neutral and light colors like orange, yellow, etc. Avoid colors like black, grey, etc. for a workplace. Always make sure that there is a proper source of natural light. It adds a pleasant mystical atmosphere to your home office.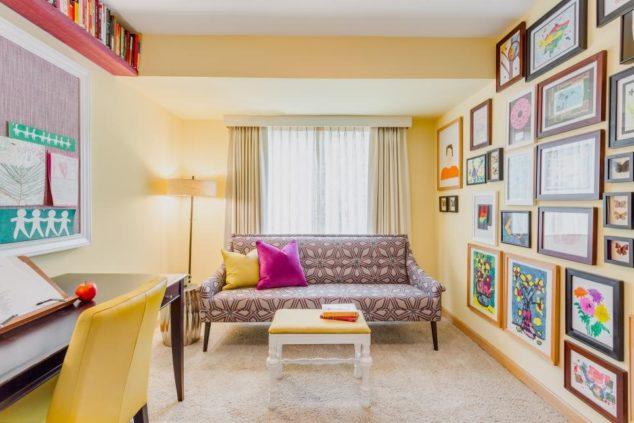 All Set To Go
If you are a creative person and want to decor your office, then you should follow all the tips. Your love for colors, prints, antiques, and photographs can all cast a magical spell over your home office if flaunted properly. They can give a new definition to your workplace and create a peaceful working atmosphere with double productivity. Go to get those magical powers!