Country style chic meets pioneer
How would you feel if you find a comfortable place in front of the fireplace with a nice glass of wine and your feet up? This style in interior design creates coziness and warmth in the room by its pale natural colors with gold accents. What makes a strong impression are the patterns in carious shapes – like the herringbone, plaids tartan – they are simply lovely. In addition to the welcoming atmosphere, there are several wool throws and cushions, and not forget to mention the animal fur which is emblematic for mountain homes.
A pioneer theme is a proper solution for those who want to put some accessories in the place. Vintage type of stuff is a clever decision – for example, imagine how good will look an old trunk or suitcase and, furthermore, retro automatons, like clocks or cameras. And if you own a heart of an explorer, you can also add an adventure touch in your home with some additional old treasure maps and globes.
Animals and woodland creatures
We haven't even though that animals would be so trendy nowadays. Woodland creatures make a really good interior when we are talking about owls, rhinos, stags, foxes, pheasants, hedgehogs and so on. Well, there are several rules that your should follow in order to keep your interior stylish. The most important of them is to keep the furry or feathered animals in small amounts and not mix them will the patterns of your upholstery. This way you will achieve an atmosphere, where the specific woodland creature is the focal point in the particular room.
Butterflies and Birds
Butterflies and birds have flown in the markets recently. You can use them in several ways – as decorative creatures, colorful patterns or accessories. Bathrooms and bedrooms are the perfect place for such kind of interior style. In case you don't want to remodel all of your interior, you can change a drawer knobs or cushions as the fresh examples here in Founterior, and you will immediately achieve a different new look. At Mark and Spencer you will find very interesting door knobs. At Debenhams, you can find several gorgeous beddings in butterfly patterns.
It's there in Black and White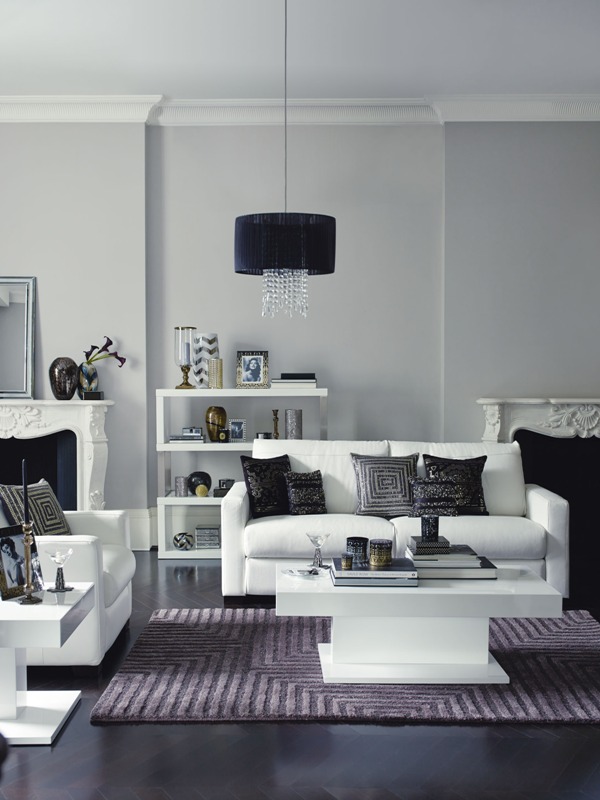 The following classic color combination in interior design is never out of date. Black and white are always trendy and elegant for any kind of home. The good part is that the black and white colors are universal in any terms. You can easily place an inspiring combination of furniture, rugs, textiles and upholstery into a room without breaking any shade of color. It really depends on you which one, the dark or the light, will gain the upper hand over. And it is your decision how would you like your interior – divine and full of natural light or one that creates an elegant dark perfection. Just be careful with the number of windows and the amount of sunshine they allow into the specific room.
Brighten Your Day
For those who prefer the bright and colorful side of life, we have our following advices. In the visual example, you can see a Furniture Village couch in orange nuances which create a devastating effect on the surrounding interior. The colorful accents in a home are also on-trend this year. Make sure that you don't overuse them because you risk to turn the place into a complete tasteless kitsch. The rules are simple – only one bright colorful accents. If you use several, you will break everything in the interior.
Nifty Shades of Grey (sorry!)
Now, let's dive deeper into human emotions and have a look at one of the most fundamental colors of the neutral palette – grey and its countless shades. If you own bright in color furniture, a good ideas is to create a dark or matte grey backdrop. A really trendy combination is to use pale grey shades with purple furniture, for example. It actually creates not only a clam environment but also reminds of luxury materials and affluent life. Soft and contemporary look can also be achieved by grey in various mixtures.
Geometric – The Shape of Things to Come
Geometry is a must, when we are talking about fashion and trends. In this examples you can convince yourself how important is to find the balance between shapes and good look. Using only patterns within one style of shapes is the key to success. Thus, the result is a coherent designer approach that can be easily spotted in your home.
More than Words
In the world of interior design fashion, there is one specific stream that attracts women from all ages and charms with its cozy sweetness. This is the word and symbol motif. You can find it as separate letters at a wall, or a whole swirling script – it doesn't matter. What really matters in the message hidden behind the signs. It goes very well with for furniture and simple, yet elegant, kitchenware. Usually, these kind of interior design theme is used in the study or the home office areas, but not anymore. You will be amazed of the application varieties.
Vintage living meets shabby chic
Have your seen lately the huge amount of home baked images in all social networks? As it becomes more and more popular to exhibit your own skills in the kitchen, the images somehow start living their own life into vintage frameworks – another feature of some of the social networks. This inevitably settles the vintage look as a top trend.
The colorful nuances depend on your personal preferences and you have to choose them wisely. Maybe it is good to know that pale and pastel tones of pink, blue, green and yellow are most preferred by a lot of people lately.
In Praise of Purple
Let the purple shine in the interior! It is very specific, yet elegant and stylish interior design color. You can come across it in several varieties. For example, its dark nuances most common use is in plush and tactics aubergine upholstery, while the pale tones can be found in relaxing ambient walls. Yes, of course, everything depends on the amount of light in the room – both natural and artificial, but there are some tricks that you can use in order to achieve visual illusions. A good transition from pale towards darker tones of purple can be the inspiring atmosphere for a perfect relaxing mood, for example.