Silent night, holy night. All is calm, all is bright…
The Christmas magic is just around the corner, waiting to charm children and parents, lovers and lonely, homeless and rich. There is something in the air at Christmas Eve that spoils the souls of every human being in the world.
This is the Christmas spirit. And when we are talking about the holiday atmosphere, we can arrange our homes and prepare little DIY decorations in order to attract our guest, or to simply create a pleasant ambiance for ourselves.
Our following Christmas decoration ideas are romantic and creative and they are suitable for those whole love their homes and want to transform them into a charming romance.
As you know, at Christmas there should be a special tree in every home. And since the tree should be decorated in a way that shows the holy spirit of the holiday, we must decide what will be our decoration. There are people that prefer fancy garlands and shiny balls but there are also dreamers and romantic personalities that simply decide to make their tree of hand-crafted paper decorations, for example.
In order to be more specific, we would like to present to you this sweet vintage paper chain made of old music sheets. Now, we will have a closer look and give you an idea of how this lovely item can be created.
There are several things that you should definitely have in order to create the decorations. These are:
Cardstock
Old music sheets
Several kind of Fabrics
Buttons in various shapes
Needle and pins
Small Scissors
A small Ballpen
Some Glue
Gift bags are an option
Sewing machine when needed
Wooden skewers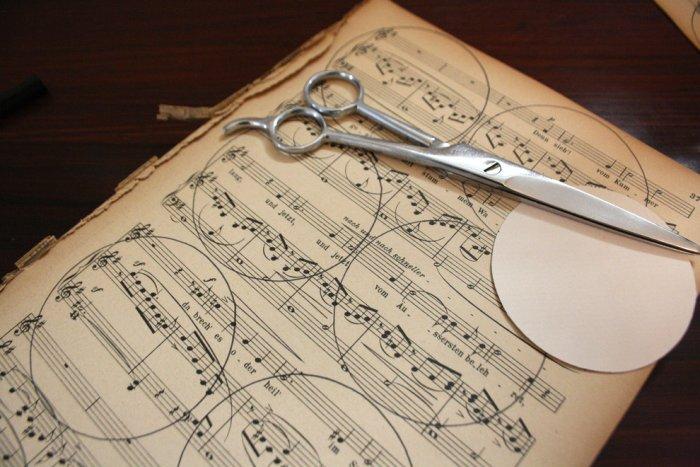 For the first type of ornament you need to cut a circle out of the old music paper. You can use various types of instruments in order to success to make a perfect shape. For example, a jar will be really suitable and a pen is a must.
For this specific decorative item, you will need to make 6 circles. After you cut them, you need to fold them in half. In order to stick the separate elements in an entire ornament, you need to place some glue at each half of every circle.
When you have an entire new shape, what you have to do is making diagonal stitches.
Through the holes you have to place a thread and make a small knot. Then, you will able to places your hand-crafted Christmas ornament wherever you wish.
In this image, you can see how the lovely paper chain combines really well with the soft gold bows.
For our next decorative item, you will need to cut three stars elements. One of music paper and two of fabric. Any kind of template may be handy. But pay attention! The fabric stars should be approximately 0.39 inches larger than the paper one at each edge. You can make as much of this ornaments as you want, just have in mind that for one Christmas star you will need three paper templates – small paper and two bigger fabric.
When you cut the music paper, you have to make the two fabric stars.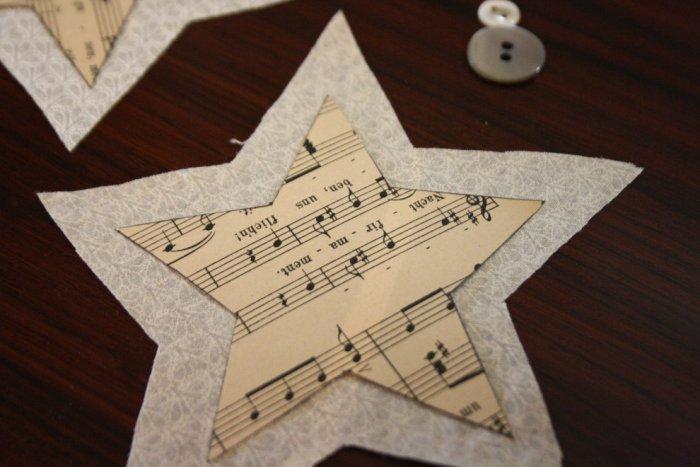 Each of the paper stars should be laid upon two fabric stars. And don't worry if any of the elements doesn't strictly follow our guideline. You can always correct them.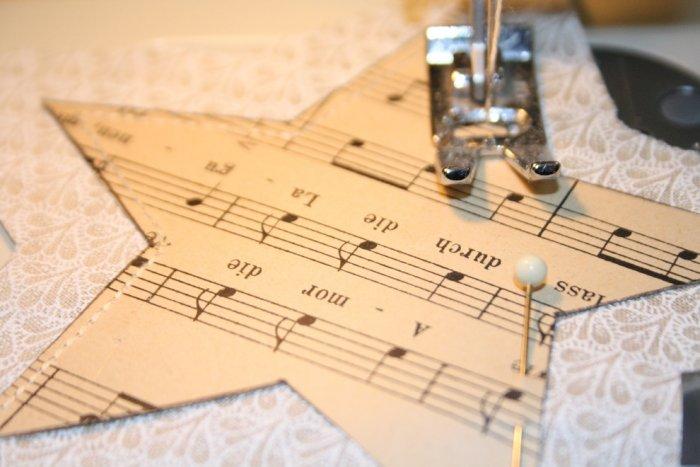 Now you go to the part, when a sewing machine is the day saving instrument. Make a sewing all around the paper star. Here are the best sewing machines and crafting tools you can buy recommended by TrendiTex.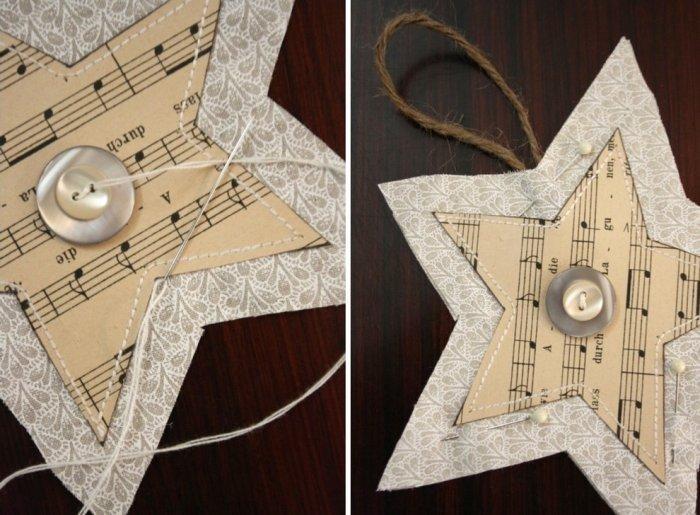 As you can see, after you finish sewing you need to place a button in the middle of each decorative Christmas star.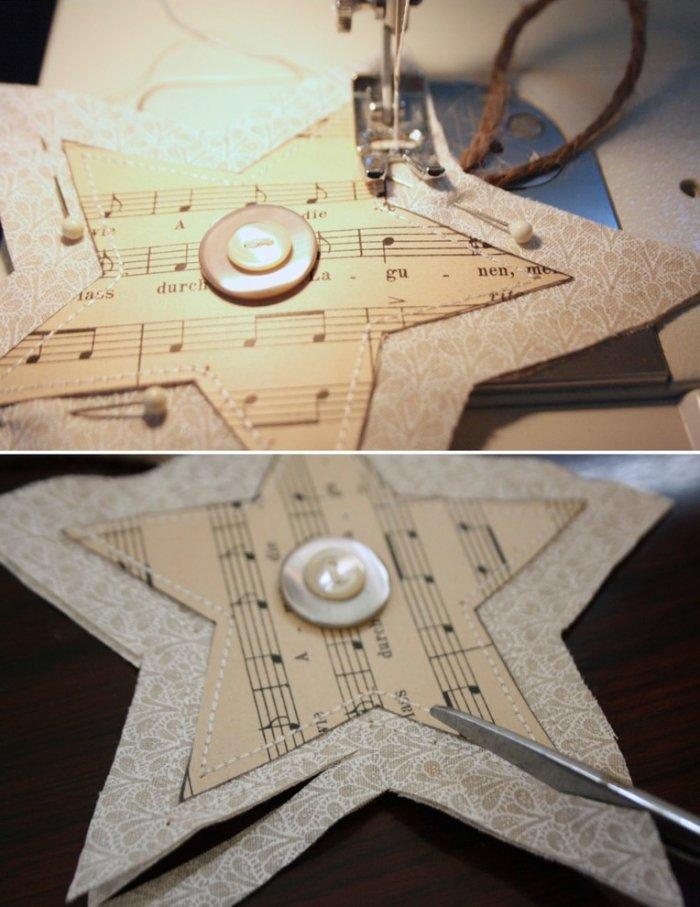 The next step shows that you have to make a sewing in order to stick together the two fabric stars. Now you will also be able to attach the twine. After you are done, you'd better correct the shape of each star by cutting the fabric edges.
The result is amazing. In order to recreate a romantic feeling we recommend using neutral nuances and, of course candles. Believe us, you will get the desired touch!
Another gorgeous Christmas decorative elements is the little star, created of wooden skewers.In order to create such sweet and attractive holiday item, you will need a thin washi tape.
Your family loves you! Believe it or not, but even when there times of arguing in families and the things are not going well, you can always make a small personal gift and thus break the ice in the relationships. And what a better chance to do this than Christmas! This creative little personal gift bags may be the present your family member needs. Do it with your heart and whatever you create, it will be lovely!
The preparation is not very hard but you'd need some specific elements like washi tape, gift bags and scissors. And last, but not least – tags, where you write the person's name or a greeting.
See the example above and make exactly the same. Create different stripes of washi tape and don't cut the roll. You'd better tear it off. This way you will get a casual look that will be admired. Then you can leave a bit of excess washi tape at the edge of the bag. Trimming the unnecessary edges will prevent the tape from folding over the side of the bag.
Here comes the moment when you can place a personal message in each of the tags. Let the others know your feelings and be honest.
And now, after you have learned how to make your unique home hand crafted decorations, we would be extremely thankful if you write a personal Christmas message to us in the comments section bellow! Thanks friends and Marry Christmas!