Red Tinsel Heart Wreath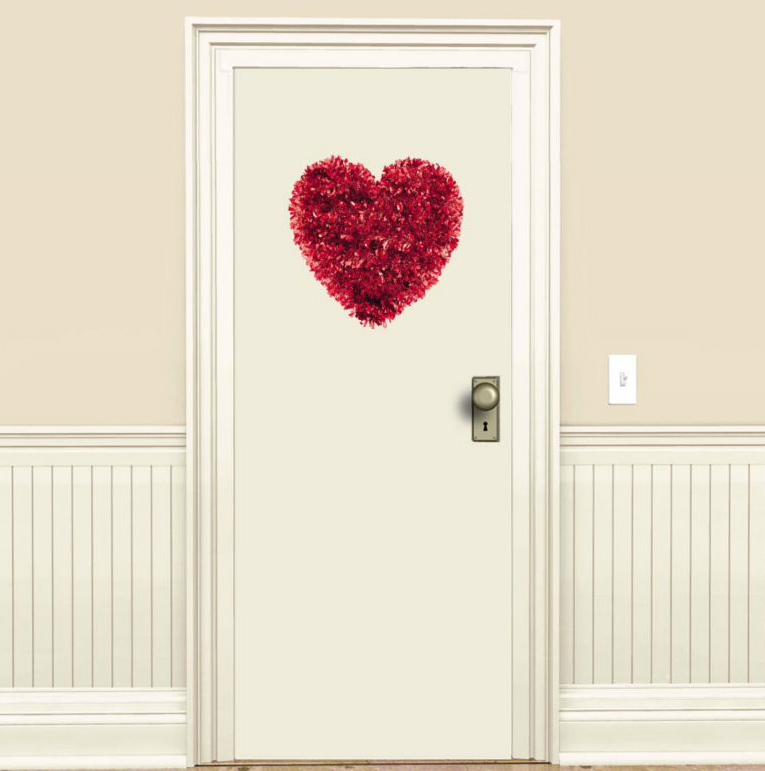 How should a front door look like at Valentine's Day? Have a look at the image above and you get the right example! It should contain some hearts in red and the holiday spirit is achieved. This particular door decorative item features shimmering red tinsel that covers a heart-shaped frame. Some people use different kind of holiday wreaths for February 14th, but you can use your imagination to break the traditions and show to everybody that you love to love! Now, let's explore some of the finest Valentine's Day ideas.
Red Heart Garland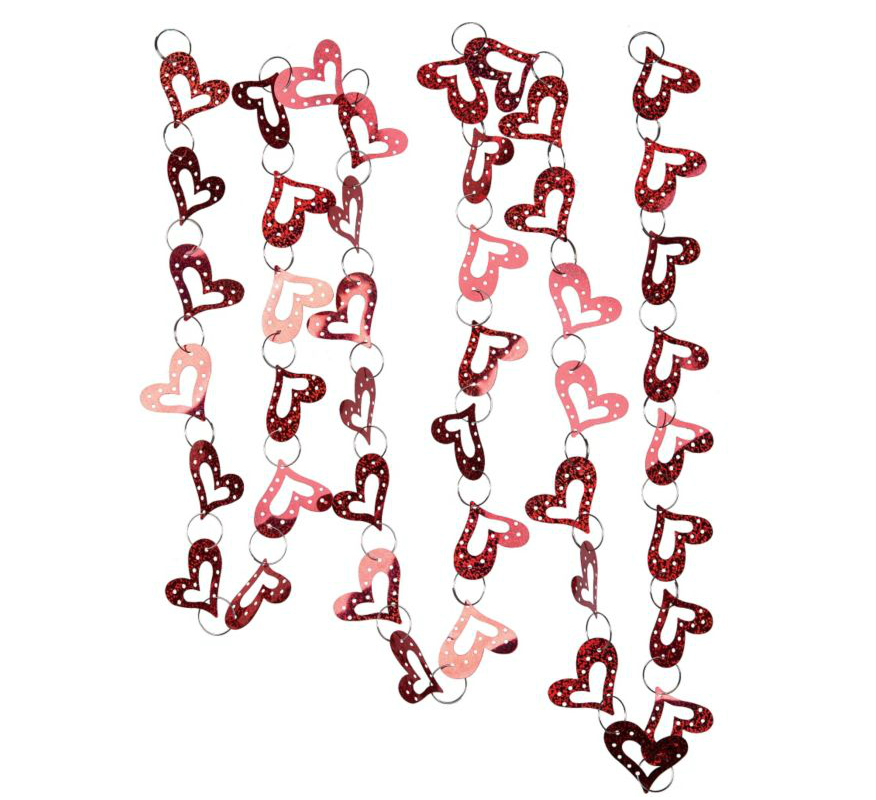 We love garlands! And it is not only because they are easy to be mounted or placed wherever you want. We admire them because they remind us of something special, they somehow recall the feeling of another winter holiday which tradition includes the usage of garlands a lot. This is Christmas. When seeing the garlands on February 14th you immediately recall those pleasant, warm and cozy feelings that you have at your lovely home around Christmas Eve. In the visual example above you will see a string of holographic heart cutouts. As you can see, each heart is hollowed at the middle for a more attractive look. All the items are struck together through metal rings.
Valentines Table Decorating Kit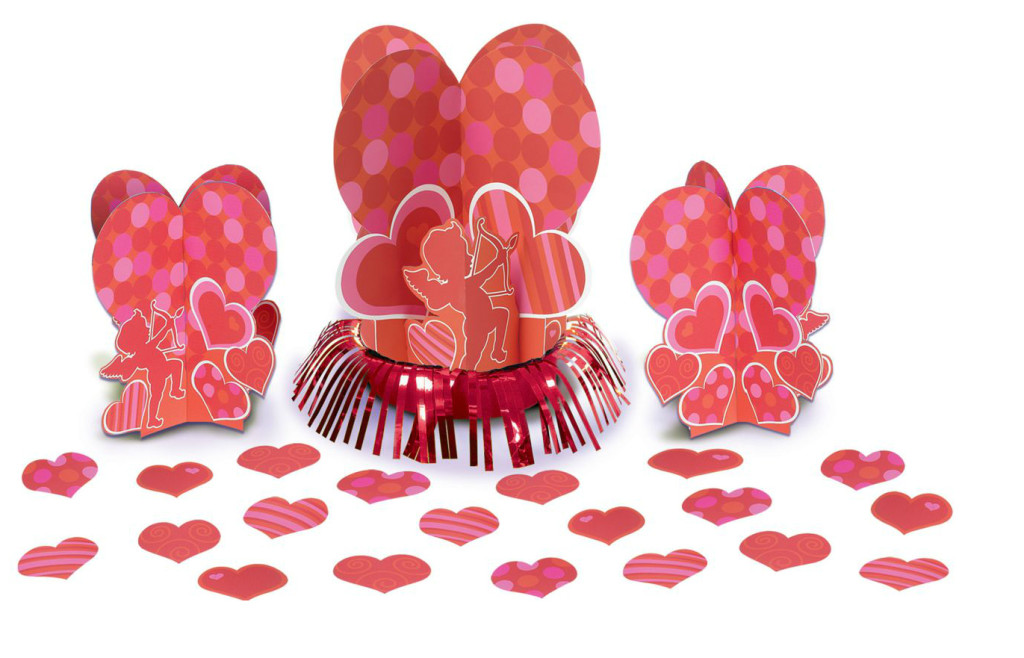 In case you are expecting a dear guest for Valentine's evening, you'd better think about the table setting. The example we have shown will surely impress your guest. This is actually a centerpiece with a lot of surrounding elements. The main and biggest part features a polka dotted 3D heart with illustrated cupid. The satellite elements represent the main item but in smaller size, while the smallest pieces are love hearts that can be scattered around the table for a romantic look.
Pink Heart Honeycomb Ball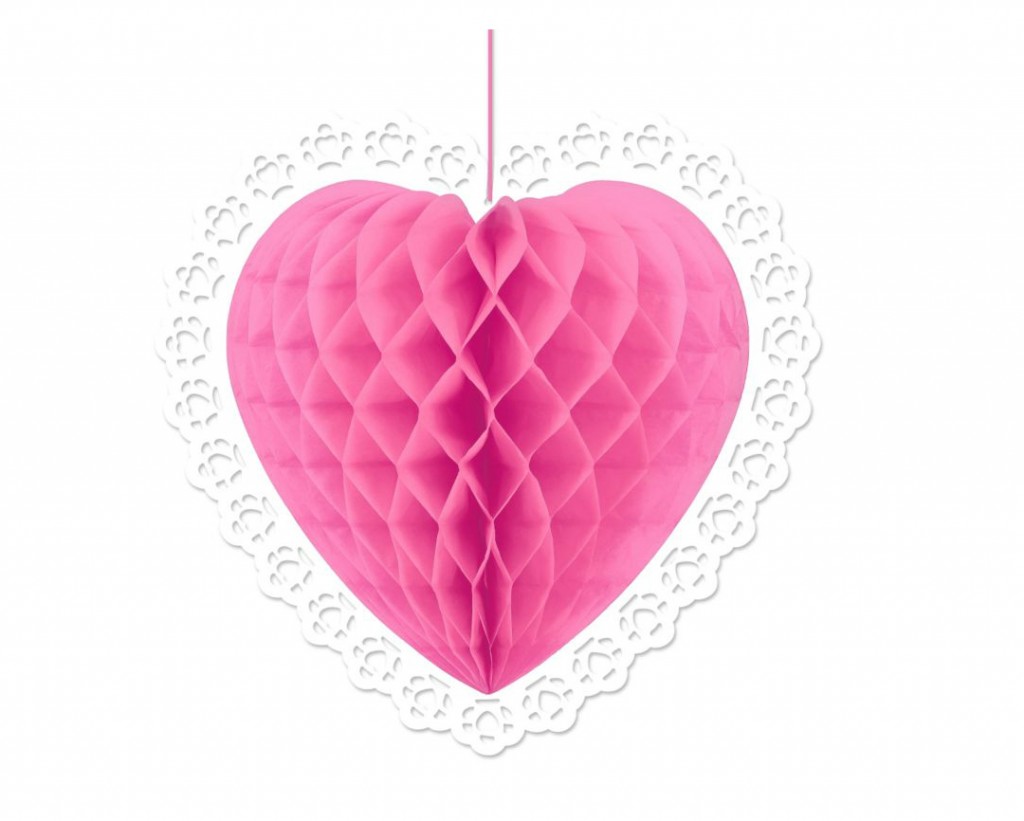 What a better way to express your love than displaying a heart inside your home? These interesting 3d hearts are very impressive, we must admit. This is actually a folded honeycomb design and a white scalloped paper trim. For easy application, there should be an attached looped. As a proper place we suggest that it will go very well with the rest of your interior if you hang it from the ceiling or place it at the doorway.
Valentines Day Paper Lanterns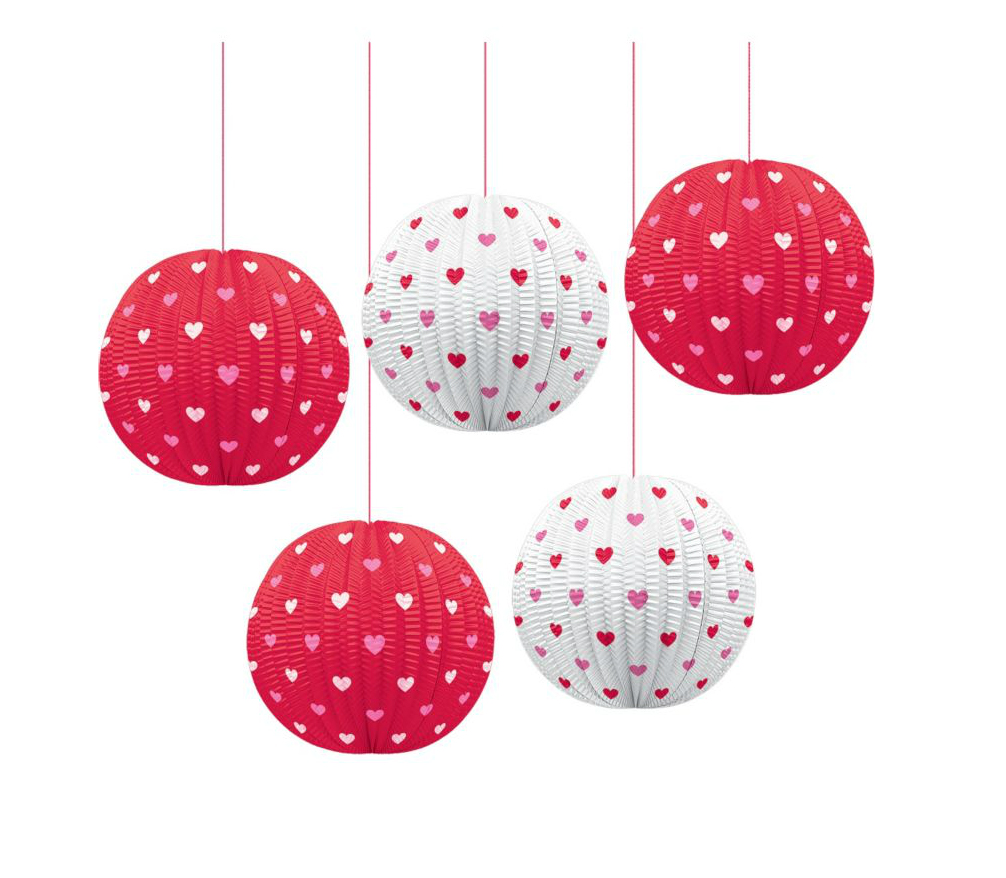 You can cheer up the interior of the room where you are planning to celebrate the holiday with such kind of Valentine's Day lanterns. The best colors for the purpose are white and red with different variations of combinations between them. Be sure that your sweetie will enjoy them and of course, this will reflect in a better relation with you.
Valentines Day Heart Door Curtain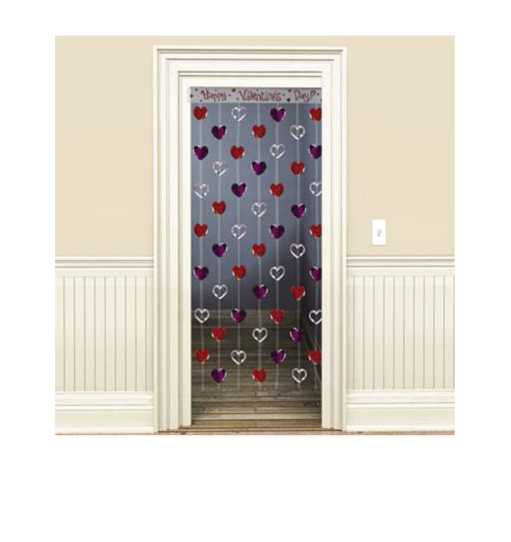 Imagine that all the hearts caress your body and soul everytime when you pass through the door. This lovely strings can be added in every home and their sweet silver, purple and red foil hearts will cheer every occupant up. As a finish to the beautiful decoration you can place such kind of headline that says "Happy Valentine's Day". Now you can have a drink and sit back and enjoy the atmosphere.
Valentines Day Decorating Kit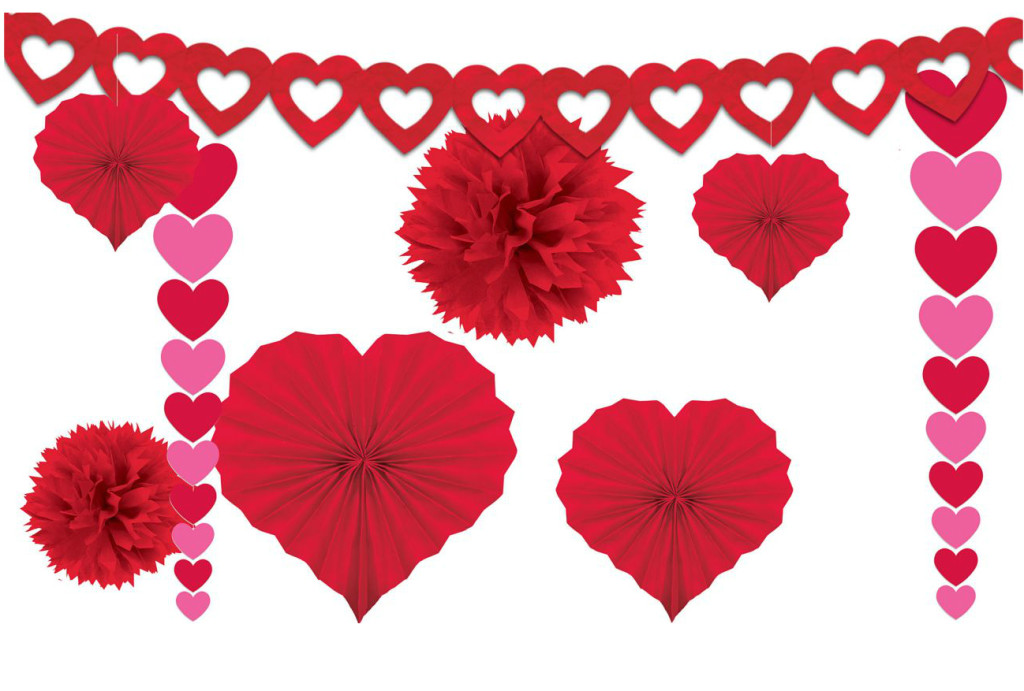 If you get such kind of Valentine's Day set you will be able to transform a room in a synchronized design elements since all the items in the kit represent one same concept. The colors used for the holiday decoration should be traditional – red and pink. We suggest that you stick to the traditional hues because they are passionate and create a fantastic atmosphere when it is up to arrange a romantic and sexy interior. Now,, back to the kit – when opening it you will find that it is so fluffy that you will immediately fall in love with it.
Heart Print Latex Balloons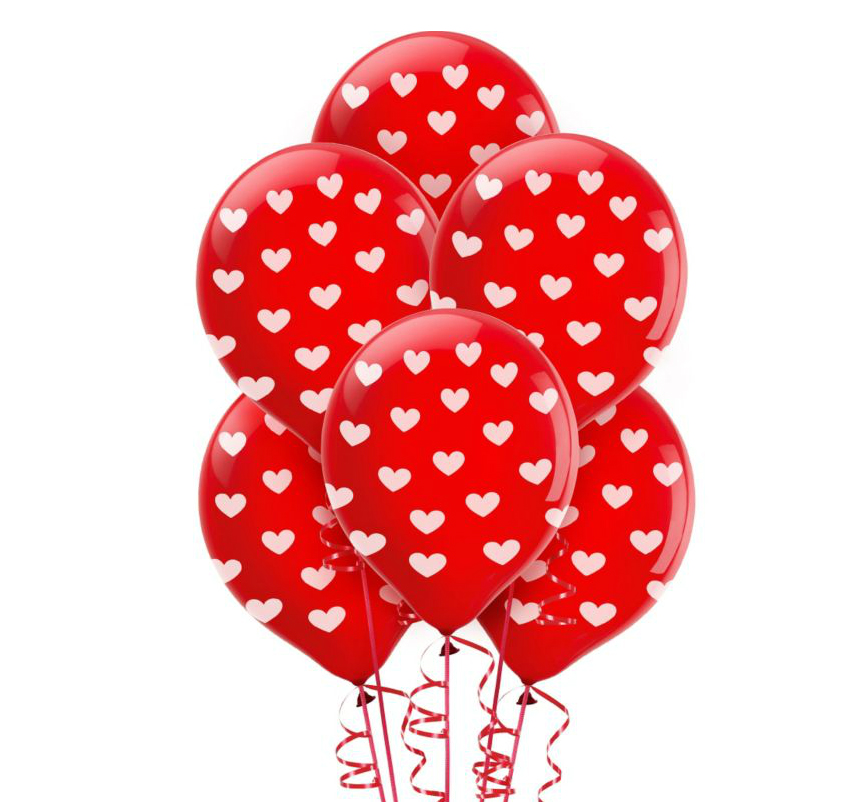 Balloons make a great fun in holiday interiors. These particular balloons are made of helium quality latex and have a white heart patterns at the top surface. It doesn't;t matter you plan to celebrate a romantic evening, an anniversary or a night on your own with a glass of wine. The good thing about these items is that they are attention grabbers. Place them in your room and you will see what will be the first impression of your guest when he or she sees them.
Foil Striped Heart Valentines Day Balloon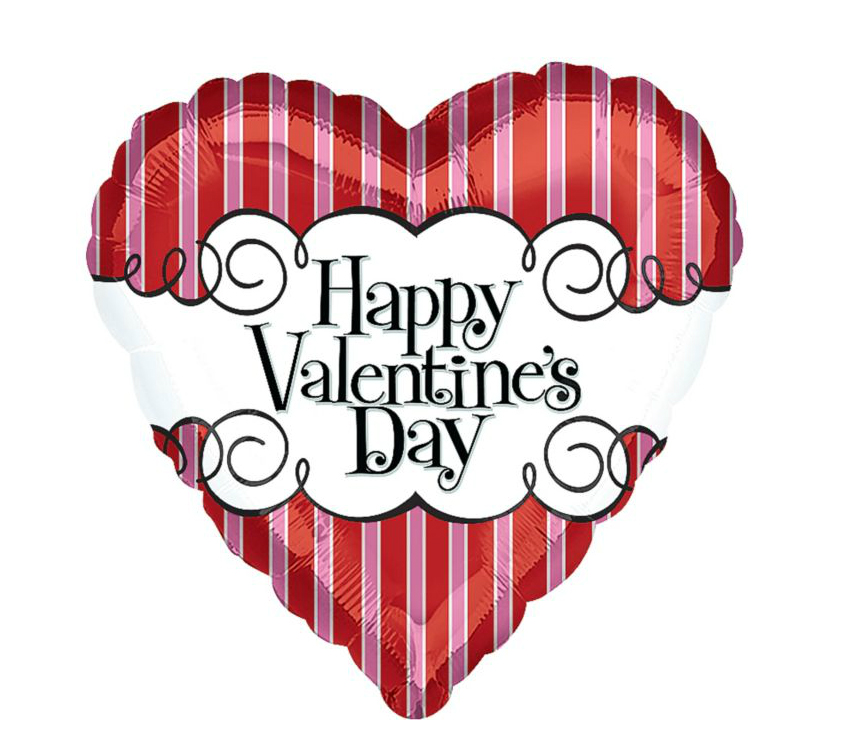 This gorgeous Valentine's heart is as sweet as candy! It is actually a foil striped heart balloon that can be the perfect addition to the holiday decor at your home. It is a great and easy way to welcome your love and wish him a pleasant, unique and memorable time in the love relationship that you have.
Moustache Heart Balloon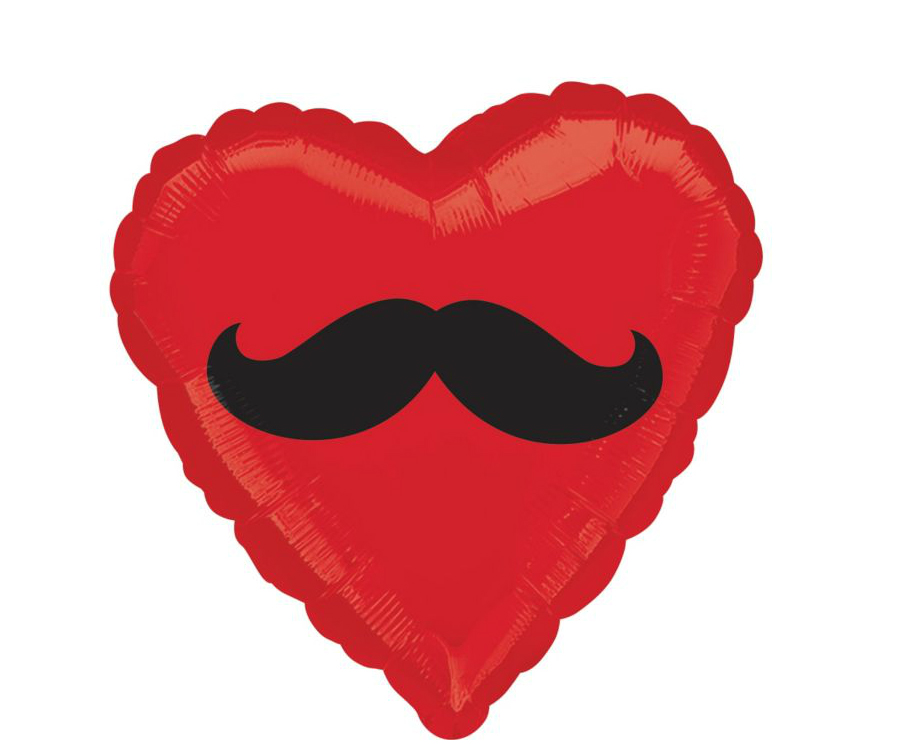 The moustache theme is really trendy these days. It made a breakthrough and is one of our top ideas for any kind of party. Having such kind of balloon reveals the true nature of your soul that needs laugh, joy and happiness. It shows that you are a funny person that likes the crazy things in our world.
Valentines Day Gift Tray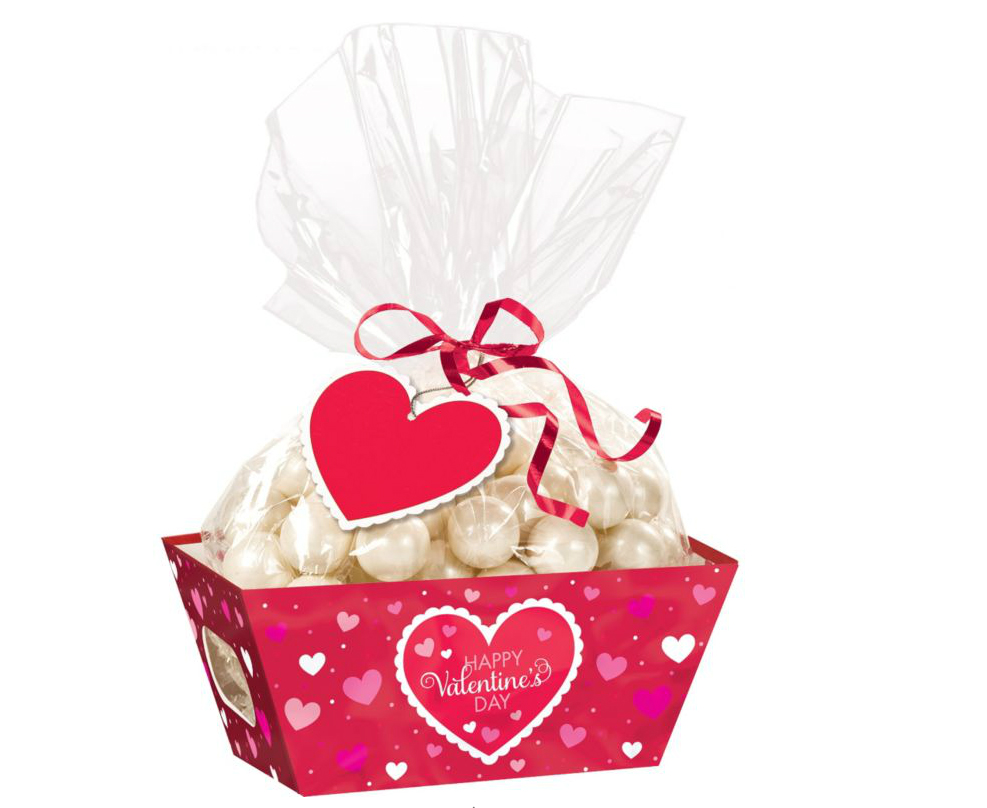 Is there a person in the world that doesn't love treats? We bet that this is a really small percentage of the humankind. You should not only pay attention to the sweets you choose but also to the package that you make. It should look festive and in order to get that appearance, you need to use the traditional red colors. The cardboards with the romantic writing is an item that you should be able to find at your local crafts store. Once you find such, you need a cellophane to pack the treats. You can place everything inside – treats, sweets, cookies, candies, etc. To finish the composition, the ribbon is a must!
Red Hearts Favor Boxes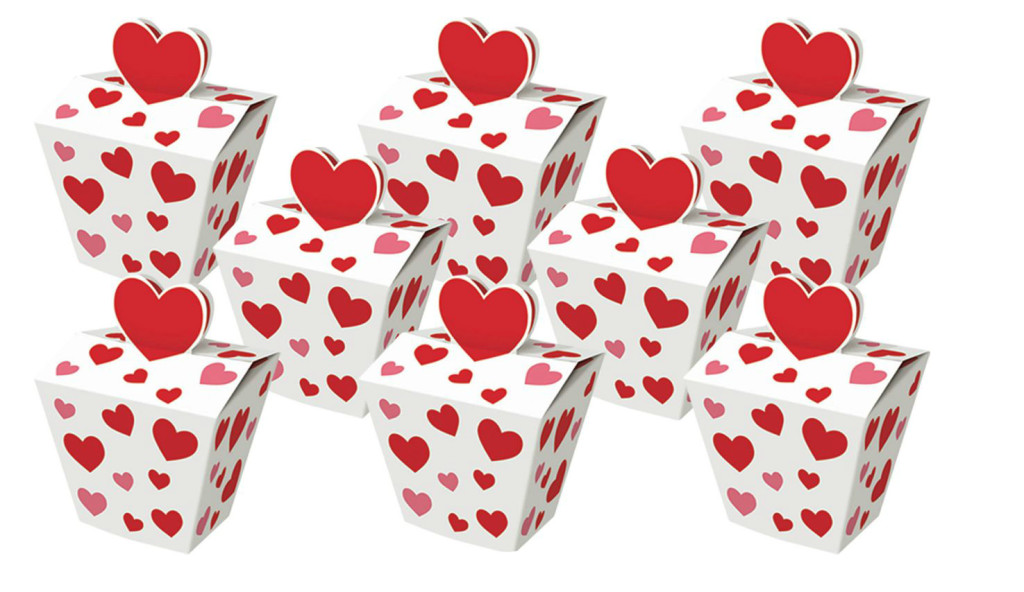 And now we continue the idea from above with the lovely packed treats. This time the hearts are a little bit more than in the first type of package. However, they are the perfect holiday decor for any kind of surface in your Valentine's day prepared home.