When December comes we usually fitness a real parade of lights that decorate ours and our neighbors homes. Such kind of festive look has always been inspiring us for preparing the Christmas decoration since it creates sincere feelings and holiday mood in our souls. One can find string lights in outdoors in the branches of the trees that has been so neatly prepared for the holiday or wrapped around a lamppost.
Of course, string lights can be also used inside where they create a magical atmosphere and everything looks good under the soft glow. Some people doesn't remove the decoration once the holiday is over and leave their lights even till the end of January. Here you will find some great ideas of using Christmas lamps in the interior in a way that can not be only used as a holiday decoration.
Do you know how to achieve such a focal point? Add string lights to the wall and connect the art collage and the home office desk. Now you have a clue.
Hang the string lights over a mounted cage light and wrap the rest of the lights around a vintage wooden ladder. And in case you want to keep the decoration after Christmas, keep the lamps' color simple using only one palette. Blue is a perfect one.
Here you can find a totally contemporary decorative idea that impresses and adds a stylish touch to modern interiors. String lamps around a mirror that leans against a wall.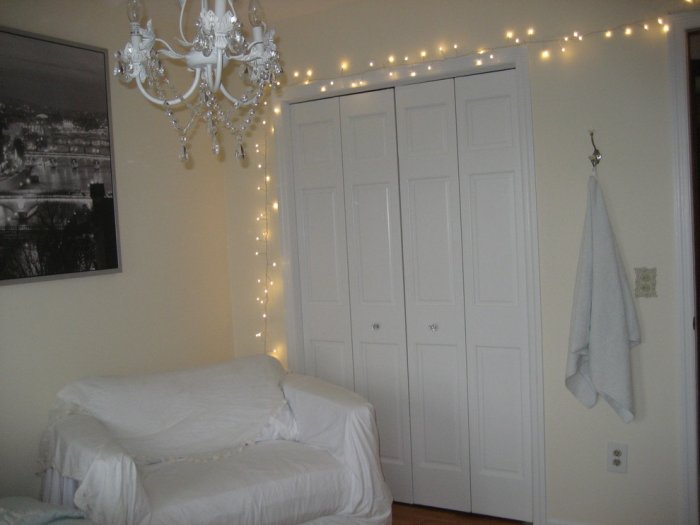 Having lights above the bedroom closet has a specific charm. Of course, you should be very precise in placing the decoration since a wrong move can get you the wrong impression in the room. For example, you can easily achieve a teen look instead of a modern and elegant one.
Well, this is not the typical Christmas decoration but the globe lights are an amazing creative and impressive item for sure.
If you have a pergola or an outdoor area with an archway of vines, you should definitely think about string lights. They are able to add an enchanted vibe to the space. You will best feel the power of the decoration at night.
Do you feel that this area has a party outlook. Yes, we must admit that this is a little bit far away from the typical Christmas mood, but it is also an option.
Think about it! Would you need candles if you posses such kind of a strand of string lights in the very center of the tablescape? Their function is to cast a warm glow in the atmosphere and add a soft, intimate feel during the holidays and after that.
And our last examples shows this beautiful combination of black and white string lights that can be practically used all the year around.