Be the Hostess With the Mostess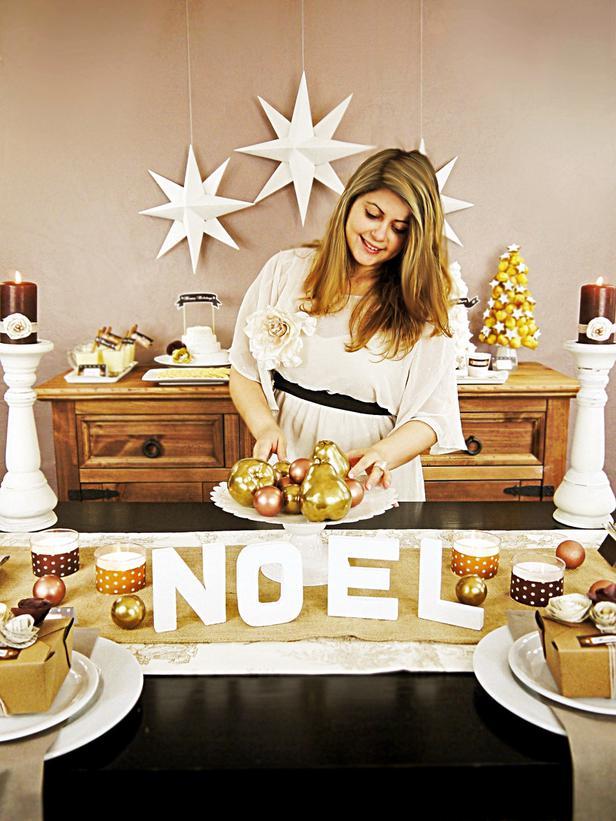 Being the most amazing hostess for Christmas means that you add a personal touch to the holiday table setting. It is all about the food, the secrete recipes, the arrangement of the decor, etc. Follow us in our journey to the depths of the little tricks that can get you the desired atmosphere.
Embellished Invites
First of all, you can easily set the tone for the forthcoming Christmas party. All you need to do is embellish some invitations. Well, it really depends on your personal taste what you are going to use. Everything here will look gorgeous – buttons, yarn, glitter, sequin, etc. For best results, add a hand-crafted "stamp" to a simple printable invitation. You will also need and envelope if you want to achieve just the same look as from the image above.
Natural Tones
Do you know which are the best natural palettes that create an amazing inspiring interiors? These are the beautiful nuances of cinnamon brown, cream hues and touches of gold. You will need to find a piece of upholstery fabric that is approximately the size of the table surface at length. Then, iron in about 1.5 inches off the edges. Another length of burlap is essential as a topper if you want to get a rustic touch.
Framed Menu
Our next idea is just gorgeous! Such kind of framed menus have always been impressing our team. We guarantee that your guests will be delighted. And when we are talking about personalization of the decoration, you need the following idea! Print the blank cards. Then write on your own the menu items and frame the cards with a vintage photo frame.
Seasonal Scented Wreath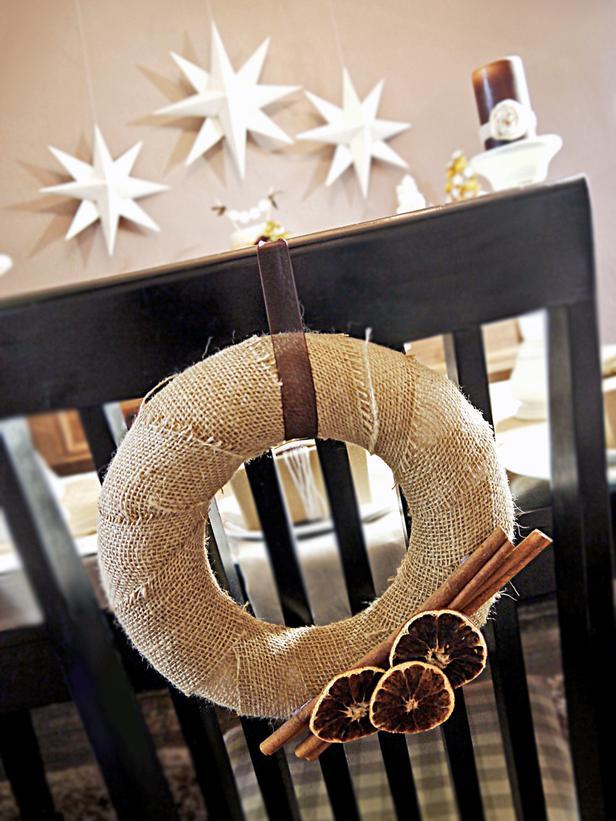 What a hearted welcoming you can arrange for your guests! Once they sit at the table they will instantly enjoy the aroma of spice and seasonal warmth of the scented wreath that you can place at each chair. The natural scents are the perfect finishing to this creative Christmas idea. Cinnamon sticks and dried orange slices can really make your mood.
Sparkly Centerpiece
One of the most important thins on a Christmas table is the centerpiece. It doesn't need to be floral, for sure. For an elegant and stylish look, you can keep the centerpiece simple.
Less is More
And because we mentioned elegance, we should outline how to finish the elegant atmosphere at the holiday table. The rule is – keep it simple. White plates in a neat arrangement with silverware for special occasions and linen napkins is enough for a beautiful night. Of course, such kind of favor boxes topped with paper rosettes is a fascinating way to decorate each guests' place.
Simple Place Cards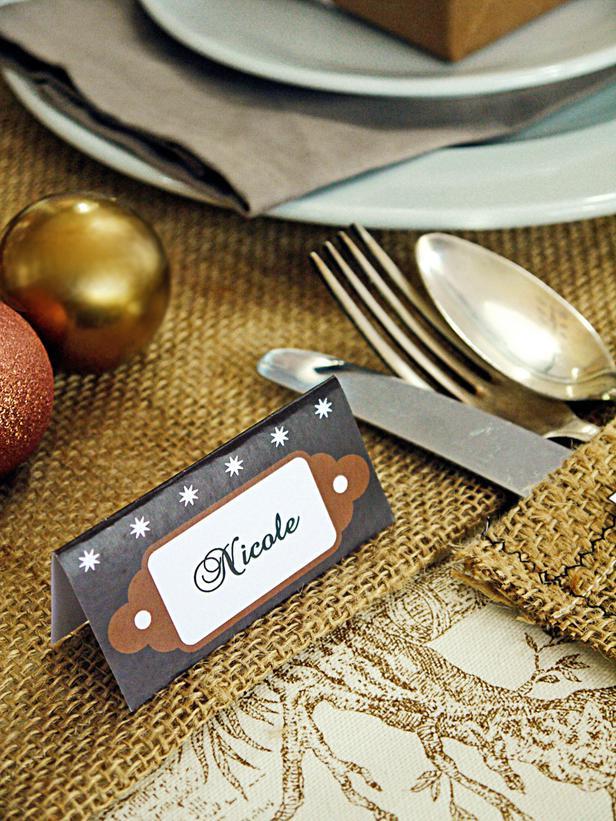 Adding guests' names on a personal card will definitely make them feel special. This will show them your attitude towards your relationship and will surely have a positive effect.
Silverware with Flair
Do you like the festive look of the handmade burlap pouch and the silverware inside it? You can also do such one on your own! Simply sew or may also use fabric glue to attach the two ends of a burlap piece.
Seasonal Scents
Candles are the cherry on the cake! A table without candles is not that cozy and welcoming compared to a tablescape lighted up by the divine sparkling light coming from candles. For a better effect, embellish simple spice-scented candles with different kinds of yarns, fabrics, etc.
Beautiful Buffet
Why don't you think of a special place where you will be able to serve the last course of the meal? Such kind of themed buffet has been inspiring generations to throw parties about the dessert. And it is also another great way to make you Christmas unique. The buffet includes an incredibly delicious selection of sweets and cheeses which is arranged in a way to satisfy even the pickiest palate.
Embellished Cake
Creating an amazing cake doesn't always require master cooking skills. If you know how to prepare and ordinary homemade cake, it's enough. Add a piece of gold-mesh ribbon or paper roses, for example. Another idea is to place hand-glittered party labels as a cake banner.
Sweet Surprise
Such kind of lovely little party cakes can surprise your little guests and make them feel special, just like the grown ups.
Color Your Food
To continue with the colorful arrangement of the holiday table, you should think about the food and the desserts. If your theme is white, why not buy or prepare chocolate truffles, coated in white coconut and brown nuts, like the ones from the image above? Since they deserve a special place at the table, you can organize a buffet top, a pedestal where the truffles will feel comfortable.
Cheese Cake
Who likes cheese cake? We assure you that there may be one of your guests without a sweet tooth. You'd better think for those guests, too. Cheese cakes are perfect for cases like that. When arranging the cake add some crackers and seasonal fruit alongside. This will complete the composition. On the other hand you will achieve a "height" of the buffet when placing a three level cheese cake.
Label Your Dishes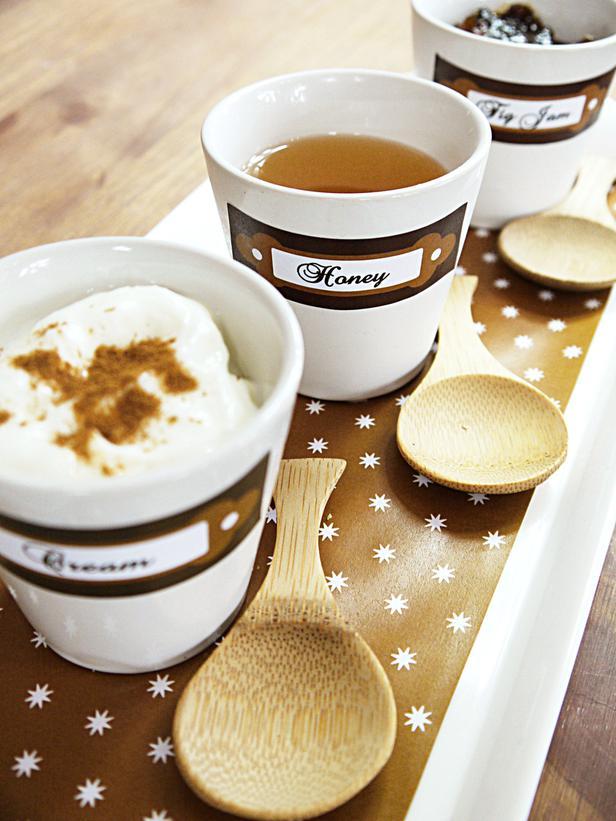 What a gorgeous way to show your professional decorator skills! Serve the sauces in dainty little dishes so that the guest will be able to help themselves when picking the right taste for them.
Holiday Cheers
Raise a toast for the holy night! Serve a non-alcoholic eggnog so that the whole family will be able to enjoy it. Of course, a bottle of your favorite spirit placed nearby could turn out to be very handy.
Edible Decor
For an edible Christmas decoration you can use meringues, small cookies, macarons or cream puffs.
Party Ensemble
This handmade fabric flowers are simply gorgeous! Preparing them is not a hard task but it needs some time for assembling the parts. You can do it yourself by cutting 10 circles from a piece of fabric and stick them together with hot glue. The circle that functions as a base should be with the widest diameter while the last one should be the smallest.
Handmade Gifts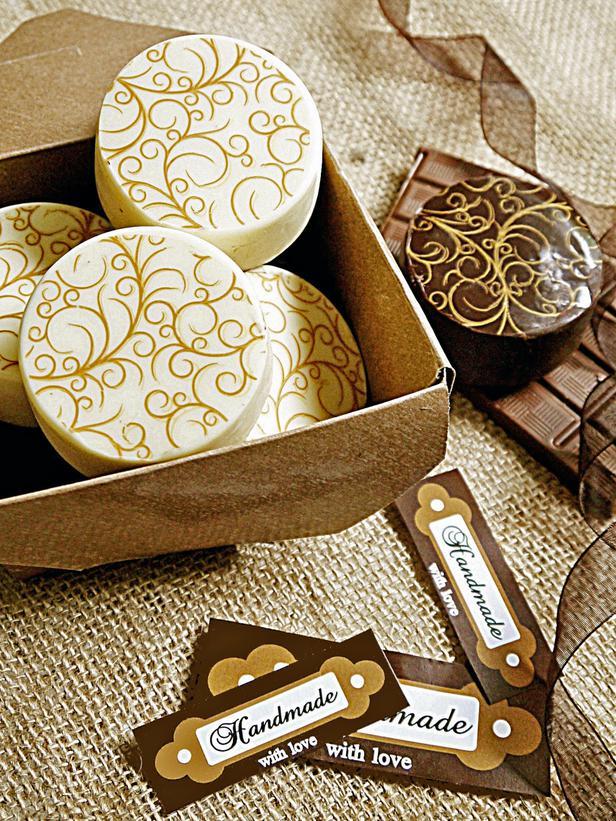 If you don't know what kind of sweets or cookies you should use, stick to the well know taste of Oreos. You can also cover the cookies with melted chocolate in order to strengthen the sweet emotion. This is a sure way to surprise your guests in a positive way.
Pretty Packaging
And the most important thing- the package where the secret treats are hidden! Be create and do your best and the results will be amazing!