Mossy Gift Box Centerpiece
Red ribbons are perfect for creating a festive looking decorative items. This nature-inspired gift box centerpiece grabs the attention immediately once your guests enter your place and spot the delightful Christmas table.
Oh, (Tiny) Christmas Tree
In order to do such kind of tiny Christmas tree on your own, you will need to fill a tea cup of floral foam. Then, add some green clippings. The beautiful small shiny silver dragees can be attached with hot glue.
Green Glistening Centerpiece
A simple and chic centerpiece in its beauty stands as a focal point at the dining room. It is a real modern twist to use bright, sparkling green in a composition of traditional evergreen hues.
Chic Silver Centerpiece
IF you haven't decided yet what is your centerpiece for the holiday table, pay attention to our next idea. Grab a holiday serving dish, some sparkling Christmas ornaments and greenery. In this particular example, we have used eucalyptus branches and glass balls.
Simple, Yet Stunning
A height to the table arrangement can be achieved by placing branches in a glass cylinder. The good part about tree branches is that can last a little bit longer than flowers so you will be able to keep the holiday mood long after Christmas is over.
Warm Up the Table
Candles are one of those elements that make the atmosphere cozy and welcoming. They add ambient light and can be easily adapted to all kind of interior design styles. If you want to achieve a rustic touch, add some pinecones next to the candles and you will get the desired look.
Cheery Christmas Topiaries
Get some foam cones, yarn and buttons and get to work! A little help from your children will be of great advantage since the kids have boundless imagination.
All That Glitters
A fantastic eclectic look can be created when using old candlestick holders. OF course, a little renewal works are essential, like repainting them in a glittering gold hues. Now, you have a splendid tabletop centerpiece.
Colorful and Cheery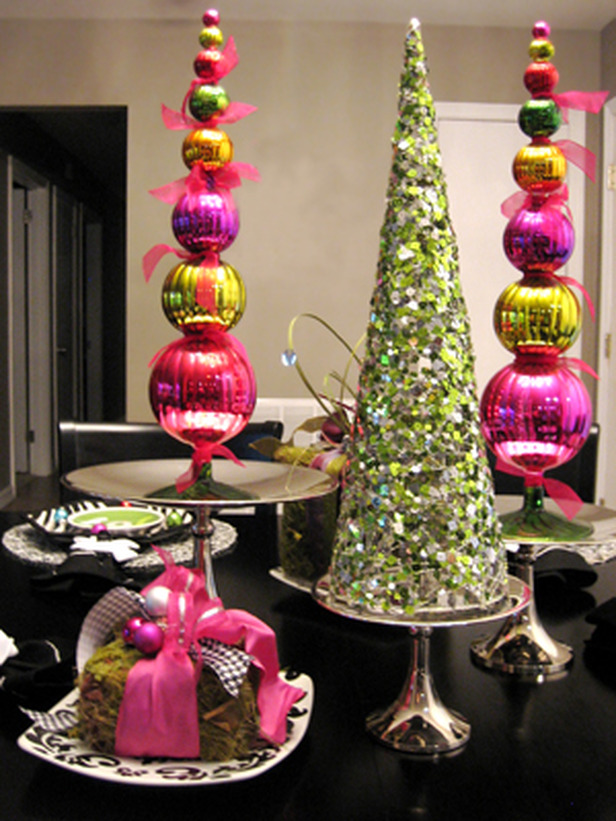 What an elegant approach for a Christmas table arrangement! Add a splash of colors to your tabletop with centerpieces of glittering trees and stacked ornament topiaries. Our hint: When placing several decorative items make sure that you arrange them in different heights. This will add an interesting note and will certainly create a dynamic visual composition.
Herb Centerpiece
All kinds of fresh seasonal herbs will do the trick here. Have in mind that they should be green because you want to achieve a good looking centerpiece. And what is the main advantage of having a herbal centerpiece? Place a candle in the very center and as it burns, the fragnant herbs will fill the air with aroma scents.
A Touch of Glitz
A tasteful and elegant decision is to combine silver and gold ornaments into one coherent visual decorative composition for Christmas Eve. Several rustic accents will contribute to the pleasant atmosphere of an eye-catching table setting.
Mercury-Glass Votives
Another way to get an interesting look at the festive table is to add some stylish metallic elements that will transform the traditional formality. Apply a silver leaf to glass votives and hurricanes.
Traditional Trimmings
All you need to create a warm atmosphere at Christmas night is to use candles, sparkling crystal and glints of silverware. To complete the cozy look of the festive table you can add white blossoms, tall pillars that will make the composition complete. Of course, don't forget the white linen napkins which add a splash of elegance.
Terra Cotta Candleholders
Do you like our idea for creative candleholders? We bet that your guest haven't ever seen such kind of a fresh Christmas idea!
15-Minute Centerpiece
Leave the difficult preparations aside and follow our next easy-to-do idea. Use grapevine wreath form and a glass candleholder. Arrange the element according to your personal taste and place the item in the middle of the table. That 's it!
Dramatic Table Runner
Do you know hot to get a frosty touch? This easy-to-create felt snowflake table runner is a splendid way to do so! You can use rustic elements as toppers and candles and ornaments in order to achieve a holiday accent.
Modern Tabletop Tree
Small artificial or alternative Christmas trees are preferred when it is up to table decorations. It is because of their size that they are able to fit among the other items at the tablescape. Our next idea reveals such kind of tree – an artificial one, that is made with the help of thin wooden rails, small saw, hot glue and white pen. The result is astonishing, as you may see on your own.
Ombre Tabletop Trees
This is another gorgeous way to bring some joy of colors at the tablescape. In case you want to stick to the traditional look, choose solid color items.
Coffee-Filter Christmas Trees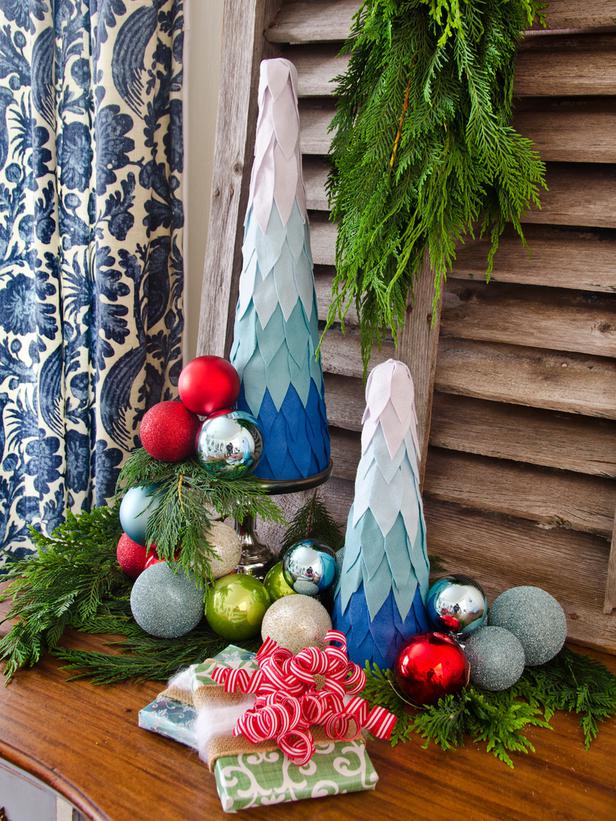 Don't waste the coffee filters! Use them instead! Dip them in fabric dye for an outstanding modern ombre effect!
Cake Plate Ornaments
This is simple and elegant, eye-catching at the same time easy-to-create table centerpiece and it is perfect for last-minute parties! Build a pyramid of glass ball ornaments and you will get a pile of Christmas decorative items that add a sparkling accent on the Christmas table. You can stick the balls together with double-sided tape.