Home Decor
Have you ever thought that you are able to find amazing home decor ideas for less than $20 ? This article will prove that this is true and you can find gorgeous low-cost accessories for your lovely home. All the products has been carefully chosen by our team after a continuous walk around the local markets and shops.
Sketch Trivet, Pot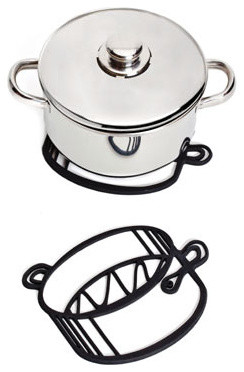 These fantastic and artistic trivets will cheer your guests mood when you are enjoying the dinner. Such kind of sketches are really trendy now, especially in the Swedish products, like the ones you can get from IKEA.
Cloud Coat Hangers, Large
What an amazing way to bring some freshness right into the place where you store your clothes. Use such kind of cloud coat hangers in order to put your smile every time you see them.
Porcelain Hand Jewelry Stand
Do you have a jewel box? Or at least a place where you can store your jewels? In case you do not posses such kind of accessory, the following idea may be the right solution for you! This porcelain hand can be used for storing jewels on it. It is not creepy, it's creative 🙂
Modern Design Polygon Bowl, Red
We have always been admiring creative kitchen accessories because they add a special character to your lifestyle. Look at this fantastic modern bowls! The bright color used inside contrasts with the outer parts, thus reflecting the nature of our contradictory lives.
Grasshopper Stapler
And now, the following idea can be applied right into your office, as well as in your home of course. Place this creative stapler on your desk and all your coworkers will crowd around you in a minute.
Hipster Vintage White Nautical Anchor on Gray Wood Hand Towel
Believe it or not, this is a towel! If you are a person that loves the sea and ocean, you can show your preferences by using such towel in your home.
Room Essentials Wired Cage Accent Lamp, Teal
This elegant blue lamp is the perfect bedroom accessory. Place it on the bedside table and enjoy it soft light at night.
Recycled Sky Planter, Pink, Small by Boskke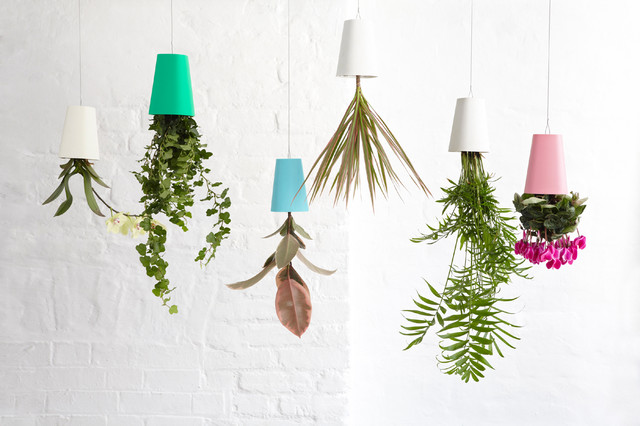 When talking about creativity and casual interior we must outline this very unusual, yet interesting, pendant. Well, it actually looks like a pendant but it is only decorative element containing pots and flowers – everything upside-down.
Perfume Bottle Coin Bank
This may look like a perfume but it is not! You can save your pennies using this creative coin bank.
Agate Bookend
Holding your books on the wooden bookshelf has never looked so gorgeous. Take this idea and apply it immediately at your home. You will thank us later 🙂
The Text of Time Phone Stand
When we first saw this splendid phone stand our team burst in laughter. We laughed because this stand completely reflects our most common position of hands while using our phones. And because we do it almost 90% of the time we are awake, this shows how ridiculous we waste it.
Mr.. & Mrs.. Cocktail Glass Set
The perfect family present. Now, everybody will have his own drink and all the quarrels about stealing the his or her glass with disappear.
Nautical Glasses
This creative party shots are ready to serve the best drinks to their owners and guests. The marine theme of the glasses suggests mixing cocktails keeping the memories of the ocean and unforgettable summer nights at the beach.
Birdie Paper Knife
Nowadays we almost have forgotten the good old letters and we don't receive many in our mail boxes. Just in case you find some there, you can open them with such kind of paper knife.
Love Letters Ceramic Dishes
What a lovely way to serve your food and nuts. These lovely dishes are the perfect accessory for the women with girlish dreams.
Hop Wall Hook
This wall hook will be of great interest for children and all the adults that have something childish in their souls. It looks like rabbit years.
Unzipped Glass Zipper Bag
Such kind of plastic bags are always handy, because you can store whatever you want there – little accessories, jewels, candies, etc.
Rosanna Alphabet Studio Tray
These little monogrammed plates will perfectly go with any kind of rustic, vintage or eclectic home interior design style.
The Good Egg from JFish Designs
If you have a lot of small stuff and you don't know where to place it, you can bet on these little stylish boxes in an egg shape. There are simply adorable!
Peach and Black Geometric Mouse Pad by Think & Ink Studio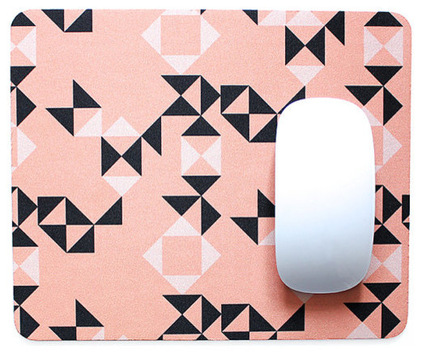 Forget about the ordinary and add some creative atmosphere to your working place or home desk. Using such kind of creative mouse pads provoke your mind and inspirational thoughts will immediately appear!