Decorative Storage
Living in apartment is very practical, no doubt, but when it comes to storing all your things you definitely need a lot of storage options. Of course, you need to find the balance between storages and living areas, because we are sure that you don't want your apartment to become one big wardrobe. Have a look at the following home decorating ideas and you will certainly find your inspiration.
One of the best solutions for apartment living is to place a chest of drawers like the one form the image example. As you can see there are a lot of slots in it, so you will be able to place both your working and home stuff in there.
Most of the apartments are designed with slim hallways. You must know that they can also be efficiently used if you choose the right furniture for them. For example, placing the 'Shoes Books And A Bike' storage unit by Thomas Walde is a great way to add a stylish and practical character to the hallway. Items can be arranged vertically so that you are not wasting any free space. Place there your shoes, umbrellas, books or even a bike.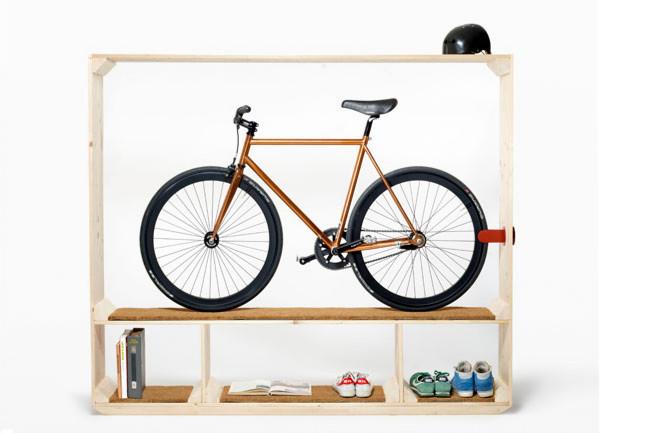 Wall hooks are extremely handy when we are talking about saving space and adding functional equipment in our apartments. They are the best solution for handing coats, bags, jackets, hats, etc. And in case you want to make your hallway look more artistic, you can choose a creative shape for the hooks.
Emma Barnett is a stylist whose apartment looks fascinating, every time she rearrange something in it. She has her own collection of storage units that form a modular flexi system of cabinets. Each time she transforms the shape of the system, her bedroom shines in new appearance.
Achieving the same effect is not something hard. The only things you need is wooden boxes (old drawers do a fantastic job), some vintage decorative elements that can easily be found in antique shops, some personal belongings, paintings, books, etc.
The most important is to have the possibility to move the separate objects the way you want. This gives you the opportunity the create unique shapes according to your bedroom style.
Bjørn Jørund Blikstad created this splendid modern "Imeuble" construction that functions as a shelved decorative wall element. Here comes the contemporary approach to the home interior design. Placing such kind of modern art can substitute the usual hanging of pictures and other artwork. But be careful. Everything depends on the style of the interior design in your apartment. If it has classic or post-modern appearance, for example, you'd better use artwork. In case your style is contemporary, minimalist eclectic or futuristic, you can confidently place such kind of decorative element in it. And it will become a focal point in the room where it is going to be placed – just leave it the only element on the wall.
The cheerful design of the 'Trip' range by Seletti is a colorful storage wardrobe that can perfectly fit any kind of room in bright colors. It suits very well in the bedroom with different types of furniture and it adds a playful tinge in the interior.
The thing that most of us do is to get back home, close the door, lock it and leave the home and car keys randomly somewhere in the apartment. The same thing happens with our wallets, mobile phones and all the stuff we usually cary with ourselves when we are out. Have you ever thought how can you stop creating this mess? The solution is very simple and the 'Frostray' designs from Upon A Fold give us a clue. Storage trays is the answer that will keep our homes clear from all the clutter.
The biggest problems with storage in small apartments is that usually one functional area, like the living room, should also be a bedroom and home office. In this case, the space for different stuff is drastically reduced. Modular shelving systems can be really handy in these cases. They may not only be used for storing objects, but they also can be a mini-bar or a study area. Such kind of flexible system is the 'String' system created by Great Dane.
This idea is simply astonishing. The decorative cake can be easily used as storage for kitchen supplies. This idea becomes handy when you live in a small rental unit, for example. And because in such kind of properties the kitchen areas are small you often hardly can place anything anywhere. With this creative and interesting storage are you will keep all your accessories hidden and at hand at the same time. Orla Kiely collection from Lark or Citta Design is the creative phenomenon we've just discussed.
What is the first thing that your guest will spot when entering your lovely small apartment? This is the coat rack that they are probably going to use. And because you will certainly want to make a good impression, you'd better choose a well designed and creative shape for it. Koskela developed the 'Twiggy' design for the coat rack that you can see on the image. The construction has the possibility to cope with heavy loads of clothes, so don't bother using it when you throw a party, for example. It is easy to be maintained and it will save a lot of space in your home.