From our previous posts we have written about how beautiful accent colors that are in cool neutral hues make one modern interior to look alive. The great example for this is this gorgeous three-level house in Israel but in our case, the stylish interior accents are in glorious blue and reinvigorating yellow. Even the house is on three level and from the photos, it looks very spacious, it occupies only 135 square meters. As in this house live four-member family – young couple and their two kids, for each floor are designed very compact and space-conscious solutions. Responsible people for this inviting stylish hub are architects Anat Stoles and Spring Harmoni.
Abstract painting and book decorations
We always have been fans of the trendy renovation projects, created in Middle East. We will represent today another one that is the perfect combination of aesthetic radiance and ergonomic design. At the entrance, we are finding 55 square meters space where the kitchen is located as well as the living room and an astonishing dining area that is outlined with an area rug. In the living area, a lovely soft blue couch stands out, completed by two floating coffee tables and a wooden built-in bookcase placed in the corner. Lively blue chairs in the dining area add a bright refreshment of the space. In the whole living area the cool color scheme is accentuated via daring yellow throw pillows and bright blue vases.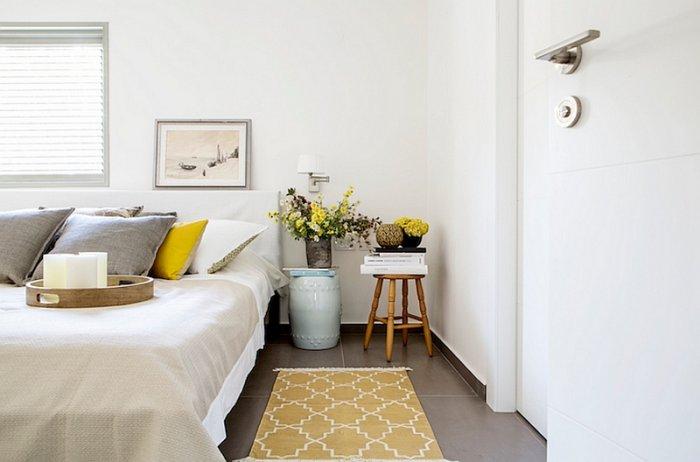 Eclectic bedroom and traditional decorations
Then we go to the second level where are placed renovated master bedroom and modern bathroom along with two bedrooms for the children. To keep the tranquility and relaxation of the area, the color scheme is very neutral and simple. On this level renovations are kept at their very minimum and only old décor and accessories were changed with new ones. The last stop from our project view is the top floor, where is located the guest room with a bath. With this final part of this fabulous house we complete this creative residence. The house is a synonym of a creativeness, taste and cheerfulness at every place we look.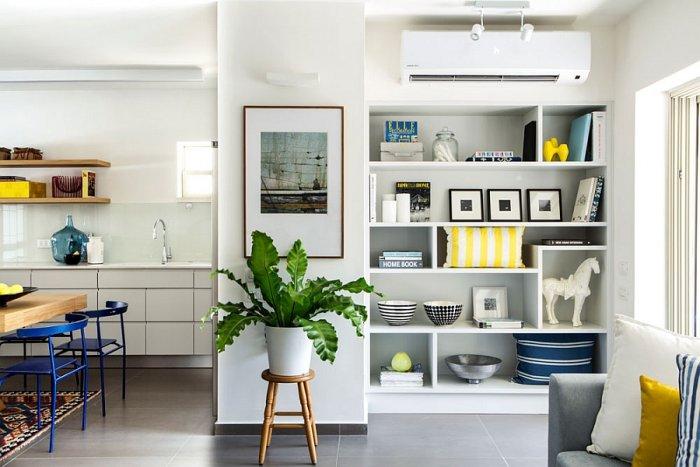 Eclectic corner with white shelves
Modern pendants with dimmed light
Modern lighting system one of the walls
Modern bathroom sink in white
Minimalist small bathroom
Minimalist bathroom in white
Ecletic living room and stairs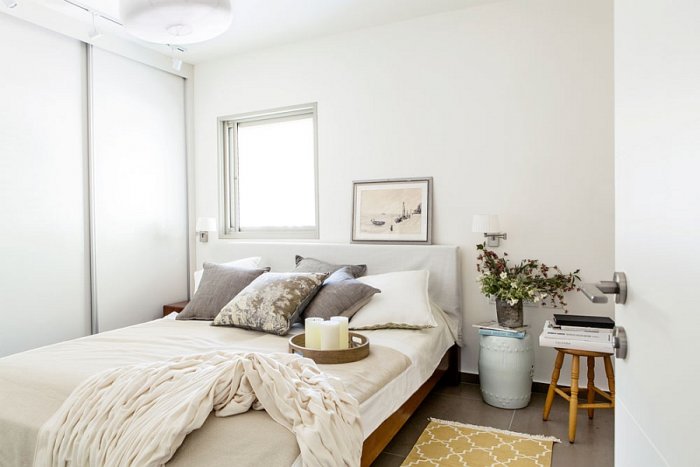 Eclectic bedroom with simple interior in white
Eclectic room and interesting decorations
Eclectic living room with minimalist coffee tables
Eclectic dining room and graphic rug
Eclectic dining room with modern table
Modern pendants and vintage chairs
Eclectic decorations on wooden shelves
Eclectic decorations a modern house in Israel