Sometimes we keep the bathroom updates with low priority and most of the times we start with more visible rooms so to make our home habitable. But does anyone realize how one beautiful, modern and functional bathroom can change our life? Just imagine how the rushed mornings become a bit more smooth and the end of the day more relaxed. So show your bathroom some of your love and take a look on these 21 ideas of easy updates and major makeovers to inspire you.
Chic bathroom in modern design
1. Just one of this brave statement mirror with driftwood design, could completely change the look of your bathroom.
2. When you do not have tiled walls and you want a fresh bath look, a great idea would be to paint the lower half of the walls in stylish rich color.
3. Another must-do idea is to invest in additional or new storage in the same color scheme that will keep the towels and toiletries out of the sight.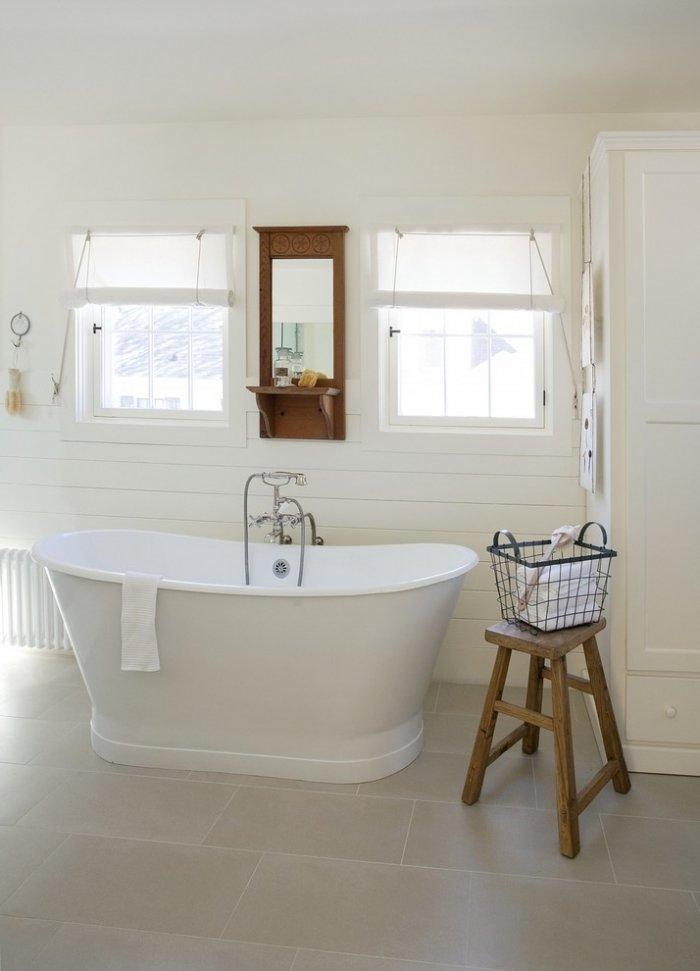 Chic bathroom in white
4. Big change: choose big shower instead of Fargo tub. It will be a best decision for the people that rarely soak. A bonus for this idea is that one open or glass shower can make a bath to look bigger.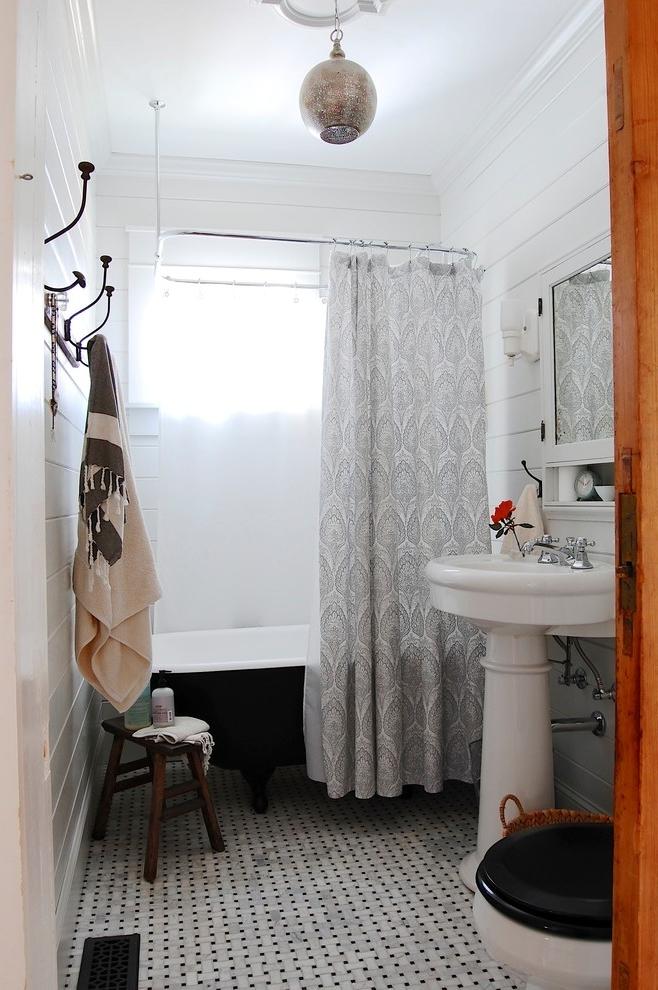 Chic bathroom with interesting curtain for the bathtub
5. Big change: why not try a fresh modern sink with a muted palette and clear lighting in crisp and clean style.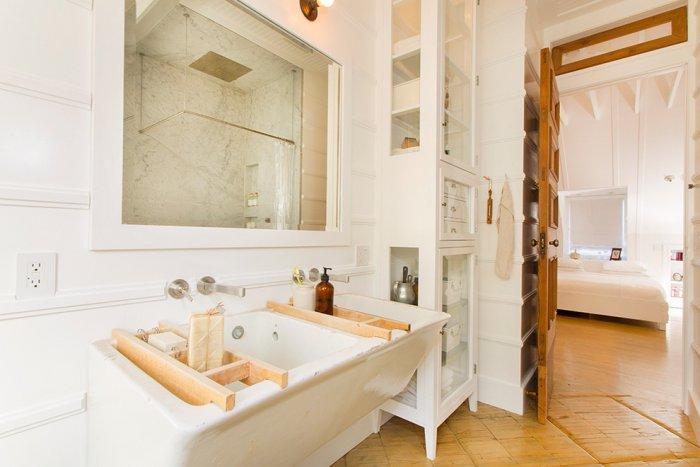 Chic bathroom in white
6. Big change: If you love to soak a freestanding tub is the best solution for you. A shower-combo is old fashioned; a luxurious soaking experience can be felt only with separate tub.
7. Remove your bath mat. Use a real rug to feel great underfoot. You're the best choice will be a small rug that can be washed occasionally.
8. Add wood stump stool along the tub, for more warmth and organic texture and on the functional side you can use it to put your teacup or book, while you are soaking.
Chic bathroom with creative knitting frame
9. Big change: Write your favorite quote with mosaic tiles. Why not to have permanently a quote that inspires you on the wall? Very good combination is white letters on a black background.
Chic bathroom and feminine decorations
10. Try an exclusive pendant lamp. The switching from standard ceiling lamp to something more distinctive is a small change but it has a very big impact. The handmade Egyptian light on this photo casts a lovely pattern on the surrounding walls when is lit.
11. Swing hooks and fringed towels. These small details really make a difference. You can try to hang some extra-large wall hooks and hang-up old towels for the thinner ones.
Chic bathroom and rustic stool
12. Add lavish curtains all over the tub. You don't need any more boring shower curtains; instead try a real linen or sheer cotton voile. The best option is to go to the bathroom section and choose the curtains that you love at the first sight. To surround shower you will curtains in waterproof liner otherwise if you have a showerless tub choose just the one that give you more privacy.
13. Join vintage apothecary cabinets for storage. If you don't have enough storage you can add glass-front cabinets for one modish supplement. These days there are reproductions of these popular cabinets, but if you insist on the original ones or on lower price, you can try to find them on the antiques shop or on Ebay.
Chic bathroom and vintage details
14. Big change: Try a sophisticated white and black scheme. A cool look can be achieved when you pair a white subway tiles with charcoal-gray or black grout. It will be a great idea to add gray tile floors and black accents on the mirror frames and the shower. Then we are ready to bring some glamour, for that we have a shiny brass sink and gorgeous shower fittings.
Chic bathroom in black and white
15. Big change: Choose eclectic tiled floors. Don't you bore yourself with these hex tiles? Now is the time to add something more colorful as electric look with patterned tiles, which actually are coordinated but not matched one other. On the photo we see how their handmade feel is more enhanced thanks to the amazing textured plaster walls against moisture.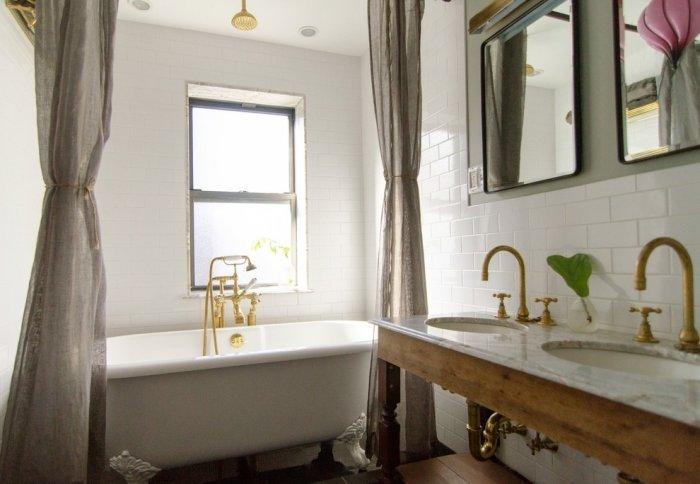 Chic bathroom and marble surface on the top
16. As an accent use colorful tile. If you don't want to cover an entire wall or floor, you can consider having just one section in colorful tile. As you may see from the photo, the pattern really stands out from the background.
17. Add wire and wood elements. For crispness add wire and for more warmth – wood (the older the better). They will give your bath a perfect balance. You will probably need a wooden shelf for keeping soaps closer to the tub and wire basket for the stash clean towels.
18. Put in some art or plants. If you think that your bath needs more warmth or uniqueness a great idea would be to add green foliage, soft sculptures and framed prints. You could probably find a lot of appropriate things in your some of the other rooms.
Chic bathroom and elegant design and colorful floor
19. Utilize caddies for sink to put in beautiful soaps. Very helpful accessories are these small wooden caddies. When you have them, the frequently used cosmetic will be at hand and there won't be any need to clutter the edge of the sink with a bunch of bottles.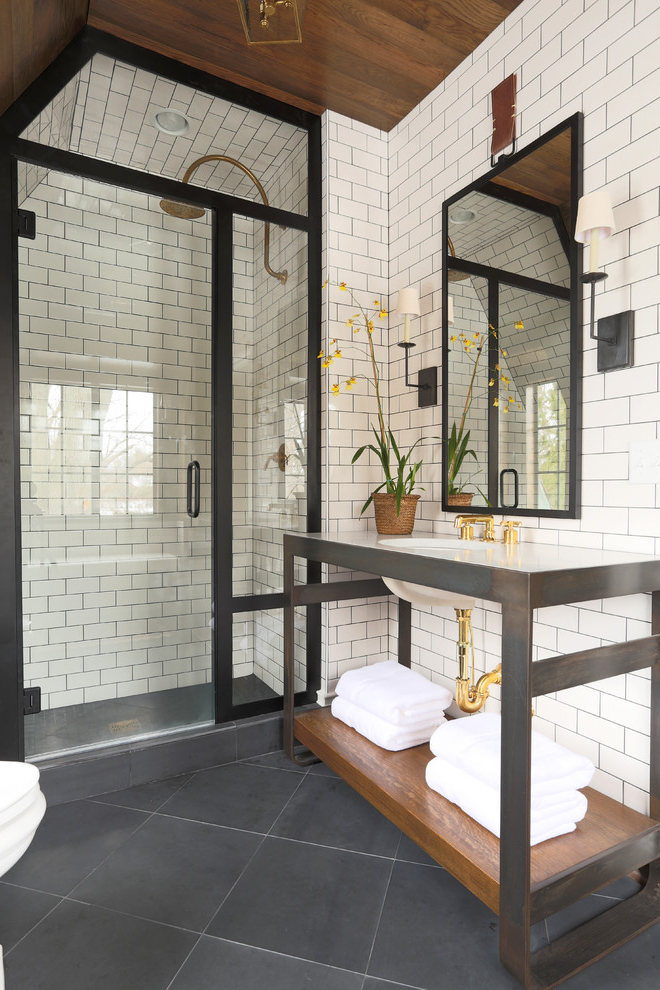 Chic bathroom and white brick tiles
20. Swing shelving under console sink. A very elegant solution could be the wall-mounted sink but it doesn't give more in the way of storage. An easy way to resolve this problem is to add a shelf underneath the sink. It will be a great place where you could store fresh and clean towels and it can hide not very good looking pipes.
21. Big change: Bet on wood plank wall. It doesn't matter where you live, if you want to transform your bath in a rustic appeal, you can add reclaimed wood planks to the walls in the bathroom. If this is your choice be sure first to make a research or to talk with a pro, which woods can withstand to damp conditions.
Chic bathroom and colorful accents