Fresh flowers that decorate our homes are always a pleasant and relaxing view for our eyes. In the past the conservative thinking of all the people around the world would never let flowers outside the traditional pots in the middle of the table. Today interior designers and decorating professionals can suggest many different ideas that can transform your living area into a splendid flower paradise.
And now, we would like to share these gorgeous 22 original ways to decorate your home with flowers.
In glass vesels full of water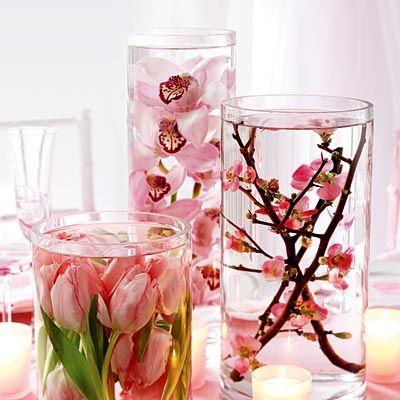 Flowers on a table
Floating flowers are a truly beautiful view. The idea that we have displayed here is particularly suitable for summer because it involves fresh blossomed out branches. If you have decided to decorate your home or sweet corner with this idea have in mind that all the flowers should be in one color. The shortcoming of this idea is that the flowers can hardly remain fresh more than a few hours but the effect is stunning!
In jars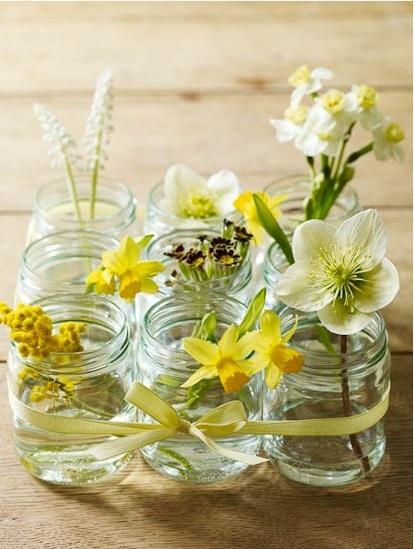 Yellow flowers of a beautiful home
We are going to show you a brilliant idea for the old and unused jars and little bottles. They can turn into fantastic vases. We prefer smaller sizes where you can place two or three blades of flowers or branches. Arrange the jars or bottles according your personal taste and tie them together with a satin ribbon in a color that matches the flower tones.
In bows for fruits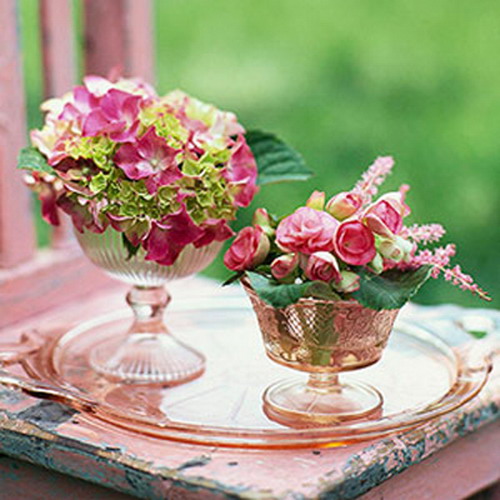 Beautiful flowers a small plate
These vessel can be used with another purpose, not only for storing fruits. If they are made of glass or porcelain, you can fill them with water and put directly flowers in them. And if they are hemstitch, place inside them a transparent vessel where you can place the flowers. This is a beautiful idea that can be applied on small decorative tables and buffets.
Inside old bulbs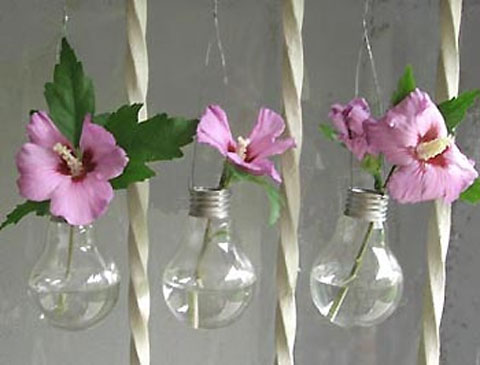 Small purple flowers decorative idea
This is a creative and splendid idea! Keep your old bulbs and clear them inside (you'd better ask a man do it). After that you can make two holes in the iron part where you should run a wire, brass or other tough thread. Fill the bulbs with water, place a beautiful blade of flowers and hang them somewhere where you feel they stand out most.
Vessel wrapped with fabric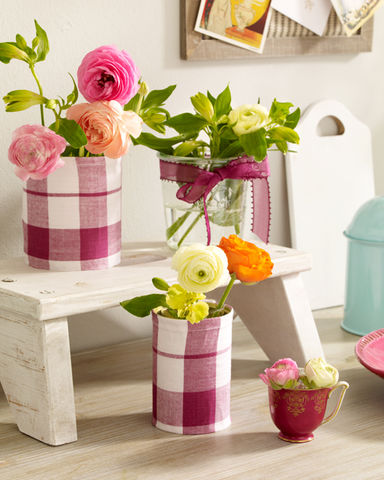 Fresh flowers with paper
Old table covers and curtains can do a great job for this purpose. Use them and you can turn every old and unused bucket or box into an effective vase.
In a paperbag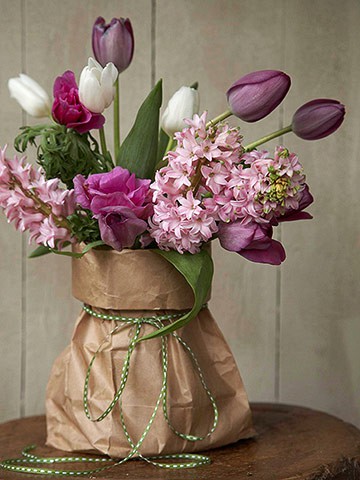 Fresh tulips of a traditional vase
The bag can be either monocolored or multicolors – it depends on your preferences. Put in it a jar full of water and tie it around with a suitable ribbon or thread. Now, you can add some fresh flowers and voila!
In little candleholders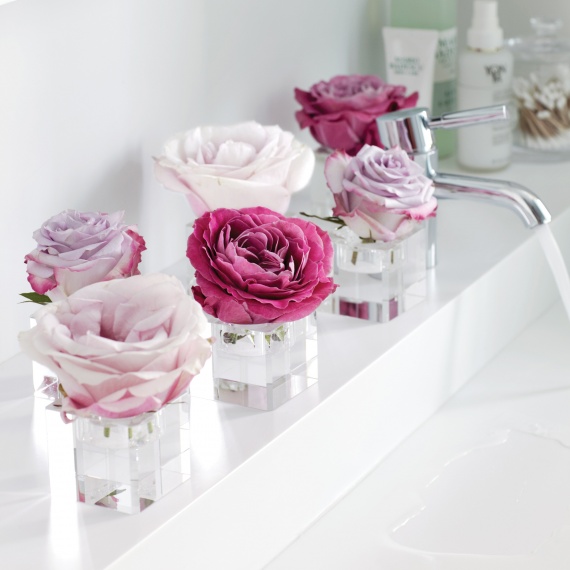 Romantic roses on a bathroom shelf
Low-in-height candleholders are not only for candles. They can be used as smartly little vases where a tufty little flower will find its tight place.
In a knit basket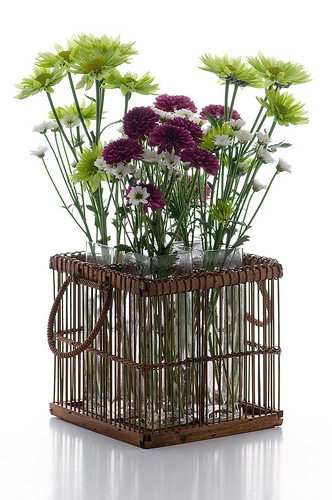 Spring flowers in the living room
Baskets are a great storage option for all the little jars and bottles that we talked about above. Of course, you can always place whatever vessel you like to keep your plants there.
Nature inspiration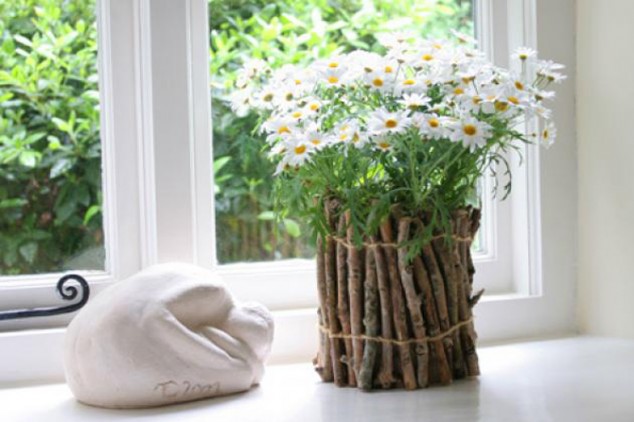 Fresh lawn flowers
All you need are few branches that you need to cut in order to line them in similar size. Arrange them together around a small jar and tie them together using rope, wire or other kind of thread. You can also use some glue in order to make the connections stronger.
In a glass bow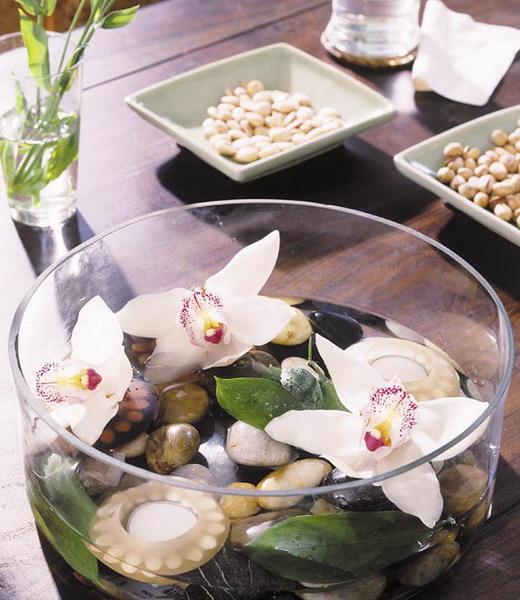 Flowers and pebbles inside a glass bow
There you can have small decorative pebbles, crystal balls, fresh greenery and beautiful colors. Have in mind that this idea need finishing since a single decorated vessel doesn't look completed. Single bowls or other kind of storage options where you can place the flowers are a prefect addition.
With hip fruit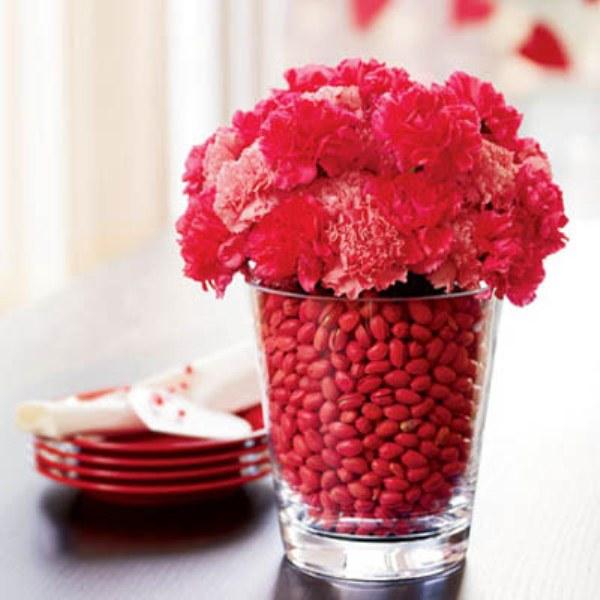 Red flowers at the dinner table
The fruits of hip flower can be a great and helpful addition for the decoration of a transparent glass vase. All you need is to fill it with them.
Inside an orange/lemon/grapefruit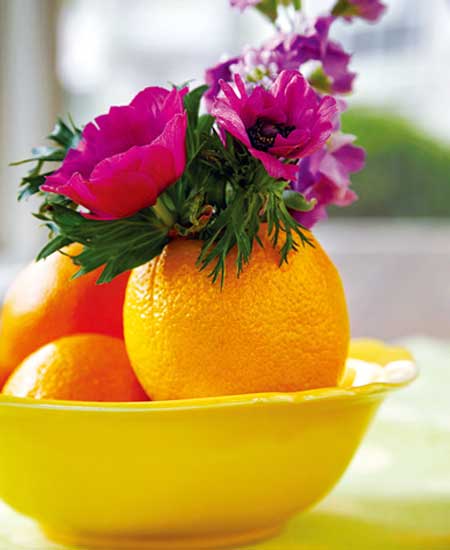 Flowers placed as a vase
Hollow the inner part of the citrus and fill it with soil or water. Now, the little flowers will feel great.
With citrus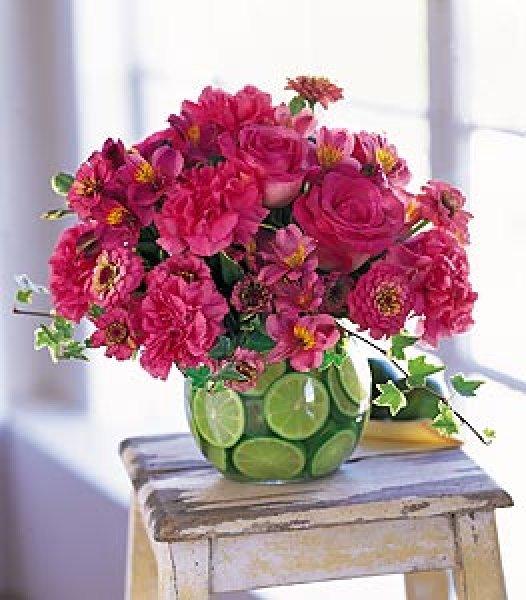 Red flowers full of citruses
Yellow tulips of water and citruses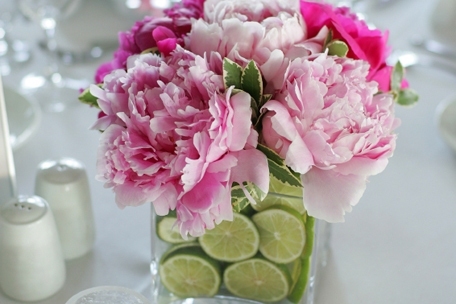 Pink flowers of water and citruses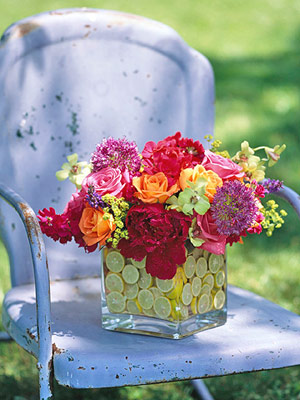 Colorful fresh flowers of citruses
Another idea for the transparent vessel in your home. Slice a lime, lemon or an orange and drawn place in the full of water vase. The main advantage of this idea is that the decorations last longer than the usual flowers.
In whiskey glasses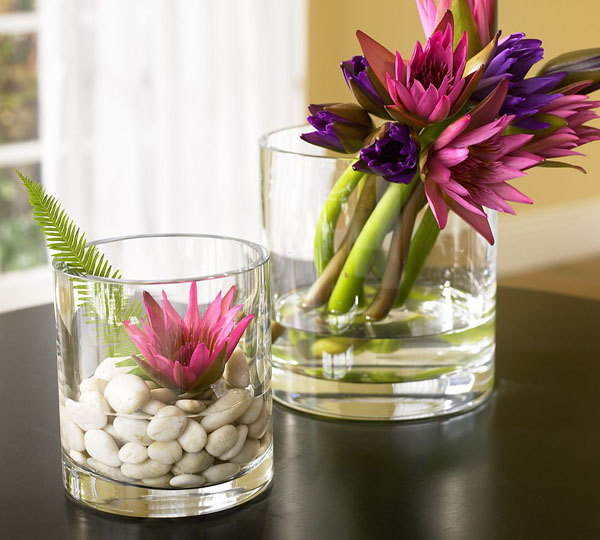 Beautiful decorative flowers with water and pebbles
A fantastic idea! Why don't you use your old whiskey glasses and fill them with beans, lentils or little river pebbles. Now, full the rest of the glass with water and nest some little flowers inside.
In champagne glasses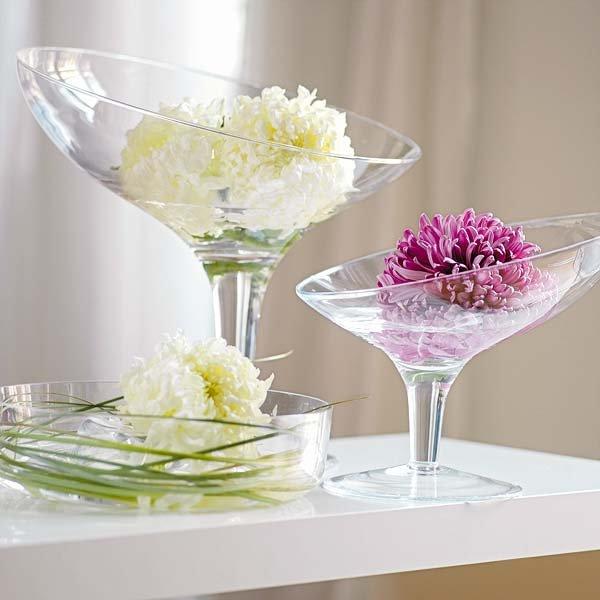 Gentle flowers placed in champagne glasses
For this idea you will need two flowers with almost the same colorful nuance. One of them should be placed in a lower vessel.
In hurricane jars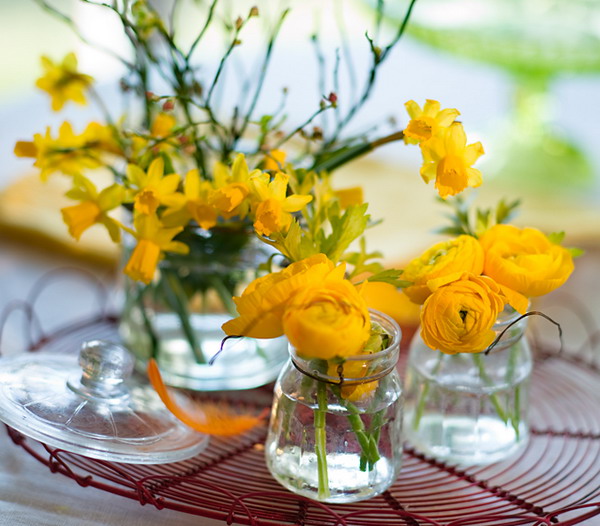 Flowers and Vases decorations
A beautiful idea for some old and unused jars that can have their new application in your home.
Decoration with buttons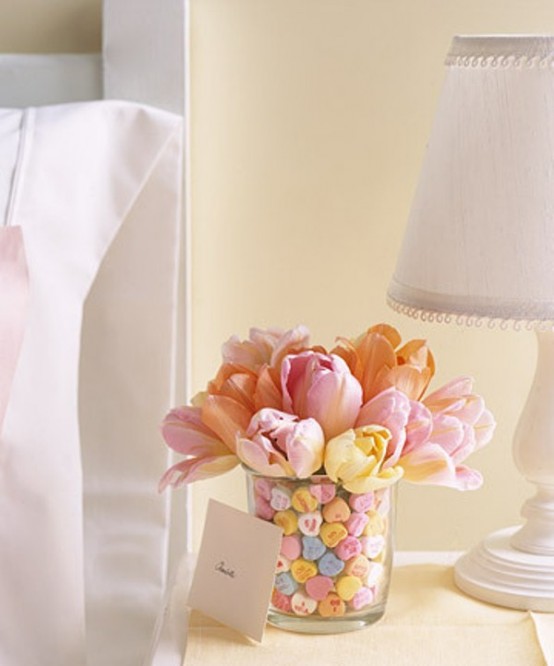 Colorful tulips with different buttons
You can fill a transparent empty vessel with buttons and other little and interesting plastic ornaments. Fill it with water and place the flowers that you have carefully chosen. Have in mind to match the colors of the decorative accents and the flowers.
With corn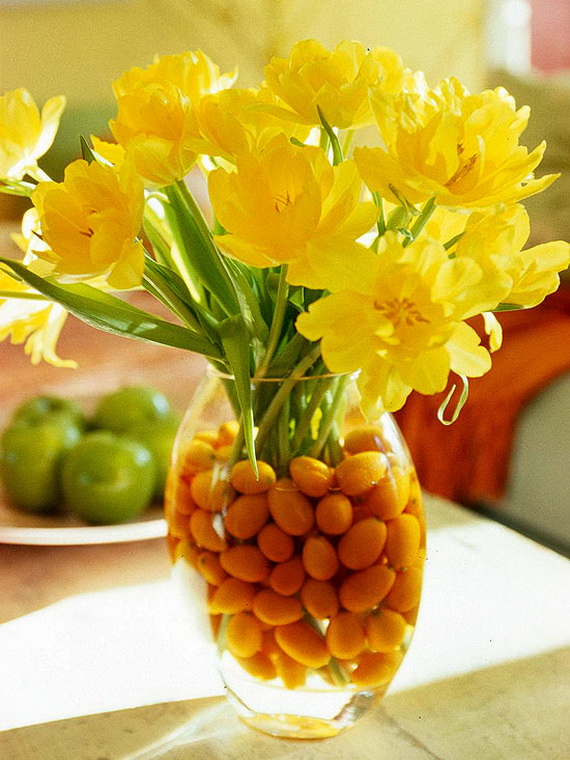 Yellow flowers and corn for decoration
Fill a transparent vessel with corn and place yellow flowers inside. The composition is outstanding!
Simple and beautiful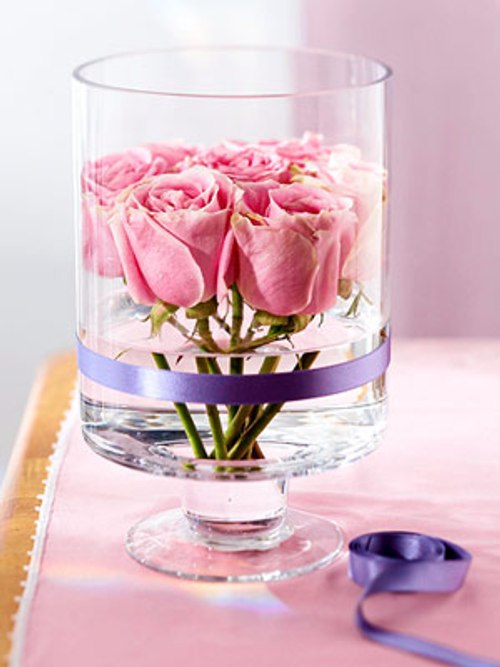 Gentle pink roses with a silk ribbon
Glass vase tied with a silk ribbon.
With beads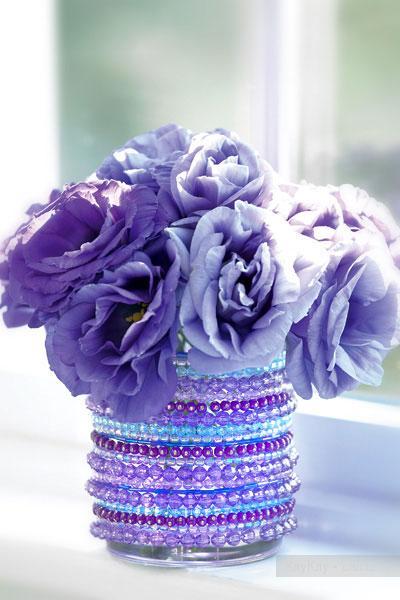 Violet flowers and violet beads
You can find various long jewels made of beads or different in size plastic balls and pearls in most of the big stores. If you want to have a small jar, like from the image above, you will need approximately 6 feet length.
With colorful straws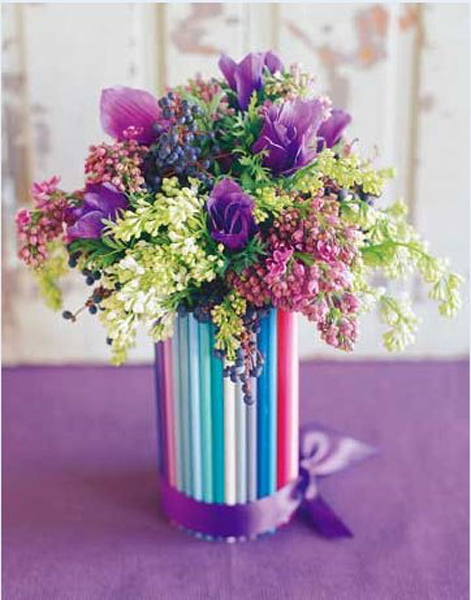 Fresh spring flowers in a tall glass
This idea looks very much alike the one with the branches. Choose various in colors straws and wrap them around a high glass. Tie them together using a ribbon.
In a porcelain pitcher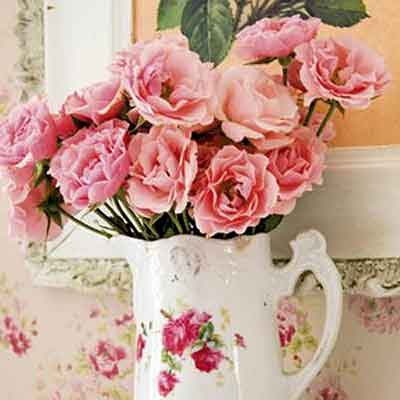 Pink roses white pitcher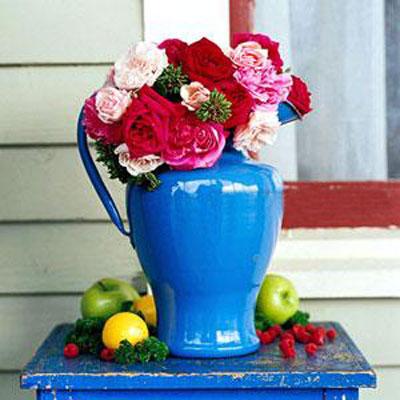 Colorful flowers at the front porch
Porcelain pitchers can be used with a different application than their traditional one. This way they will taken out from the dust and will shine again in the interior decorating it with beautiful flowers.
And now, have a look at this professional guide through the flower decoration wolrd!