Mix and Match
Shabby chic decor blue wardrobe
Mixing furniture of different styles, colors and finishes is something that have certain advantages. You should be brave enough to experiment in the field of blending different styles, of course doing it with a sense for style. In this shabby chic bedroom you will see the beautiful mix of various types of wood combined with materials like iron and metal. The result is gorgeous!
Vintage Elements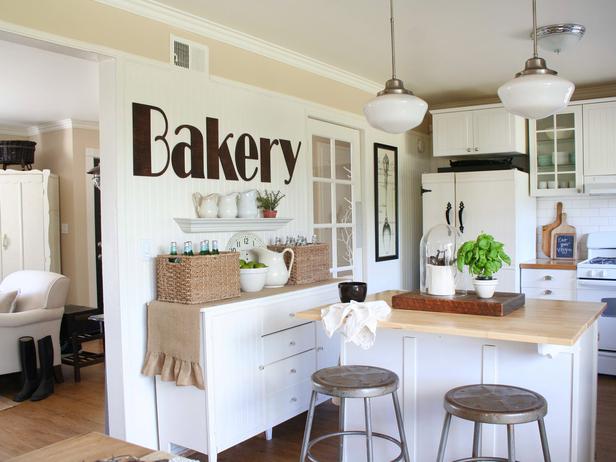 Shabby chic kitchen sweet decorations
Vintage elements in shabby chic interior look just at their right place. Our advice is to try and mix sunny and sophisticated looks and you will be surprised of the final result.
Having a kitchen in shabby chic designer style is a definite trend today. What women really love is the pastel tones of the kitchen cabinets while the various vintage fixtures and accessories complete the feminine look of the cooking area.
Photo credits: Jennifer Grey
Fun and Feminine
As we have already said before, Shabby chic interiors are simply feminine! They are sweet, welcoming, cozy and touching. In the image above you will find a curved mirror painted in gold and small chandelier that set the welcoming character of the breakfast corner. There are many tricks to soften the atmosphere additionally and one of them is to place cushions. Pastel fabrics and upholsteries are preferred since they blend perfectly with the chic style.
Photo credits: Jennifer Rizzo
The White Stuff
Shabby chic bedroom and old armchair
Have you every thought what is the most remarkable, the trademark color of shabby chic interior design style? Let's guess! Probably white?
Of course it is white! It's white and its various shades from darker to lighter nuances. This is the color capable of adding the right amount of intimacy that women desire to have their own cozy nest. White is an universal color code in many cultures around the world (with some specific definitions in Japan, for example) and it is primarily connected with purity and divine. That's why brides wear white, for example – to symbolize their virginity and pure soul that they are ready to devote to the holy marriage. Of course, traditions today are not what they used to be in the past and as we know from physics all the known world goes from perfect order to complete disorder. However, this is not a reason not to follow the universal color codes that are living in the nature. And having that in mind, we can firmly state that white will still be associated with divine purity in the future since its light spectrum is never changing and white will be always white.
Photo credits: Pam Balla
Beautiful Built-Ins
Shabby chic decor ideas and friendly welcoming
Home entries are those welcoming parts of the places where we live that are perfect for a cozy look. Do you want to have your own cottage style entry? If you do, go and find a built-in bench and coat hooks. Using cushions for the bench can additionally emphasize the welcoming character of the shabby chic entry. Floral patterns are preferred for the upholstery and fabrics of the cushions.
Photo credits: Kristin Salazar
Crisp and Clean-Lined
The next visual example shows a shabby chic corner with a contemporary touch in the interior. You can see the beautiful furniture with clean and sophisticated lines and accessories. White frames are essential here as well as batten wall treatment. In the image above there is also a daybed that is perfect for reading a book in the daylight or simply having a nap. Bedside dumilune table completes the cozy corner and the traditional light fixtures bring an interesting touch.
Photo credits: Layla Palmer
Cozy and Covered
Shabby chic living room and vintage leather stool
Do you need to know how you can achieve and extra cozy look? The secret is of having natural woods and vintage leather. Additionally, think about slipcovered furniture. From our experience in the field of interior decoration and design we have came up with the statement that the perfect materials for cozy atmosphere are soft and charming fabrics and upholstery in pale colors and vintage patterns.
Photo credits: Melaine Thompson
Pretty Patinas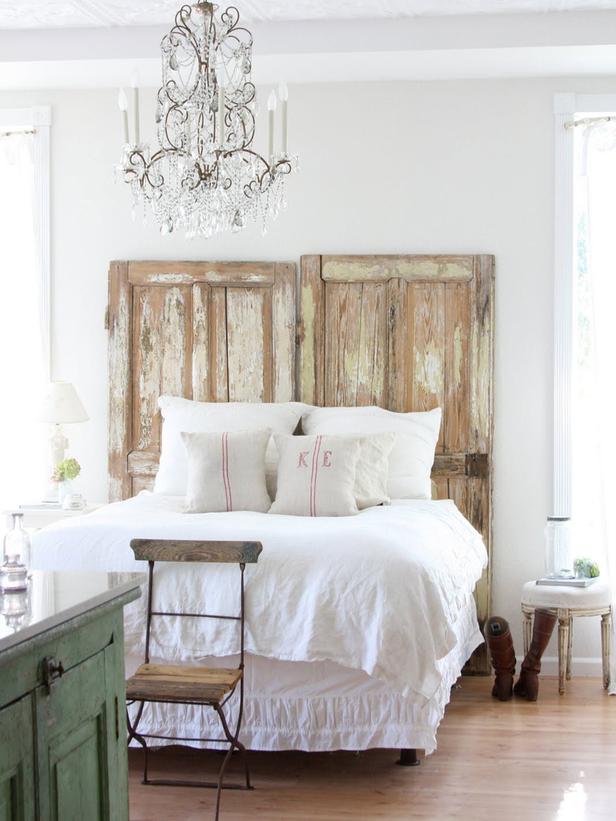 Shabby chic bedroom of bed headboard
What a woman needs in a shabby chic bedroom? It's intimacy, comfort and coziness. This can be easily achieved if using well-worn furnishings and various interesting patinas! In the image above you will see the beautiful pair of old doors that function as a bed headboard. If you are planning to use such kind of well-worn materials be careful to remove the loose paint. Also as a precaution you have to search for possible broken parts that can harm you our somebody else when brought into your home.