Hello and welcome back to Founterior, where we have collected this great ideas for Halloween table decoration. We shouldn't hide that Martha Stewart is the main factor in this stylish choice but let's stop talking and show them right here:
Deranged Halloween Centerpiece
It doesn't matter if you are going to arrange a diner party or a cocktail night for Halloween, the important is to decorate your place properly. When we are talking about scary items, we have to show this bouquet full of white roses and insects all around it. Shocking, isn't it?
Eerie Gothic Candlestick Display
What an amazing gothic candleholder, inspired by the famous tale about count Dracula. The candles are painted in grey so that they could properly recreate the Halloween emotion.
Root Vegetable Centerpiece
What do you think of replacing the usual pumpkins on the table and place such kind of funny daikon radishes and turnips that are able to warm the atmosphere and create a cozy, instead of frightening interior? They are lovely!
Glittered Pumpkin Centerpiece
Do you like this mischievous misty white theme? This magical moonlight colors create a ghoulish scenery in the interior. Add some pumpkins on the table and richly decorated platters. The white transparent netting is the ghostly item every Halloween interior must have.
White Pumpkin Centerpiece
You can see how the pumpkins decorate the table in stylish way. Such kind of decorations are suitable for people mellowed by time that doesn't need screaming environment. If you are planning a friendly dinner for Halloween, place such kind of pale pumpkins and you will be able to get the holiday touch in your home.
Spooky Napkin Holders
Have you ever imagined that one can use dog-chew toys instead of napkin rings? If you that kind of person that likes to surprises his guests, use this idea.
Cobweb Candles
When we look at this ghostly atmosphere, we recall images of poltergeists, castles, black widows and vampires. These kind of Halloween decorating ideas suit very well in aristocratic types of homes with classic interior design. Cut a single length of cheesecloth and carefully pull it a little bit in order to add a tattered appearance. Over the candlesticks you can place a ghostly mantel. Of course, make sure you have left holes in order to thrust the candles through them.
Forbidding Flowers
A single bouquet of roses placed in a black vase can become a really creepy item, when covered with cobwebs.The easy part is that you can have a cobweb by cutting a white pantyhose that you don't use any more. The ready decorative item can be used as a a table centerpiece.
Creepy Candles
You will ask us how you can achieve the blood effect on the candles? It is actually a red wax that is spilled over the candlesticks. It is a very creative idea to find a small cup and fill it with sand. Then, you can stick the candles in it, find a red one and light it upon the white ones. Now… you need to calm down and let the wax cool.
Pumpkin Trio Centerpiece
A pumpkin in the middle of the table is a classic spooky decoration. Nothing else to say…
Stacked Pumpkin Tableau
The next visual example of Halloween tables is in green hues. Well, it is very difficult to recreate exactly the same kind of table, because of the green surrounding interior. Not all of us have such kind of walls, for example. Nevermind, the important thing here is the idea. And if your interior is in one color nuance, you can always use arrangement from the image above, of course in a different than the green color that will match well in your home.
Mini Spray-Painted Gold Table Pumpkins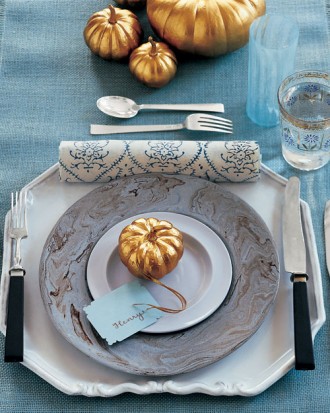 This one is for those who love the elegant and stylish fall parties. In order to keep the spooky feel, find some small artificial pumpkins and spray them in gold. The important items on the table are the marbleized plate that add richness in the interior and the tablecloth. Contemporary glasses and cutlery finish the elegant outlook of the table.
Graveyard Place Cards
Well, for those who love to scary their guests, these thematic cards with names are the perfect item. How do you feel if you see your name on a gravestone?
Pumpkin Table Lanterns
Placing pumpkin latterns on the table is a sure way to impress your guests. All you need is a lantern clip art and some glue. You will surely know how to stick the pumpkins to the perfect surface.In order to make openings for the light you can use a small knife and cut the holes.
Spooky Halloween Bouquet
Are this the plants all the witches prepare poison from? They make a perfect centerpiece.
Quick-Spun Cobwebs
Black ravens are symbolical for scary atmospheres. Find some in your local dollar store and place them around the house. Then, you can place hot-glue cobwebs in order to achieve authentic old dusty look.
Punch Bowl Prop How-To
Grab a pumpkins and excavate its inner part. Then, fill the vessel with dry ice or punch – its is your decision. You you have the chance to get such kind of ghost steward, it will be a real honor for your guests to be served.
Pumpkin Basket Centerpiece
Here is another interpretation of the pumpkin vessel. This time it is used for holding spooky dark blossoms of death flowers…
Candy-Filled Headstones
All the Halloween spirit is inside the glasses which seems to be filled with blood and the candy-filled gravestones which are actually tiny little black paper bags. Trick or treat, trick or treat, trick or…
Glittered Skeletal Parts
And here is Martha Stewart with her favorite decorative items for the holiday table.
Flying Place Cards
The lovely mixture of bat winds and little pumpkin is a fantastic table decoration.
Mummy Spirits
Another creative idea is to wrap a bottle as a mummy and place a poison sign on it. Your guest will enjoy this thematic welcoming.
Glittered Pumpkin Table Decorations
The good thing about the artificial items is that they last much longer than the jack-o'-lanterns. And if you don't have the time to arrange your table the same day, you may prefer such kind of decorations.
Pumpkin Candy Faces

These little candy holders are a great fun for the kids. You you have some, make their night by suspiring them with the sweets. They will simply love it!
Scary Specimens
For the lovers of Halloween and the scary decorations, we have the next advice. Dried cockscomb look exactly the same way as a brain. This frightening display can surprise every person, at least because it is interesting.
Cocktail Clip-Art Labels
Our younger readers will love the glowing cocktail labels that are ready to make their scary holiday night.
Creepy Wine Bottle Labels
Queasy Riesling and Murky Merlot…of course, only the labels are authentic.
Glittered Spiderweb Hurricanes
The light coming from the hurricanes is a great addition to the spider web application on the outer side.
Gothic Pumpkin Centerpieces
The old and rustic black cupboard and all the decoration items placed on it create a scary gothic atmosphere in the room.
Party Plates and Cups
Another great touch to your scary party is such kind of plain paper goods. The customized decorative edges add unique character to the night.
Stamped Spider Hurricane
One of the most annoying thing after a Halloween party is to clean after the mess. In case you want a ghoulish spider web but you also prefer to remove it easily, then a glass cleaner is the perfect solution for you. This means that you can be free to attach all kind of decals to your glassware. For example, this candle holder have already gotten the additional applications on its surface.
Pumpkin Lantern
All the good that are inside the glassware are illuminated by candles in the background. The shining atmosphere is very impressive. The typical autumn orange colors fills the interior with its brilliance.
Halloween Tablecloth
Do you want to have such kind of decorative tablecloth? It is a great item for a theme party. It is attractive because it is in warm colors and the stripes are eye-catching.
Spiderweb Tablecloth with Pom-Pom Spiders
Another tablecloth, darker in colors and in the mood it creates. The spiderwebs are hand-knitted for the party and they are ready to entertain the invited guest list not only with their attractive appearance but also with the drinks and food on the table.