Hello folks and welcome to our blog – Founterior, where you will find the latest ideas for decorations for Halloween. Today we have collected an inspiring set of outdoor items that can change the appearance of your homes and make them well decorated for the scary and funny holiday. Now, have a look at the following collection:
Spider Egg Sac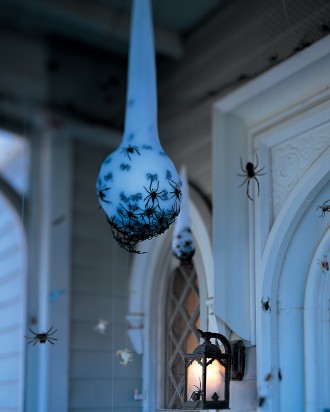 Welcoming your guest with such kind of spider egg sac will frighten them so much, that it is possible that they leave your house immediately. If they are don't fear of such kind of decorative items they will see that the incubator is filled with artificial spiders that are nothing but funny.
Gourds in the Graveyard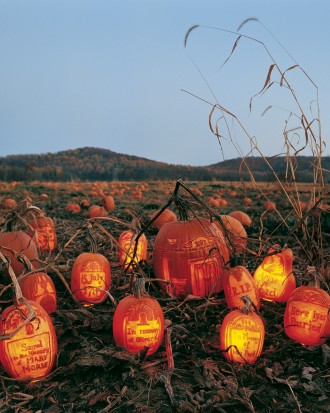 The following idea is really creative as it was never seen before by any of your team. Of course, you probably wont be able to place so much pumpkins in your yard, but only one of it will do the trick. The interesting part is that they look so much like a gravestone because of the carved names just like in the cemetery.
Owl Night Watchers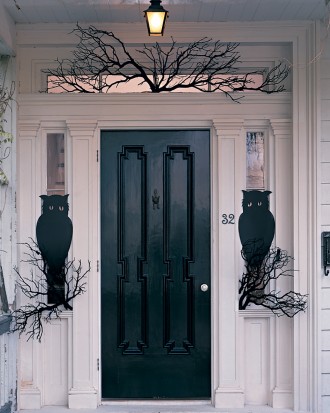 This is a great way to frighten your friends. Let them be welcomed by this wide-eyed owls at your entry. They are actually card templates that are easy to install.The only thing you need are a few branches from your yard or outside in the street.
Spider Sentry
You will be amazed what can be found in local party stores. Go there and find the biggest artificial spider you can find. Make sure that it goes together with its web, which adds the desired ghostly atmosphere.
Spider Squash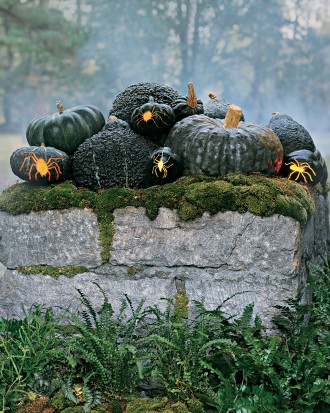 Spiders are the main accent here. They create a creepy environment that perfectly blends with the Halloween mood.
A Stairway of Pumpkin Lanterns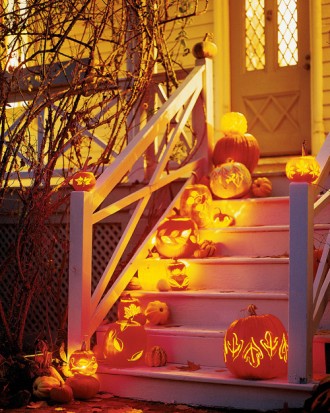 If you have such kind of staircase you can make something beautiful out of it. Just place some hand-carved jack-o'-latterns on each step and your guest will love the warm welcoming.
Balloon Spiders
Spiders again! It seems that the are the leading trend for this year's 31st October. These are made of balloons that are professionally transformed into multilegged creatures.
Outdoor Halloween Arrangement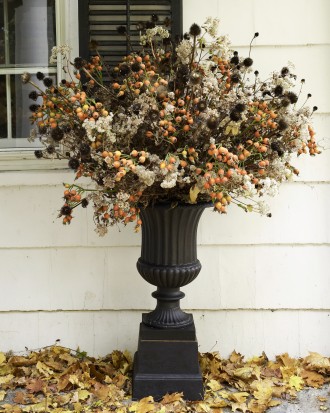 Decorative plants are as important as all kind of spiders, mummies, skulls, knives, pumpkins, webs, etc. They can add a stylish appearance to your party decor with their random shapes and natural forms. In order to achieve a beautiful and spooky at the same time bouquet you'll need to walk around your garden and take the most eye-catching plants. If they attract you, the will also be noticed by your guests.
Toadstool Pumpkins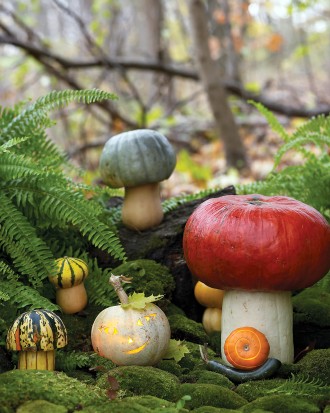 No, these mushrooms are neither poisonous, nor magical. They are created out of pumpkins and other decorative elements, like carnival squashes and butternut.
Wise Owl Pumpkin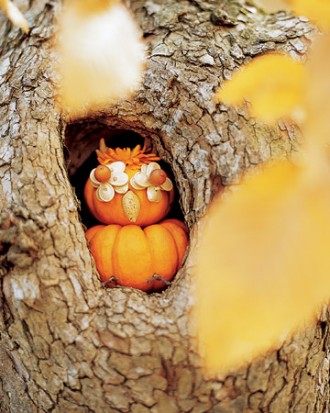 Pumpkins appear to be very solid and their surface is hard to be pierced at first glance. Bu the truth is that it is very easy to make a hole in them. In this example, the holes are made so that the decorative owl would have eyes. It is amazing how you can transform the vegetable into a creative Halloween bird. All you need are several toothpicks, pumpkin seeds and pearberries and almonds. Now, let your imagination work and find out how to create such an owl.
Black Silk Flower Wreath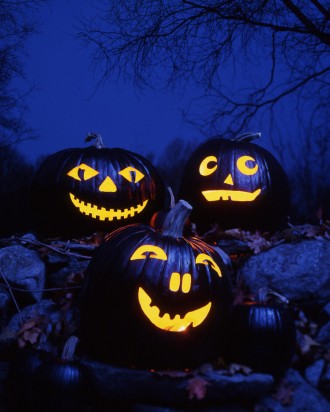 What a wicked welcome would the trick-or-treaters have when they see these gorgeous pumpkins! They are actually not latterns, but decorated with yellow sticky paper. Easy to do and very effective solution.
Witches' Broom Door Decoration and Garland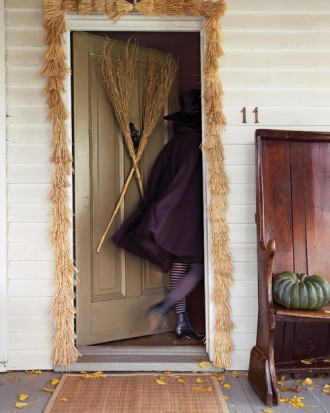 If your costume for the night transforms you into an evil witch, you will definitely need such kind of brooms decoration. Place it at your front door and burst in laughter when you hear the doorbell.
Gourd Garland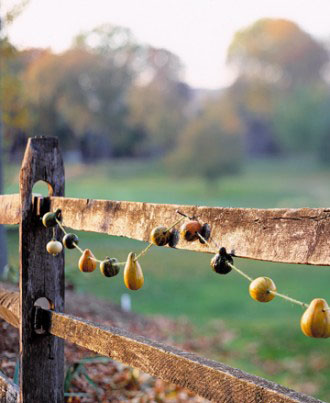 This theme garland is an intelligent and stylish way to create Halloween atmosphere without turning your garden into a graveyard.
Mouse Motel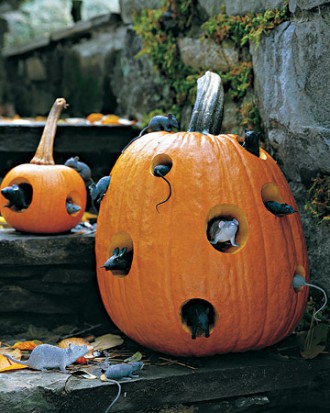 Do you think that the little mice have created the holes in the pumpkins? Of course, not! They are hand-carved while the mice themselves have been found in the local party store.
Stacked Jacks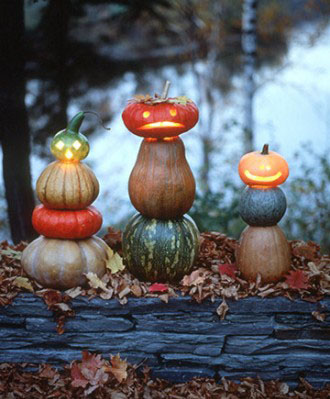 Little creepy monsters made of tiny pumpkins can make everyones night. The easy thing is that only the head needs to be carved. The body parts can be sticked together either with some glue, or you can use knife to flatten the edges and leave the separate vegetables sit on each other. A toothpick will be OK for spoiling them. To achieve the same effect as from the image above, you will need a small bulb, placed inside the head and a heavy-duty extension cord.
Spooky Birds in Windows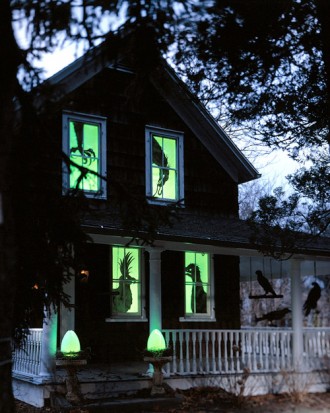 This one is really creepy. Apply it only if you are sure that your guests wont be frightened in case they see your house as a scene of violence. These are windows silhouettes.
Gourd Family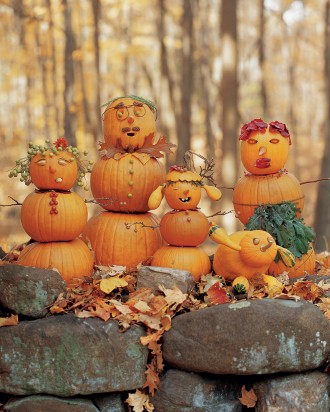 Do you like the sweet tiny family called the Pumpkins? Your kids will love them!
Pumpkin Lollipop Holder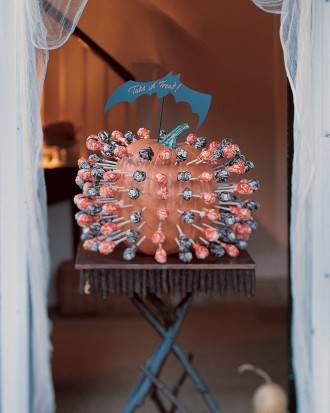 An other great idea to impress the kids is to place a lot of lollipops in a pumpkin holder like this one. Just pick the flavors that your kids love most and you will win their attention.
Owl Pumpkins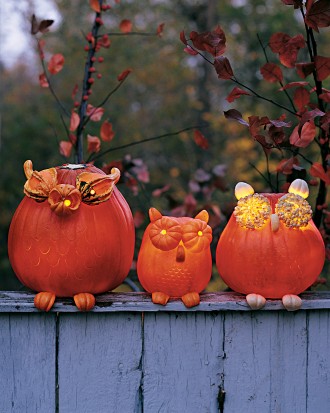 These funny owls have extra large eyes made of miniature pumpkins and gourds. Placed at your garden fence, they will observe every movement across the yard and will definitely make some your guest feel uncomfortable because of somebody watching them all the time.
Autumn Planters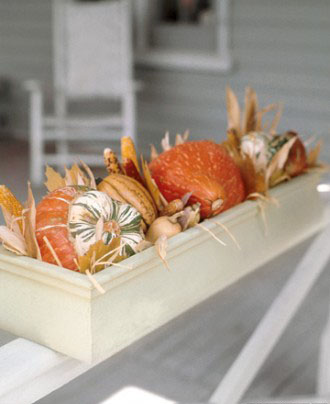 And last but not least is an idea that is not as scary or spooky as the others from above. It represents in a great way how one can capture the spirit of autumn emotion and recreate it in a single decorative element.
You may also like one of our amazing articles about Halloween: https://founterior.com/36-spooky-halloween-decorating-ideas-for-your-home/