When it comes to Halloween decor every person has his own preferences about how frightening he wants his interior to become. Some people rush into the discount markets at October 31 and buy as many stuff as they can get into their homes, while others prefer to place a hand-carved pumpkin that they've made just the same evening.
But it doesn't matter what kind of personality your are, we believe that our inspirational ideas can bring some nice Halloween spirit in your place, if you have the time to browse them. Here is the collection of 36 Spooky Halloween Decorating Ideas: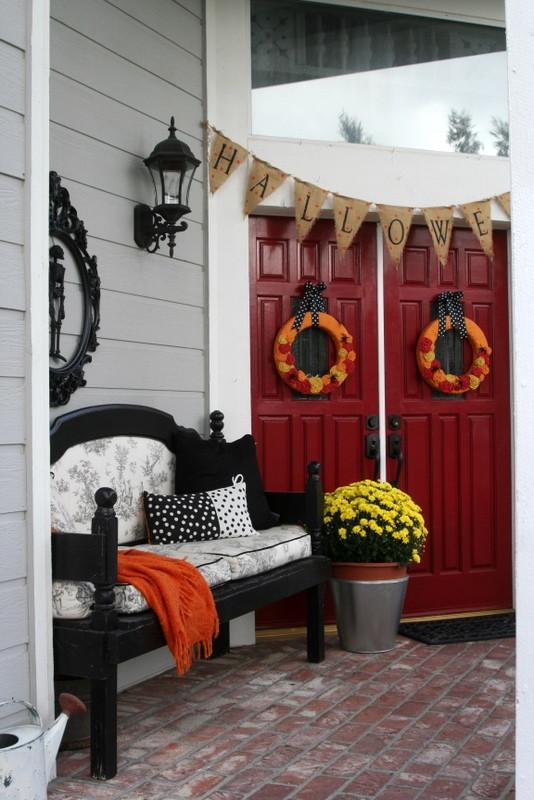 Changing the outlook of the your home's front porch from time to time is a great idea. Keeping it simple and stylish can be achieved by the great decorations that one can find in IKEA. In this particular example we can spot the attractive pillow and the Halloween banner.
Placing a thematic wreath for Halloween is definitely a must-to-have element. In order to make it really attractive you can stick some decorative elements to the base, like the yellow, orange and blue fabric roses. Using glue is an easy and fast way to get them standing at the right place. Add some drama by including 2 or 3 textile spiders that will create a sense for Halloween.
Vintage elements can be successfully combined with some dried natural flowers or branches. This will give a really spooky boost to your Halloween decoration. The "Boo!" sign made of an old piece of wood adds charming character to the whole composition. It actually consists of an old vintage photo of an young boy, half-transparent white netting, decorative spiders, some dried natural elements and that's it!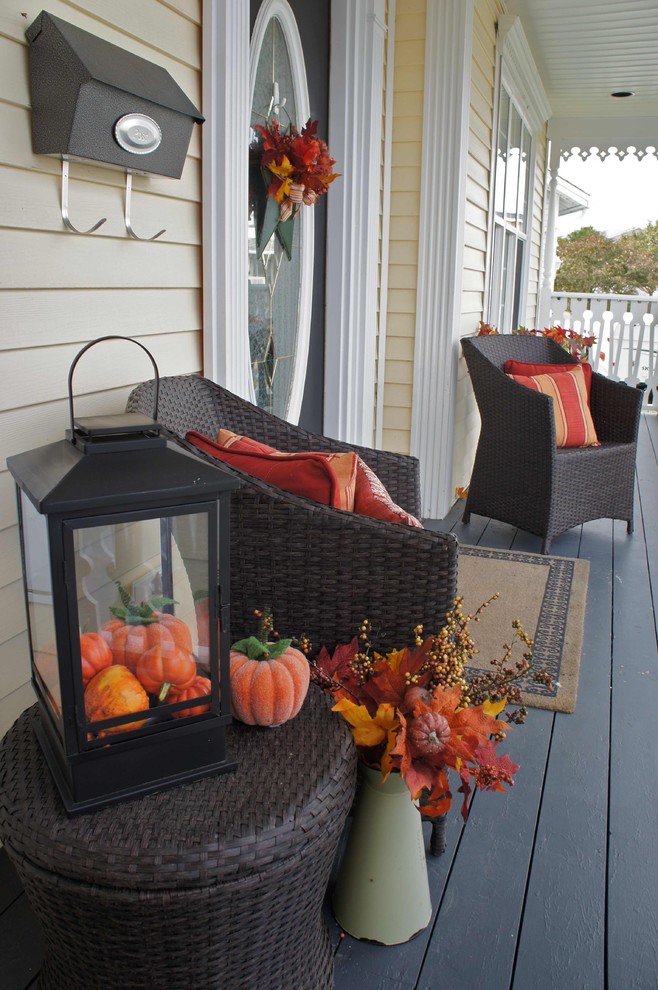 .
And because it is autumn, you can surely bet on the most typical color for that season – orange in all nuances. This way you will get a stylish and elegant decoration but be sure that you keep it simple. Small decorative pumpkins, an old lattern and a vase full of autumn leaves will do a great job.
If you own a fireplace at your place, you are a lucky person because fireplaces allow great ideas to be applied. Make a DIY garland with a Halloween writing and add some pumpkins, black cats and candies all around. In this example, there is a picture on the wall holding all the mentioned elements, but if you don't posses one of a kind, you can always find such decorative elements and place them above the fireplace. The effect will be stunning.
Some of us live in houses with beautiful wrought iron gates. Is you have such, make sure that you decorate them with beautiful jack-o'-lanterns. This will increase the Halloween spirit not only at your place, but will give a charming character to the street also.
Here is another great idea. If you have an old vintage wooden rocking chair somewhere in the basement or the attic, take it out from there, place it in the front porch and add some jack-o'-lanterns. Your guest will love to be welcomed this way!
Staying simple is best for matured people that still have the Halloween spirit in their souls. If you are that kind of person, follow the example form the image and put a little Halloween accent using several pumpkins in front of your main entrance door.
Natural flower wreath , autumn leaves, pumpkin decorations in combination with the cozy white design of the house create an unique atmosphere.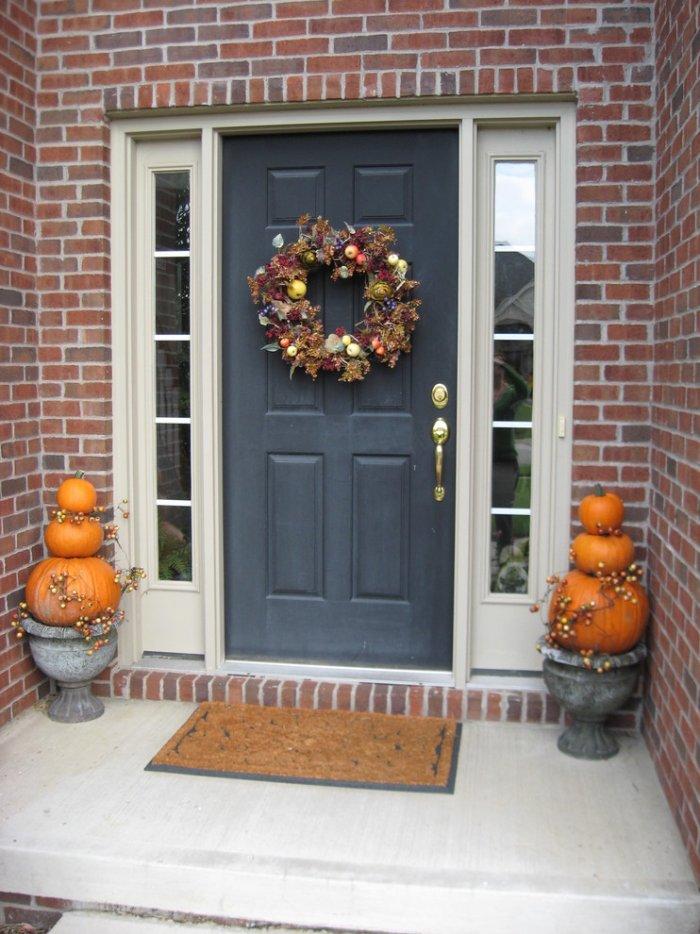 You can see how the idea from above can be applied to a different home style. It still have the amazing Halloween charm hat the decorations add.
When you need budget decisions this idea will be very handy for you. The autumn flowers wreath is something easy to find and arrange. As for the pumpkins bellow, you can find some at your local craft store. In order to add some original and creative style to the decorations, find metallic spray paint and apply it to the pumpkins and the wreath base.
Creating Halloween atmosphere is not always about creating frightening elements in the place you live. For example, this great Halloween decorating idea has nothing in common with fear. The elegant combination between pink, black, white and silver colors still create a proper appearance. All the bottles are carefully arranged and filled with beads and are a perfect addition for a vintage types of interior designs because the colorful arrangement becomes the focal point of the room – the main purpose of all Halloween decorations.
The next idea is far more frightening – good for those who prefer fear as a "leitmotif" for their decorations. Creating the main entryway to your home as a graveyard is a very daring decision. Your guests will definitely be impressed.
Fake bugs, broken pottery, mist like decorations… Doesn't all this remind you of Halloween? The best part about this holiday is that all the broken and unnecessary items that you store suddenly become very useful.
Such kind of black and white decoration, even simple and not so spooky, can bring the desired Halloween spirit at your place. If you want to use such, be sure that you place them somewhere in your hallway, so that your guests will be able to spot them immediately after they enter. The classical combination between the two most used oppositions in interior design will also add a stylish signature to your room.
"The truth is in the details." would say Stephen King. We all know his famous quotation and that's why we show the following details rich example. Striped ramekins and petite pumpkins function as lovely Halloween decorations.
Get ready for the Halloween ball in your house by creating the best spooky atmosphere in the neighborhood. In order to do so, spiders are an inseparable part of the decorations. Take jar and a paper spider and use a swab of double-stick tape.
Another simple and elegant idea is to use printed Halloween messages and put them in an old frame. The sweet little ghost and the candle holders are really attractive items and if you find some at your local store, you'd better buy them immediately.
Look at this fantastic Halloween vases! In fact, this is just an ordinary cylindrical black vase with a black and orange ribbon wrapped at the upper end, some letters attached to it and a bunch of decorative flowers inside. The result is amazing!
Aaaaahhhh… these lovely little mice can drive crazy some of your guests… ha-ha-ha-ha… Imagine that the light is dimmed and some of you guest are afraid of mice. What do you think will be their reaction when they spot them? The mice are actually wall decals that can be easily placed as well as removed.
In case you want to get rid of all the traditional Halloween decorating ideas and add more creative ways to make your place a haunted one, you can follow our next brilliant idea. Everything here is wall decals, so don't be afraid – you can remove them right after the holiday finishes. So, what do you need? Skull, black cat, some bats, old haunted house, raven, ghost and a boo! Place the elements randomly on a wall by your choice. You can spice things up by adding a spooky Halloween poster or two to the wall decor. This will bring a pop of color to your ensemble and make it look more refreshing. You'll find some brilliant Halloween poster templates on PosterMyWall. Simply pick one and customize it according to your preference. Now, the next thing is to frame the applications with suitable size frames. For better contrast, use opposite colors.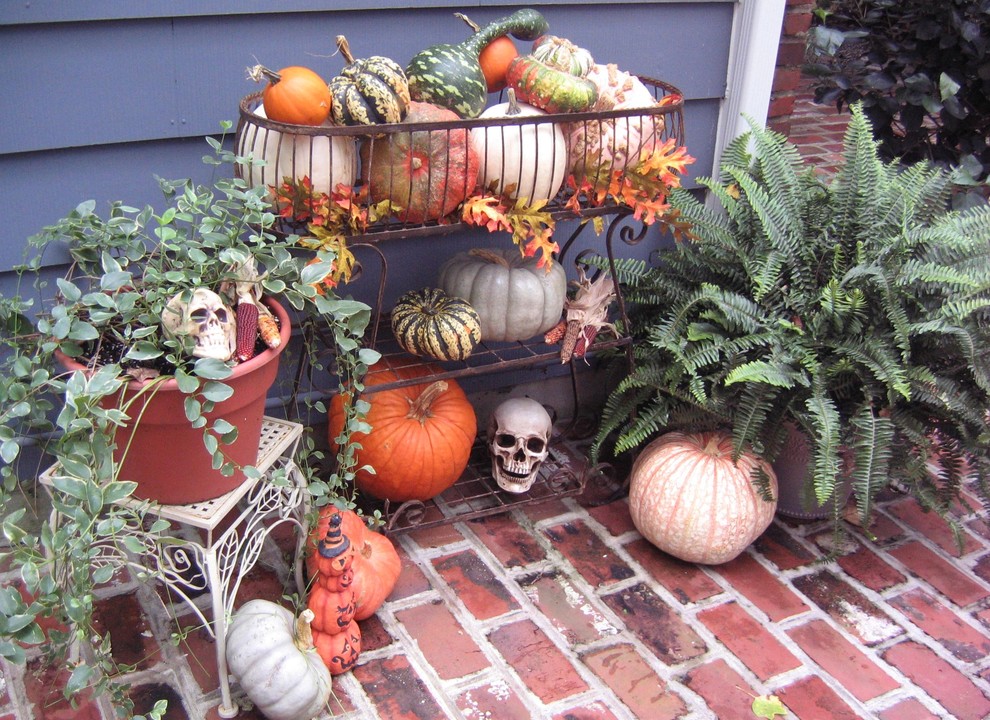 Living in a neighborhood where a lot of children grow means that you have to think not only about yourself when preparing your Halloween decorations but also to have in mind how to make the holiday more attractive for the youngsters. You can see that autumn items and Halloween elements can live together pretty much well. Fall leaves, pumpkins in all sizes and skulls can be used together in a way that will do a great job when the kids come and ask you "Trick or treat?"
Spooky, isn't it? Old decorative mummy, black human skull, several candles, spider like netting and a haunted image. What else do you need for your Halloween decoration?
This copper bowl and the little decorative pumpkins inside is a smart solution for those who prefer to stay simple on Halloween. You can place your decoration and still be able to feel the Halloween spirit without turning your home in a graveyard.
Our next inspirational decorating idea comes straight away from Karen of Strictly Simple Style. What Karen did is a really smart decision. She used nail heads in order to add Halloween decorations to a pumpkin. And this is more efficiently even from the wasted time used to make a jack-o'-lantern.
And on the countertops in your elegant home, you can use a pile of decorative pumpkins in neutral and pale colors.
For even a simpler Halloween decoration, buy an ancient vase and put some gourds in various sizes in it. This will add a little spooky accent in your beautiful home.
When we look at this scattered elements on the table we imagine that a poltergeist has recently been here. In order to increase the drama outdoors, hollow a bunch of petite pumpkins and make them jack-o'-latterns and your Halloween decoration is ready!
The idea with the hollowed pumpkins can be applied almost everywhere – indoors and outdoors. We suggest that you leave the indoors for more creative decorations, while for the outdoors you can bet on randomly placed pumpkins. Just have in mind, that when using them as a part of the greenery, you'd better use bigger in size ones. This way you will completely create a Halloween house – from the entrance gate all the way to the inside and the room where you are going to celebrate.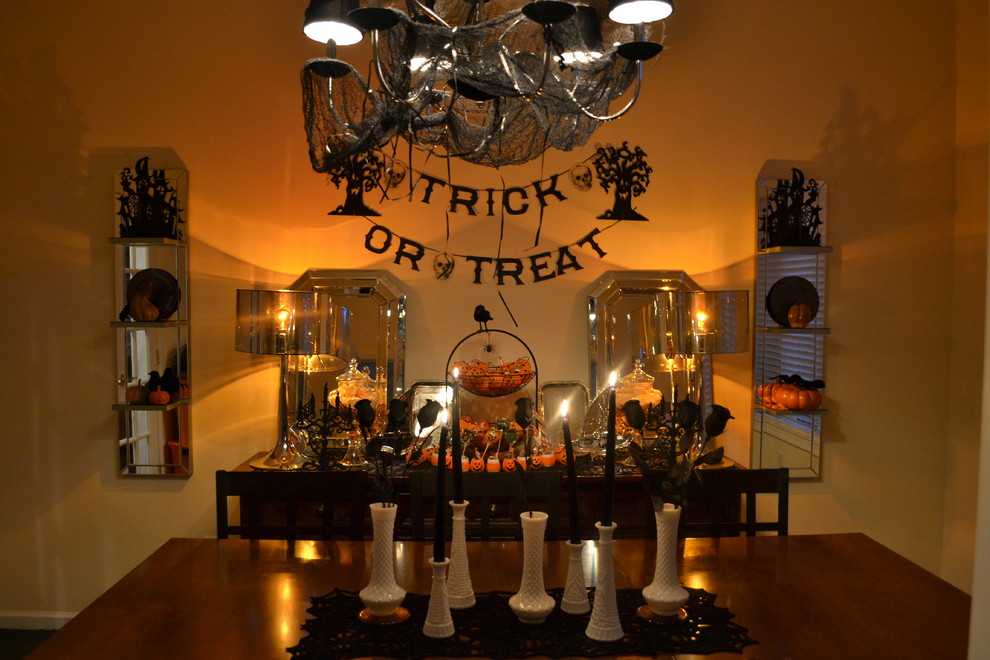 Our next example is a real Halloween masterpiece. All the mirrors and lamps create a fantastic feeling for the most frightening holiday. Almost all of the decorative elements can be find in any Dollar Store around the country.
Vel Criste did all this decorations just for fun. She made it because she loves when her children appreciate her decor and feel excited about the Holiday. So, if you need to impress the little members of the family, follow her ideas. She has a huge experience!
As for Vel Criste's dining room, we stay speechless. It looks like one from the Addams family. Black fabric netted around the chandelier and window recreate a genuine Halloween atmosphere.
For some people, Halloween decorations are meant to be funny and cheerful. Also, they have to be easy to be placed or installed and even easier to be removed. One of the most effective solutions, easy at the same time, is to put Halloween decals on some of your plates and hang them on the wall. Thus, they will function as great decorative elements and it will be really easy for you to turn them back in the original state once the holiday finishes.
When you want your kids to be involved, be sure to take a lot of candies. Kids love candies! You can place the candies in a tray and the little mischievous members of the household will try to do amazing things only to take a single candy out of them. Another great idea is to name the trays according to their contents, of course adding teasing words in a Halloween manner.
Have you thought about your Halloween table top? If not, the next idea is perfect for you! Take, let's say two – but this really depends on the size of your table, pumpkins and hollow them. Remove the top part and use them as vases. Autumn flowers in orange hues will decorate your table in the most proper way!
And the final idea is brilliant for those, who posses a mid-century modern interior design style at their homes. This decorative idea is simple genius!
Halloween Decorating Ideas for Entryways
One of the most important thing for October 31st is to make the best you can do for lighting your garden up. Add some glow and spotlight at your front outdoor area by following the idea show above. Do you like it?
The following vertical alignment of decorative accents is a really clever idea. Tall branches are the leading elements while the bright foliage complete the spooky look. To be honest, I think that my home's entryway will look just this way. It is neither very heavy nor light and simple – there is just the right amount of items.
Just before getting dark the front veranda looks as simple as usual. Just a few jack-o'-lanterns that are ready for the dark to come when they will shine with their entire orange brilliance… and scary teeth and eyes.
This precisely carved pumpkins are just stunning! They will not only attract the kids to come at your front door but they will also light their dark way! If you are not that great in carving and are afraid of turning the pumpkins into a complete disaster, ask a friend of yours to help you with the decorations. I am sure that they will agree!
Well, WOW! This scary setting wont let those that are scary and can easily be frightened. Imagine how the ghost lady will look like in the dark. I will tell you a little secret now – shhh, be quiet! Do you have a front porch? Can you take a small speaker there and silently play a horror classic? This will become a great background to this amazing and unique front door setting. I bet that only the brave will decide to pass.
This old bloody witch doesn't look so serious when still the sunshine touches her hat. But when the clock strikes midnight and the dark powers give this witch life all the black magic and spells can spellbind the strangers passing by your house. Believe or not, this witch has her own powers. If you still don't believe me, would you dare taking the apple from her hand? Come on, try it.
All the creepy creatures in this world, come out and feast in the night of Halloween! But be careful! Because a silly and curious person can come to explore your flesh. Maybe a black rose can do the spell?
Using wall decals on the windows can be actually a very effective technique. When seen from outside, the house look like haunted because of the shadows that are naturally created by the illumination inside. Our secret idea – instead of lamps, use candle light.
One of the most spectacular illumination ideas for your Halloween entryway is to replace the regular bulb with red one. We guarantee the result is stunning. Actually, if you use the idea from the image above you have to place the light behind the cobweb. In this particular visual example, the skeleton on the right is on sensor. When someone passes nearby the sensor register the movement and the skeleton makes noise.
Halloween Wreaths
This scary Halloween wreath is so frightening because of all the little eyes that is has been made of. If you want to make your own you will need some ping-pong balls as well as a black ballpoint pen or marker. You can stick the separate parts with glue and you will achieve just the same appearance.
Attention, attention! Danger ahead! If you can find some just the same type of police caution tape, use it for your garlands or wreaths. Of course, if you go to your local market for decorations you should definitely find one of these.
Old picture frames and spider nets are so adorable when we are talking about the scariest holiday in the year. In this particular example you will see how this creative composition of framed nets can be used instead of the traditional wreaths.
This black flurry front door wreath is…. well, it believe me, in the dark it is just awesome! It looks like a small monster waiting for your guest to arrive. To add some more drama, find some vampire teeth and place it at the wreath.
This is just a lovely skull masked as a wreath. All the pieces are attached together with a plastic wire which connects the parts. Actually, the skull is a separate part from the bones. The owner of this home managed to attach the bones one against another and to finish the scary composition he used a skull that complete the horror atmosphere.
Another great idea comes directly from one of our readers. This is a lovely DIY wreath with little decorative sneaks. If you want to make your own, follow the steps. First of all, you will need a wreath form. Then, you have to paint it in black. After that you will need some decorative plastic, rubber or fabric covered snake toys. Wrap them tightly around the wreath and place their heads in different positions so that you will get the visual illusion of movement.
Well, the nest example is far away from the scariest items I have seen. Yet, it is a stylish and attractive decoration that people who doesn't want to go too far in their celebration can use.
Little black raven. I love them! They are so natural in the context of the entire spirit of the holiday. The ancient vintage iron shackles give the wreath and the atmosphere around it a sense of macabre.
Do you love the bunched gauze? Doesn't it look gorgeous with the ribbon and the little plastic spiders crawling their net? You can achieve the same effect by finding a foam wreath form and wrap some gauze around it. The other elements can be either wrapped or attached with glue to the main body.
Your front door can look even more scary with the next example of black inspired wreath. Everything is in black here – the foam, the bats, the ribbons and the hook. All the elements are tied together using hot glue. Only the bats were attached to the wreath in a different way. A wire goes true little holes in them and attaches them to the foam form. The best part is that they are randomly scattered as if they are in a flight.