There are so many ways you can decorate your home! Perhaps you have decided to refurbish a few parts of or the entirety of your home. For example, you may only need to renovate or spruce up one of your rooms a little bit, such as your dining room. What sort of decorative elements would you be able to add to it? Naturally, a table centrepiece in your dining room would be a basic necessity, but what else? An easy way to perk up the room is by adding some dining room wall decor ideas to it! Look through our collection of 20 dining room wall ideas for inspiration. We guarantee you'll find a few awesome designs for your dining room!
1. Floral Farmhouse Elements – Dining Room Wall Decor Ideas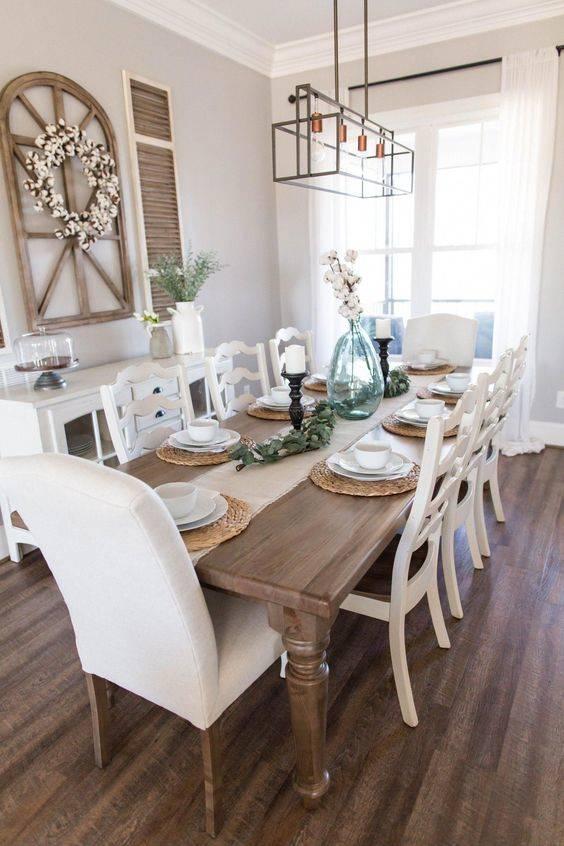 Do you love the home design and decor style better known as farmhouse? It has a rustic essence to it, using mainly natural elements and it tries to convey a feeling of being on a farm. Maybe your home or your dining room is using this same sort of design. If so, make certain that your wall decorations are also the same! A great example would be to use old, wooden window panes or wooden shutters and hang them on the wall. Breathe a bit of life into these old window panes, by hanging flowers or wreaths on them. This will bring the farmhouse vibe alive!
2. A Collection of Photos – The Best Memories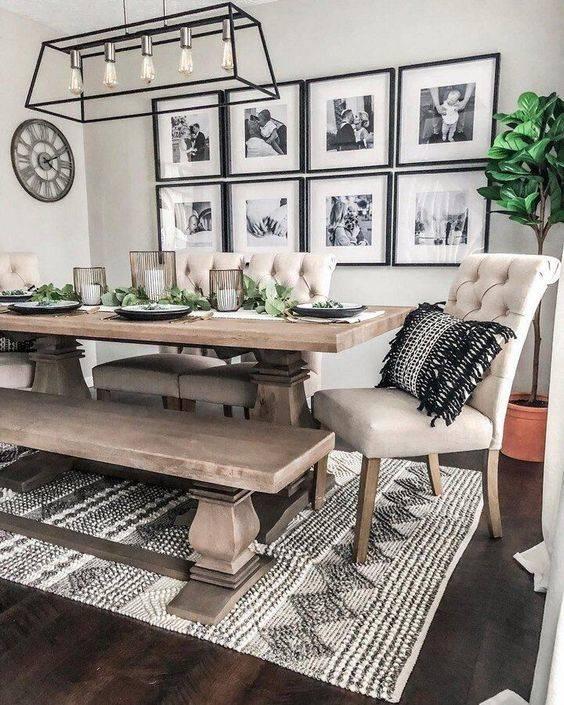 Just like everyone, we are certain that you have a lot of beautiful memories caught on camera. How about you create a personal and warm feeling in your dining room? Hang a collection of your favourite photos on the walls of your dining room? These can be photos of moments taken of daily life or pictures of big events or celebrations in your life. Place each photo in a separate frame, then hang them on the wall next to each other.
3. A Pick of Ornaments – Dining Room Wall Ideas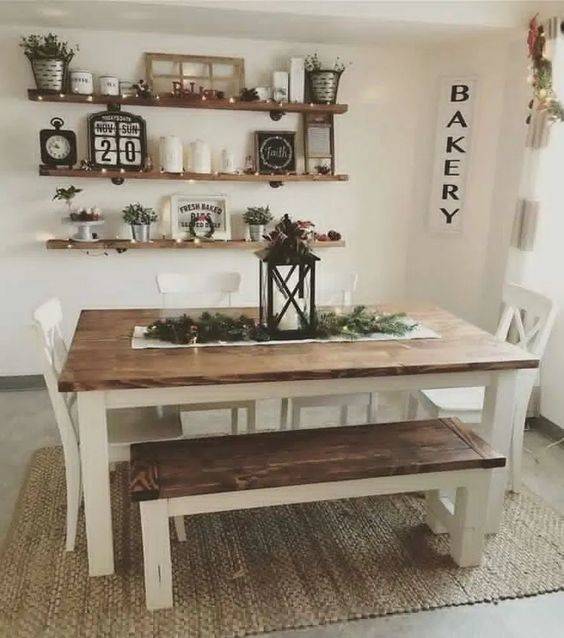 Get a few floating shelves installed on one of the walls of your dining room. With the assistance of a few floating shelves, you will have created a space to decorate in the room! It's up to you what sort of ornaments you place on the shelves. They might be souvenirs from countries you've visited, or they may be a collection of decorative items, such as candles, small pictures in frames or potplants. To give your floating shelves a welcoming and friendly glow, how about you cover them in strings of fairy lights?
4. A Natural Vibe – For a Gorgeous Look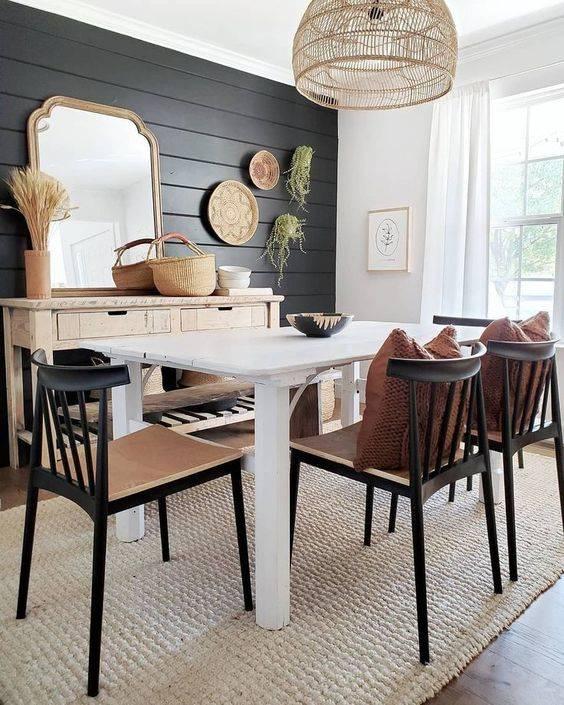 If you have used a lot of natural materials and elements in your dining room, then you may consider using the same for your wall decorations! After all, the point of decorating is to create a sense of harmony throughout the room. So, what sort of options would you have, if you are in search of natural decorative elements? A fantastic idea would be to hang pot plants on the walls of the room. But you can try finding plates, woven out of straw or bamboo, and arrange them on the wall as well, next to the pot plants!
5. Find the Perfect Mirror – According to the Design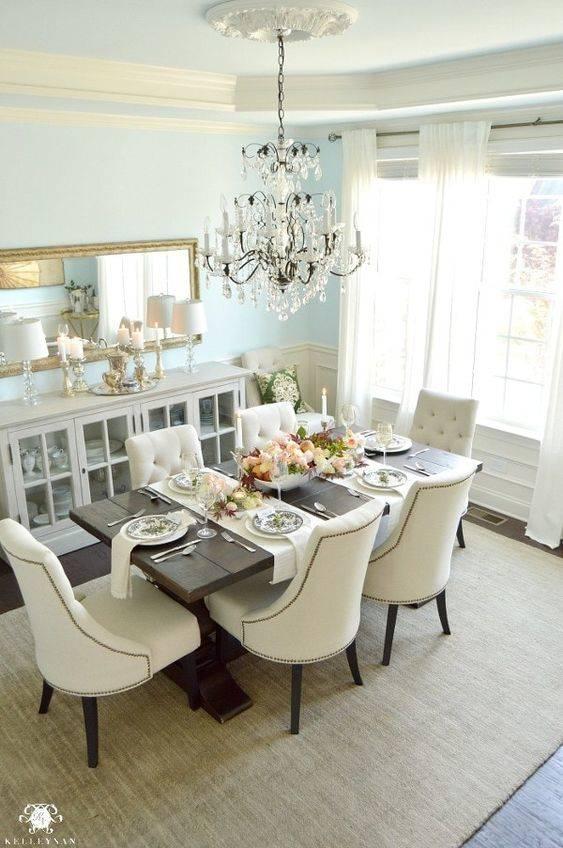 Mirrors are a fabulous element to use for decorating! Especially when you place a large mirror on one of the walls of the room. They will definitely boost the whole ambience of the room, as well as giving you an illusion of more space. The great thing about mirrors is that as they create more space, they also reflect the lights used in the room. With the lighting being reflected in the mirror, it will create a more welcoming and inviting illumination in the room. Choose a frame for your mirror, that will match the style and design of the rest of the room.
6. Gathered Around the Table – A Message for Everyone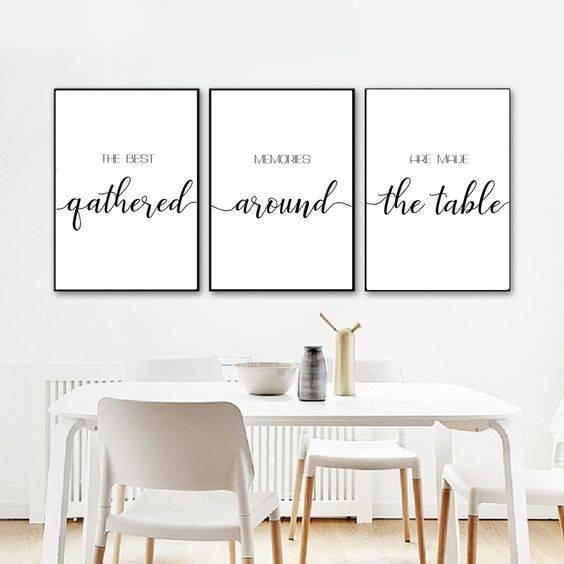 There are so many ideas you can gather inspiration from when you are adding wall decor to your dining room. For an easy and simple decoration, how about you place a message in photo frames? The message itself can continue from frame to frame, so hang them next to each other, allowing everyone to read it. It can be a simple message that you send to anyone who is dining in your home, for example, "the best memories are made gathered around the table."
7. Add a Clock – Dining Room Wall Decor Ideas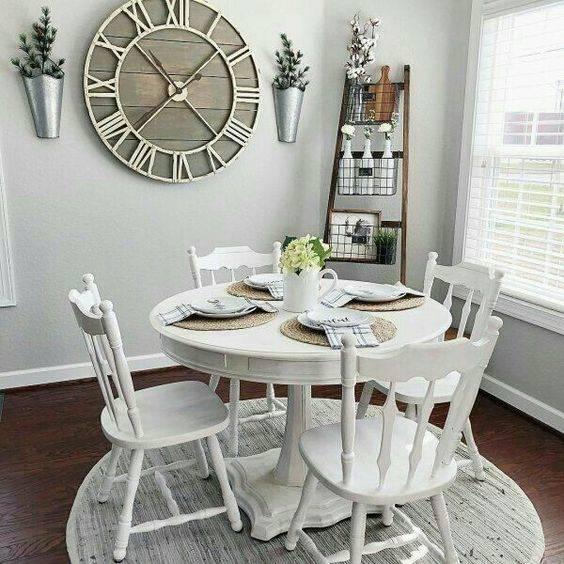 Something you may want to add to any room of your home is a clock! Especially, if you don't have a watch or your mobile phone with you at all times. Of course, you don't have to opt for a simple or plain clock for your dining room. You can get one that has a stylish design and that complements the rest of the decor of the room. For example, you may get a larger clock that will become a centrepiece of your dining room's walls. Hang potplants on both sides of the clock to spruce it up even more! 
8. Geometric Wall Accents – Modern and Stunning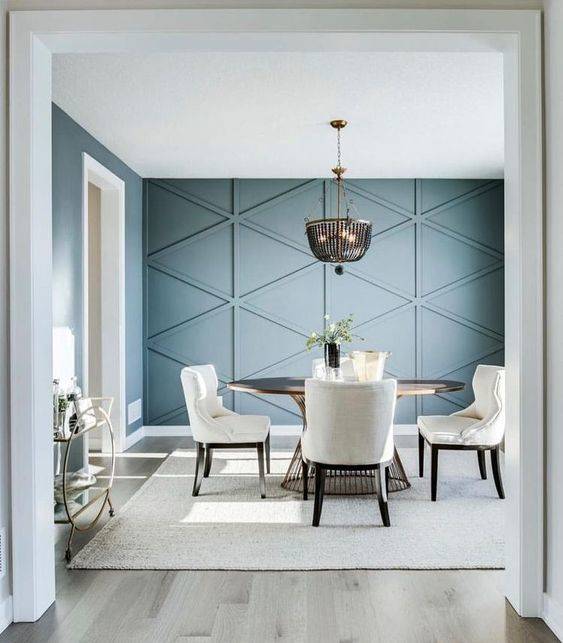 Are you trying to find a more modern and contemporary design for the walls of your dining room? How about you add wall accents to them? This means that before coating your wall or walls in paint, you'll have to arrange and attach wooden poles or thin wooden boards. Lay them down on your walls so that they form geometric patterns. Whether you create a triangular, diamond or completely different shapes and patterns, they will look amazing! When you are finished with creating the patterns on the walls, you can coat them and your wall in a layer of paint.
9. Hanging the Frames – Dining Room Wall Ideas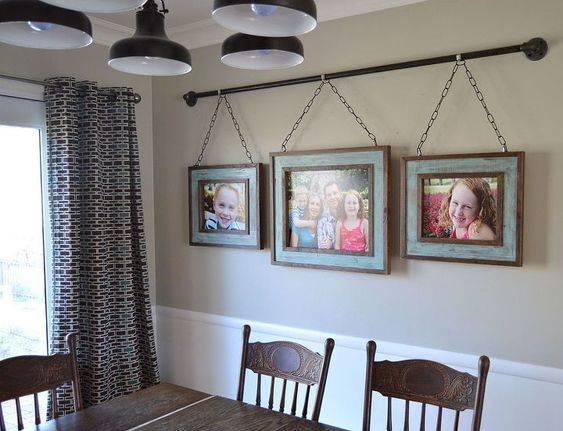 While we have mentioned adding some personal memories to the walls of your dining room, here is another idea on how to bring this about! Install a metal pole or rod on one of the walls of the room. This is where you'll be able to hang some frames that are filled with photos of your family and friends. Arranging photos in a room will definitely create a warm and cosy feeling in it!
10. Elegant and Refined – Unusual Mirror Designs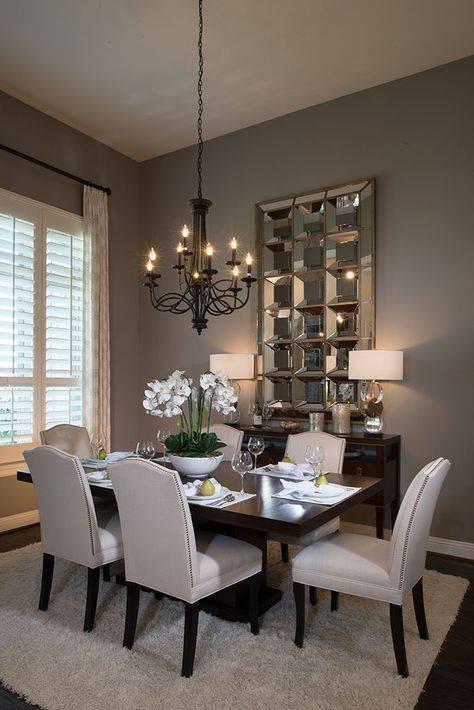 As we mentioned before, adding a mirror to any of your rooms will help in creating an illusion of more space. But you don't have to opt for using a standard mirror in your dining room. Try finding a mirror that has an unusual design. For example, the mirror itself can be divided into smaller squares, separated by other smaller mirror parts. A mirror such as this will definitely lend the dining room a sense of elegance. You might choose to use a chandelier for lighting up the room, to really bring the refined design alive.
11. Festive with a Wreath – Great for a Special Occasion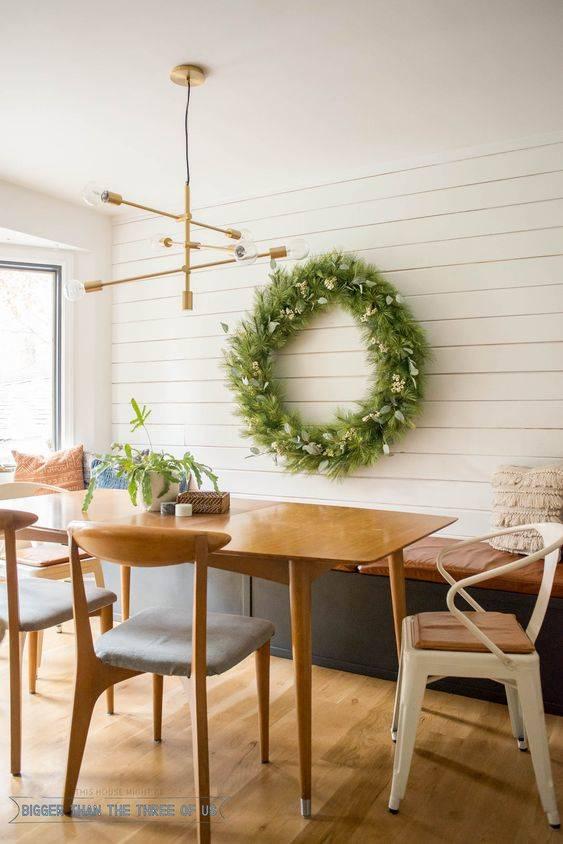 Are you going to be hosting a lunch or a dinner party for a special occasion? For example, you and your family and friends might be gathering to celebrate Thanksgiving, Christmas or a birthday party! If this is the case, you may consider perking up your dining room a little bit by adding some festive decor! This might result in placing a wreath on one of the walls of your dining room. Depending on what the occasion is, you can add some decorative elements to the wreath yourself. Sprigs of holly for Christmas or flowers for Easter, feel free to get creative with this idea!
12. Floating Shelves Arrangement – Dining Room Wall Decor Ideas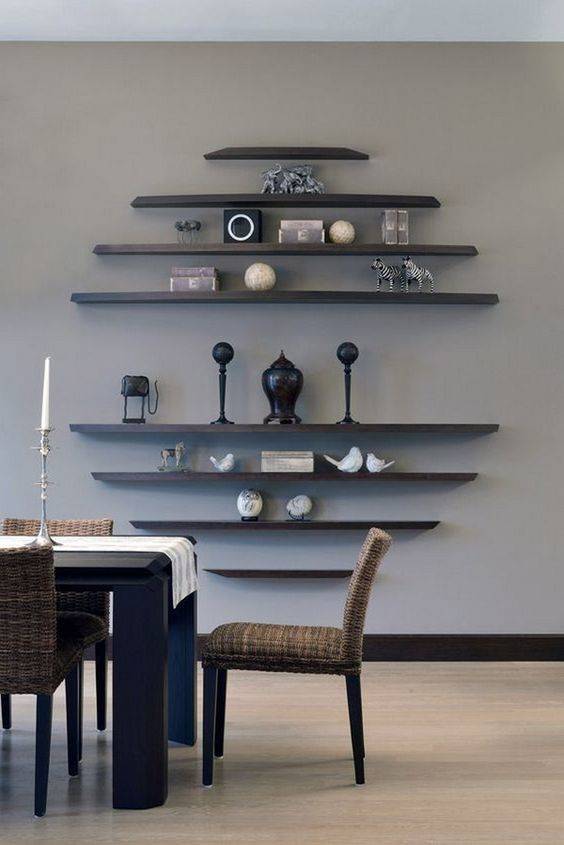 Get creative with your floating shelves in your dining room! By this we mean, you don't only have to install one or two floating shelves, that are the same size underneath each other. Instead, install floating shelves on one of the walls to create a shape, like a circle. Then, you can arrange a set of ornaments on them or anything you'd like! It will all be based on what sort of style your dining room already incorporates.
13. Brilliantly Styled Mirrors – An Art Deco Essence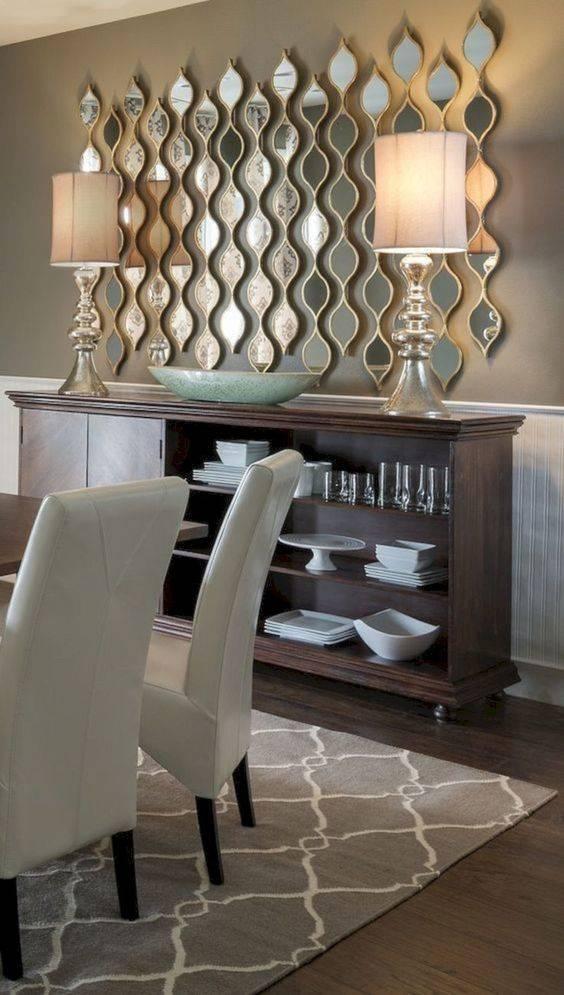 We have talked quite a bit about adding mirrors as some form of decoration to the walls of your dining room. Again, here is an idea for using mirrors in a different sort of way. Have your mirrors cut out in a unique pattern, for example, they may resemble raindrops, waves or leaves. It really depends on what sort of style you'd like your dining room to embody. Unique cut-out mirrors, such as these will bring an art deco ambience to the whole room.
14. A Set of Wall Lights – Dining Room Wall Ideas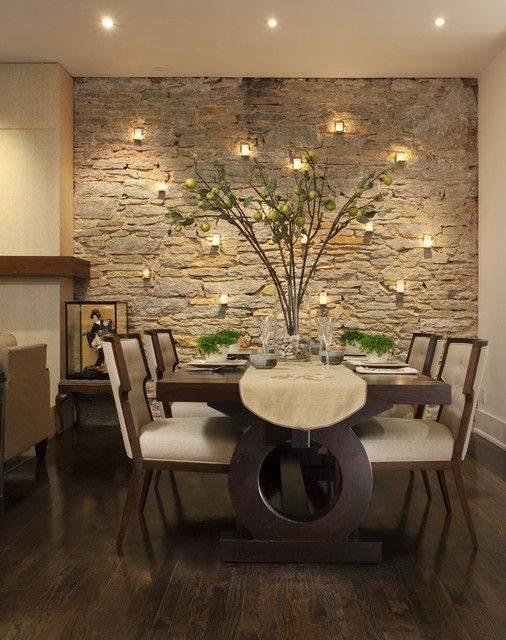 Light up your whole dining room by installing lights on one of the walls. This might consist of simple wall lights or spotlights. By adding extra lighting to your room, you'll add an ambient illumination to it. Depending on your taste, you may add coloured led lights to the walls. But for a welcoming and friendly glow, make sure that the lights are tinted with a bit of yellow colour. The yellow will add a sense of warmth to the dining room, that will help any guests feel cosy and at ease.
15. Cute Ceramic Plates – Bursts of Colour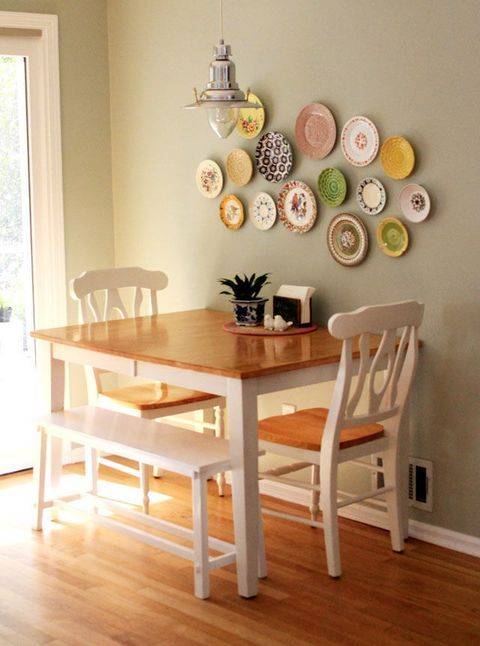 Use ceramic plates for decorating the wall of your dining room! After all, plates arranged on the wall will complement the function of the room. Find a selection of plates that are painted and decorated with interesting patterns. They don't necessarily have to resemble each other and look similar, you can combine the plates to create a fantastic and groovy look. You may also try arranging plates on the wall, that are all vibrant bursts of colour and really boost the whole vibe of the dining room!
16. A Fun Wallpaper – Dining Room Wall Ideas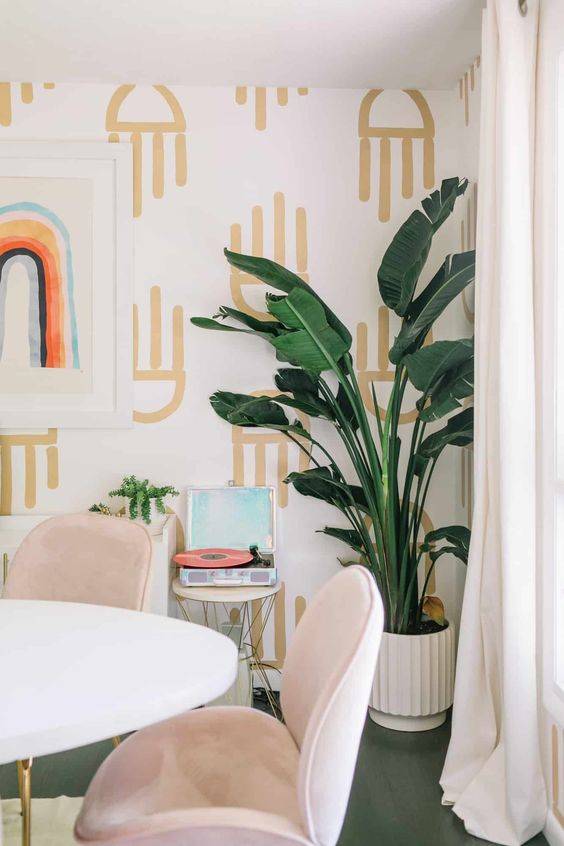 Think out of the box when you are sprucing up your dining room! One amazing wall decoration idea would be to try finding some kind of fun and fabulous wallpaper! You don't necessarily have to place the wallpaper on all of the walls of the dining room. Covering only one of the walls will already help in uplifting the room's atmosphere. According to what sort of furniture you have placed in the room, or what style you are trying to embody, make certain that your wallpaper fits right in! Whether it has a floral or a geometric pattern, we're sure it will look awesome!
17. An Art Arrangement – Beautiful and Bold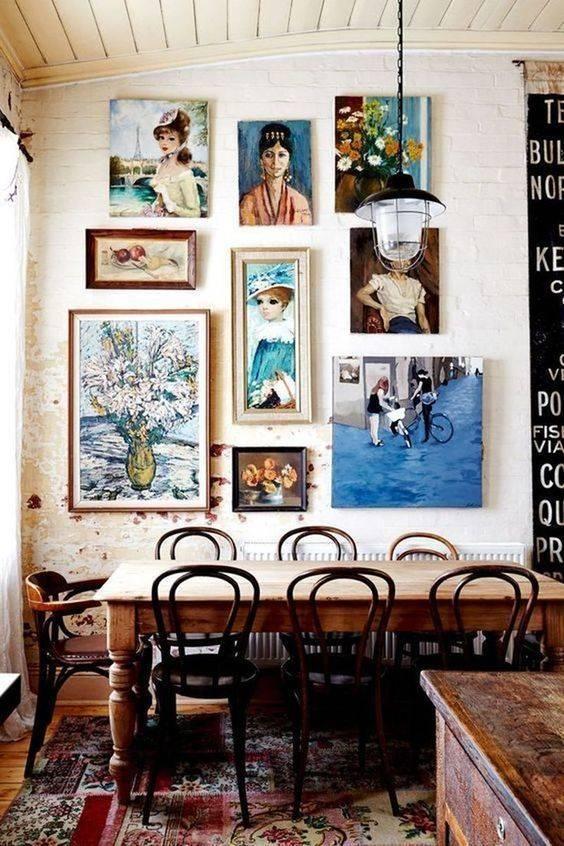 Do you love looking and submerging yourself into works of art? Well, consider adding some artwork to the walls of your dining room. You don't necessarily have to choose only one style of art for the walls, such as only using postmodern or impressionist paintings. Select a whole variety of your favourite art pieces. Whether these are prints of great artists' works or paintings you bought at a local market, you'll be able to create your own miniature gallery on the wall of your dining room.
18. A Fantastic Choice – A Chalkboard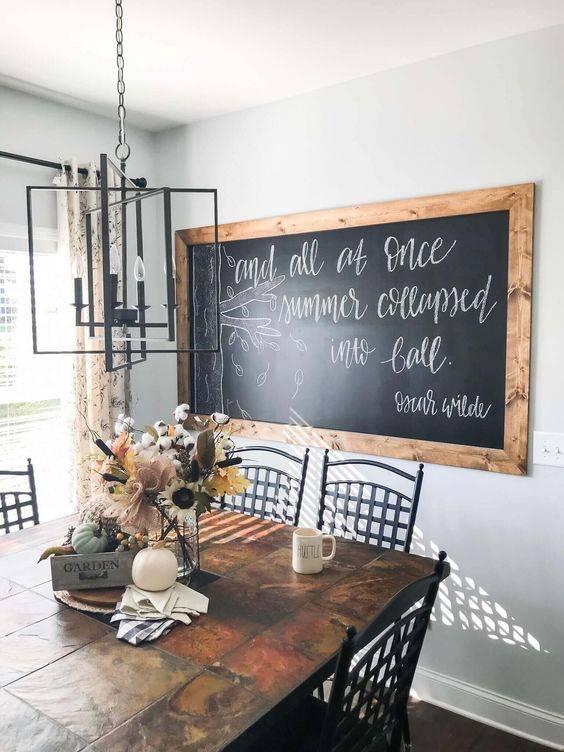 How about you attach a chalkboard to one of the walls of your dining room? A chalkboard would be a fantastic idea, as you can write up quotes, messages or draw on it and then wipe them off at any time. According to what occasion you are gathering for with your friends and family, you can write up a message on the board, to set the mood of the event. Another way you can use your chalkboard is to get everyone who stops by your place, to write you a loving message on it! This way you'll create a collection of memories!
19. Spell Out a Word – Dining Room Wall Decor Ideas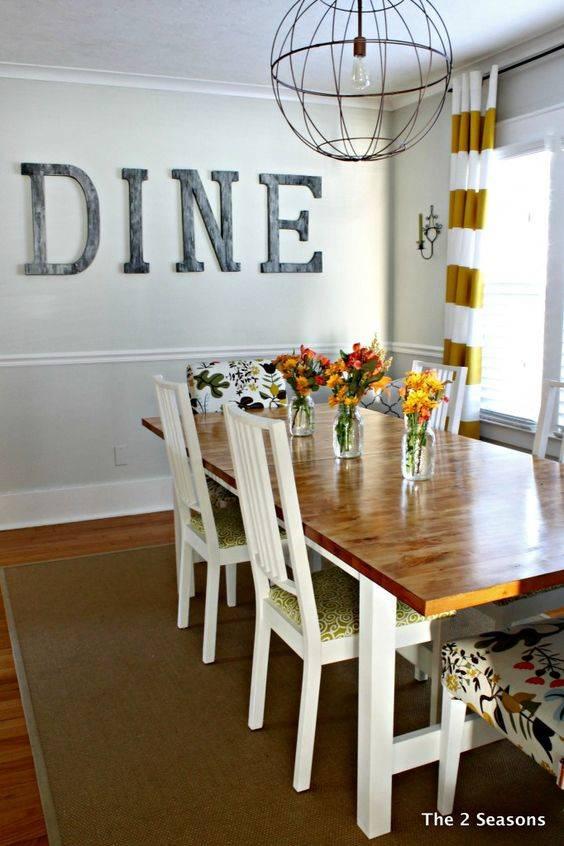 Another great wall decoration idea for your dining room is to add a word on one of the walls. For example, buy large letters made out of wood, plastic or of metal and spell out a word on one of the walls. This can be something simple such as "dine."
20. Your Favourite Herbs – Botanist Drawings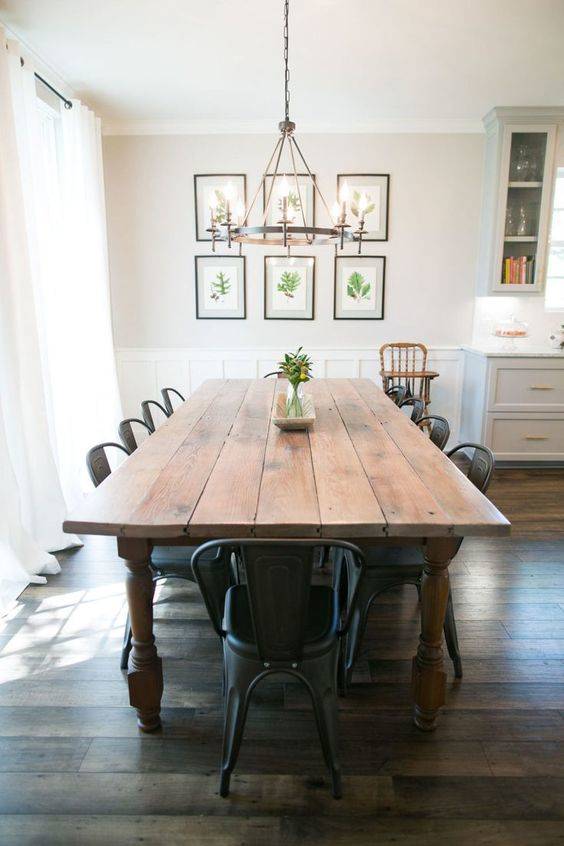 What are your favourite herbs that you use while cooking? Whether it's basil, oregano, thyme or sage, how about you gather a variety of botanist drawings of them? You can place the drawings of your favourite herbs in frames and hang them on one of the walls of your dining room. These drawings will complement the atmosphere perfectly!
Hopefully, you have found inspiration concerning dining room wall decorations! For other home design ideas, such as modern living room lighting or dining room design ideas, visit our website!