When thinking about Christmas most of us usually make a reference to the good old days when we have spent out holidays in our grandparent's homes, surrounded by our lovely family members, while the cold winter outside keeps snowing. We were used to spend ours in our lovely cozy nests where the adorable grandparents are in control of everything. What made us impression before is the unique decorating ideas that these people used in the near past. Now, we are going to have a look at some fine decorating ideas from Scandinavian professionals. You may ask, why Scandinavian?
We have collected a really fine selection of some stylish and unique decorative items, that we believe will be of great interest to you, our readers. And because Scandinavian design usually means clean and elegant stylish lines, we think that the following items are perfect for those, who like to recreate a proper environment without screaming it. It is a common thing to see a lot of candles and fresh greenery in a Scandinavian home at Christmas, as well as you will notice the white color motifs. The white color is essential for Sweden, since it symbolizes the long winter in the north country. Now, lets have a look at the following Christmas decoration ideas:
Source: trendomat.com
In case you want to keep the things simple, don't limit yourself to only using a Christmas tree. The twinkle lights are a perfect way to create a holiday home décor that can last for a week. Igt can be easily draped on shelves or even placed at a random corner of the room. This little decorative elements can transform an entire place to a cozy and welcoming home.
A Dala horse is another simple, yet very attractive home decorating element. It is made of wood and painted in white color and it makes a perfect shelves decorative item. Actually, this is one of Sweden's national symbols. If you want to use such kind of little statue at your home, have in mind that it best fits bookshelves, window sills, and fireplaces. Since you wont be able to find Dala horse easily in America, try to Google it. We are sure that you will find the proper online retailers.
Wood is another emblematic decorative item for Sweden. It can be either used in winter or in summer time, but is natural appearance can be found in the cold days. Here is an idea: If you have a fireplace that you don't actually use, but only for decorative purposes, you can always fill the niche with wood cuts. They will create a cozy and friendly atmosphere in the room and will contribute to the visual display of a soft Christmas look.
As we have already outlined, the magic of Scandinavian Christmas look is in white and pale colors. This is contrary to the red accents used in America when decorating the interiors but we must admit that keeping it simple and neutral is a great stylish way to decorate our homes.
Have you every thought that paperwhites can make a beautiful Christmas decoration? This idea comes again from the country famous for its long winters and stylish interiors. The lovely white colors add an outstanding natural touch in every room. For great effect, we recommend using them at your dining table, instead of placing all that kinds of light systems, Christmas trees, little red Santa Clauses, etc. Just keep the things simple and elegant. In case you expect some guest for dinner, make sure that none of them is allergic to flowers, since the whitepapers are able to emit a strong scent.
Another way to recreate the holiday feeling inside a house is to pick some branches and decorate them in a lovely way. All you need to do is to find and place some in a vase without any water, then decorate according to your taste.
When we are talking about coziness, we must show to you one of the most private parts of a home – the bedroom. And what do you think of placing a sheepskin on it, or even at your sofa or couch. The sheepskins have an essential function to calm the atmosphere in a room down and to attract the human eye. Undoubtedly, once they are placed, they become a focal point in the room.
What a great idea! Imagine that you have displayed all your Christmas cards that you have received during the holidays. And because usually their covers are so creative and effective, you can use this uniqueness in order to make a stylish stand full of memories. In case you are not able to find such a stand, you can always use a length of wire hanging vertically from a wall, where you can stick all kind of cards or images.
This is a calendar, can you believe it? It is made of wooden material in combination with pottery cups with numbers. Each cup have an unique number that corresponds with the exact date. Of course some of them are missing but, however, this intriguing idea is brilliant home decorative item.
A Christmas wont be the same without at least one Christmas tree in it. Some people love the giant trees while others are not keen on huge things. Having a small piece of tree branch is enough for adding a custom feel inside the place. Our one and only advice is to put some stylish decorative items at the top of the branch and now you will have our own Christmas idea at your home.
And now, lets have a look at your favorite Christmas color – red. This idea is a perfect addition to a table where white dishes are the leading colorful theme. Adding some reddish items can be the ice-breakers between you and your friends. The trick is that none of these products are a special Christmas market founding which means that they can be used all over the years.
A small and gentle window wreath in green is another Scandinavian item that can make your holiday atmosphere. This can be done only using the branches of conifers outside your home.
A little different in its appearance, a pinecone is an interesting interior decision for a kids room. In case you live in a place where pinecones can be easily found outside, go and collects some. In the example above the wreath is stuck to a clothing hanger.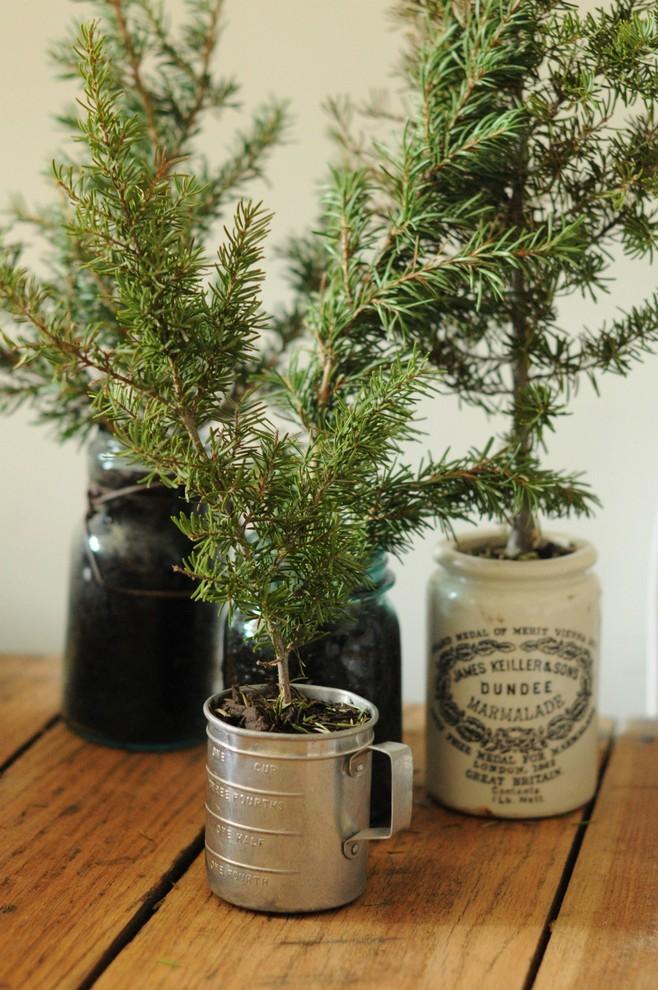 This ideas is the perfect Christmas solution for all the rustic and eclectic lovers. Have a bunch of tree branches and pot them in small vessels. The good part is that these trees can last for weeks after the holidays.
The Christmas table needs some splashes of green and silver. Have a glass of water and place a branch from your Christmas tree nearby or you can either use Rosemary. If you want an effective table you can scatter around several silver items, like silver balls for example – they are perfect. To complete the vision, two tall candles are able to finish the composition.
Have you ever imagined that there is such thing like an ice wreath? It reminds of old Scandinavian days full of snow and emotions for everyone. The key to making such a wreath is using a container full of water. After that, you need to place a second smaller container. In order to create an authentic atmosphere, you'd better place some rocks, leaves and berries. After the water become ice, all the ingredients will look gorgeous.
To complete today's Scandinavian Christmas theme, we have chosen an idea of a true Scandinavian character. Have a look at it and take the best out of the neat and friendly table.