When the time arrives to give your whole garden a makeover, you can't forget about all the tiny details. This will include everything from the flowerbeds to the garden pathway. You might also want to add some sort of technology to your gardens, such as an outdoor grill or some sort of fountain. But, make certain to also add lighting to your garden! This is a crucial element. Installing lighting in your garden will not only set a mood but will allow you to see clearly in your front or backyard during the evenings or nights. So, check out our pick of 20 garden lighting ideas to find inspiration for your own garden. You will be sure to find something amazing amongst our backyard lighting ideas!
1. Lights on Both Sides – For the Garden Walkway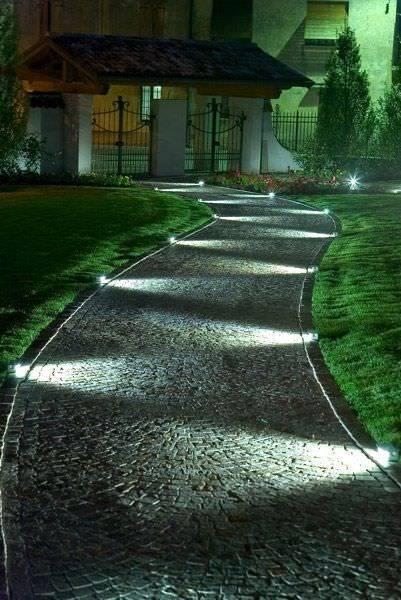 How about you add some lighting to your garden pathway? After all, it would only be logical to do so! When you get home in the evening or night, after a long day of work or getting out of the house for a night, then you may be in need of a well-lit garden path. It doesn't feel so great so stumble through your garden during the night, so lighting up your path will definitely help you easily get to your front door. You can install lighting on both sides of your path, illuminating it completely.
2. Lighting a Deck or Terrace – Garden Lighting Ideas
If you have a larger garden with different spaces, then you will need to light up all of them! For example, you may have had a deck or a terrace built in your garden as these are fantastic areas for entertaining guests or relaxing a little. If this is the case, you will definitely want to install some source or form of lighting to it. Whether these are spotlights installed into the wooden panels of your deck or lights installed in the fencing around the area, we're sure you shall find a perfect option!
3. Lamp Post Lights – From a Different Era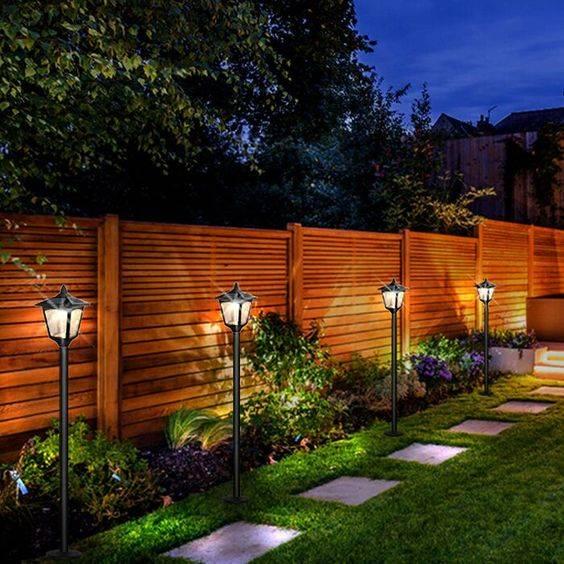 Have you always admired a vintage or old-fashioned home and garden design? When the whole style or ambience of an environment exudes something vintage, you will feel as if you are in a different era. So for lighting, why not install some lamp post lights in your garden, with which you illuminate the whole area of your garden. Of course, a lot depends on what sort of design the lamp posts have, what colour they are created in. Also, you will want to try finding other sorts of garden decorations, which match this vibe.
4. Brighten the Driveway – Backyard Lighting Ideas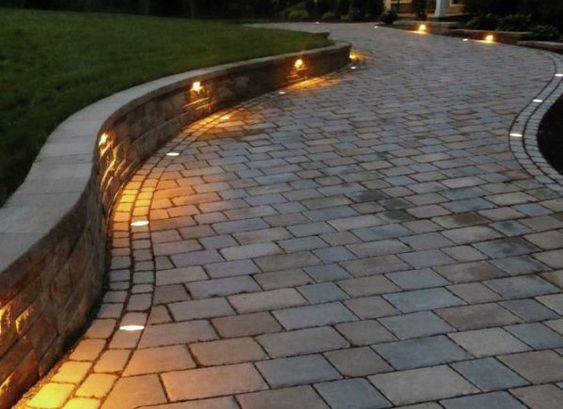 Turn your driveway into a safe and well-lit space. When you're driving, even if you have headlights on your car, you won't want to drive onto the area of your garden. This means that installing lights all along the line of your driveway will highlight the direction you need to drive in. Adding lights to your driveway will ensure that if any guests arrive at your house, the lights will show them the way! So if you haven't installed lights along the route of your driveway, then the time has arrived for it!
5. A Woodland Vibe – Wonderful and Dreamy
Have you always felt like your garden is inhibited by small fairies? Well, how about you turn the whole garden environment into an area which is filled with magic! You can easily achieve this by arranging some decorative fairy-like ornaments in the garden. But you will also want to watch out for the type of lighting you use, as this will enhance the atmosphere of the whole space. How about turning some tree stumps into shining sources of light? Place lights in the middle of the hollow stumps and cut slices into their sides. The cuts will allow light to shine through the stumps. These glowing tree stumps will really be a fabulous and magical solution!
6. Wall Light Sources – Garden Lighting Ideas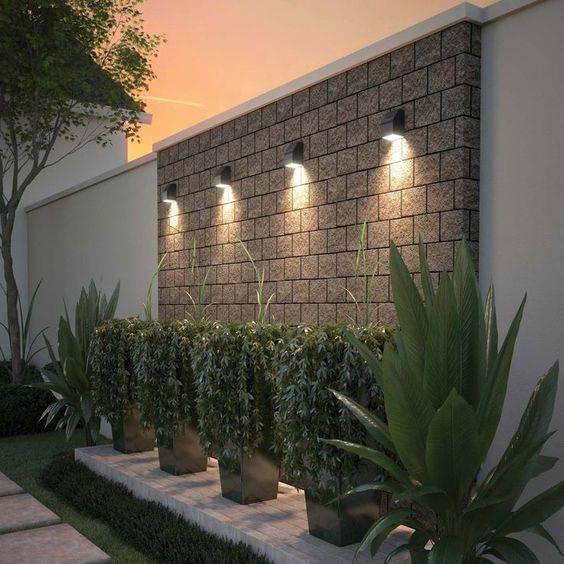 Perhaps you have a large fence or garden wall surrounding your front or backyard. If so, consider adding and installing lighting to the wall itself. This will come as an easy solution if you have been uncertain about where to arrange your lighting. After all, installing lights on the walls of your garden will add enough luminosity to the whole of your garden, especially if you move the lights in the garden's direction. 
7. Seeing the Way – For a Set of Stairs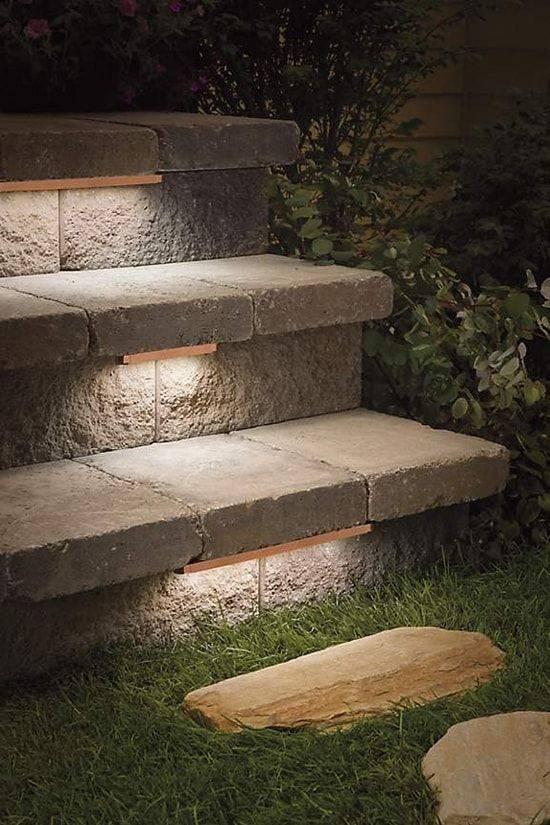 If your home was built on a small slope or your garden's terrain is not completely flat, you may have had to add some stairs somewhere. For example, if the stepping stones of your garden pathway lead you around the garden and you come across a slope, a simple solution would be to incorporate a smaller flight of stairs there. However, if you come across this flight of stairs during the evening or night, how will you see where you need to step? That's exactly why you need to install a light above each step, allowing you to see the way!
8. Create a Stunning Ambience – Fairy Lights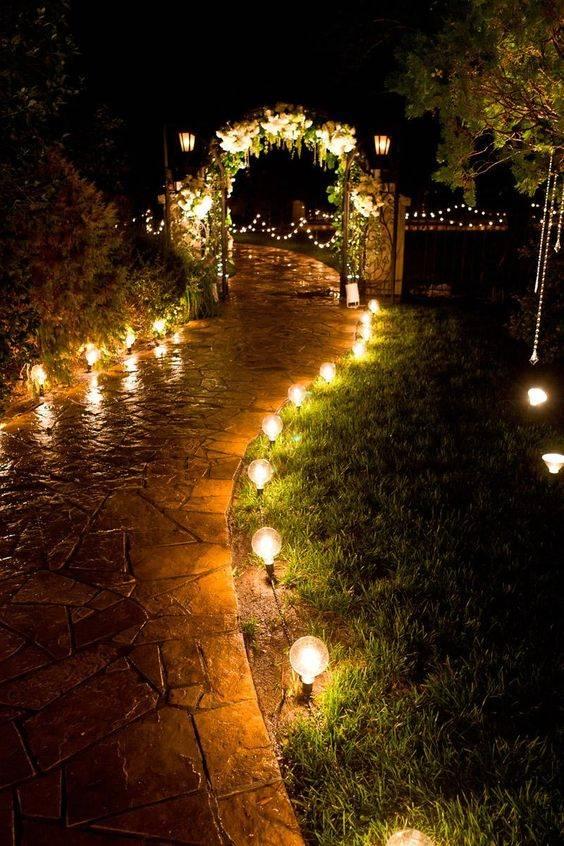 Have you been trying to find a way of lighting that will transform your garden into a place of dreams and magic? How can you achieve this look? Try using fairy lights all over your garden, stringing them on your fences or garden walls or placing some in the ground along the pathway. You can also hang some strings of fairy lights from the branches of trees, to bring about an even more stunning look to your garden. To take this up to another notch, you can arrange some lanterns around the garden which have flameless candles in them.

9. Use for Garden Edging – Backyard Lighting Ideas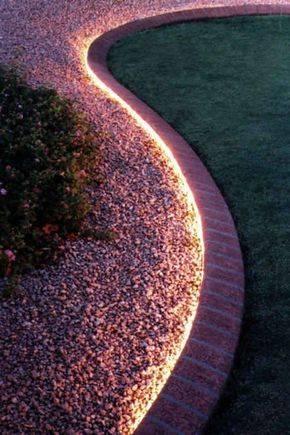 Maybe you have used some form or forms of garden edging in your front or backyard. What exactly is garden edging? It's when you separate a part or area of your garden from the rest of it. For example, outlining the border of a flowerbed with rocks or bricks. As an alternative to using such materials to draw the outline of a border, how about you use lighting instead? This will make the space look gorgeous and elegant during the evenings or nights.
10. Illuminate Your Garden Beds – Stunning and Simple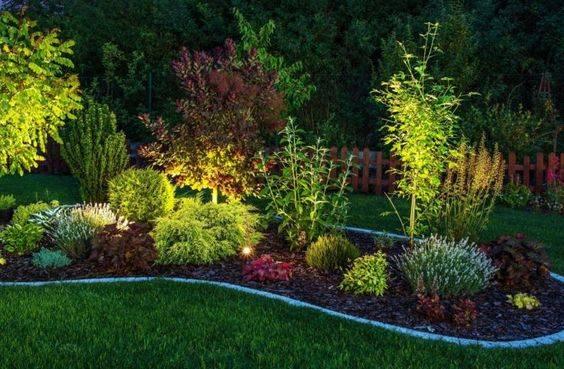 Naturally, you don't have to go completely overboard with your garden lighting design. You might decide to settle for something simple, yet stunning all the same. If your garden has a few garden beds spread over its area, then how about you highlight those during the evenings and nights? Bring attention to them by installing lights in the garden beds. By adding some lights to the bottom of the flowerbeds you'll be able to direct light upwards at your plants. This will help in creating some interesting shadows and lighting, so if that's what you are going for, give it a try!
11. The Easiest Solution – Garden Lighting Ideas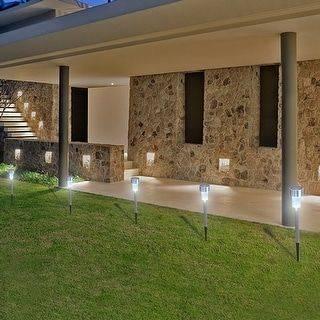 Sometimes the simplest solution is the best! If you don't feel like you need super fancy lighting, then an easy and effortless lighting option will also be amazing! You might just place some lights in the ground, lighting the route of your garden walkway. A fantastic idea would be to use lights that are powered by solar energy! Even though they might be expensive to buy, they will save money in the long run. Not to mention, they are an environmentally-friendly option.
12. Unique and Modern – Different and Unusual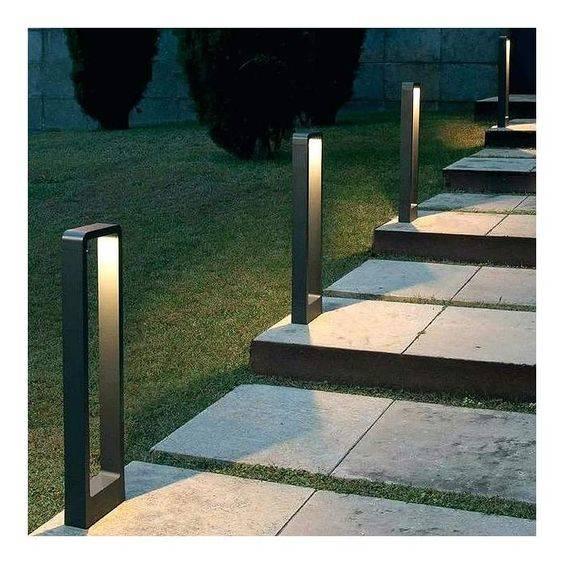 Is your whole home designed and styled in a modern and contemporary manner? If so, you will want your garden to match that ambience and vibe, which will include the lighting you install in it. Keeping this in mind, you may decide that you choose lighting that is already formed and shaped to look modern, almost futuristic. So, if this is the style you'd like your garden to incorporate, then make sure to get some unusual and modern lighting for it.
13. Amazing Glowing Pots – Carefully Arranged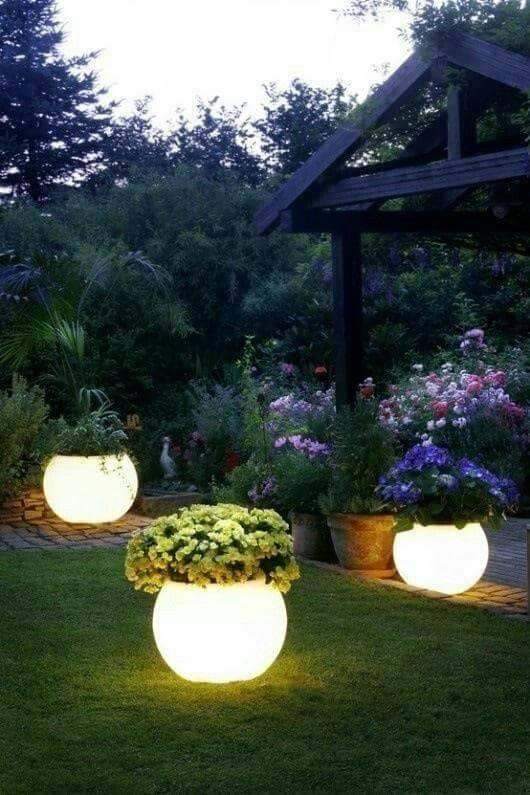 Get your garden ready and glowing with this amazing idea! Arrange some glowing pots around your front or backyard! You may be able to buy pots, which have led lights installed in them which are then covered with plastic to create this superb glow. Naturally, you can plant whatever sort of herbs, flowers or ferns you'd like in them. These pots of light will look amazing during the evenings and nights. And one of the best things about them is you can move them at any time! So, if you're not happy with what sort of light they are projecting in a certain place, you can easily move them to a different spot.
14. How to Light a Pond – Backyard Lighting Ideas
Do you perhaps have a pond or a pool in your garden? If so, you may be trying to find amazing ways on how to light it up. You will most likely need to install waterproof lights either already in the water or right above it. For example, you might have a small bridge built across your pond or pool. If this is the case, feel free to install lights right underneath the bridge, as this will create ambient lighting.
15. Pouring Out Light – Adorable and Creative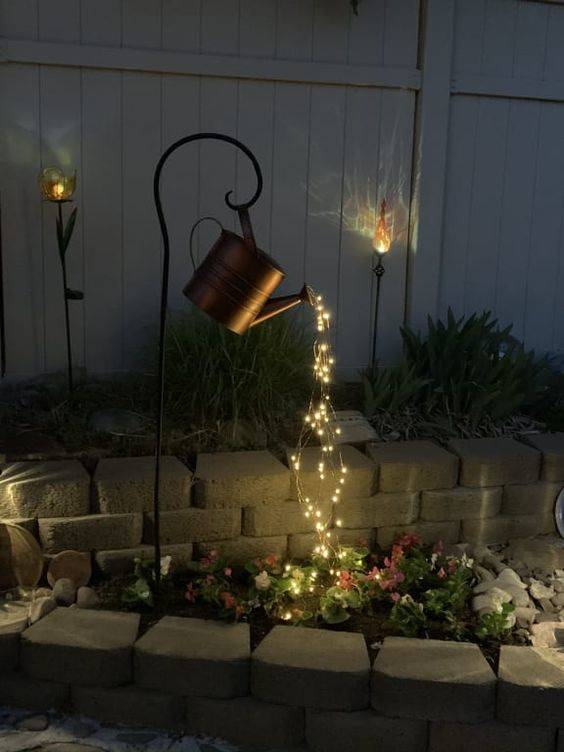 Here is a super cute idea to try out, especially if you are feeling creative. Attach watering can to a pole which is inserted in the terrain of a flowerbed in your garden. From the openings of the watering can pull through strings of fairy lights. Instead of pouring water over your flowers, your watering can will be showering light on them. This is an awesome idea to try out in your garden, especially if you want to highlight the beauty of your flowerbeds.
16. Lighting from Below – Garden Lighting Designs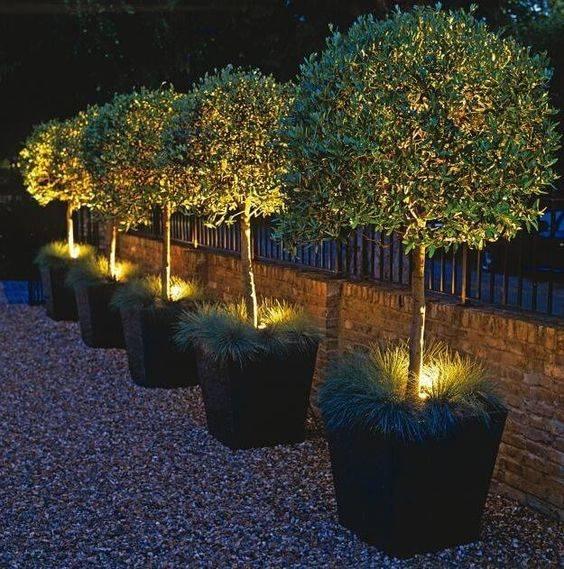 Do you have any trees or bushes arranged in larger pots or vases in your garden? Then it's time to light up these plants as well when the evening or night arrives. You might place all of these potted bushes and trees in a line. Then install some lights right underneath them, so that the lights are directed upwards into the crown of the trees or the foliage of bushes. Using lighting will turn these bushes and trees into centrepieces of your garden during the evenings and nights.
17. Underneath the Stairs – Logical Lighting Designs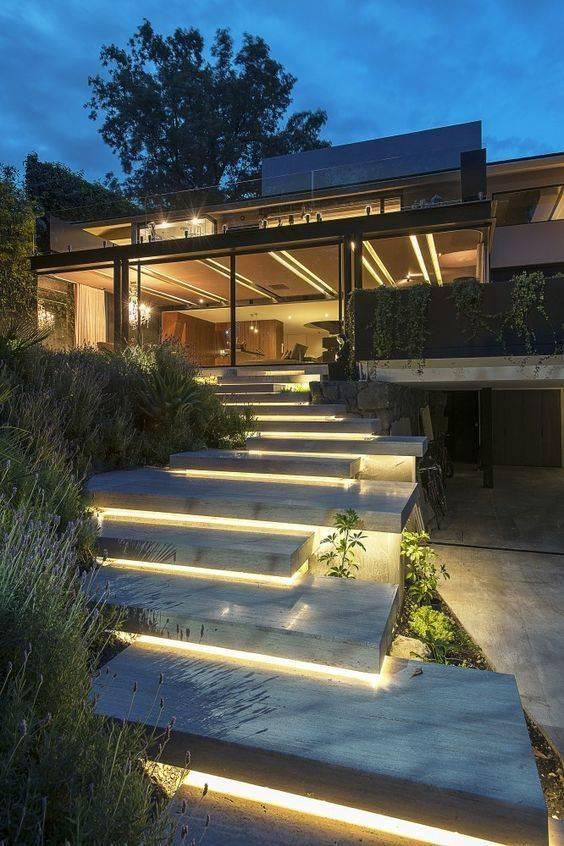 We have already talked a bit about using and installing lighting around a set of stairs you have in the garden. After all, if you are walking downwards or upwards on the stairs, you will want to see where you are going. In a case such as this, you might surround each stairsteps base with a string of led lights. Thanks to the led lights, each step will be illuminated perfectly, meaning you'll see exactly where you need to step during the evenings or nights.
18. Balls of Light – Beautiful and Brilliant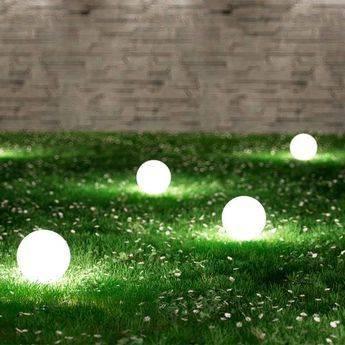 Give your whole garden a unique look by arranging ball lights in it. You can place these in the garden beds, scatter them in the grass or line your pathway by placing these ball lights on both sides of it. Besides looking completely different and groovy, the great thing about these ball lights is that they are moveable. So if you want to rearrange them, you'll be able to do that at any time!
19. Rows of Fairy Lights – Backyard Lighting Ideas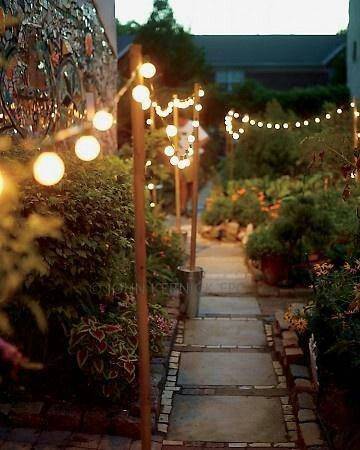 Are you trying to decorate your garden at the same time as lighting it up? Perhaps you are going to be hosting a party in your garden and would love to give it a new look. A relatively cheap and easy option would be to hang fairy lights everywhere. Strings of them. You can hang them from tree to the next tree or across your garden fence or walls. This will definitely boost the vibe of your whole garden.
20. Interesting and Inventive – Shining from Underneath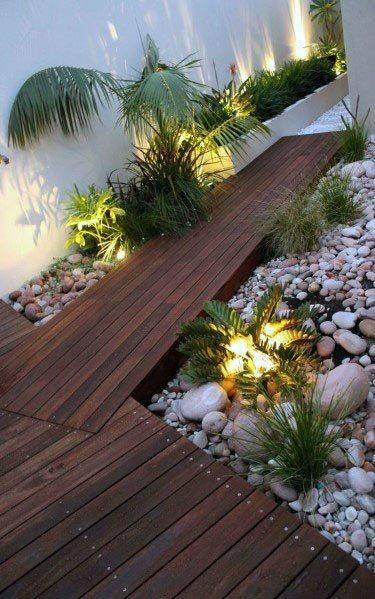 As you will have noticed by now, there are hundreds of unique ways in which you can light up your garden. Installing lights right underneath your plants is also a fantastic idea! This will definitely cast interesting shadows and lights in the rest of your garden. So if you are looking for something funky and different, try out this sort of lighting.
We hope, that you found some fantastic garden lighting ideas in this collection! For other garden ideas, such as garden path ideas or indoor herb gardens, visit our website!