When you arrive home after a long day of work, how do you like to relax? Perhaps you spend time in your kitchen cooking up a storm. Maybe you lounge around on your sofa reading a good book or bingeing on your favourite TV series. But you might also enjoy a glass of some sort of fine wine or a nightcap of delicious liquor. If this is the case, why not create a home bar in your apartment or house? Check out our 20 living room bar ideas to find something that would fit the ambience of your home. Creating a home bar will allow you to entertain any guests you have over, in an elegant and refined manner. So make sure to check out our modern home bar ideas!
1. A Corner Bar – A Whole New Area
If you have the space for creating a larger bar, then why not go for it? You can have a bar built up in one of the corners of a bigger room. Make sure to add all the necessary details to it. This will include the bar table and a cabinet behind it, in which you store your liquor and different shaped glasses. If you have a separate bar built up, you will also want to make certain that you have plenty of lighting installed in this space.
2. Space for Everything – Modern Home Bar Ideas
Even if you don't have a large home or a whole room to create a bar in, you can still put together something small and equally good. All you need is a smaller cabinet, to which you attach shelves. The cabinet itself can have a wine rack, as well as shelves, installed inside of it. This will make it easy for you to store wine, as well as a variety of differently shaped glasses. You'll be able to store the other bottles of liquor on the shelves above the cabinet. So, keeping it easy and effortless is a great idea, especially if you don't have much room for a bar!
3. Glass Shelf Doors – With Brilliant Lighting
Maybe you prefer elegant and modern solutions when it comes to home design and decor. If you have decided on having a built-in bar cabinet installed in one of your walls, then check out this idea! Instead of having the cabinet doors made out of wood, have them made from glass instead. This will give your bar cabinet a spectacular look. Especially if you add the right sort of lighting to each shelf, making them glow with a special light.
4. Fantastic Organisation – Living Room Bar Ideas
As we mentioned before, you may not have a large space to work with, in which you can build your bar area. For a classic and elegant design, how about you use wood to create the bar cabinet? You don't need to include a bar table, just a larger bar cabinet. If you would like to bring that classic sophistication to your bar cabinet even more, then how about you have a mirror placed behind it, that will serve as a backdrop? Create separate shelves for different types of liquor as well as for the drinking glasses.
5. A Space to Sit Down In – Adding Stools
While you may have already decided on what sort of bar you'd like to create, one important detail you can't forget about is to add seating space to it! Obviously, when it comes to a bar, the best option is to choose are bar stools. Whoever is over, will be able to enjoy a glass of their favourite liquor while sitting down in a comfortable bar stool. Or they will be able to watch you as they sit down while you mix the drinks or pour them a glass of wine.
6. A Mix of Natural Shades – Bringing a Sense of Style
There are a lot of important choices to make when it comes to what sort of colours and materials you choose when it comes to home design. If you would like to embody a more natural and earthy vibe in your bar area, try using warm shades and brown as the main colour of the room. Also, make sure to use wooden furniture. Naturally, if you want a modern touch in the room, you can add a few different sorts of elements. This might perk up the whole atmosphere and give it a contemporary look.
7. X Marks the Spot – Wine Rack Designs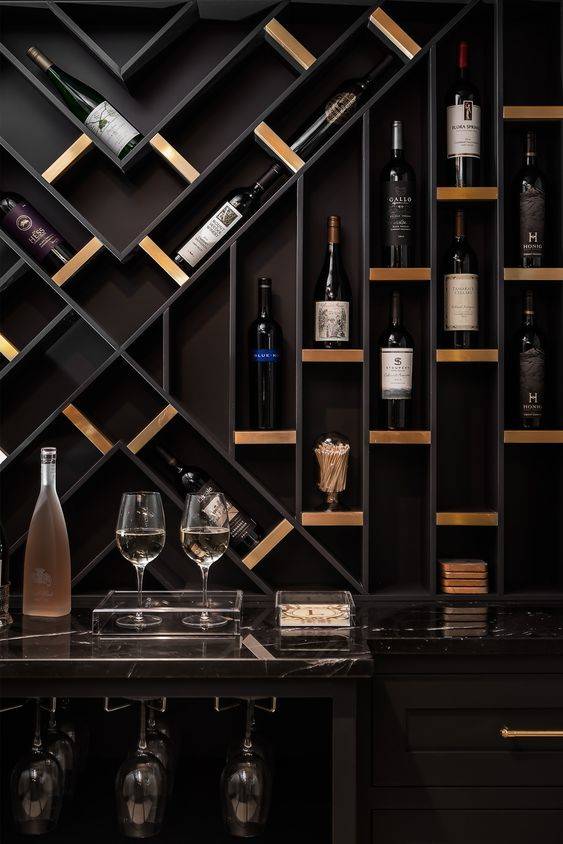 Do you absolutely love tasting different types of wine? Maybe the reason you'd like to create a bar area in your home is mainly to drink wines. Keeping this in mind, you will most certainly need a wine rack then! But instead of sticking to a plain or typical wine rack, how about you give it an unusual design? You can have the wine racks placed to create an interesting pattern. Thanks to them, you won't even have to think much about ornaments or decorations as this will be perfect on its own!
8. Wonderful in White – Modern Home Bar Ideas
Have you been thinking of what colour to use for your bar cabinet? Well, this all depends on what sort of mood you would like to create in the room and around the bar area. If you'd like to bring a simplistic elegance to your bar, you may opt for white. White is a clean colour, bringing a sense of clarity with itself, which is something you might need around your bar! You can put together your bar out of a smaller cabinet with floating shelves attached above it. So if you can't afford a large bar cabinet, this is an easy and cheap option!
9. Different Sorts of Shelves – Perfect for Storage
Are you unsure about how to arrange and organise your bar cabinet? After all, you need to make certain that you create enough storage space for everything. This will allow you to fit everything into your cabinet in a smart and clever way. For example, add a wine rack to it as well as wine glass holders, into which you can slip your wine glasses in upside-down. If you need any more storage space, add a few more shelves or even drawers to it.
10. A Built-In Cabinet – Living Room Bar Ideas
We have already talked a bit about creating a bar cabinet, that is actually built into the wall of a room. This is perfect for anyone who would like to save some space. Just think about it, building into one of your walls doesn't take up the space of a room. By adding some doors to your built-in bar, you'll even be able to conceal it when you aren't using it. Remember to install some form of lighting to your bar!
11. A Vintage Vibe – Fantastic for Entertaining
Bring a vintage vibe straight into your bar with just a few tips. So if you've always wanted to create a bar that has an old-fashioned and timeless sense to it, just check out our idea! This type of bar needs more space, so make sure you have enough room for it, so it won't feel cramped. You will need to install a bar table, a cabinet behind it as well as placing a mirror right above it. Of course, try using furniture that is designed in a classic style. Thanks to the mirror, you will truly be able to achieve a vintage look in your bar area.
12. Open Sesame – Fabulous Modern Home Bar Ideas
Here is another great way of saving space if the room you are going to install your bar inside isn't too big. So get yourself a cabinet which you can open as if it were a large closet with shelves inside. Make sure that there is a variety of types of shelves, which will allow you to store all sorts of things inside of them. Whether these are bottles of wine or different liquor or some mixers with which you can make some tasty cocktails, you'll have space for everything!
13. A Side Shelf – On a Mini Dining Table
You don't have to go overboard when designing a bar in your home. For example, if you live in a smaller apartment you might not know how to fit in a miniature bar. Perhaps you have a dining table in your kitchen or living room. How about you attach a shelf to one of the sides of the table? With a few racks installed in the shelf, you'll be able to leave a few bottles of wine or other sorts of liquor there. Thanks to this small shelf, you will have created a mini bar area in your home!
14. All About the Lighting – Living Room Bar Ideas
There are a lot of ways you can take your home bar design to the next level. Just one of these options means adding the perfect sort of lighting to your bar. After all, lighting is all about highlighting and illuminating all the important parts of a room or space. So, decided where to install the lights and how many of them you'd like to install, you'll be able to create a very unique mood in your bar.
15. A DIY Design – Working on It Yourself
If you are the sort of person who likes to create their own sort of furniture, why not put together your own home bar? You can use ordinary objects to create something extraordinary! For example, use barrels for the legs of your bar table and place a wooden board over them as the tabletop. Or use wooden racks or boxes to create shelves right above your bar table. Thanks to you putting together your own bar, it will have a unique and special atmosphere to it.
16. Modern and Funky – Cool Modern Home Bar Ideas
Do you have a fun and bubbly personality, which you'd like to embody in your bar as well? Then how about you consider adding a few bursts of vibrant colours to your bar area? Also, think about using different and unusual sorts of materials to make the whole environment pop. This might come in the form of choosing unique wallpaper for the walls that surround it or stools that come in a funky colour. As we have stressed before, the lighting is also crucial, so choose the lighting for your bar area that will complement its look perfectly!
17. Installing Floating Shelves – Excellent and Easy
Are you in search of a cheaper option for your home bar? Push a table into the place you have decided will become your bar area. Right above it, install a few floating shelves, on which you will be able to store your liquor. You can place two bar stools underneath the table, allowing you to sit down. This is a perfect way to create your own mini bar if you don't want to buy an expensive cabinet and matching bar table.
18. All the Necessities – An Abundance of Appliances
When it comes to designing a whole and perfect bar, don't forget your appliances either! Make enough room to fit in a fridge, or if you need a dishwasher than leave room for that as well. Then depending on what sort of mood you'd like to set in the room, making sure to add that sort of decor and lighting to make that ambience come alive.
19. Blue and White – A Calming Colour Combination
Perhaps you are trying to find a colour combination for the setting of your bar, which will immediately transform it into a beacon of peace. How about trying out the combination of blue and white? You can use black or dark wood for the bar cabinet or bar table to complete the look.
20. Innovative and Industrial – Living Room Bar Ideas
Here is another unique combination of materials to work with, in order to create a unique-looking bar! It consists of matching together metal rods with wood. You can use the metal rods to connect the shelves of your bar cabinet together. The metal and the wood will bring a new and industrial look to the bar. So if that's what you are going for, give it a try!
We hope that this pick of 20 modern home bar designs has helped you out in finding something special! For other home design ideas, besides living room bar ideas, such as making your own decorative cushions or tips for building a kitchen island, visit our website!