If you are looking for ingenious ways to add color and lots of joy to your nursery, then you have come to the right place. While you create and decorate your baby's room, the color and the theme matters a lot and whatever theme it is, there needs to be a base color just in case you would like to use multiple colors for a rainbow effect. So, how do you go about choosing the right color?
1)   Play it safe
A blue nursery for a baby boy and a pink one for a girl never gets old. If you are not a very experimental person, you can simply play safe and use either of these colors. With that said, you can still play with a variation with the furniture you use in the nursery. No, the cliché colors will not look boring at all. In case the nursery is small, go with one shade of the color you choose. If you don't feel pink, you can choose violet or peach for a girl and green for a boy. White and beige lean more on the unisex side so you can use those for either.
2)   Go green
If you feel that blue is everywhere, green can also be great for boys. You can use some yellow, brown or white to compliment it, to make the nursery look a lot more interesting. If you live in cold areas, you could use dark shades of green to look warmer and in hot climates, lighter green will look great.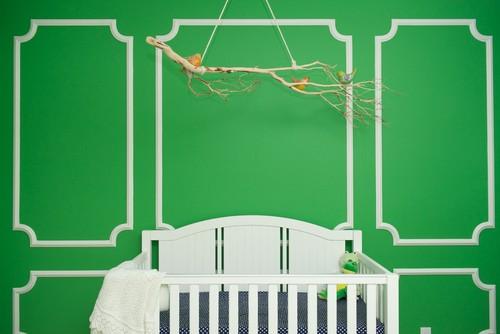 source
3)   Unisex
If the gender will be a surprise, you can use a unisex theme. Yellow, white, beige, grey or even multi colors will be great choices. You can use yellow with grey, white or green for depth. A contemporary look will never fail the nursery.
4)   Stand out
If you want an idea that will sum up the room, you can decide to stand out. This means that you can choose a color that would not be considered a first choice for most, which will make it stand out. Black and white, zebra themed, teal and rust are some great combinations. You can also go polka on the walls and trees, the dots will simple do the trick.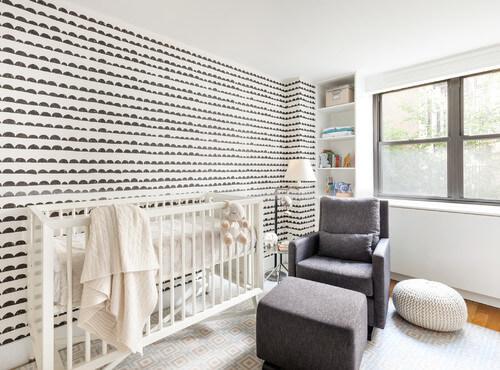 source
5)   Be creative
Anything can become a design motif for the children room from a dragonfly to the mystical and wonderful forest. Reinforce simple elements that they might like without creating a rigid environment that cannot evolve. In childhood, kids change their idols and reference point from one week tot the other so an immense Mickey Mouse in the nursery might be a mistake.
Use neutral tones for versatility and temporary solutions like wall decals for versatility.
6)   Play sober
Simplicity is simply the best policy. You can use sober and calm colors like beige, white, gray and cream for a unisex nursery. The nursery can receive accents in furnishings afterwards if the immense amount of colors in toys will not be sufficient to lighten up the atmosphere.
[houzz=http://www.houzz.com/photos/1529817/Vintage-Modern-Boys-Nursery-contemporary-nursery-san-francisco]
7)   Tribal and eclectic
You can incorporate unique and interesting pieces through the use of anthropologies and IKEA. Use different textiles and textures in your little ones nursery to make it pretty cute. Patchworks are greatly appreciated when tailored right and your little one will get to learn textures, he`ll great associations of grand importance, memories that will last a life-time.
Via
HGTV
8)   Bold but contemporary
For your baby boy, you can check out an interesting color scheme, one that breaks the mold. A green and orange color scheme will be very adaptable and later on you can add navy for a more grounded look. Choose colors that look timeless or at least combinations that can fit multiple variations, orange and green for example can talk about fruits, something refreshing, about dragons, something really dangerous and thrilling just as well as they can talk about sports or the colorful jungle. Having a plan prepared for your set of colors can be highly fruitful in the long run.
Via HGTV
These are some of the color mixes that will bring joy to your nursery so do not be afraid to experiment. What do you think? We would love to hear from you !