Decorating a flat or a studio apartment is more difficult than you thought. If you think that a small space means less headaches, then you should reconsider since the smaller is the space, the more challenging is to find useful, functional and, also, visually appealing pieces of furniture.
In addition, the main purpose of designing a small apartment is to make it look bigger and airier. Most of the flats are built on the principle of utility, which makes them lack any creative interior design.
To create the illusion of a bigger space here are some tricks to transform a small apartment into a stylish, airy and cozy dream home.
9 Decorating Tips for Furnishing Small Apartments Like A Professional Interior Designer
Make the most out of light sources.
One of the basic tricks in setting up a small space is related to the light sources. A well-lit room with a natural light source will look much larger.
To make the most out of the natural light, avoid curtains from opaque materials or dark shades and keep empty, as much as possible, the area in front of the window avoiding furniture or massive decoration objects.
But what if the apartment doesn't enjoy natural light facilities? Then one shall use as many lighting sources as possible. If you do not enjoy natural light, compensate this with lamps of different sizes and shapes. Opt for simplicity and a neutral color of the luminaires.
Choose multifunctional and small sized furniture.
If you are moving into your first apartment and you lack experience when it comes to properly furnish it, you must keep in mind that multifunctionality is the key. The good news is that the furniture for your first apartment may not be very expensive, requiring a budget of $1,000 or even less.
Furniture that performs multiple functions, like a coffee table or a hall bench with storage area or shelves, can save you valuable space. Also, a sofa bed with storage space will be able to fulfill three roles – sofa, bed, storage furniture. Multifunctionality is mandatory when it comes to small apartments.
For practicability and space economy, most of the furniture, used in tiny apartments, shall fulfil at least two functions. The dining table, where you gather your friends and family over the weekend, shall be suitable to fulfil the need for an office table.
Suspend shelves and mirrors.
A practical tip is to suspend as many shelves as possible since these are ideal for arranging decorative objects that will personalize your apartment. A free floor gives a feeling of more space. Use the length of the walls and choose suspended furniture for both the bathroom and the kitchen as well as for the bedroom and dining room.
Also, place mirrors on the walls to help you get more natural light, beside the feeling of bigger space that these provide.  Mirrors are a great deal not only in the bathroom but also in the bedroom, in the living room and even in the kitchen.
Because these reflect light and create the illusion of wider space, the glass finishes (walls, shelves or decoration items) are also recommended.
Opt for light or pastel colored furniture.
When you furnish a flat, it is important to choose light colored furniture as the light and pastel shades create the impression of a wider and unloaded space. Replace the boring white with classy shades. You can choose between warm and bright beige, cream, pink or pale-yellow tones, golden or sandy tones, gray tones, etc.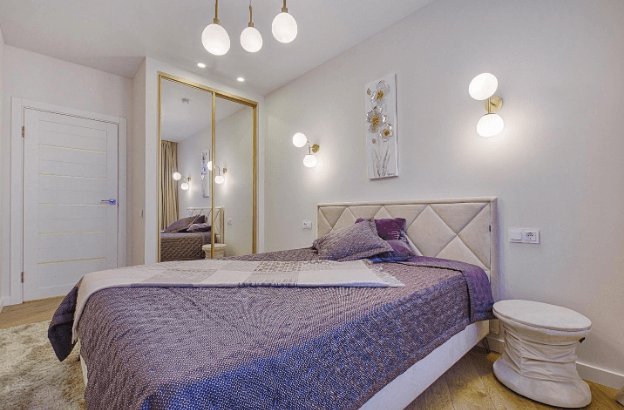 Place folding furniture in narrow spaces.
In a narrow kitchen, the organization is the key to success. If it is well-organized and functional, even if it is small it will look much more spacious.
If you have a long and narrow kitchen that does not allow you the space to have a generous table, choose a folding type. Additionally, if you want to change the look of the narrow kitchen and make it cozier you can opt for a wooden floor to convey the feeling of intimacy and warmth.
Select mosaic tiles for your bathroom.
Mosaic tiles can reflect light and thus visually enlarge the room. If the total wall cladding seems too expensive, you can limit yourself to one wall or only covering certain wall portions with mosaic tiles leaving the other ones white or light colored.
Another trick to keep the bathroom seem larger is to opt for glass furniture. The glass contributes significantly to creating a sense of space, therefore, look for mirrors or other transparent glass items, such as sinks, shower doors and shelves, to decorate your bathroom.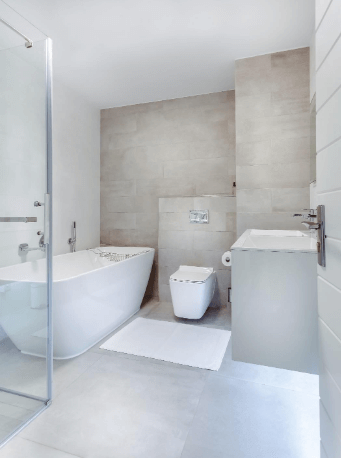 Vertical vs. horizontal striped wallpaper.
Both options are great for flats. If you have an apartment with a low ceiling, you can visually enlarge the space, and create the illusion of a room with a tall ceiling, by applying a vertical striped wallpaper. This type of wallpaper fits best the living rooms with low ceilings.
The horizontal striped wallpaper comes in handy for small bedrooms. Play with nuances and choose to dress one of the walls in a complementary nuance to optically enlarge the space. Additionally, restrict yourself to the necessary pieces of furniture in shades closely matching the wallpaper's color.
Since the large space is not your ally, opting for small pieces of furniture is also important. A large bed can be a dream, but if you have a small bedroom, it does not make sense to occupy the whole room with a big bed. For small bedrooms, ideal beds have a size of 140 to 160 cm.
Choose compact pieces of furniture in straight lines.
If you have a small apartment, the choice of furniture must be done with great care so you will not make it look even smaller than it really is. Avoid pieces of furniture with a rounded shape, as these will create space gaps behind them that you will not be able to use for anything else.
Carpet boundaries and large décor articles.
Use small carpets of different colors to mark different spaces in a room. The room will appear divided into several areas and, overall, it will look bigger.
Large decor pieces, such as flower vases, bright colored decorative pillows or large paintings are recommended for small rooms, as the small décor items create the impression of agglomeration.
Final Thoughts
As a general line, a messy apartment seems far less spacious than one in which things have a well-established place. This applies to furniture as well as to accessories or decoration items. Keep in mind to play with pastel colors, different sources of light and multifunctional, small-sized furniture.