2018 is marching steadily onwards, and already it looks like it's going to be a fabulous year for interior design! If you're keen to get up to date and ahead of the curve with the year's hottest trends, then look no further. We've put together some of the most interesting emerging looks to give your home a completely new feel, and revamp your space to induce more creativity, relaxation and inspiration for the year ahead!
Remember that your home is your haven, so don't feel you need to change a space you already love just to keep up with the current trends. Pick the looks that speak to and inspire you, or will give you a fresh new perspective you'll love! With that in mind, here are our favorites for 2018.
Canvas prints and Geometric Designs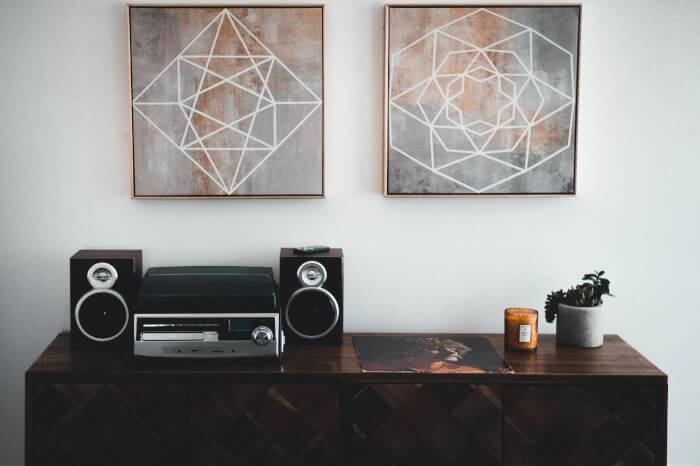 Geometric designs are looking big for 2018, and canvas prints are a clever and affordable way you can incorporate your favorites. Because you can blow up whatever images you like, you've got a whole Internet's worth of designs and colors to choose from! Challenge yourself to go bold with a geometric design that really creates an accent piece in a dark room. Circles are particularly popular this year, but pick a design that speaks to you.
Canvas prints are also an excellent way to personalize a space with photos of friends and family, so why not get your favorite shots from last year immortalized and put on proud display while you're at it?
Moody colors
Move over whitewashed walls, things are about to get a bit darker! 2018's palette looks to be a lot richer, with deep navy blues and emerald greens, stormy grays, rich purples and regal maroons taking center stage. Lavender and lilac are also coming out as popular hues for rooms you'd prefer to have a more feminine touch.
If you've never painted a room anything but cream or off-white, this can be a daunting prospect for a novice decorator – so feel free to stick to an accent wall or a few pieces of furniture if you're too nervous to do an entire room. These colors look particularly at home in seating areas, dining rooms and bathrooms – anywhere you want to encourage relaxation. Stick to rooms that have a lot of light so the colors can really stand out and do their thing. Done well, this is a particularly impressive décor style which oozes glamor and sophistication.
Wood, wicker and tactile textiles
There's a lot of texture going on this year, and it goes especially well with those moody colors we just talked about. Exposed wood is back, so it might be time to put your DIY hat on and strip some of your wooden pieces down to their original glory, or just give your existing pieces a good varnishing so they stand out.
Wicker and rattan furniture, and pieces which showcase the underlying craftsmanship of furniture are definitely back in vogue, as are tactile and traditional soft furnishings like knitted blankets, stone sinks, vintage lighting, concrete furniture and fireplaces, and any object that basically shows you exactly what it's made from!
Wabi-Sabi, or the Japanese art of finding beauty in imperfection, is definitely in this year – so celebrate and highlight handmade items, rough linens, and traditional country-style pottery.
Contrast
Whether it's two-toned kitchens, wallpapered ceilings, a mix of old and modern furnishings or complementary color palettes, contrast is definitely in – which is great news if you already have a mishmash of stuff around! Rather than trying to get everything in a room to look the same, embrace how objects that you might think would clash could actually bring out the best in each other! The trend for natural finishes is a good way to accomplish this, such as using natural limestone or exposed brickwork as an accent against more finished surfaces and textures. Bright, warm furniture against those moody green and blue color palettes we mentioned earlier is another great option.
Storage that makes a statement
A very welcome trend this year is pieces that are highly functional storage units first, and bold design statements second. This means large wardrobes and cabinets, clever storage options, and dual purpose furniture – anything that helps keep the clutter at bay and give the room a more organized feel, while still managing to add beauty and interest too.
We hope you've found our peek into the year's trends ahead inspiring – happy decorating!