Gràcia district in Barcelona, Spain is one really amazing place. Walking around the neighborhood you will accidentally spot Casa Batlló apartments created in the early 20th century by the famous Antoni Gaudí. Passing by this hot spot you will come to Generator – the newly built hotel in a renovated building that symbolized the birth of the brand. Creativity sparkles from every little details in the interior and the exterior of the hotel. The company that developed the project – The Design Agency, has contacted several local architects and artist, so that they could authentically recreate the local spirit in a contemporary way trough the different graphics, lighting and "G" sculptures.
Generator Barcelona is both – a hotel and a hostel. It somehow reflects the cultural richness of Barcelona in its various design forms and colors. Being a guest of the hotel is an real honor because of the cozy rooms the hotel provides and the fantastic views over one of the most attractive cities in Europe. Leaving the private areas and heading to the public one reveal limitless possibilities for gatherings. The lounge area are not only a place to have a relaxing break, but they are also very appropriate for social networking and establishing new connections.
As for the hotel lobby, we must say that it is one of the most memorable place we have ever been. Its unique colorful and energetic style will conquer your thoughts and heart immediately. There is also a rear bar where one can get a refreshing drink and enjoy his stay. The bar itself is a colorful mixture of Hungarian concrete floor, raw materials and wood. And we simple can miss the huge amount of latterns that are hanging from the ceiling – this is a true inspiration from Barcelona's festivals spirit.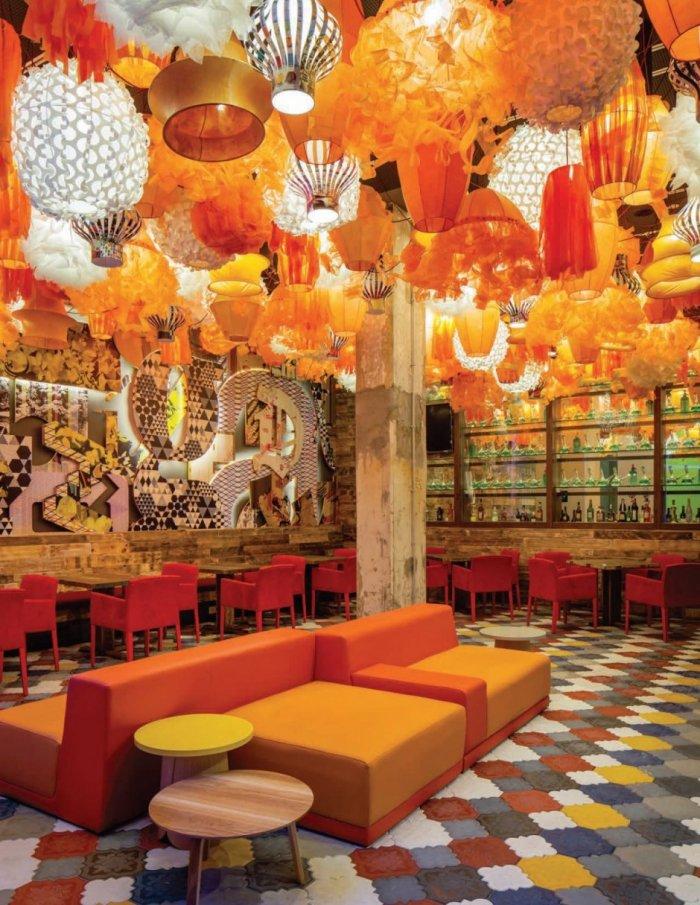 Above the hotel's lobby, there is a glass mezzanine that can be approached via wooden staircase situated just next to a lounge area full of hanging from the ceiling swinging chairs called "Bird Cage". On the second level, there is also a library which attracts the visitor with a fantastic option – to enter a central located photobooth and take a vintage photo of themselves. Think about it, who wouldn't do that? The creative idea to provide the guests the possibility to share this photo on the social networks simultaneously is a great way to maintain the brand awareness of Generator Barcelona in a natural way. But there are not only books and photos in the library. Visitors can choose from different types of entertainment games, pool and football tables, internet stations and so on. You wish to go to Barcelona you'd better give this hotel a chance. We guarantee!
See the other images of the project by clicking them below:
[lg_folder folder="Contemporary Generator Hotel in Barcelona-Gallery/"]